Young Nigerian artist Mode Aderinokun, founder of Studio of Mode, is set to open an art gallery and store in Ikoyi, Lagos next Sunday.
Mode officially started the company in 2012 after her degree program in Animation at the Academy of Art in San Francisco. Studio of Mode was created to express her mixed cultural experiences from travelling to different places as a child, living in Togo, America and Britain, as well as a reflection of her Yoruba origin and the contemporary environment she now lives in. She has grown to be known for hip mobile art illustrations, portable art works and collectible prints.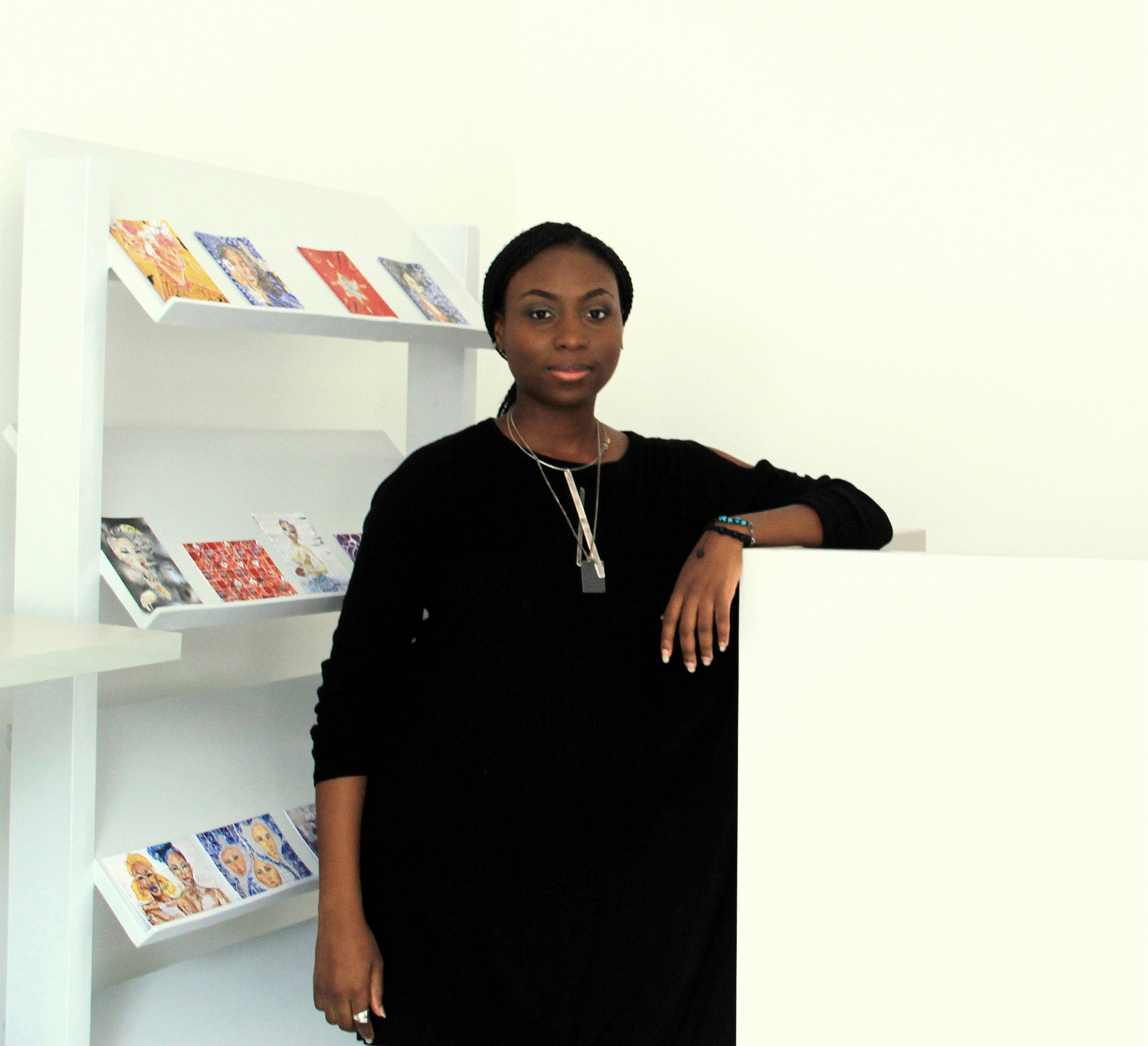 In a privileged tour of the gallery and store before it opens to the public on June 14th, I encountered an art space totally different from the trend in Lagos. On the inside of the gallery, where the journey through the Studio of Mode starts, the colours are dark and warm with unusual brown walls, except for the space that is called the Indigo Room. This room brings balance and neutrality to the atmosphere and stands out from the other rooms painted in terracotta. It is quite different from the white walls which one generally encounters at galleries in Lagos. Mode wanted her works in a non-white space to reflect the nature of the environment of the city and her traditional background.
On the walls are watercolour paintings and drawings which she prefers to the 3D animation which she was taught in school. At the entry room, you will see the usual iconic images of Lagos and its people done a bit differently from what you have seen before. However, from the indigo room the wall holds interesting series of works examining identity ine diverse ways through female subjects. Some of these works mirror the background of the artist and contemporary influences. The most notable being the work tiled 'Lola, Lola' made with watercolour and ink on watercolour paper.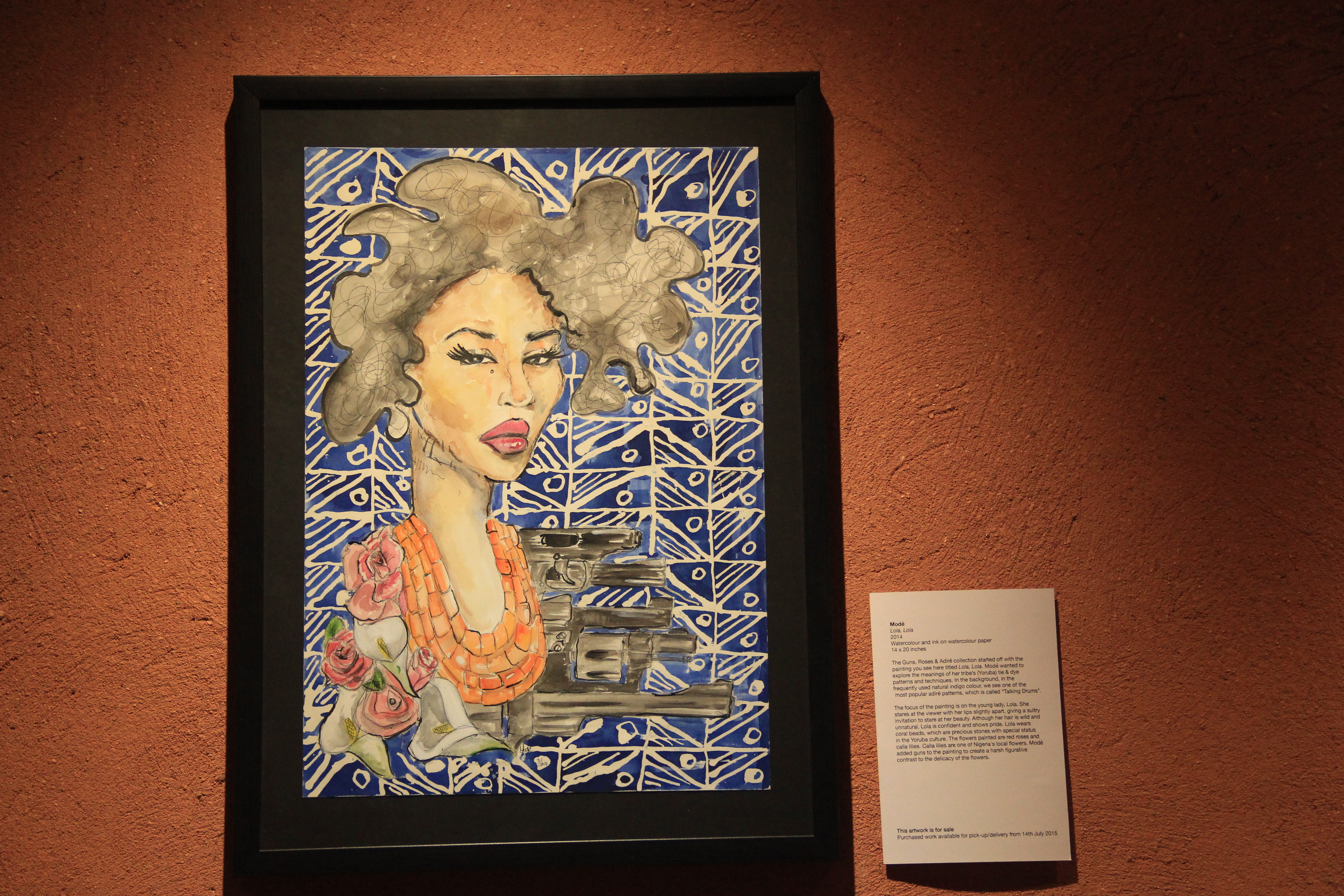 One of the things that count as a plus for the Studio of Mode are the notes placed by each work at the gallery. A visitor requires little or no guidance to understand what they see and also have the freedom to give their own interpretation. The description notes are not just titles with dimensions of these works but are detailed explanations of the subject matter, medium and technique used.  This is not a common feature at established galleries in Lagos.
Through deliberate planning, your journey ends in the store as the exit room opens into the white space filled with prints of original works you saw in the gallery, art greeting cards, iPad/iPhone covers and skin, tote bags and portraits. On instagram, Mode is popular for her iPhone cover designs which cost between N5,500 – N8,000 depending on the design you choose. She is also known for doing live portrait sketches at The Palms in Victoria Island which is a rare site in public in Nigeria.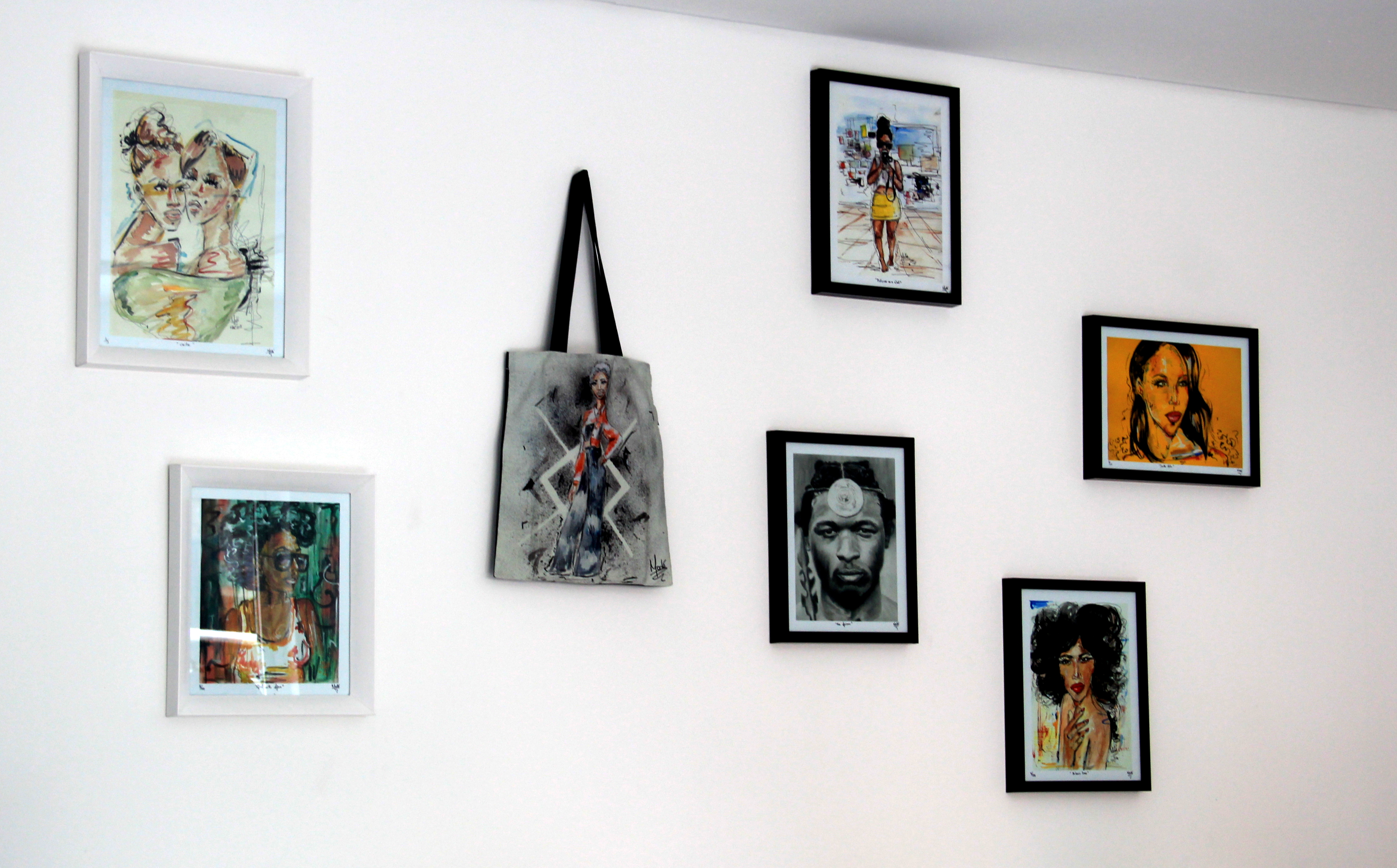 Although Mode works in a medium that is far from the style of master artist Bruce Onobrakpeya, she was once an intern at his studio for six months to explore the depth of her passion. She states her internship with him motivated her to be confident as an artist rather than influence her choice of medium. She enjoys drawing more than the other media she has learnt to use.
From an unexpected opportunity by a stranger in San Francisco to display her works at an unplanned exhibition to running Studio of Mode in her bedroom in 2012, Mode finally opens a gallery for the public to come enjoy and buy art at affordable prices that is encouraging for new collectors. Join the Studio of Mode on Sunday as they open at Parkview Estate in Ikoyi to celebrate another landmark in Mode's journey as an artist and art entrepreneur. See details of the event below.
Photo Credit : The Sole Adventurer / Studio of Mode