This summer, Art Twenty One present Elsewhere, a group exhibition of 7 artists from Africa and Europe at their Lagos art space.
Elsewhere explores contemporary notions of fantasy in an interconnected global environment. The works curated for the exhibition comes from different artistic mediums, including painting, photography, sculpture, and collage, with focus on alternative ways of depicting 'otherness', not rooted in spatial boundaries but by instability, fluidity, and cross-cultural assimilation.
Elsewhere explores the relationship between history, memory, and the creation of new imaginaries, ranging from material manifestations of the afterlife to fake artifacts, cultural re-configurations, and performative interventions.
The exhibition opens on Saturday June 27th, 2015 from 6pm – 9pm at Art Twenty One exhibition space, Eko Hotel and Suites (by the entrance to the convention center).
The Artists
Joseph Eze (Nigeria),
Namsa Leuba (Switzerland),
Abraham Oghobase (Nigeria),
Demola Ogunajo (Nigeria),
Vincent Michea (France),
Paa Joe and Jacob Tetteh-Ashong (Ghana), and
Yarisal and Kublitz (Switzerland / Denmark).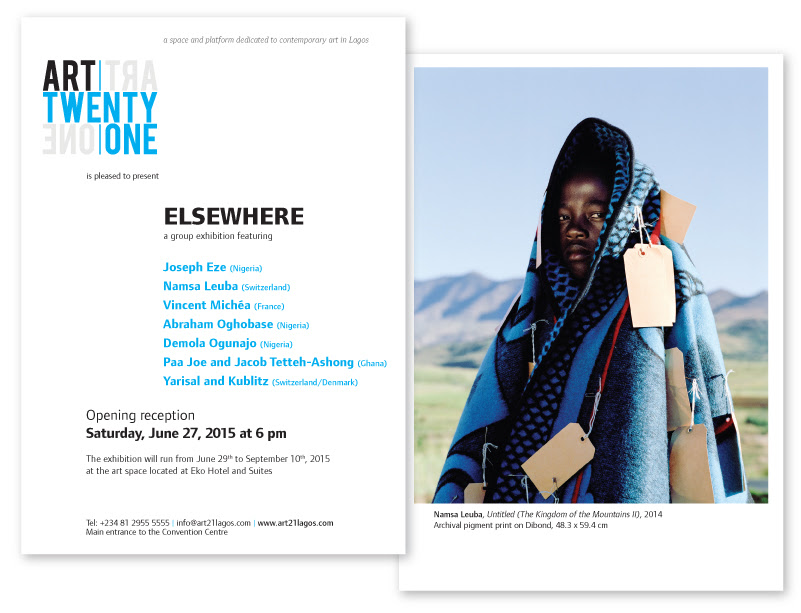 Joseph Eze and Demola Ogunajo's paintings adopt cultural references that span time, periods and geographies, from mythical characters to street fashion and contemporary mass culture. Namsa Leuba's photographs examine the representation of African identity through the Western imagination, combining an anthropological interest in ancient ceremonial structures with an aesthetic that is informed by fashion and design sensibilities.
Abraham Oghobase in his presentation taken from his body of work called Fantasy, explores issues of human emotions and identity against socio-economic backgrounds and cultural duality, using himself as the object of his fictive scenarios. As an example, he questions the cultural identity imposed on consumers with the designs of the 'African wax' in background of these works.
Paa Joe and Jacob Tetteh-Ashong creates figurative coffins in the form of consumer objects such as cars, sneakers, cameras, etc.  that speak to the aspirations and values of their intended users. Jacob Tetteh-Ashong who learned the trade from his father Paa Joe now work with him as collaborative artists and bespoke coffin makers in Ghana. These works are modeled after the individual's personality and visions of afterlife.
Collaborative artists Yarisal and Kublitz's incorporates non-traditional objects found in our daily environment to create complex sculptures and installations on subjects of life and death, fertility, reincarnation and transcendence. These works are done in humorous ways to diffuse the seriousness of the subjects.
Collage artist Vincent Michea's enjoys transforming photographic portraits into silhouetted abstractions of geometric forms. In his recent works curated for the exhibition, Michea transforms photographs of friends and acquaintances met on his trip to Dakar and Saint-Louis in 1986-87 into silhouette of abstract forms with fragments of small acrylic and oil paintings by the artist between 1995-1998. These works point to the subjects of visual information in mass media imagery and backtracking of memories in different contexts.
These artists point to the space between clearly defined boundaries, where meaning is produced through their simultaneous associations and junctures. In doing so, they form new understandings of ritual, transcendence and belonging that are intimately tied to the signifiers of a global economy. All artists have participated in numerous local and international exhibitions.
During this exhibition, artists Namsa Leuba, Paa Joe, and Jacob Tetteh-Ashong starts an Artist-In-Residence Programme with Art Twenty One, where they will produce a new body of work and engage with the local art community in Lagos.
The entire exhibition will run from June 29th to September 10th, 2015. For more information, contact Art Twenty One by email –  [email protected]