Examining opacity in the works of Toyin Ojih Odutola and Lynette Yiadom-Boakye.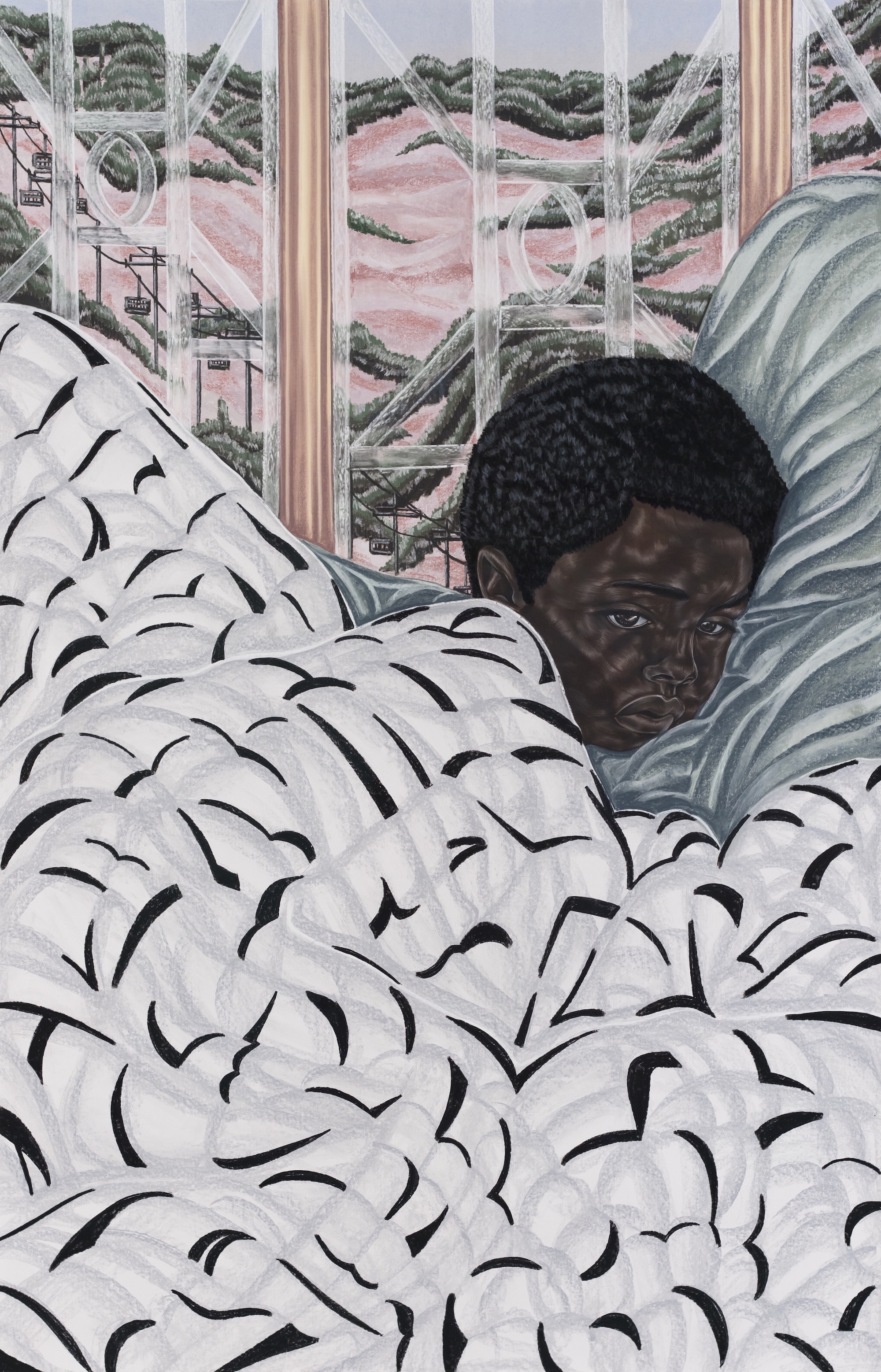 The calm black figures in Toyin Ojih Odutola's drawings and Lynette Yiadom-Boakye's paintings convey a quiet, impenetrable interiority – often expressing an aloofness, a cool indifference to the viewer's gaze. Details of literal narrative, temporal specificity, and physical geography diffuse into abstract, discontinuous fragments, collapsing into the abyss of ambiguity, leaving no prescriptive guidelines for situating these enigmatic black bodies in time or space. How can we begin to make sense of this representational modality of black being where, like a magician's sleight-of-hand, the black bodies hide more than they reveal? Or where the figurative legibility of the black body is paradoxically undone by the strategic exertion of black subjectivity's right to opacity? The 'right to opacity'1 is used here in accordance with the Martinique-born poet and philosopher, Édouard Glissant, who in "For Opacity", one of the more forthright and widely read chapters in his seminal work, The Poetics of Relation, states, "The opaque is not the obscure, though it is possible for it to be so and be accepted as such. It is that which cannot be reduced, which is the most perennial guarantee of participation and confluence."
The black figures in these artists' works provide no answers or explanations for their existence simply because they do not have to. Their disavowal of transparency reflects blackness' infinitude and multiplicity, its refusal to be reduced and cornered into a Western epistemic frame.
Ojih Odutola and Yiadom-Boakye, who are both women of the African diaspora, demonstrate through formally innovative modes of mark-making, that blackness in art – specifically black figuration – can act as sites of political and aesthetic freedom where black existence is grounded, not in over-determined narratives of institutional violence and subjection, but in private, de-spectacularised moments of solitude, contemplation, and self-acknowledged beauty. By visualising novel possibilities for the rendering of the black body, these artists also show that the formal and conceptual problems internal to the historic disciplines of painting and drawing are far from resolved.
Toyin Ojih Odutola, born in Ile-Ife, Nigeria and raised in America, was the subject of three solo exhibitions in 2018 alone, the last of which was at Jack Shainman Gallery, New York. Titled When Legends Die, the artist immerses viewers in an alternate reality from the moment they enter the gallery space. Visitors confront an enlarged royal press release – a self-reflexive introductory wall text – that in the first few sentences reads: When Legends Die concludes a series of efforts first devised by TH Lord Temitope Omodele, third son to the barony of Obafemi, house of ambassadors, with his husband (italics my emphasis), TMH Lord Jideofor Emeka, 19th Marques of the UmuEze Amara, RSO, OG, EC, one of the oldest noble clans of Nigeria. Embarking to share their respective family legacies beyond cultural, provincial, and continental boundaries, their Lordships sought to draw a more expanded portrait through the careful choice of works from their famed art collections … to express the inner workings of their family.
It is as if she asks the viewer plainly, "What is blackness? Can you imagine blackness otherwise, divorced from these oppressive socio-politico-economic categories?"
Almost immediately, Ojih Odutola contextualises her work within the spatio-temporal bounds of a postcolonial past/present/future, one where the African continent was never enslaved or colonised, and black wealth has accumulated over centuries, uninterrupted by the forces of Western imperialism. The artist further emboldens the alterity of this reality by centring the exhibition's conditions of possibility on the marriage of two aristocratic Nigerian men, which drives a punching critique at the draconian laws currently regulating queerness in modern Nigeria. In a recent interview, she says, "I had the idea of a gay couple coming into power since the very beginning—even before I had any concept about the families. The beauty is that whatever happens in each chapter, they're the reason we are in the room". Her skilful storytelling detaches blackness from historical subjugation, from hypermasculinity, from heteronormativity, and from material poverty. It is as if she asks the viewer plainly, "What is blackness? Can you imagine blackness otherwise, divorced from these oppressive socio-politico-economic categories?" Taking her cues from the radical tradition of black feminist critique, Ojih Odutola injects her conceptions of African-ness – and by extension, blackness – with a certain élan by queering its slippery intersections with gender, sexuality and class.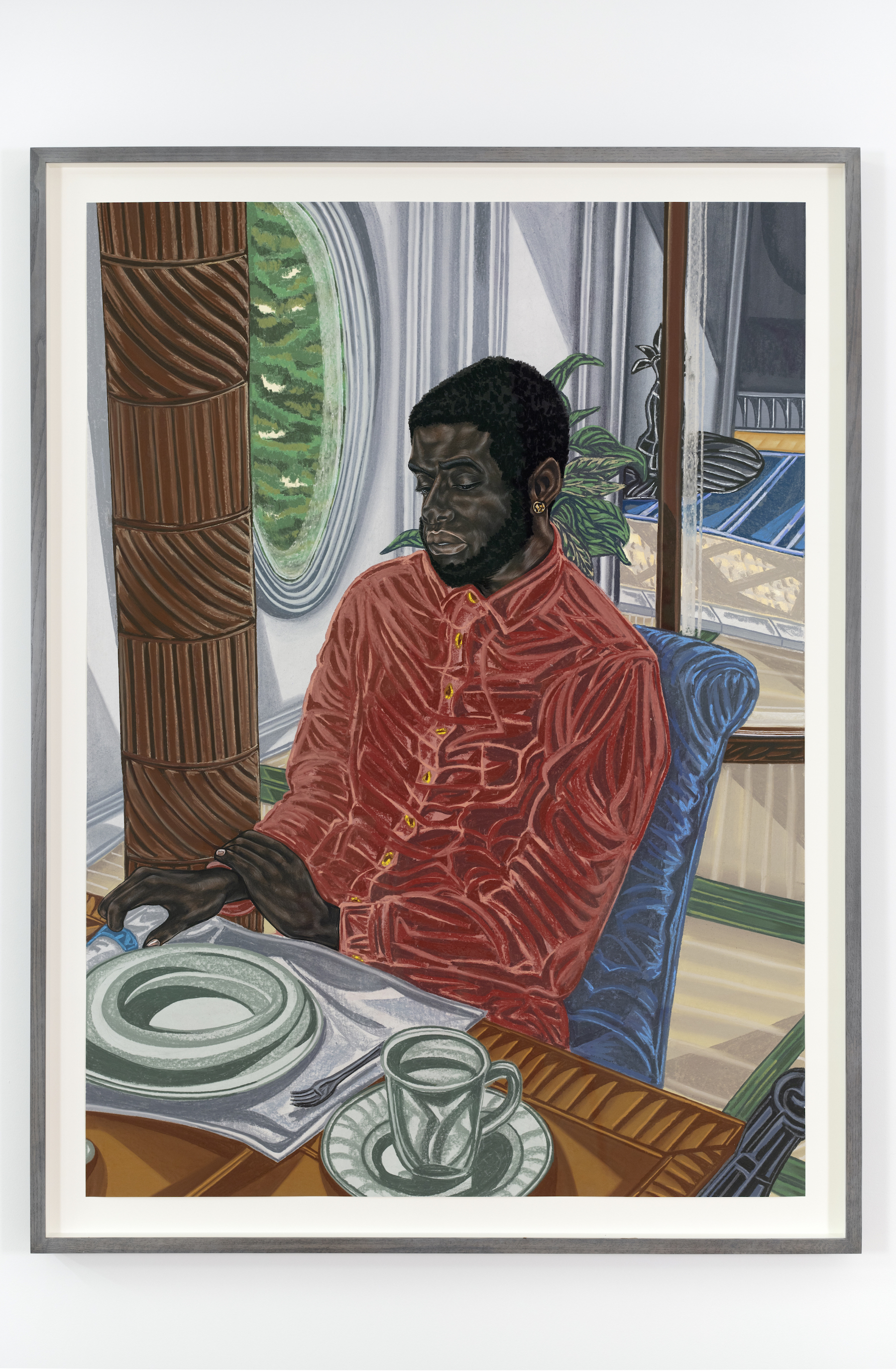 As viewers walk through the exhibition space, they encounter life-size portraits of stylish black figures in lush interiors, surrounded by books, objects and artworks, or in natural settings looking out onto expansive vistas. The figures are often caught in moments of repose like in In the Drawing Room (2018) and Enclave (2018) or assume a stately posture, as if sitting for a royally commissioned portrait, as in Famed Rivalry (2018). They also seem to exist outside of linearized time, their exquisite manner of dress and surreal domestic spaces belonging to no specific epoch. It is clear that the artist uses fictional storytelling as an aesthetico-political device, as it gives her license to imagine blackness otherwise – blackness that is not contingent on its relation to anti-blackness. Ojih Odutola also incorporates multiple vanishing points and fragments of disparate geographies into her compositions giving rise to images that deny a literal or simplistic reading of pictorial space. Time and space, being intentionally obscured, signal the artist's desire for opacity.
From a distance, these richly textured works assume a subtle grandeur that resembles historical portrait painting but upon closer inspection, one observes the alchemy of drawing materials at work– pastel, charcoal, and graphite in particular. The artist once stated, "I made it [drawing media] something more. I put it beyond the capabilities of what you assumed that tool could do"2. Indeed, Ojih Odutola picks up where French modernists like Henri Lautrec Toulouse and Edgar Degas left off, elevating these drawing materials to create a rhythmic, multi-tonal, painterly visual language that "make the eyes dance". Perhaps the most consistent and remarkable feature in Ojih Odutola's work is her adept handling of surface, specifically when it comes to the multi-layered hues of her subjects' skin. In Orlando (2018), Ojih Odutola draws a close-up, low angle portrait of one of the men in this fictional aristocratic family. The viewer's eyes are instantly enchanted by the glacier-like folds of his silk shirt, the shimmering verdant flora in the background, and the sinuous lines that form his face, filled with interlocking hues of caramel, chestnut, and charcoal grey; they traverse through the tonal passages of the figure's cartographically detailed epidermis, moving through and around its undulating lines and curves as if admiring a sublime landscape from a bird's eye view. Remarking on the materiality of her subjects' skin, the artist commented, "In the making of the work, skin is the geography I travel in order to discover each individual and his/her story. With every line I mark up, I map out the territory of their realities"3. Thus, her unique mode of mark making is inextricably tied with the internal dynamics of black subjectivity, as the active and complex interiority of these mysterious black figures is written as light, encoded in the syncopation of electromagnetic light waves that bounce off the variegated surfaces of their textured skin into the viewer's eyes. Their epidermal multi-tonality reflects the inherent multiplicity of blackness, its "incalculable differentiatedness" 4, among black people, and across space and time.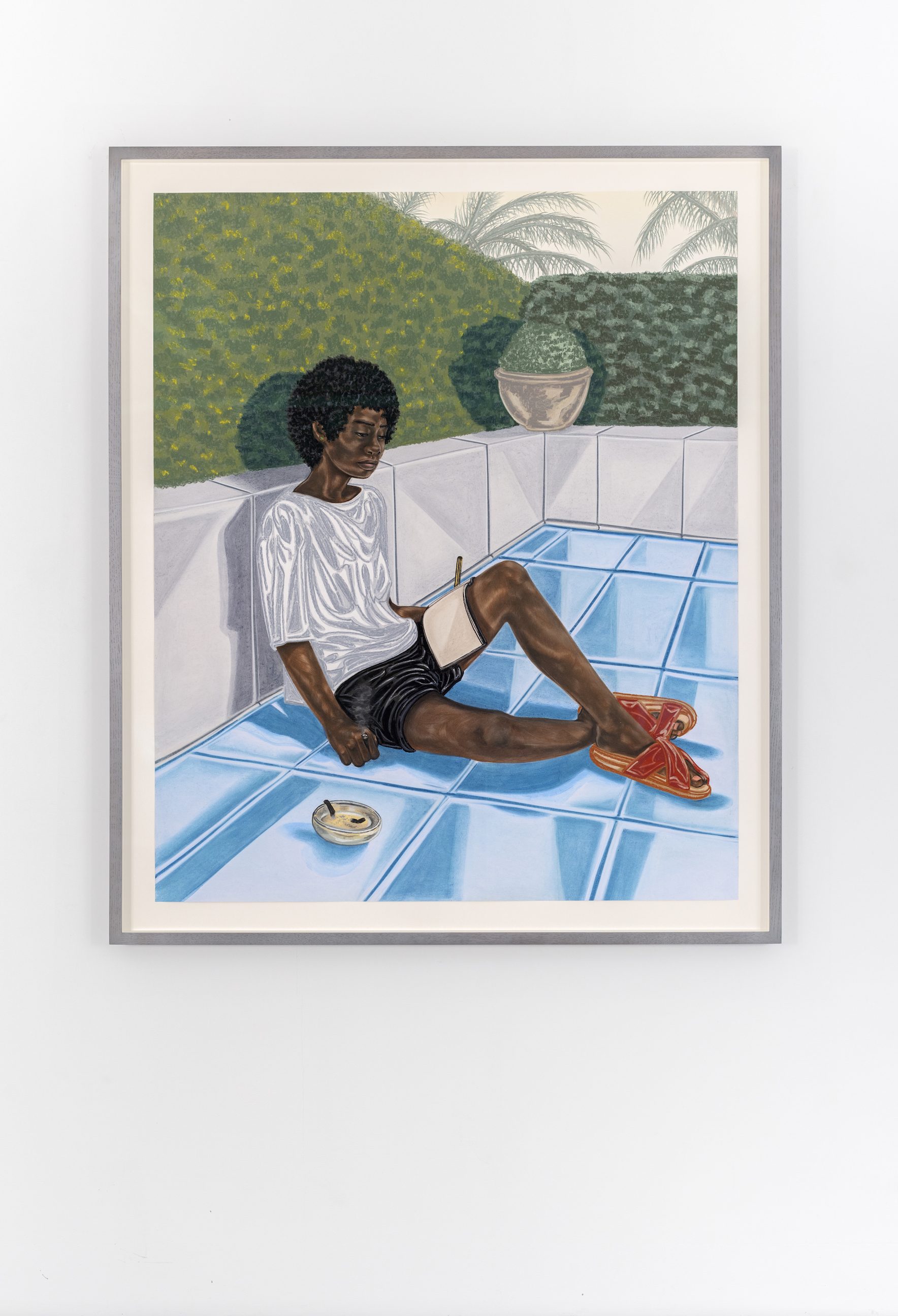 In works like Hide Out (2018) and Lip Biting Through Grace (2018), Ojih Odutola depicts lone subjects who seem to be lost in deep thought. In the former work, a young girl wearing a white t-shirt, black shorts and crimson sandals sits on what appears to be the glass-tiled floor of a private patio. She is smoking her third cigarette (the other two have been put out in a glass ashtray) while she writes in a thin notepad. The subject does not return the viewer's gaze but remains focused on her writing, the content of which is not revealed. She cares not to be disturbed. The work's unapologetic declaration of female solitude brings to mind Adrian Piper's fervently feminist conceptual work, My Calling Card #1 (1986-90), which at one point reads "I am here alone because I want to be here, ALONE".  In the latter work, a man wearing a gold-buttoned red shirt sits at a pristinely set table, his left hand touching his right wrist. Like in Hide Out, the subject stares down, lips tensed, eyebrows furrowed. He looks like he could be recalling a painful memory or thinking through a problem but – and this is crucial – we cannot know, and we will not know. In both these drawings, Ojih Odutola composes scenes of solitude where these black subjects exist for themselves, and not for an audience. Their downward, averted glances express an indifference to a Western gaze – qualities that negate W.E.B. Du Bois' notion of 'double consciousness'. Even when the figures stare back at the viewer, like in Effortless Influence (2018), there is, as the title suggests, a self-evident mood of nonchalance that accompanies the subject's gaze. These qualities elaborate on Glissant's notion of the right to opacity as the refusal to explain one's presence, one's blackness, as a strategy for declaring one's selfhood and one's particularity.
They likely did not descend from an unbroken aristocratic lineage but these kinds of black subjects do actually exist, and their lived experiences, although abstracted in these drawings, should not simply be dismissed as suspicious or problematic… 
Some critics take issue with Ojih Odutola's aestheticisation of wealth as a means for signifying black freedom– a point that I would like to push against here, for three reasons. First, although her subjects are grounded in an overarching fictional narrative, a postcolonial utopia of sorts, their lifestyles and strategies of self-presentation are not too distant from the real, lived experiences of a Nigerian elite. Earlier works reflect a history of generations of a certain Nigerian class attending boarding schools in the West (First Night at Boarding School, 2017), or traversing between their houses in Lagos and their pieds-à-terre in London or New York (Paris Apartment, 2016-17). They likely did not descend from an unbroken aristocratic lineage but these kinds of black subjects do actually exist, and their lived experiences, although abstracted in these drawings, should not simply be dismissed as suspicious or problematic, instead, they ought to invite further contemplation. Second, the artist could be channelling black wealth as a form of subversive social critique, poking fun at the fact that in our hyper-capitalist society, black subjects can only attain freedom and privacy through exorbitant accumulations of wealth. It is, after all, an uncontroversial fact that the rich hardly ever have to explain themselves, the 45th President of the United States being a recent example. The artist's depiction of wealth in proximity to blackness is a socio-political interrogation of wealth, not a mindless celebration of it. Third, and most importantly, Ojih Odutola's portrayal of black wealth can be understood metaphorically, as a signifier of dis-alienation (à la Frantz Fanon) – a psychic and materialist state in which black people are no longer constituted as Other, by society or by themselves. Her drawings speak to the sensation of wealth (hence transcending its material connotations) felt by black people when they are not racialised – not classified from the outside.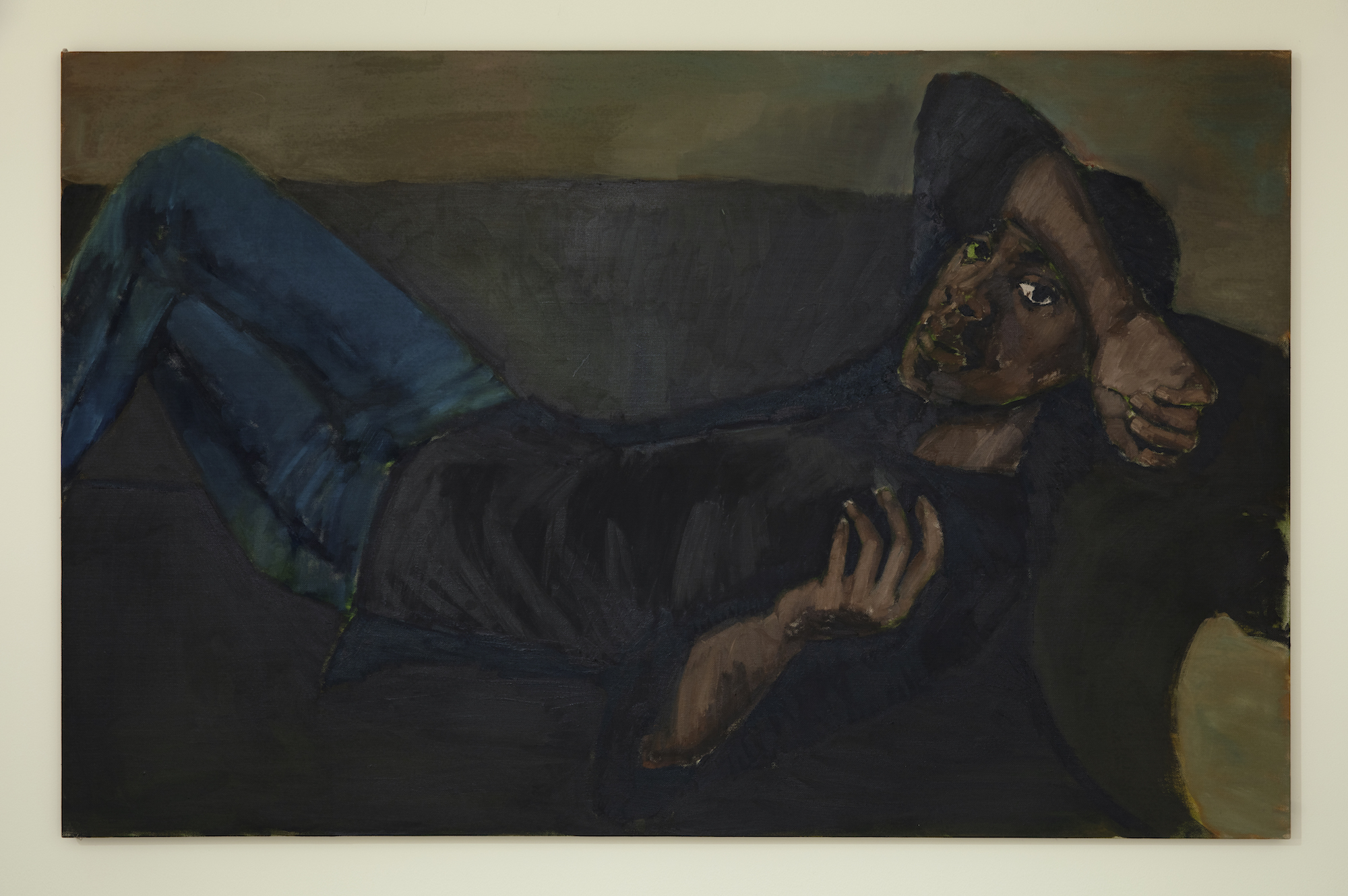 Ojih Odutola's luscious drawings reverberate with the sombre paintings of her fellow contemporary, Lynette Yiadom-Boakye, who was also recently the subject of a solo exhibition, In Lieu of a Louder Love, at Jack Shainman Gallery in New York. The British-Ghanaian painter – the 2018 recipient of the prestigious Carnegie Prize – has attracted considerable critical attention for producing formally rigorous works that ground blackness as a matter of fact. The paintings in her latest exhibition portray what the artist has become widely known for – majestic, yet, unassuming black figures inhabiting subdued abstract interiors or landscapes. In contrast to the previous works, which express the beauty of restraint through a monochromatic schema, Yiadom-Boakye's latest paintings engage boldly, but meticulously, with the emotive potentiality of colour, further deepening the affective dimension of her enigmatic subjects.
This formal shift is declared unapologetically with Amber and Jasmine (2018), an oil portrait of considerable size. In it, a woman kneels partially on a brightly patterned geometric rug, wearing a green leotard and an orange headscarf, her left hand caressing her chin and her right arm supporting her body's weight. Her eyes, barely open and directed toward the ground, suggest a quiet moment of contemplation, its duration indeterminate. A tonal dualism of soft dark green and triumphant amber, produced by layers of loose brushstrokes, operates zealously in the background, mutually enhancing each other's visual depth, and bleeding into the subject's physical outline, particularly at the neck and on the left shoulder, blurring the perspectival space between foreground and background. Like Ojih Odutola, Yiadom-Boakye materialises the multi-tonal complexity of brown skin, but through Fauvist-like colour juxtapositions. For example, hues of dark purple surround the folded arms of the calm, upright figure in Amber Gage (2018), while vivid shades of orange peek out from under the seated dancer's skin in Southbound Catechism (2018), and tints of pea green appear in and around the fingers, lips, and eyes of the lying male figure in Closer to a Comfort (2018).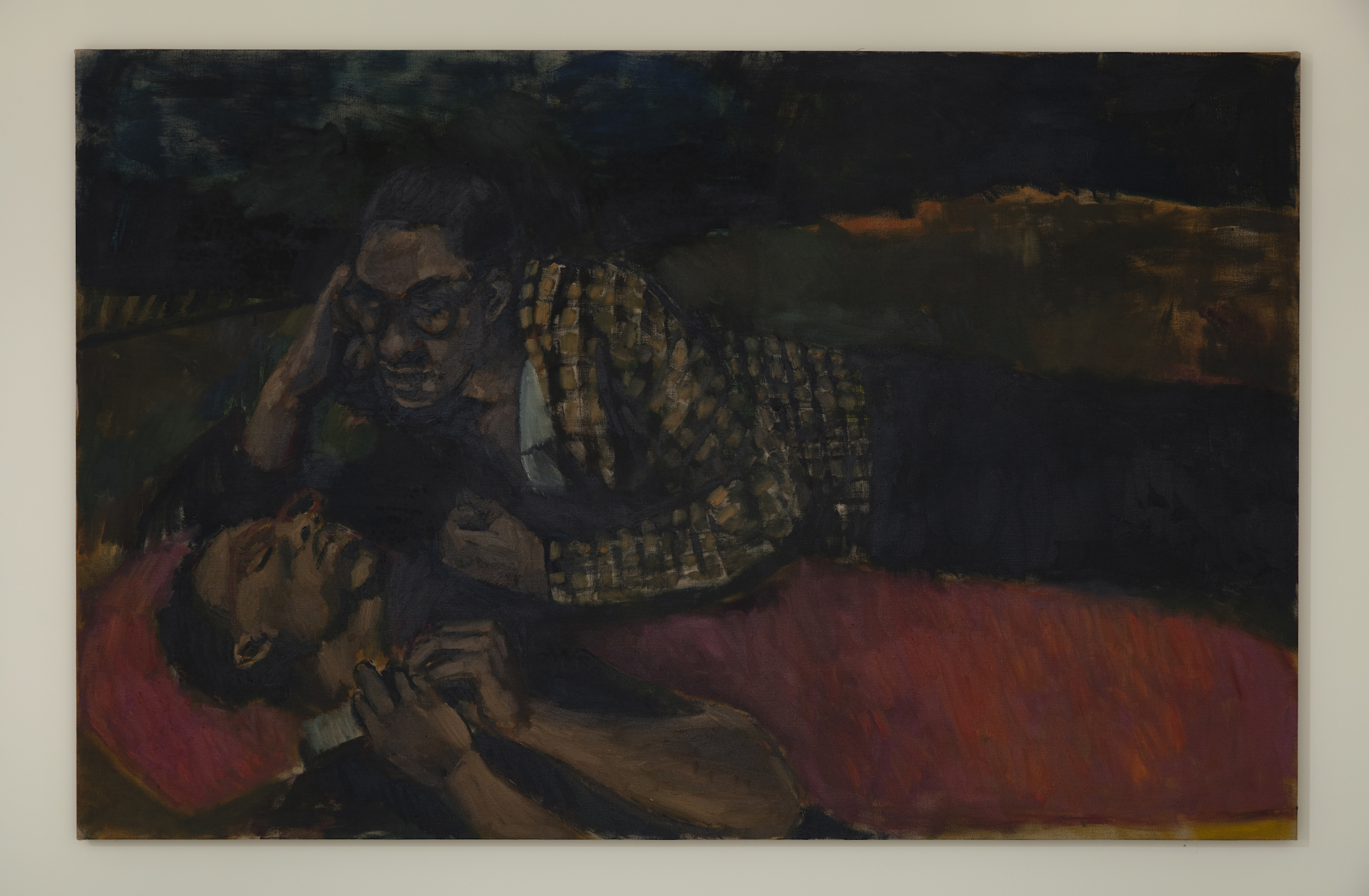 The artist's formal brilliance is reiterated in Holy Provocations (2018), a horizontally oriented painting that elicits desire through its compositional intimacy and chromatic buoyancy. The viewer is positioned as a voyeur that witnesses an intimate moment between two erudite men who could be lovers, friends, or brothers. Again, we cannot know with certainty what their relationship is, and we will not know. The more elevated figure, wearing a check-patterned jacket, fixes his gaze on his pictorial counterpart, who faces upwards, eyes closed, as if lost in a daydream. The figures lay in a fantastical pool of colour overlaid with hues of pink, orange, and lilac, contrasting harmoniously with the dimmer strokes of muddy green and navy blue that configure the compressed horizon. Bits of exposed linen reveal the artist's speedy, loose brushwork, evidencing a reflective hand that balances expressive intuition with deliberative intention.
The rendering of the subjects and pictorial space, as articulated via these loose, fluid brushstrokes give the paintings an instantaneous feel. It is as if these figures exist for a mere moment, the abstracted details of space and time resembling fleeting evocations of memory. Indeed, Yiadom-Boakye's subjects are not real people but imagined characters – distillations of multiple personas deriving from the artist's memory and from her daily encounters with various visual media. These fictitious figures are often dancers as seen in A Concentration (2018) and Stone Arabesque (2018) or are anachronistically clothed, attractive (but never sexualised), black men, or women, who are sometimes alone, sometimes in groups, talking, reading, smoking, thinking, in other words, existing, or 'being-in-the-world' as Martin Heidegger would have it in his canonical work, Being and Time. Paradoxically, it is the quiet, elusive mundanity of Yiadom-Boakye's subject matter that lends her paintings a radical edge, as they disrupt the binaric categories of heroism and depravity that often reproduce didactic or reductive representations of black bodies and black narratives. The meditative works invite the viewer into an imaginary world, but one is kept at a distance by the ambiguity of narrative, place and time – details that prevent one from actually 'knowing' the subjects.
Yiadom-Boakye also talks a lot about 'sensibility', one of those words that seem to evade semantic precision the more it is uttered. However, when engaged with a body of the artist's work, the word comes to bear a weighty significance. Her paintings possess a distinct mood, one that sends the viewer to some other place. Their affective power seems to rely on a specific emotional architecture, whose blueprint is known only by the artist herself. Sensibility, then, can be understood as a psycho-aesthetic signature, one that the artist cultivated by studying the history of Western painting, in particular, the early modernists and their formal emphasis on colour and gesture5. The undeniable sense of presentness, atmosphere and psychological depth in her paintings mobilise a slow-burning emotive charge that, for me, recalls the works of Édouard Vuillard, Pierre Bonnard, Henry Ossawa Tanner, Edvard Munch, and Miles Davis6. Like the artists mentioned above, the specific compositional details of Yiadom-Boakye's paintings may escape one's memory as time passes but the place they take you to lingers in one's consciousness long after the exhibition's experiential conclusion. 
Through their distinct, but very related, art practices, Yiadom-Boakye and Ojih Odutola show that socially relevant, conceptually open-ended and formally rigorous engagements with race, and specifically black representation, can still be rooted in traditional mediums …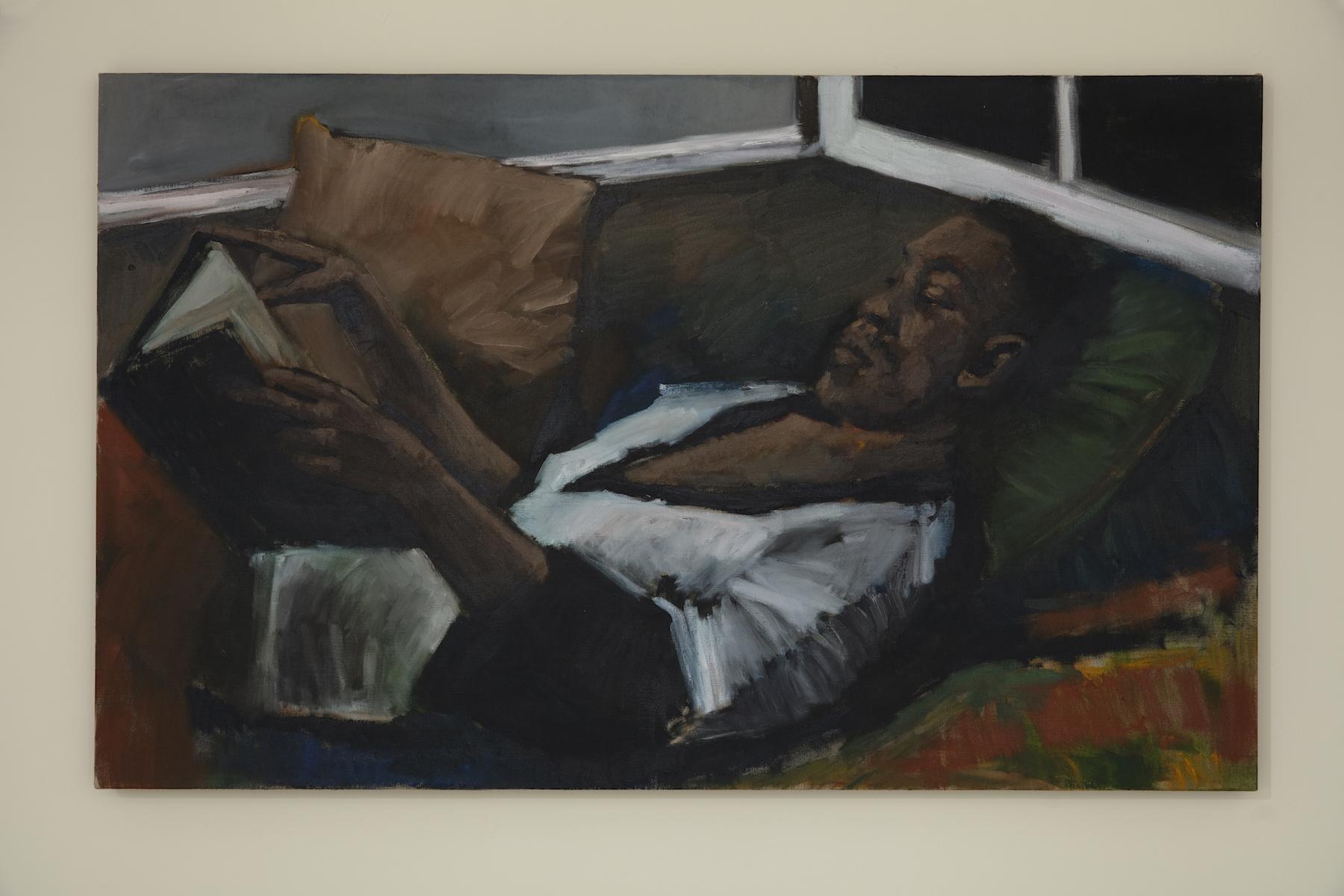 In the history of art, and specifically in regard to artworks produced by black artists, there has been a long, and at this point, tired, discursive antagonism between the styles of abstraction and figuration. During the Civil Rights and Black Power Movements in the 1960s and 1970s, black artists were expected to produce social realist works that spoke directly about the black struggle or were rooted in culturally identifiable scenes of quotidian black sociality. Works by black artists that veered toward abstraction were viewed as either culturally inauthentic (abstraction being viewed as a white artistic endeavour) or lacking revolutionary content and were rejected by both the black and white art establishments. Similarly, during the African anti-colonial struggle, Ben Enwonwu, one of the fathers of Nigerian modernism, openly refuted the adoption of abstraction by Nigerian artists, viewing it as the hegemonic internalisation of Western aesthetics and therefore an inappropriate style for representing postcolonial African subjectivities. Yiadom-Boakye, however, complicates this stylistic dichotomy by incorporating both approaches simultaneously, and with maximum effect. In Rue The Days (2018), the artist portrays a pensive lying male figure, his upper body slightly elevated, wholly absorbed in a leisurely read. Although the spatial logic of the composition can be deduced easily at the first glance, a closer and sustained examination of the work's surface undoes this illusionistic reading by revealing, in very plain terms, an interplay of vivid, loose brushstrokes. All of a sudden, the figure starts to appear almost fragmented, as an amalgamation of colourful shapes, lines and gestures; the brown triangle forming his exposed chest and the white strokes running off the outlines of his shirt being two obvious examples. Moments of 'pure' abstraction also appear in the composition, as if to amplify the abstractness of the more figurative zones, such as the flat, expressionistic strokes of brick red, green and yellow that occupy the bottom right corner. This unique mode of mark making, which oscillates between non-referentiality and verisimilitude, complements the abstractness and ambiguity of the black subjects and the spaces they inhabit. Thus, the black body, while legible, is represented abstractly in both formal and conceptual terms, alluding to the unfixedness and irreducibility of blackness vis-à-vis the Western tradition of portrait painting. Once more, blackness exerts its opacity.
Through their distinct, but very related, art practices, Yiadom-Boakye and Ojih Odutola show that socially relevant, conceptually open-ended and formally rigorous engagements with race, and specifically black representation, can still be rooted in traditional mediums (painting and drawing) and traditional approaches (portraiture, albeit fictitious). Their works position black subjects as an anatomical default, as a matter of fact. By virtue of refusing the need to explain their occupation of pictorial space, these black figures unapologetically assert their right to opacity. They are opaque but by no means invisible; the viewer sees them living … being … existing, but their thoughts and conversations, as well as the details of place and time, remain deliberately obscured. The works thus carve out a space for the private, unknowable black self through the deployment of ambiguous, imagined narratives and fictional, alternative histories. Ultimately, the subjects exercise their right not to be 'grasped'.
Another core constituent of these artists' practices is process. Their works indicate that the conceptual dimensions of blackness, such as its multiplicity and abstractness, can be realised through the innovative application of the mark, whether that be through oil paint or pastel. They demonstrate that what the work is about is also how it is made. Racial discourse isn't used as a theoretical crutch for artistic mediocrity. These artists forego the overt appearance of radicalism by depicting, with an unapologetic attitude and using traditional media, black subjects who aren't up to much, black subjects who just are. These works, nonetheless, produce substantial radical effects, as they destabilise often-misunderstood antagonisms between form and content, aesthetic autonomy and public engagement, abstraction and figuration. They contend with, but ultimately go beyond, the imaginative limitations placed on how black bodies ought to be represented. By attempting to project a mode of black existence that is self-perpetuating – one that is indifferent to, and exists prior to, the Western gaze – they ask that puzzling and somewhat contentious question; can blackness exist autonomously, outside its historical dialectical interaction with anti-blackness?
–
Kojo Abudu is a writer based between London, New York and Lagos. He runs Kojo London, a cultural online space dedicated to aesthetics, travel and critical thought. 
"Can Blackness Exist Autonomously?" was first published on Kojo London, March 28th, 2019, as "Toyin Ojih Odutola and Lynette Yiadom-Boakye: The Right to Opacity". 
1Édouard Glissant, Poetics of Relation. Translated by Betsy Wing. Ann Arbor: University of Michigan, 1997. p. 190.
2 Zadie Smith quoted in conversation with Toyin Ojih Odutola at the Drawing Center, New York, 2018.
3 Rujeko Hockley and Melinda Lang, "Toyin Ojih Odutola: By Her Design," 2017.
4 Fred Moten, Black and Blur, Durham: Duke University Press, 2017. p. 162.
5 The artist often cites early French modernist, Édouard Manet, and British painter, Walter Sickett, as major influences.
6 Pierre Bonnard, the notable post-impressionist colourist, also painted from memory, completing his paintings over lengthened periods of time.