The exclamation 'Gbam!' is often uttered by an impressed audience. Perhaps A White Space Creative Agency (AWCA) and SMO Contemporary Art hope that visitors who see the exhibition of 25 photographs, which opened at the Wheatbaker on 9th June 2018, will exclaim at its newness, so they named it Gbam! Unearthing and Reclaiming a New Be-come-ing. The exhibition features Daniel Obasi, Kadara Enyeansi, Kola Oshalusi, Lex Ash, Noma Osula and Ola Ebiti, collectively described in the exhibition statement as "avant-garde photographers exploring who we are, and who we aspire to become."
Four of the six exhibiting artists are in their early to mid-twenties, representative of a certain kind of precocity that now defines the Nigerian art space — we're actually talking about nowhere but Lagos here, but who is complaining? The arts scene isn't yet at a place where ageism is a common feature and old folks are discarded. The older generation seems eager to let younger folks in. This has created a delicate balance of old and new, which is reflected in the collaboration between SMO and AWCA.
Here's an interesting fact: all the artists in Gbam! are men. This detail is important because the exhibition aims to find the intersection of fashion, culture, and identity. Nowhere are these things as intertwined as they are in the experience of women in Nigeria. It is now widely acknowledged that most of the rules of decency attached to fashion in Nigeria are simply copy-pasted Victorian guidelines, one of the many residual parts of colonialism that now seems almost impossible to redirect. To be fashionable like our pre-colonial ancestors is to either be engaged in sparse vulgarity or obscene excesses. No one has to deal with this like women.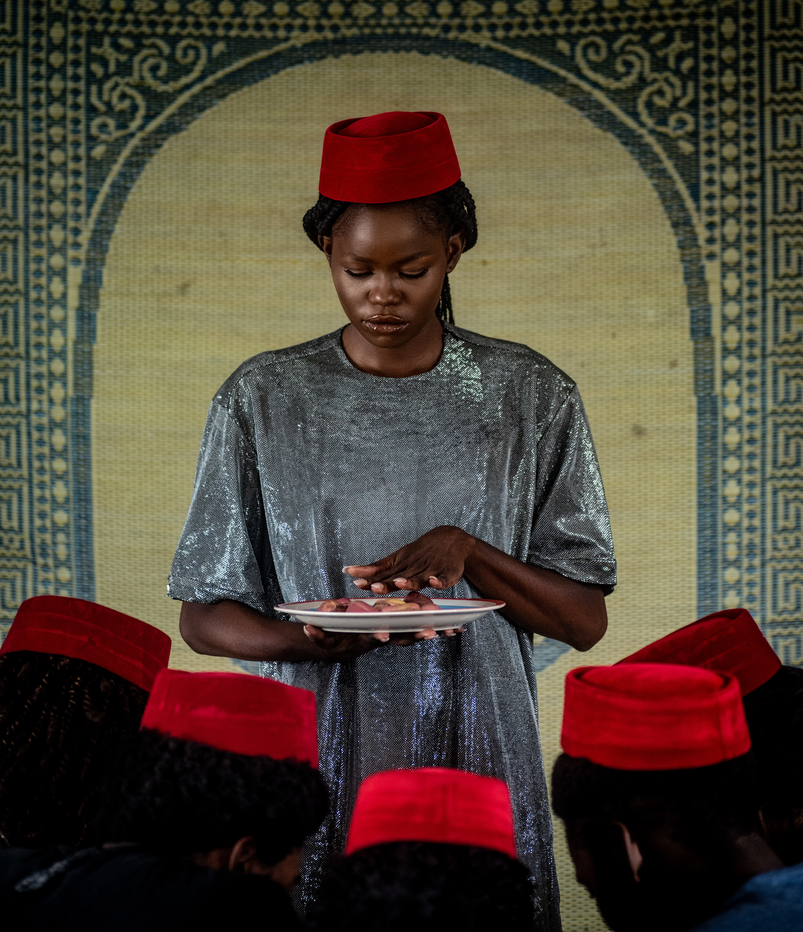 By setting images in the context of prevalent customs in southeast Nigeria, Lex Ash's photographs allude to that intersection of fashion, tradition, and identity in the lives of women. His work offers the best glimpse of what the curator and founder of SMO Contemporary Art, Sandra Mbanefo Obiago, implies when she says the work of the photographers "broadens the common perception of fashion photography as an art form, and spreads its tentacles wide to provide socio-economic critique as it questions perfection vis-à-vis identity, equality and traditional norms and expectations." It's a pity there aren't more than two of his work in the collection.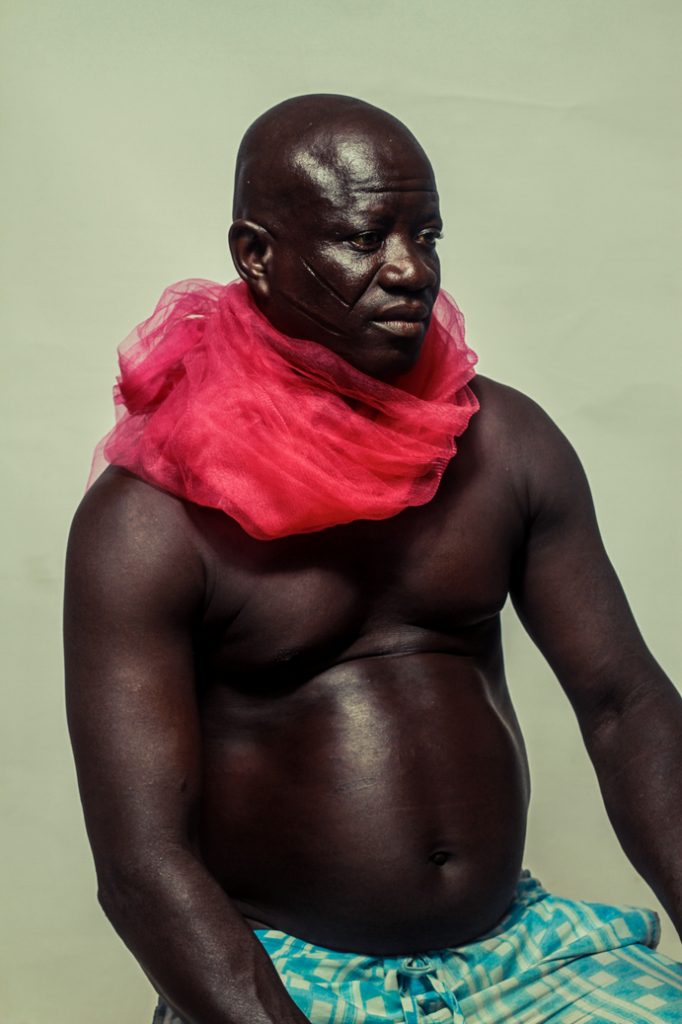 Osula's work features two high-contrast portraits of a man, Mr Shola, with a pink shawl draped around his torso. The work, according to Osula, explores the idea of perfection by portraying Mr Shola as comfortable with his tribal marks. Tribal marks are indeed one of the ways we can observe changes in beauty standards in Nigeria. What was once a mark of pride is now a taboo. 
In the portraits by Ebiti, a man with a bedazzled face is clothed in white. Ebiti says his work is inspired by the Eyo masquerade, but beyond colour, it is difficult to make this connection. Where the Eyo famously keeps layers of cloth on their bodies, Ebiti's subject sheds his. Obasi's images are the most fashion-centric of the exhibited lot, with subjects clothed in bright colours and photographed in environments that do not immediately exude the glamour expected of fashion photography. Aiming at minimalist visuals, and in contrast to Obasi, Enyeasi's pictures are more focused on the male form than they are on its adornment, as if the body itself were a fashion statement. Perhaps it is.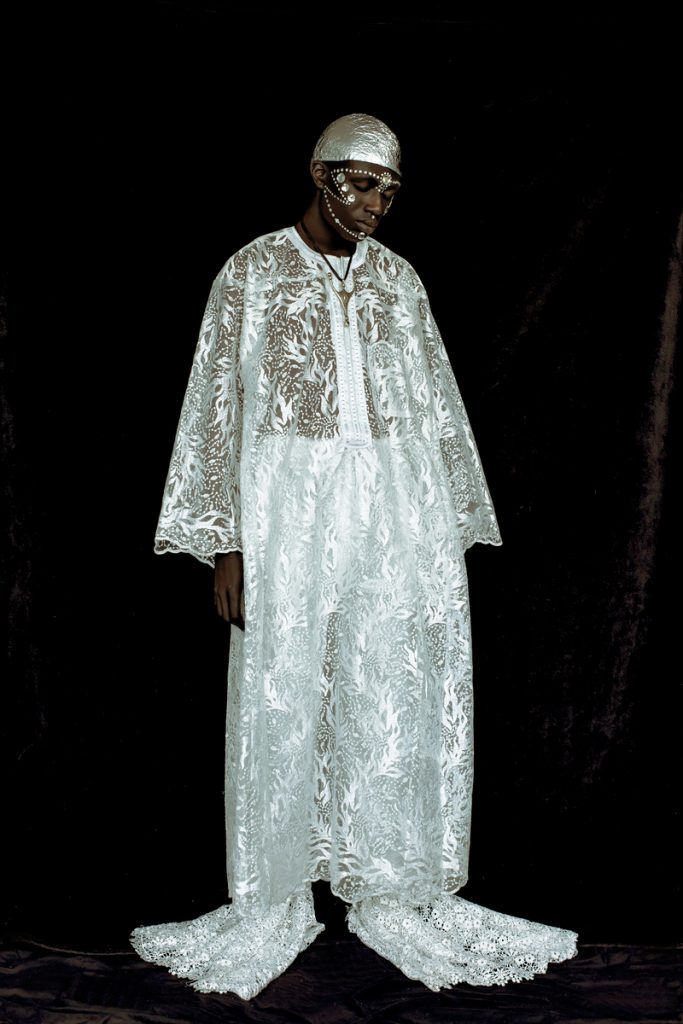 Oshalusi's images are a conundrum. They are images of children (staged from the looks of it) in Northern Nigeria, often clustered while standing to the edge of the frame. If they are intended as environmental portraits, we do not see enough character in the children to make any inferences about what he is trying to achieve by placing them in these stark conditions. In his statement, he wishes "we were successful foreigners yet together." The photographs are supposed to show that unity of differences, but they exist in a limbo between portraiture, documentary and fashion photography. It is unclear what they are gesturing towards. 
Perhaps this confusion (or variances) is part of what the curators refer to as avant-garde. On the surface, this word suggests how to see these fashion photographers: young, new, and different. But the classifications of contemporary photography in Nigeria can be so nebulous that it is impossible to determine what is avant-garde. Most Nigerian photographers use the patina of documentary to cover up whatever rust lies in their craft. The work is sometimes excellent but it is still often judged by how valuable the subjects are as objects of admiration or concern. Exceptions exist, of course, but what value is there in defining a movement by its exceptions? So, outside of the highly conceptual works of Abraham Oghobase and his ilk, maybe it is apt that we are looking for avant-garde Nigerian photography in fashion, where style is substance.
We can view the avant-garde, through the lens created by Peter Bürger, as art that exists to reject institutionalization, or even in the light of Theodor Adorno's claim that it is the most advanced stage of art in bourgeoisie society, which renders it fundamentally functionless (this Bürger rejects). But I find none of these helpful in an attempt to examine the work of the photographers in Gbam! and with respect to other productions out of Nigeria. 
"Take any of the famous names in the history of fashion photography," writes Geoff Dyer in his essay about Richard Avedon, "and the chances are you will discover that they once offered a liberating alternative to the staid, that they wanted "to get away from the piss elegance of it all."" Dyer also says Avedon "inventively raised the bar of contrived naturalness." 
An embrace of that contrived naturalness seems to be the starting point of most contemporary Nigerian fashion photography that aspires towards art. From there, there is a struggle to render the banal as exotic and the exotic to be banal. Photographers like Ruth Ossai wrestle with this in their attempt to create work that reflects an essential Nigerianness which really doesn't exist. The success of such work is still up in the air, but the extreme reactions it elicits suggest those who work in this mode are doing something, anything, right. Obasi's work joins this search for fashion photography that is Nigerian in a way that reflects some nostalgic aesthetic and simultaneously points to a future that isn't dependent on 'western' imagination. 
SMO and AWCA are on to something in putting these works together, but if that thing will be considered avant-garde, it is still deep in the portfolio of the exhibiting artists, away from the walls of the Wheatbaker. Enyeasi and Ebiti's meditations of the body appear like attempts towards studies that are already fully realised in the photographs of artists like Rotimi Fani-Kayode, who worked about three decades ago. In his artist statement, Enyeasi claims to contrast traditional religion and sexuality. He puts a man in a tutu, a look he says "represent gender equality," and re-addresses what it means to be a man in this century. This intersection of gender and sexuality was already explored in the collaboration between Fani-Kayode and Alex Hirst, titled "Ecstatic Antibodies" and "Bodies of Experience." 
"There is, however, nothing essentially reactive in Fani-Kayode's art," writes Holland Cotter in the New York Times. "It is imaginatively theatrical, inventively erotic and a radical, positive departure from the photographic images of Africans — largely passive and documentary — that prevailed in the West up to that time. He unraveled the very notion that such a thing as "African" even existed." Artists like Lakin Ogunbanwo have taken that theatrical, inventively erotic vision of Fani-Kayode and brought it to bear in contemporary Nigerian fashion-cum-art photography in ways that make it difficult to see Enyeasi's work as anything but a derivative of what they have created.
Perhaps the avant-garde is an experimentation that exists in resistance to the cliché, and this is what the artists in Gbam! were supposed to represent. But now, in Nigeria, kitsch is the cliché. It is increasingly difficult to find photography that grapples with identity in ways that reward the viewer's gaze.
Gbam! is open from June 9th to September 15th, 2018. 
IfeOluwa Nihinlola writes from Lagos, where he works as an editor.