Modupeola Fadugba's The Artist's Algorithm is a long-term project adopting various means to engage with its audience—exhibitions, essays, talks, games, murals, video installations and performances, and mentorship programs. It was designed to demystify the process behind exhibition-making to create a playbook other artists can explore for their creative process.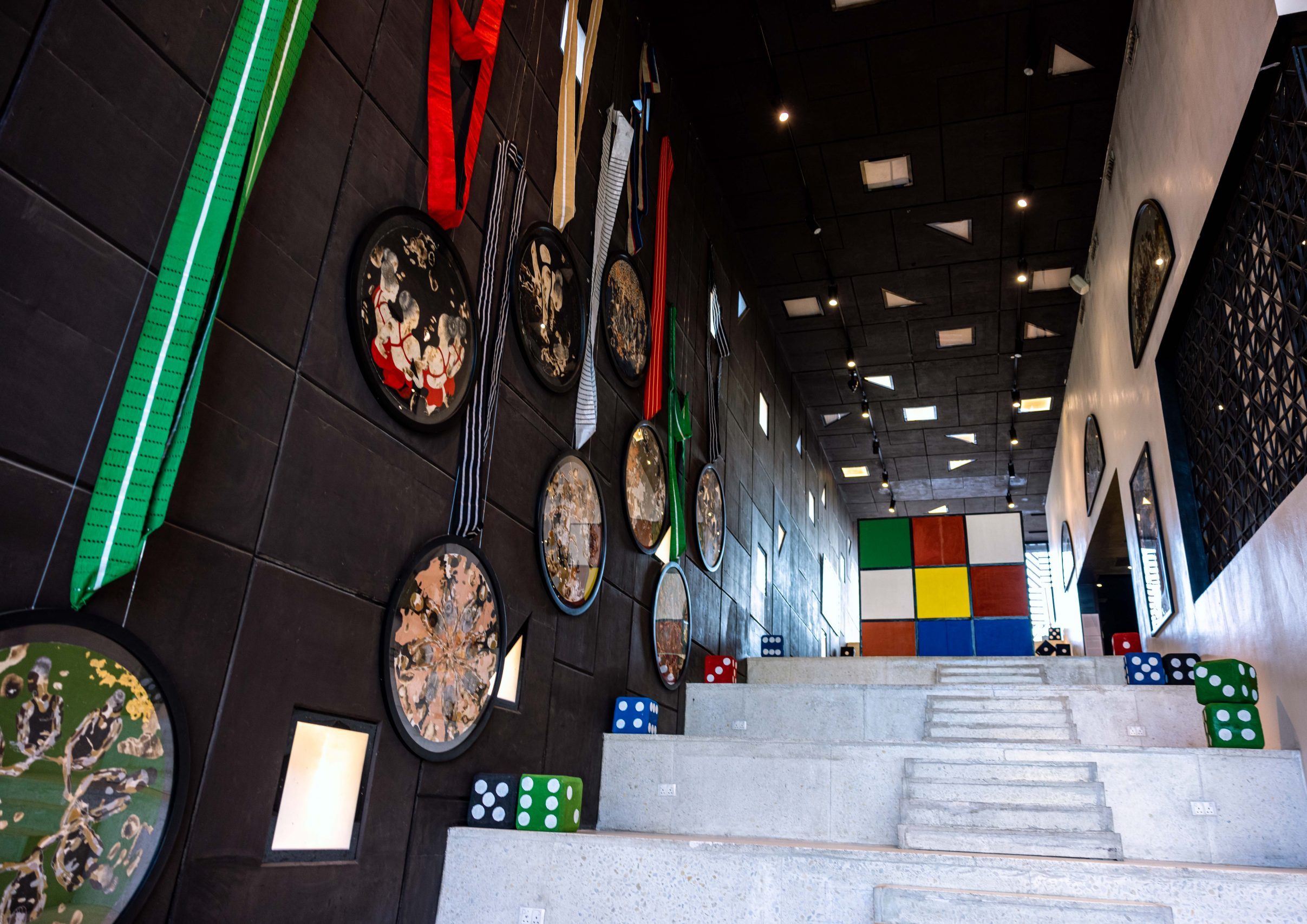 This playbook is intended as a road map to guide artists and creatives as they work to gain control of their process, moving from creation to presentation to post-presentation. It also addresses issues of education, politics, and governance. Greatly inspired by the African Renaissance Theory, a belief in the cultural, scientific, and economic renewal of post-colonial African nations, The Artist's Algorithm aims to promote interdisciplinary, educational, and economically sustainable creative initiatives in Africa.
The first iteration of the project is an exhibition titled Why Nations Win. It serves as an overview of the long-term presentation, activating the past three years of Fadugba's socially engaged research, evolving studio practice and the resulting artworks presented in physical and virtual exhibitions.
The Artist's Algorithm: Why Nations Win features 20 works: paintings on paper and canvas, a video presentation, and a game installation presented in a physical show in November at ALARA in Lagos, Nigeria. The interdisciplinary and interactive elements experienced in the exhibition all adhere to Fadugba's cosmopolitan interests—interests rooted in her upbringing across East and West Africa, Europe, and America—and they foster collaborative thought leadership across countries, empowering the continent.
In The Artist's Algorithm: Why Nations Win, Fadugba utilises recurrent symbolic motifs in her visual expressions, such as synchronised swimmers, game theory, geographic wonders, national heroes, monuments, and more, to create and celebrate stories. Both the personal and national representations are born out of places of learning: pools, schools, museums, home, and the exhibition seek answers to an underlying fundamental question: Why do nations win?
The presentation also brings back Fadugba's award-winning game installation, The People's Algorithm, an interactive game installation in which players explore ways to win within the framework of Nigeria's pressing unemployment and educational crisis. Influenced by six years spent working in research, policy, and administration within Nigeria's education sector, this participatory game installation invites audience members to confront the statistical realities Nigerian students, teachers, and policymakers face.
Fadugba has a background in engineering, education and economics, and comfortably inhabits the nexus of many disciplines. Her work explores cultural identity, social justice, game theory, and the art world within the socio-political landscape of Nigeria and the global economy. Her project The People's Algorithm was awarded El Anatsui's Outstanding Production Prize in Nigeria and it won the 2016 Dakar Biennale Grand Prize by Senegal's Minister of Communication. Her recent exhibition, Dream from the Deep End, depicts swimmers exploring collaborative ways of being in the water together. The work was exhibited at Gallery 1957 in Accra, Ghana, as part of a multimedia exhibition that reflects the sheer scope of individual stories and collective experiences as swimmers. Together with ArtDocs, she documented the process of creating these works. The documentary film was screened at the Brooklyn Museum, New York, in 2019, and most recently, at the Schomburg Center for Research in Black Culture, New York, in September 2019. Fadugba was a Smithsonian Artist Research Fellow in 2020, and she will be in San Francisco in the Fall of 2022 for the Headlands Residency.
The Artist's Algorithm project will travel to Dakar and Harlem in 2022 and 2023, respectively, with different accompanying titles and new works based on the concept and context for each location. The virtual exhibition of The Artist's Algorithm: Why Nations Win is accessible until the end of December 2021.