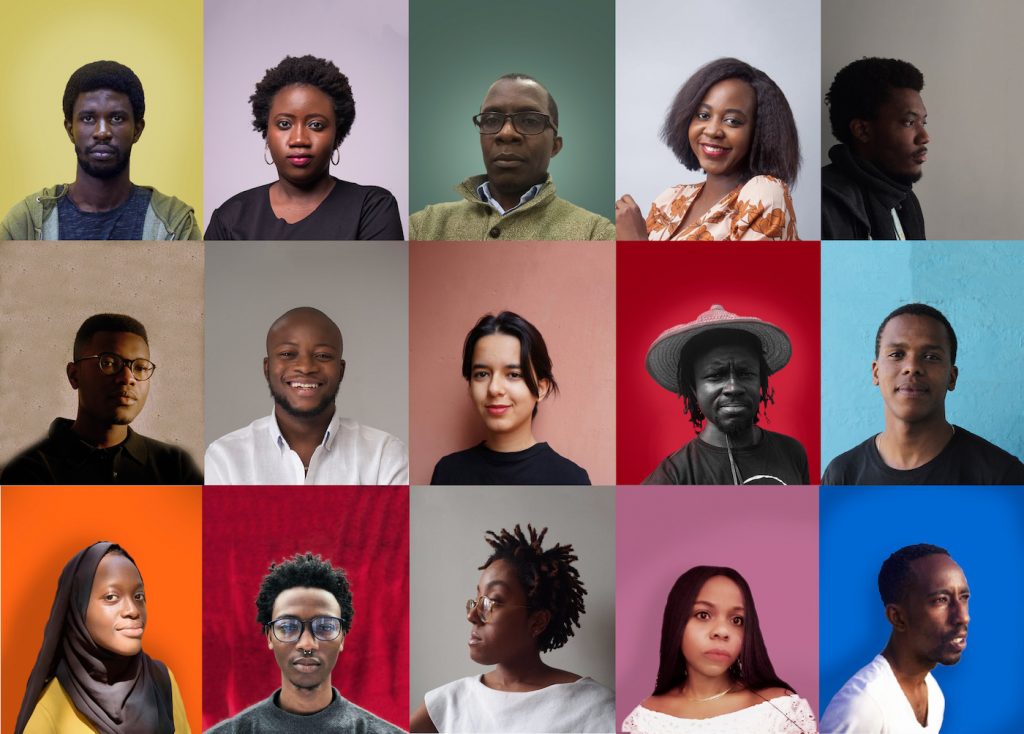 IfeOluwa Nihinlola | IfeOluwa Nihinlola is a writer and editor. He currently lives in Iowa, where he is an MFA candidate at the Iowa Writers' Workshop. Read articles by IfeOluwa here and here.
Roli O'tsemaye | Roli O'tsemaye is a writer and budding curator. She is currently a staff writer and the editorial coordinator at TSA Art Magazine. Read her articles here and here.
Jude Anogwih | Jude Anogwih is a visual artist/artist-curator. He's an MFA candidate at the University of Alabama, Tuscaloosa, USA. Read his conversation with German artist of African descent Nina Lukisa.
Kovie Parker | Kovie Parker is a writer, editor and curator in Lagos. She works as a features editor and contributor at TSA Art Magazine. Read her latest article here.
Yinka Elujoba | Yinka Elujoba is a writer and art critic living in New York. Read his first article on TSA here.
Kojo Abudu  | Kojo Abudu is a writer based between London, New York and Lagos. He runs Kojo London, a cultural online space dedicated to aesthetics, travel and critical thought. Read Kojo's articles on Liz Johnson Artur, Toyin Ojih Odutola and Lynette Yiadom-Boakye.
Ayodeji Rotinwa | Ayodeji Rotinwa is a freelance writer and critic who covers visual art & culture, social justice and sustainable development. He was editor-at-large for TSA Art Magazine online from August to December 2018. He is currently deputy editor at African Argument. Read his articles here and here.
Soukaina Aboulaola | Soukaina Aboulaoula is a young curator and writer based in Marrakech, Morrocco. She is the second half of the curatorial duo Untitled, in Marrakech. Ahead of 1-54 Contemporary African Art Fair in February, read her review of the last edition here.
Ayo Akinwande | Ayọ̀ Akínwándé is a multi-disciplinary artist, activist and writer. He was a student at the TSA Art Writing Master Class held in Lagos in October/November 2018. Read his latest feature on TSA.
Phokeng Setai | Phokeng Setai is an independent curator, writer and fellow at The Flagship on Critical Thought in African Humanities of the Centre for Humanities Research (CHR) at the University of the Western Cape (UWC). He lives in Cape Town, South Africa. Read his first essay feature here.
Khadidiatou Cissé | Khadidiatou Cissé is a journalist based in Dakar, Senegal. She writes about art next to her work at the BBC. Read her interview with a photographer from Mali here.
adeoluwa oluwajoba | adeoluwa oluwajoba is a young writer and artist based in Lagos, and a student at the TSA Art Writing Master Class held in Lagos in October/November 2018 and August 2019. Read his articles here and here.
Imani Ford | Imani Ford is a visual artist, writer, and scholar from Chicago and is based in New York. They are a first year PhD student at Columbia University in the English & Comparative Literature department. Read their review on prominent American artist Simone Leigh.
Adekemi Kudehinbu | Adekemi Kudehinbu is a writer based in Lagos. She blogs at Artwa.africa on African art. Read one of her features here.
Mamadou Diallo | Mamadou Diallo is a journalist and writer from Dakar. He is a contributing editor at Chimurenga, a fellow of the Raw Academy in Dakar and a PhD candidate at Columbia University. Read his articles here and here.
Other contributors are Tsatsu Kofi Amable, Dele Meiji, Kwabena Yeboah, Mathew B. Oyedele and more on the Summer Editions page.