As Nigeria celebrates its 60th independence anniversary, a young Nigerian in Ireland, Nana Nubi, launches her first book, the "Nigerian Heritage". An interactive 50-page colouring book, "Nigerian Heritage" contains illustrations and stories about the rich history and culture of the country. The narratives range from women leadership to Nigeria literary heroes and architectural history.
Nubi has worked in human rights organisations such as Afro-Irish and Africa Centre, Ireland. In 2015, she founded The Alpha Project, a youth empowerment initiative. Currently, she works as a Project Officer for the United Nations International Decade for People of African Descent (IDPAD Ireland). She is also a member of the Anti-Racism Committee where she engages in discussions of what needs to be done by public sector organisations to tackle racism in Ireland.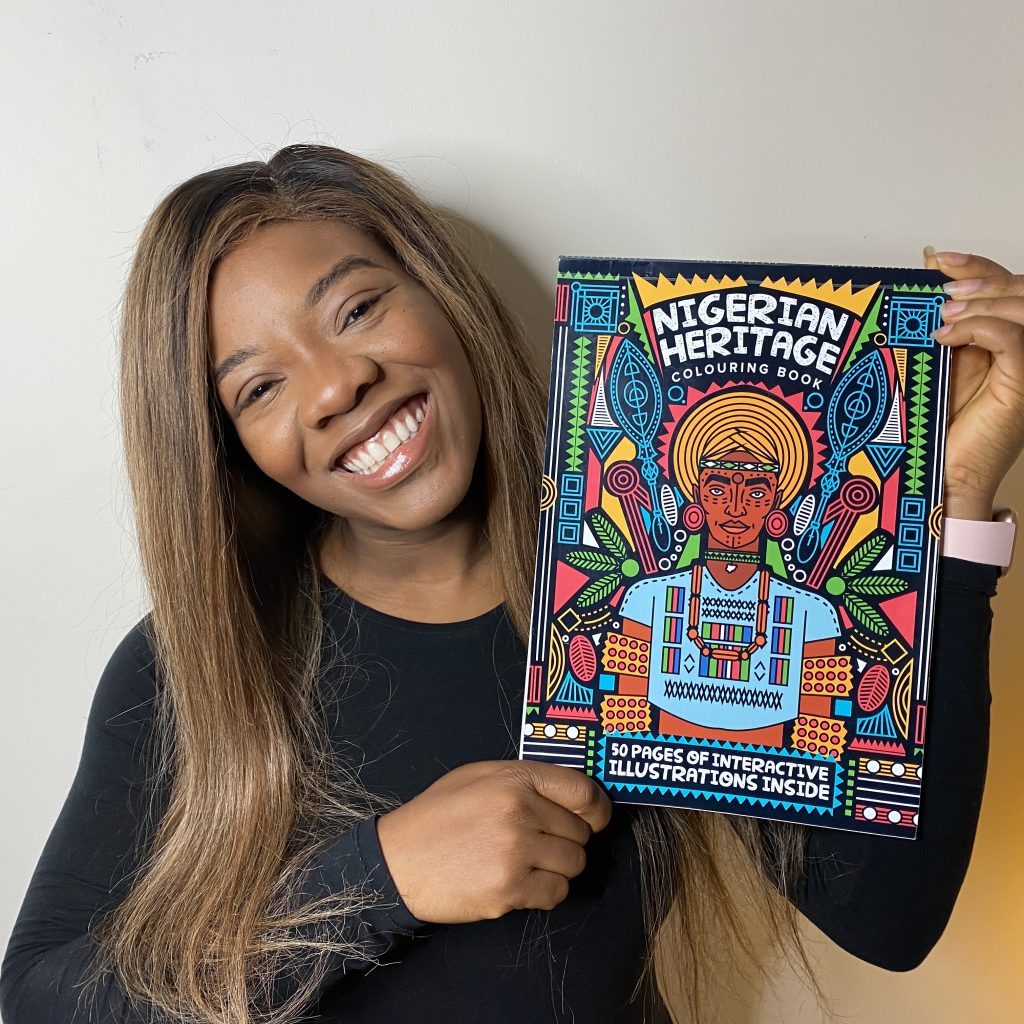 TSA: Why did you embark on the heritage colouring book project?
Nana Nubi: When I was pregnant with my daughter, I thought about how to present my Nigerian heritage to her. We live in Ireland, where I grew up. I mean, it's great being raised here – you will have ample opportunities and experiences, but, there is also racism. I struggled with my identity, and I was only able to find a sense of self when I travelled to Nigeria. I studied more about the country and the rest of the continent. Earlier, my knowledge of the continent was very general and the typical one-sided story of poverty, famine and war. 
With this project, I want to introduce my daughter and other children raised in the diaspora to the hidden gems in the culture, heritage and history of the continent. I arrived at the format – a colouring book with images, illustrations and text – to make it fun and easily digestible for them, as they are my primary target.  
TSA: Which Nigerian heritage and accounts are included in the fifty pages of this colouring book, and how did you decide on what featured? 
NN: There are fifty stories. I built the selection from the question: What information would I, and my friends raised here, have liked to know about Nigeria that we were not exposed to? So, the book has a few stories of female warriors and leaders from pre-slavery time like Queen Amina and Queen Moremi. There is this notion that Africa, in this instance, Nigeria, is highly patriarchal and women have no rights. I discovered that this was not always the case. We acquired today's patriarchal system through colonisation. We had societies where women worked and led, and there were ruling Kings and Queens. So, the book features stories of female leadership. Also, I read a book by a Nigerian for the first time at the age of fifteen. It struck me then that I didn't know Nigerian authors or books aside from Wole Soyinka and Chinua Achebe. They were the only names we heard. When you are here in Ireland, all you will see and read are literature by Europeans or Westerners. This experience prompted me to include our literary heroes such as Chimamanda Adichie in the colouring book.  
In addition to the physical book, there is an opportunity for the children to go online and have a comprehensive experience. When they go on the Afrocolour website, for instance, on our literary heroes, they can see the books published by these authors. Of course, children can't read some of these books, so it's really for their parents or guardians. Often, one of the parents is not Black or Nigerian, so this allows getting closer to the cultural heritage of their partner.
Other stories in the book are about our food, clothes and the history behind the clothing. The book also features our historical architecture. We included the architecture to show that we, Nigerians, and by large Africans, built significant structures that are still there today. Our ancestors did great things too. We had civilisation. 
TSA: You explained above how your childhood and diaspora experiences inspired the "Nigerian Heritage" project, can you discuss this further, especially in the context of renewed appreciation for African identity and culture. 
NN: When I visited Nigeria for the first time as an adult, I think I was 19. I was old enough to have good knowledge of a place I come from, but still, I was shocked at how developed the country is. Which, of course, made me sad for my ignorance. This experience spurred me to dig deeper. I learned our history and the stories of the different empires – Benin, Shongo, Yoruba, Asante and so on – across West Africa. It was good that finally, I learned these in my twenties. These discoveries also pushed my passion for Black history and literature, and I went as far as to volunteer with the African Centre in Ireland. At the centre, I was privileged to put together a course on Pre-Colonial African History and visited a few organisations in Ireland to spread this information. Learning about my history and culture promoted a sense of superiority that I didn't feel before. The African Centre was not only instrumental to my growth but enabled sharing this knowledge with the White Irish and African communities.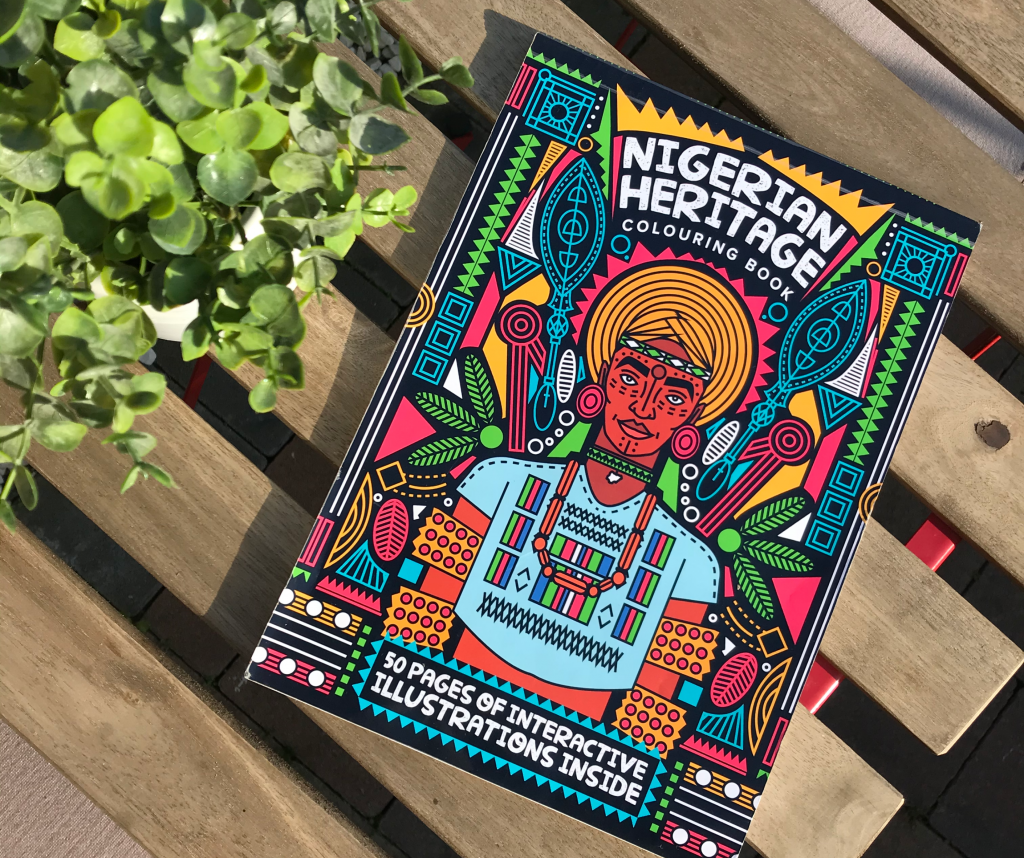 TSA: The book comes with a commentary app that brings "the pages to life with a colour guide, links to photos and videos from our curated archive." We are curious about this resource app. Can you give further insight into the app and the role it plays? What is the relationship between the app and the colouring book, and is this why it is an interactive book? 
NN: It's an interactive colouring book because it has texts integrated with illustrations. And yes, it has an extended experience online. For example, the story on the 1996 Olympics where Nigeria won gold medals is linked to an online resource where you can watch clips that will bring the history-making moments to life. While I was gathering the materials for the book, I realised I could not do Nigeria history justice with just 50 pages. Many stories could feature in the book. So, the online archive is an opportunity for readers to learn more and bring the pages to life. For the NYSC story, there is an image of corp members marching in the physical book, but when online, readers will encounter more and will be transported to a landscape they've probably never visited.
TSA: The book is currently available for pre-order in Nigeria, the UK, parts of Europe, the US and Canada. Why is it not available in other countries in Africa? 
NN: The lack of a universal payment method on the continent, for instance, PayPal, is what makes selling and meaningful access in the region complex. Each country has a different payment app. So instead of targeting the continent, we decided to focus on areas where there are a large number of Nigerians. Ghana is on our list for distributing the book. I can't make promises now, but we will see about this when we sell the first batch. 
Our primary targets are people in the diaspora, and that is because of the story behind the book. However, I understand that even in Nigeria, people don't know their history. I read a part of the NYSC story to a Nigerian adult and talked about how NYSC was created by Yakubu Gowon a few years after the civil war to bring unity in the country, and this person didn't know that. 
TSA: Will you expand this heritage project to other African countries? 
NN: We are presenting Nigeria first because Nigeria is the most populous Black nation, and we have the largest number of people in the diaspora. If Nigerians buy this book and it succeeds, then we know that there is an appetite for this knowledge. We have plans to create more on the different parts of the continent. It may not necessarily be in the form of a book, but we have plans to create content to tell these stories. There is a need for content that decolonises, and that is not Eurocentric. 
TSA: When and how will the book be launched? 
NN: We plan to launch on October 1 as Nigeria turns sixty. The presentation will be online along with a virtual art exhibition. We can't have a physical book launch because of Covid-19. We have created an event where different individuals will talk about the book. There will also be music and poetry that is by Irish-Nigerians and Nigerians from all over the world. Special guests for the book launch are the first Black woman councillor in Ireland, Yemi Adenuga and the Advisor to the Nigerian president on education, Obafela Bank Olemoh. 
–
The Nigerian Heritage book is available to pre-order until the end of October 2020. The book launch is on October 1, 2020, on afrocolour.com from 12 PM to 6 PM (Irish Standard Time). 
Interview by Ama Benewaa for TSA Art Magazine.