'We Find What We Seek' is a group exhibition showing from May 25 – June 5, 2021 at Coningsby Gallery, London. The exhibition curated by Kensu Oteng presents four emerging artists: Ben Agbee, James Mishio, Theophilus Tetteh and Jimas Ametonou, showcasing for the first time in the city works exploring the platitudes of human experiences and drawing attention to a collective reality. Invariably, this exhibition focuses on universal habits of the everyday condensed into four categories: Work, Family, Leisure, and Entertainment.
Each of these categories is a reminder that the essence of our connectivity, as individuals within our local communities and within a wider ecosystem of cultural production, is contained within that which is physical, imbued by the human thought and spirit. The title of the exhibition presupposes that no matter which geographical, philosophical, or spiritual planes we transverse, the bonds we create are not formed by proximity, but rather commonality.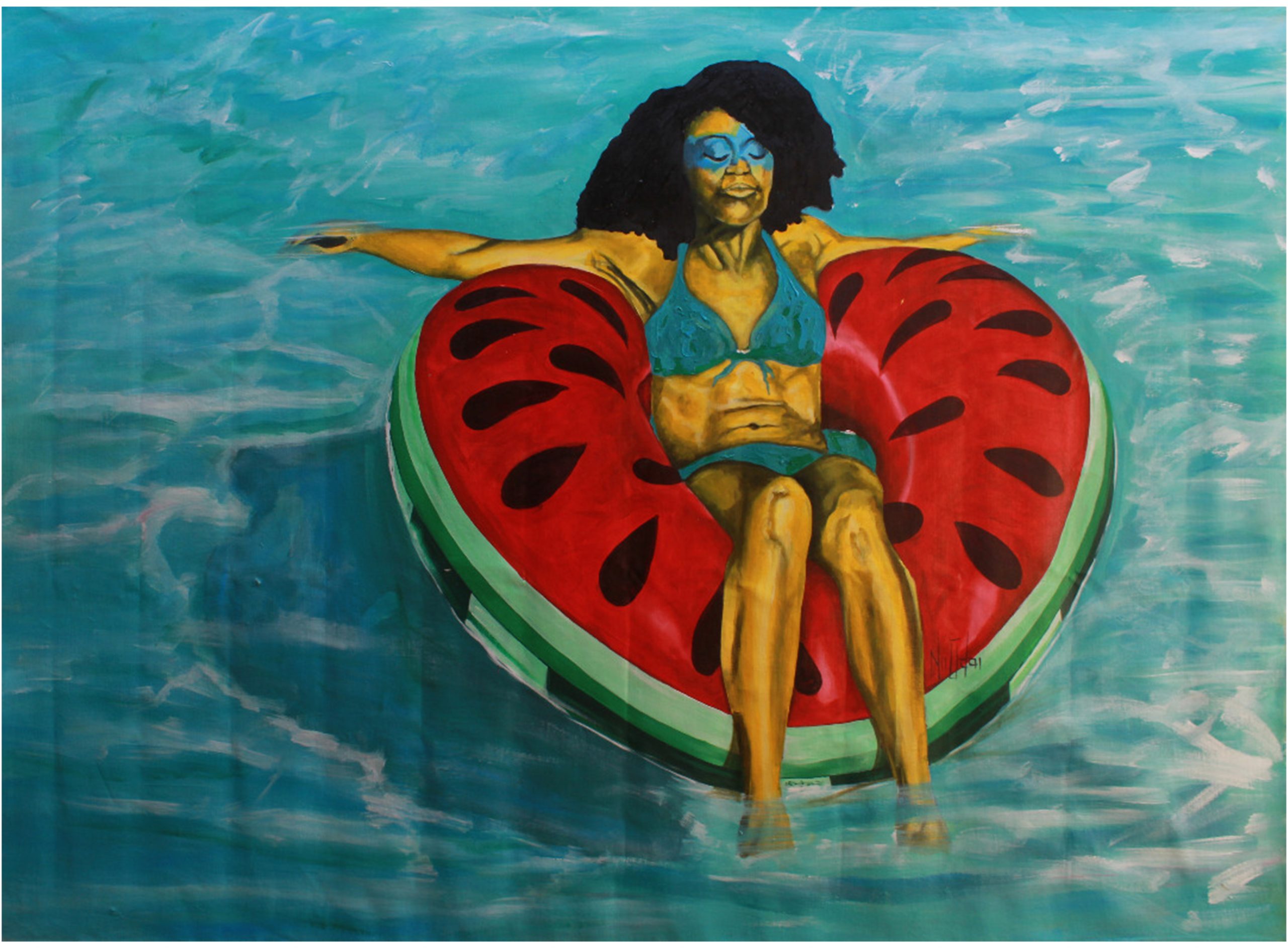 Alongside the contemporary artworks, traditional antiques from around Africa accompany the exhibition. Positioned in conjunction with the work of these emerging talents, the traditional antiques would serve, literally and symbolically, as the binding material between two temporal moments.
Ben Agbee's paintings pay tribute to the various characters that make up a community. His use of intense colours, applied with delicate precision, coupled with his distinct use of symbolism, forms complex and coherent compositions of cultural nuance.
James Mishio's portraiture and figurative paintings capture the "mood of the moment". His richly textured impasto and his ability to communicate varying human temperaments with a revelatory realism inspire introspection.
Theophilus Tetteh's work combines the dramatic and intimate to portray transient tales of city life. His figures, which at times stand solo and at other times are accompanied by large crowds, offer an enchanting spontaneity where the subject appears to be captured within the bustling environment and time is momentarily paused. The architectural framework Tetteh employs brings his characters front and centre, as though to accurately make known their particularity.
Jimas Ametonou's meditative compositions transport the subjects from their locality to reposition them within a realm in which their reality is restructured through a universal lens. These subjects exist, not as effects of their environment, but rather as the sources of its creation.
Kensu Oteng, curator of the exhibition, said, "This exhibition, through its exploration of our duty to work, our obligations to family, the necessity of leisure, and the cathartic release of entertainment, contemplates our collective participation in the forging of our reality."
'We Find What We Seek' is on view from May 25 – June 5, 2021 at Coningsby Gallery, London.