An exhibition on textile and the often neglected process of the long-standing tradition of indigo dyeing.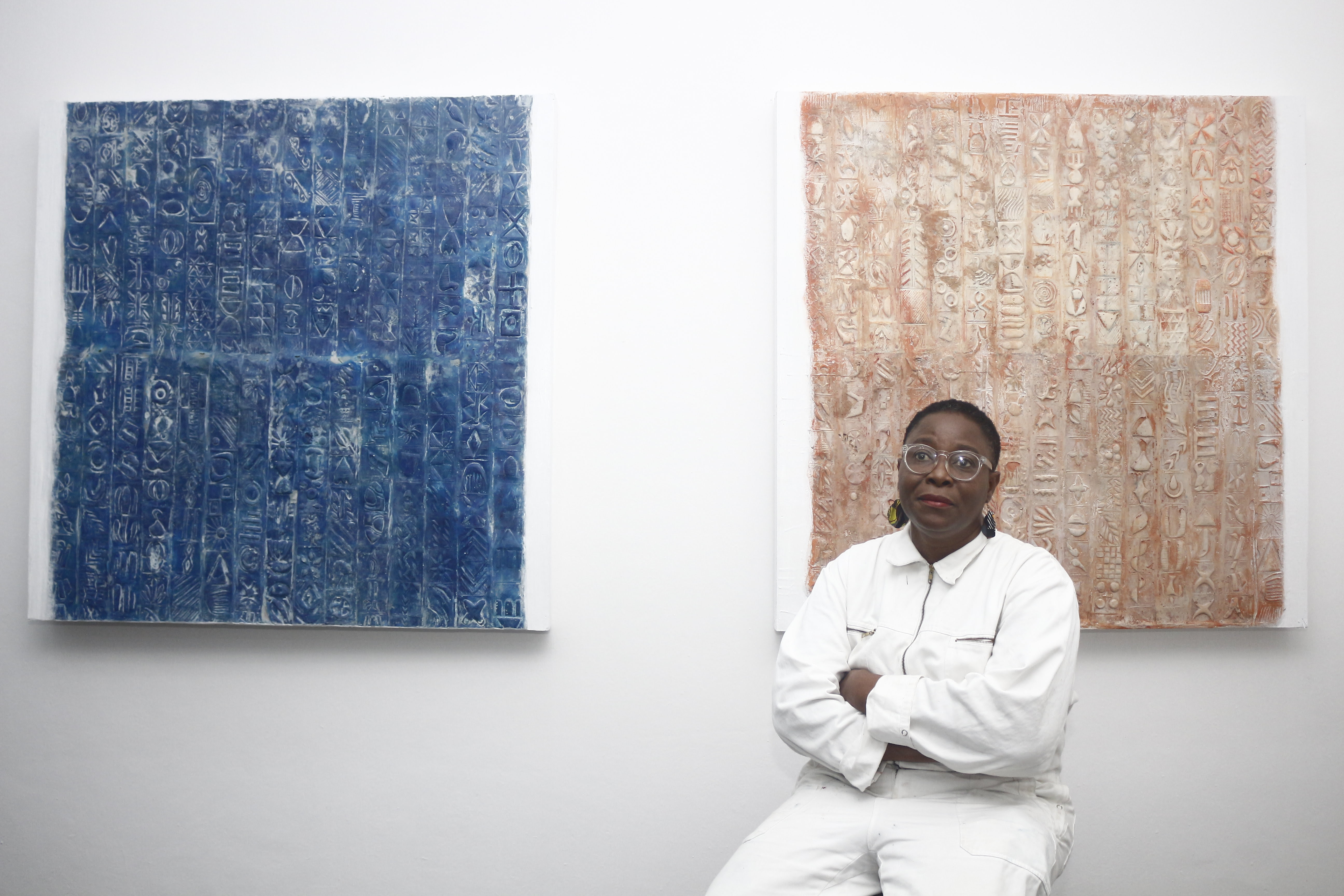 "Indigo Reimagined", a solo exhibition of textile installation by Peju Layiwola will be presented at the J.K Ade Ajayi Auditorium Gallery, at the University of Lagos from June 13 – July 30, 2019. The exhibition is based on the indigenous dyeing tradition of adire popularly known among the people of south-western Nigeria.
For this exhibition, she employs her past experiences and engagement with cloth, which she has documented in different ways including the article 'Lace Culture and the Art of Dressing Well in Nigeria' in the publication African Lace: A History of Trade, Creativity and Fashion in Nigeria, edited by Barbara Plankensteiner and Nath Mayo Adediran.
Her trajectory with textile further includes facilitating hands-on workshops on tie and dye, batik and silk painting at her Women and Youth Art Foundation (WYART) in Surulere, Lagos, and designing of costumes for the public art project "Whose Centenary?" at Igun Street in Benin City in 2014. 
In "Indigo Reimagined", Layiwola highlights the multidimensionality of this artistic practice whilst simultaneously providing us with a view of the beauty and functions of other indigenous crafts like pottery and metalwork associated with the dyeing process. Also, these installations are not limited to the dyed textile as a site of adornment and signification. Instead, they redirect our gaze at the very process of 'art as art' in their own right; in a sense, the process, methodology and labour of making art is itself conceived of as art. This conceptual, yet tactical, engagement with cloth compels the viewer to look at the often neglected but important aspects involved in the process of this long-standing tradition of indigo dyeing.  
Peju Layiwola is a Professor of Art History at the University of Lagos and currently serves as the Head of the Creative Arts Department at the same university. She earned a BA in 1988 at the University of Benin, Benin City; an MA and PhD in Art History at the University of Ibadan, Nigeria, in 1991 and 2004 respectively. Based on her keen interest in culture and history, she focuses on personal and communal histories which centralize Benin as both an ancient kingdom and a contemporary city. Her oeuvre spans various media including metalwork, pottery, textile, and sculpture, addressing diverse strains of the postcolonial condition. In her teaching, writing, and art, there is continuous engagement with themes of artifact pillage, repatriation and restitution; history, memory and cultural imaginary; gender and cultural heterodoxy; the continually mutable processes of production.
Over the course of her professional career, she has received several awards such as the Departmental Prize in Applied Arts 1987, Best Graduating Student at the University of Benin Art school in 1988, NYSC Merit Award, Lagos State (1989), Distinguished Researcher's Award, Faculty of Arts, University of Lagos, 2007, Two Central Research Grants of the University of Lagos; and Commendation for Teaching at the University of Lagos, in 2005.
Some of the events accompanying the exhibition are: 
– A panel discussion on "Indigo Reimagined" at the next Lagos Studies Association conference, June 27-29, 2019. 
– Artist talk at the exhibition. (Date to be announced)
– Discussion with Elizabeth Olowu, mother of the artist, who is celebrated as the first female to specialize in the art of bronze casting in Nigeria. She will speak about the early career of her daughter, about her artistic practice as a pioneering student of the Department of Creative Arts at the University of Benin, her journey into metal casting in Benin and working with the guild of Benin bronze casters. (Date to be announced)
See further details on www.pejulayiwola.com