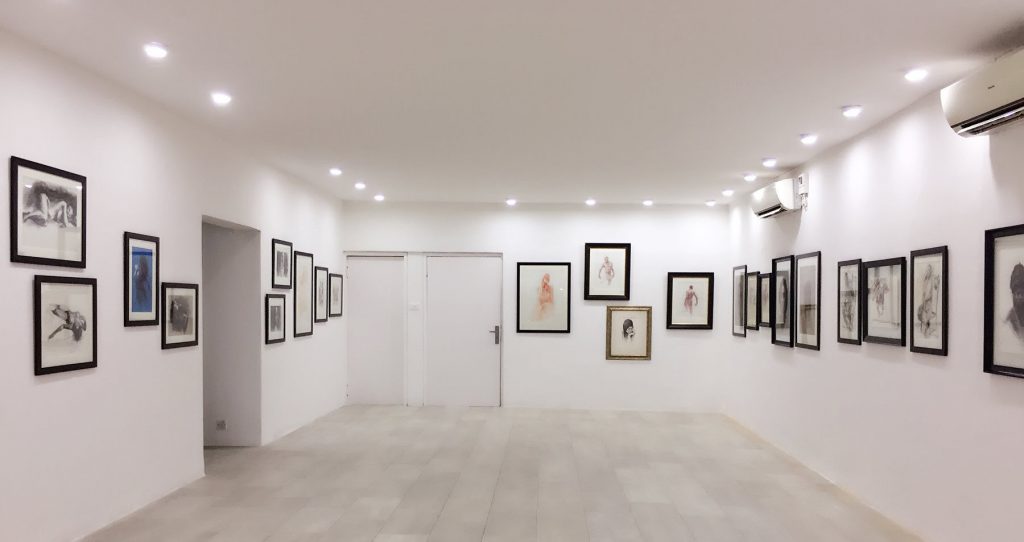 The Manuscript exhibition which opened at the Omenka Gallery in February is one of the shows in recent times bringing attention to drawing as a whole and complete art form. These shows share one main goal; to revive drawing from the abyss of old art forms and make it as important as the current media rocking the contemporary scene.
Some weeks before Uche Okeke passed away in 2016, I came across a quote by him in the "New Traditions from Nigeria, Seven Artists of the Nsukka Group" written by Simon Ottenberg. The quote says "Every artist, any visual artist, who cannot draw is really for me, not a visual artist". In the current art world where collages, experimental art, and conceptual installations are kings, this statement by the artist might come across as an 'old school' pedagogical thing to say as Okeke was not only an artist but a lecturer and professor of art. However, some of the artists in The Manuscript exhibition – Olusegun Adejumo, Duke Asidere, Ato Arinze, Angela Isiuwe, and Abiodun Olaku – also share a similar sentiment. Their agreement on the importance ascribed to drawing goes beyond age as some of the younger artists – Richardson Ovbiebo and Joshua Nmesirionye – also consider drawing a fundamental and important skill for any fine artist.
Presenting The Manuscript was propelled by a conversation between Duke Asidere and art patron, Hakeem Adedeji at the artist's studio many years back. Their goal was to create interest in drawing as pure finished art and not just a study for other media such as painting and sculpting. The initial plan was to hold a non-commercial exhibition in Egbeda a suburb of Lagos where Duke Asidere lives and work, but this changed when Hydrocarbon Advisors stepped in to collaborate with the artist. It went from a one-man show to a group exhibition showcasing different styles of drawing by different artists. It also became a commercial show to emphasize that drawing is valuable and worth collecting. Asidere considers his drawings finished pieces and places value on them as much as his paintings.
In a deliberate effort to preach the gospel of drawing, Olusegun Adejumo, who is the president of the Guild of Professional Fine Artists of Nigeria, shares a lot of his impressive drawings on social media. He holds a quarterly intense drawing workshop for artists at his One Draw studio to help with mastery of the medium and sustain interest among young artists who are confronted with many new art forms parading the contemporary art scene.
Prior to The Manuscript, another gallery in Lagos, Rele, with a similar goal in mind, presented a solo show of Austin Uzor, a young artist who specializes in drawing, to spark renewed interest in the medium. Uzor is the protege of a popular illustrator, Ibe Ananaba, who is known for drawing and painting with watercolours. They are among the few artists in Nigeria who affirm drawing as a whole and interesting practice.
Outside Nigeria, promoting drawing as an essential art form goes beyond exhibitions, there are competitions and prizes for artists. One of such prestigious international competition is the annual Prix Canson won by Njideka Akunyili in 2016. There is also an interesting article in the Guardian UK on "Why drawing needs to be a curriculum essential" written by Prof. Anita Taylor. The article states "drawing is creative, expressive, and fundamental to translating and analyzing the world". Drawing remains a central and pivotal activity to the work of many artists and designers – a touchstone and tool of creative exploration that informs visual discovery writes Professor Taylor. Her advocacy for drawing includes making it an activity for all.
In curating The Manuscript, Ronke Akinyele, art curator and founder of Jade Art, selected the artists based on techniques and draughtsmanship to present the different materials and techniques used in drawing. Most of the presented works are in pencil, graphite, pen, pastel and charcoal, and are categorized along the lines of ordinary portraiture and storytelling images. Although the works are displayed according to the technique used, texture, subject, and individual style separate one artist from the other.
Ben Osaghae, Duke Asidere, Ato Arinze are some of the artists whose drawings transcend fine artistry to addressing issues. Richardson Ovbiebo's Mind Control also falls into that category. Mind Control is very personal to Ovbiebo as it was drawn during a period of internal struggle on the path to follow as an artist. He had just finished his youth corp service in 2011 and was confronted by excessive information. The forceful hand in the drawing symbolizes the manipulations going on with funding in the sector. Often artists are forced to work in a particular medium or subject matter because of the funding available in that area.
Osaghae's work in the exhibition is in memoriam of the artist to celebrate his draughtsmanship and dedication to his craft. Osaghae who passed away in January is considered one of the best draughtsmen in the game by his contemporaries and art critics. Other artists featured in the exhibition are Edosa Oguigo, Bunmi Babatunde, Ejoh Wallace, Olumide Oresegun, Ogbemi Heymann, Raji Mohammed, Umoh Akanimoh, Olajide Salako, Emeka Nwagbara, Munza, Sam Ajobiewe and Joe Ayelero.