Tiwani Contemporary, a new addition to the growing list of Lagos art galleries, is currently showing its second exhibition. Titled 'The Company She Keeps', the show features an outstanding lineup of artworks by five women artists–Chioma Ebinama, Miranda Forrester, Temitayo Ogunbiyi, Nengi Omuku and Charmaine Watkiss. Collectively their works draw attention to intimacy, reparative approaches, and the valorisation of labour.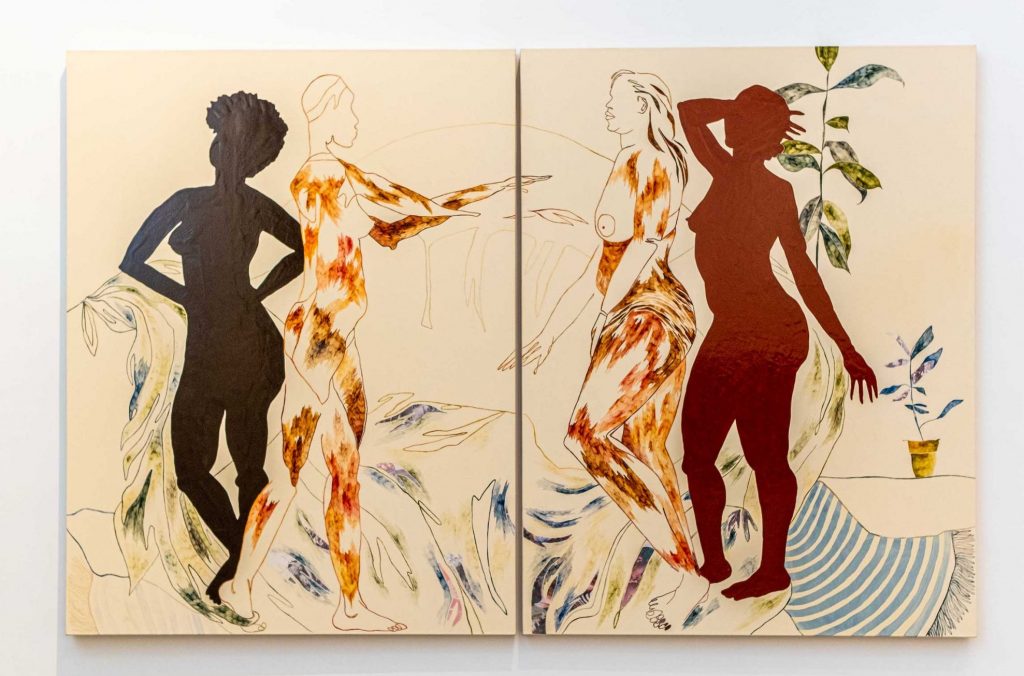 Presented in a spacious hall with high walls and enough room that allows each work to breathe and be adequately engaged, 'The Company She Keeps', becomes a spatial experience as one moves from two-dimensional to three-dimensional creations. The works in the exhibition range from drawings to mixed media works, sound and multimedia, and sculptural installations. There is a vivid sense of experimentation common to all the pieces.  
Ebinama, based in Athens, Greece, engages with animist mythologies and non-western philosophies. Her interpretations are rendered in drawings and watercolour compositions on rag paper. For this exhibition, Ebinama presents a suspended circular painting, The Bride 2 (2022), inspired by a scene of the matrimonial rite from Chinua Achebe's 1958 classic novel, 'Things Fall Apart'. The work is accompanied by an audio piece titled Prayer for When Fear Strikes at Dawn (2022). Forrester, a London-based artist, presents a diptych titled individually; Give Me All of You (2021) and Introspection I-IV (2022). Her installation incorporates a 20ft long stencilled mural and a series of four paintings using oil, gloss and image transfer on canvas and transparent polycarbonate panels. It explores subjects of domesticity and interiority, structured by the gazes and intimacies shared between women.
Ogunbiyi, an artist and curator currently based in Lagos, presents works expanding her interest in how commerce, architecture, history and botanical cultures inform the interactions and gestures that inscribe public and private spaces. Using painting, drawing and sculpture, You Will Labour to Find Value Anew (Sweet Mother) (2022) was created in honour of the dexterity and labour of women. Omuku, another artist based in Lagos, is showing a large-scale painting on a silk sanyan fabric from Nigeria titled Candyscape (2022). In this work, Omuku returns to her earlier style of abstract forms and dreamlike atmosphere, unlike the figurative subjects that have dominated her work recently. Candyscape momentarily suggests a retreat for the body to harness the restorative power of real and ideated landscapes. Watkiss, the second London-based artist in the show, presents several new drawings titled Àse (2022). The works bring Watkiss' matrilineal deities to Nigeria. These 'plant warriors' are the human and spiritual embodiment of medicinal plants and seeds dispersed to the new worlds from West Africa via the transatlantic trade between the 16th and 19th centuries.
Although a unifying theme exploring the interdependence between nature, plants and humans runs through all the works, each piece outlines its own story. But the longer one stays with any of these works, the more connections are bound to build. They will also invoke distant memories, history and forgotten cultural practices and affections as simple as a mother's love. 
'The Company She Keeps' was curated by Adelaide Bannerman, a freelance curator based in London, and it's on view until August 13, 2022, at Tiwani Contemporary, 13, Elsie Femi Pearse Street, Victoria Island, Lagos.