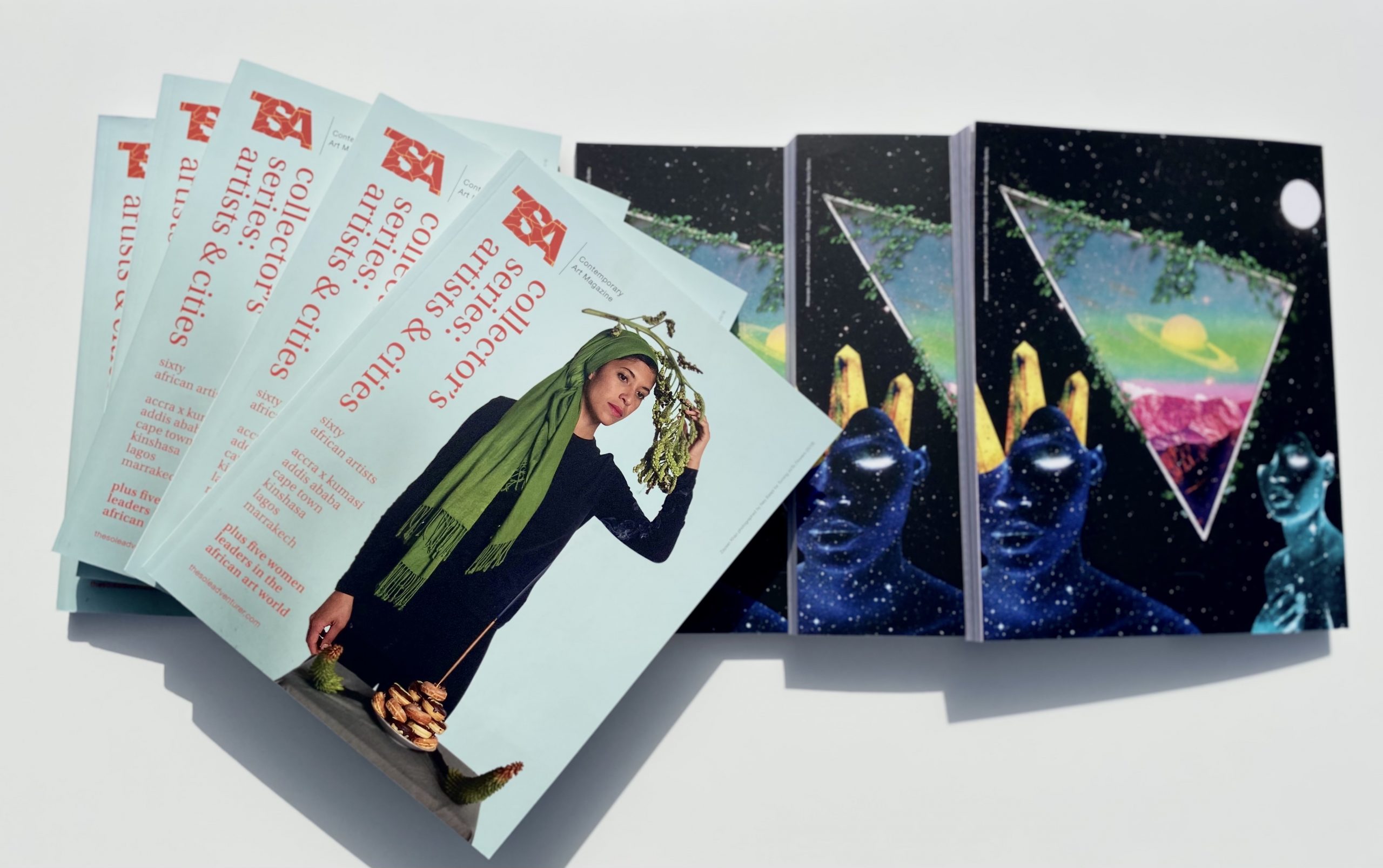 Our first edition of the 'Collector's Series', titled 'Artists & Cities', is a 280-page hybrid magazine featuring sixty artists and collectives from six cities in Africa and five women leaders in the African art world. It brings together a diverse and uncommon range of artistic practices from the continent, expanding what is presented and commonly promoted as African art today. 
Lagos, Accra x Kumasi, Cape Town, Kinshasa, Addis Ababa and Marrakech take centre stage as we examine the relationship between art, artists and cities and show the role of art and artists in city-making, especially in Africa. Each city is a starting point for examining the featured artists' works and various societal issues. The publication is visually attractive and features contributions by well-known critics and young voices championing art from the continent and the diaspora.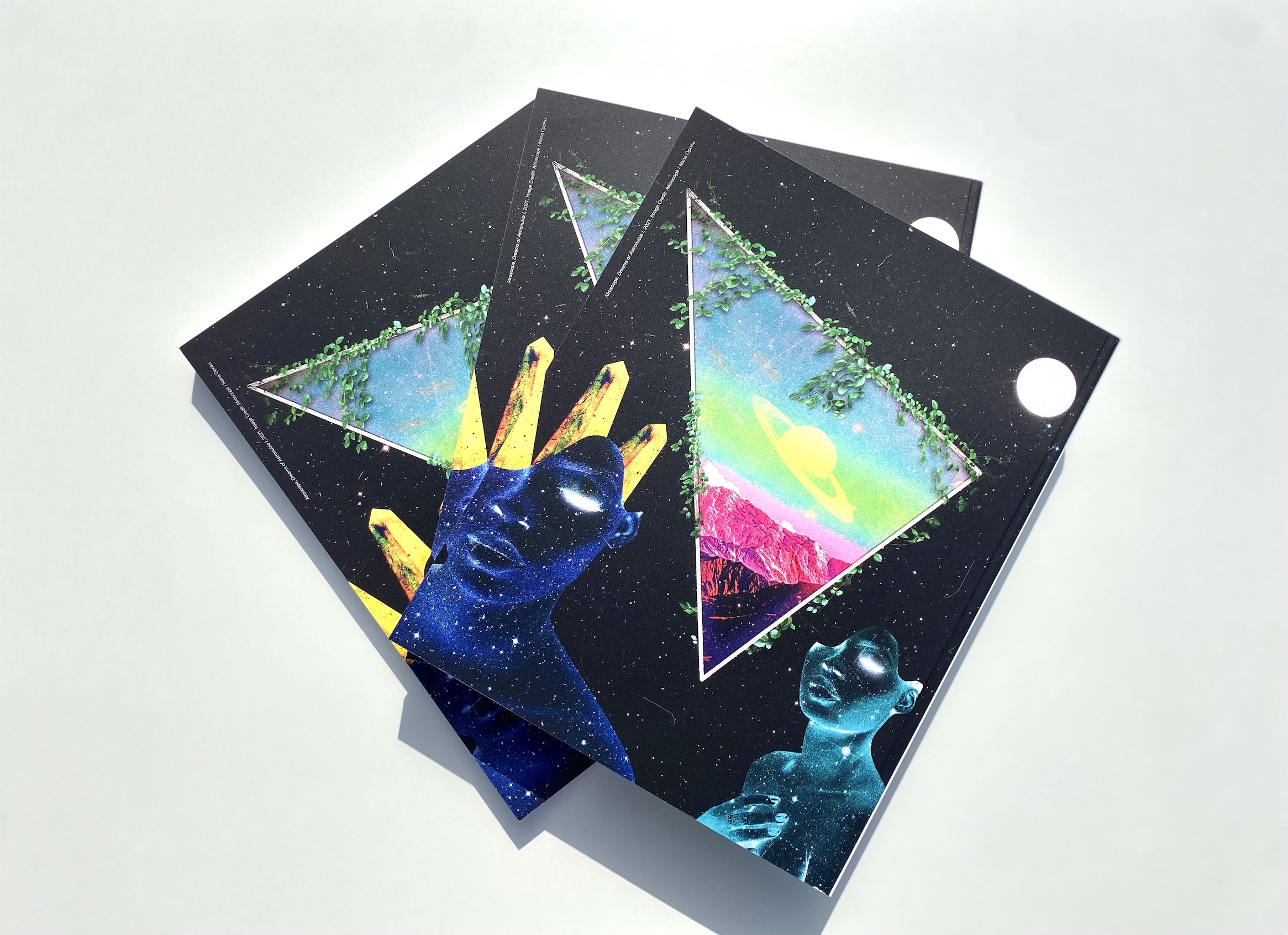 FEATURED ARTISTS & COLLECTIVES 
Mmakhotso Lamola, Zayaan Khan, Bolatito Aderemi-Ibitola, Afroscope/Isaac Nana Opoku, Amina Agueznay, Igshaan Adams, Lois Arde-Acquah, Latifah Idriss, Sheila Chukwulozie, Wendimagegn Belete, Mohamed Arejdal, Godelive Kasangati Kabena, Fatiha Zemmouri, Thania Petersen, Michael Tsegaye, Amine El Gotaibi, Jumoke Sanwo, Zohra Opoku, Merikokeb Berhanu, David Alabo, Anastasie Langu Lawinner, Atang Tshikare, Vitshois Mwilambwe Bondo, Léonard Pongo, Nelson Makengo, Lhola Amira, Laila Hida & Le18, Nengi Omuku, Addis Aemero, hFACTOR, Sethembile Msezane, Godelive Kasangati Kabena, Haroon Gunn Salie, Alexandre Kyungu Mwilambwe, Kimathi Mafafo, Barry Christianson, Isaac Sahani Dato,  Va-Bene Elikem K. Fiatsi, Elisabeth Efua Sutherland, Dawit Seto, Joseph Obanubi, Mukenge/Schellhammer, Sarah Abu Bushra, Houda Terjuman, Yadichinma Ukoha-Kalu, Rida Tabit, Manny Jefferson, Robel Temesgen, Theresah Ankomah, Ayọ Akínwándé, Maheder Haileselassie, Akwasi Bediako Afrane, Mo Baala, M'Barek Bouhchichi, Asafo Black Collective, Farata Collectif, Cultural Intelligence Association (CIA Lagos) and Trick54.
SPECIAL FOCUS 
The special section features Sandra Mbanefo Obiago, Odile Tevie, Elana Brundyn, Victoria Mann and Armelle Dakouo, leaders of outstanding platforms and foremost organisations dedicated to enabling artists and art practices in Africa and African diasporas. These women are mostly behind the scenes and an example of a broader network of female professionals whose work propels African art to be more visible locally and even globally. They make it possible for forgotten modernists to reach a new and young audience and for contemporary African art to be experienced in innovative environments. Their projects drive the visibility of women artists and uncommon narratives, and they make it possible for artists to earn a living while sustaining the world's quest for meaning through art. 
CONTRIBUTORS 
Immaculata Abba, Hiwot Abebe, Yaa Addae, Maheder Aekalu, Nana Adwoa Tekyiwa Agyemang, Oris Aigbokhaevbolo, Bernard Akoi-Jackson, Hanou Amendah, Michelle Angwenyi, Jude Anogwih, Mia Arderne, Adjoa Armah, Fui Can-Tamakloe, Ama Asantewa Diaka, Tandazani Dhlakama, Nene Aïssatou Diallo, Kalkidan Fessehaye, Faridah Folawiyo, Maud Houssais, Ashraf Jamal, Marinette Jeannerod, Jean Kamba, Adjo Kisser, Bongani Kona, Mbassi Landry, Keren Lasme, Kuukuwa Manful, Khanya Mashabela, Nioni Masela, Horcelie Sinda Wa Mbongo, Desta Meghoo, Lindi Mngxitama, moshood, Nkgopoleng Moloi, Rachell Morillo, Marie Moignard, Houda Outarahout-Millet, Fadzai Veronica Muchemwa, Jean-Sylvain Tshilumba Mukendi, Besufekad Mulu, Joseph Omoh Ndukwu, IfeOluwa Nihinlola, Patrick Nzazi, Baba Oladeji, adeoluwa oluwajoba, Isaac Nana Opoku, Roli O'tsemaye, Bukola Oyebode, Phokeng Setai, Cindy Sissokho, Nolan Stevens, Ama Benewaa Tawiah, Mavis Tetteh-Ocloo, Wana Udobang, Kwame Write and Metasebia Yoseph.
SPECIAL CONTRIBUTORS 
Myriem Baadi, Othman Lazraq and Rakeb Sile.
EDITORIAL 
Bukola Oyebode, Billie McTernan, Neo Maditla, Enajite Efemuaye, Roli O'tsemaye and Ama Benewaa Tawiah.
FRONT COVER: Zayaan Khan photographed by Neo Baepi for Turning In/To Flowers (2019)
BACK COVER: Afroscope, Dreams of Astronubia I, 2021. Image Credit: Afroscope / Nana Opoku
WHERE TO BUY COLLECTOR'S SERIES #01: ARTISTS & CITIES 
You can buy the publication from the stockists listed here or order from our website for delivery in Nigeria and The Netherlands. We will continue to update the stockists' page as we expand our reach.