On November 19, TSA Art Magazine formally presented the Collector's Series: Artists & Cities publication at an exclusive brunch in Lagos hosted and sponsored by SMO Contemporary Art and The Wheatbaker.   
The event's program included live reviews of the publication by Oliver Enwonwu (visual artist, director of Omenka Gallery and publisher of Omenka Magazine) and Tracian Meikle (artist, curator, and researcher / curator-in-residence at Treehouse Lagos).
There was also a discussion on The Significance of Art Book and Magazine Publishing in Africa with Dr Jess Castelotte (architect, writer, curator and director, Yemisi Shyllon Museum of Contemporary Art), Jumoke Sanwo (artist, filmmaker curator, and founder of Revolving Art Incubator), Dr Nadine Siegert (director of Goethe Institut Nigeria and editor at iwalewabooks), and Papa Omotayo (architect and founder of AW-CA Art Space, Lagos). It was moderated by Bukola Oyebode, TSA's lead editor.
Below is the transcript of Oliver Enwonwu's first impression of the publication. You can read Tracian Meikle's review here.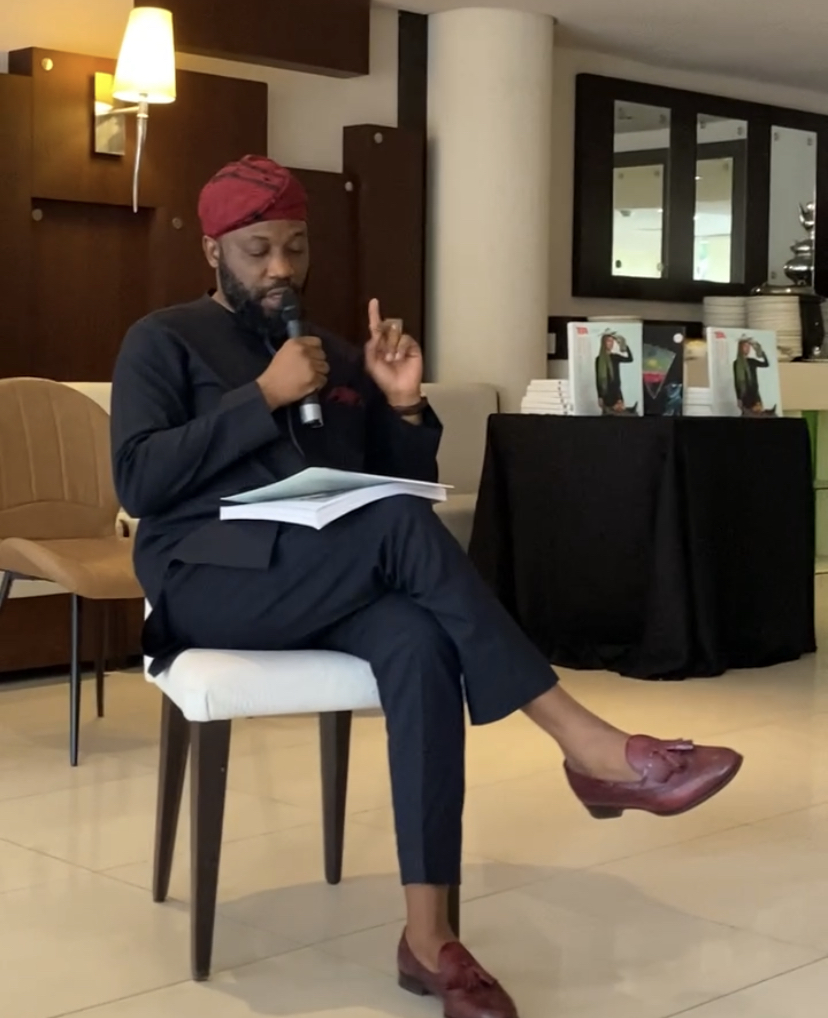 Let me start by congratulating the publisher (Bukola Oyebode) who has invited me with such short notice to give a review of the latest edition of "The Sole Adventurer". 
TSA's Collector's Series is exactly what it is — a collectable — it is indeed more than a regular edition of a magazine or a compendium of artists replete with their profiles. Frankly, it is a repository of knowledge on contemporary art of the African continent, for appreciation, enjoyment and research purposes. 
This lofty assertion is supported by six cardinal pillars:
One: The sheer magnitude of collaboration by some of the finest minds across Africa, including curators, gallerists, journalists and writers. Numbering 59, they have all come together to share their perspectives on contemporary art developments in Africa.
Significantly, 60 artists from a broad geographical spread are featured, from the emerging to the more established, while seven1 major artistic centres—Cape Town, Kinshasa, Accra, Kumasi, Lagos, Addis Ababa and Marrakech—were examined. 
Two: All the artists and contributors are African or have their practices entirely focused on the continent. Notably, the artists live and work in Africa [or have active studios partly based there].
These facts ensure an indigenous claim on ownership of the narrative— a far departure from decades past when Western viewpoints and patronage shaped the stylistic direction of our art. 
Three: It goes a long way in filling the gaps and the dearth of critical publications on art in Africa, a situation that has hampered, in no small way, the growth and global reception of our visual arts.
Four: The importance of this Collector's Series is further underscored when one considers that much of Africa's rich history of creativity has been lost in oral traditions over successive generations and through such events as wars— the British conquest of Benin in 1897, being a prime example. 
Five: The edition's relevance is also couched in the several themes ranging from time, space and place to the body, memory and the archive, and spirituality.
It also engages pertinent issues affecting Africa and, by extension, the rest of the world, including rapid urbanisation, post-colonisation, migration and displacement, gender equality, identity politics and environmental sustainability.
Even, cutting-edge phenomena like NFTs are not ignored. 
Six: The overarching thrust of this issue, to interrogate artistic production, artists and the cities in which they reside, is pivotal for several reasons. In providing answers to questions like "what role do art and artists play in city-making, and what impact does the city have on the artists and their output?", this edition becomes a veritable manual. In several years to come, future generations may reconstruct our history, and renegotiate their individual and collective identities while charting their progress through this documentation of not only the attitudes of the artists to art-making or their techniques, processes or underlying philosophies but also the inspiration they draw from the city and her consequent impact upon them. 
These facts ensure an indigenous claim on ownership of the narrative— a far departure from decades past when Western viewpoints and patronage shaped the stylistic direction of our art. 
Having established these pillars to confound the critics, I will now delve into the formal qualities of the publication. In doing so, I will offer some constructive criticism. 
Excellent aesthetic value. Indeed, the publication is printed to the highest possible standards.

Flowing, easily understood language. Devoid of convoluted art historical jargon that does more to alienate the very public it aims to embrace. 

Well organised in three broad sections, which makes it easy to navigate. 
The first section deals with South, Central and West Africa through Cape Town, Kinshasa, Accra and Kumasi. The middle section is a special focus on women, while the third, through Lagos, Addis Ababa and Marrakech deals with West Africa again and then East and North Africa.  
It is not immediately clear why various regions are grouped together or why, for instance, West Africa is treated in two sections instead of being constrained in one. Perhaps, the second and third sections may have been more lucid if the classification was mainly according to geographical regions. 
It may also have been useful if the contents page gave an inkling of what to expect in the inner pages by indicating the titles of the texts by the contributors. 
I will end my brief review now with a tribute to Africa. Unarguably, this beautifully produced repository has done well to highlight some of the most exciting names and happenings in the contemporary art space. It represents only a small fraction of the glut of artistic talent in Africa. 
However, for many who are conversant with art from Africa, those who seek to know more, and for the absolute beginner, the Collector's Series: Artists & Cities by TSA Art Magazine is indeed an excellent way to shore up knowledge and feel the pulse of contemporary art in Africa. 
Again, I congratulate the publisher, the contributors and all those who worked tirelessly behind the scenes in bringing this publication to fruition despite such odds as the perennial problem of funding. Yours is a labour of love that would go a long way in keeping Africa on the world cultural map—your efforts will not be forgotten. 
And to the audience, collectors and well-wishers alike, this is a keepsake. Please get a copy now—or you may just be missing out on a piece of history—your history.
I thank you all for your kind attention.
– 
1 Editor's note on Accra x Kumasi in the Collector's Series: Artists & Cities, p.93: "In Ghana, we combined two cities to challenge the politics of attributing a country or region's art scene to one or two places as the prime art destination. Bernard Akoi-Jackson's chronicle of the Ghanaian art scene shows that a city's art scene is primarily made possible by events and players extending far beyond that space and must be acknowledged. This reality plays out in the other cities though we choose not to point this out directly. 
–
Oliver Enwonwu is a Nigerian artist, curator, art administrator, writer, and publisher. He is the founder of Omenka Gallery and Omenka Online, a magazine focused on contemporary art and culture from Africa.