On November 19, TSA Art Magazine formally presented the Collector's Series: Artists & Cities publication at an exclusive brunch in Lagos hosted and sponsored by SMO Contemporary Art and The Wheatbaker.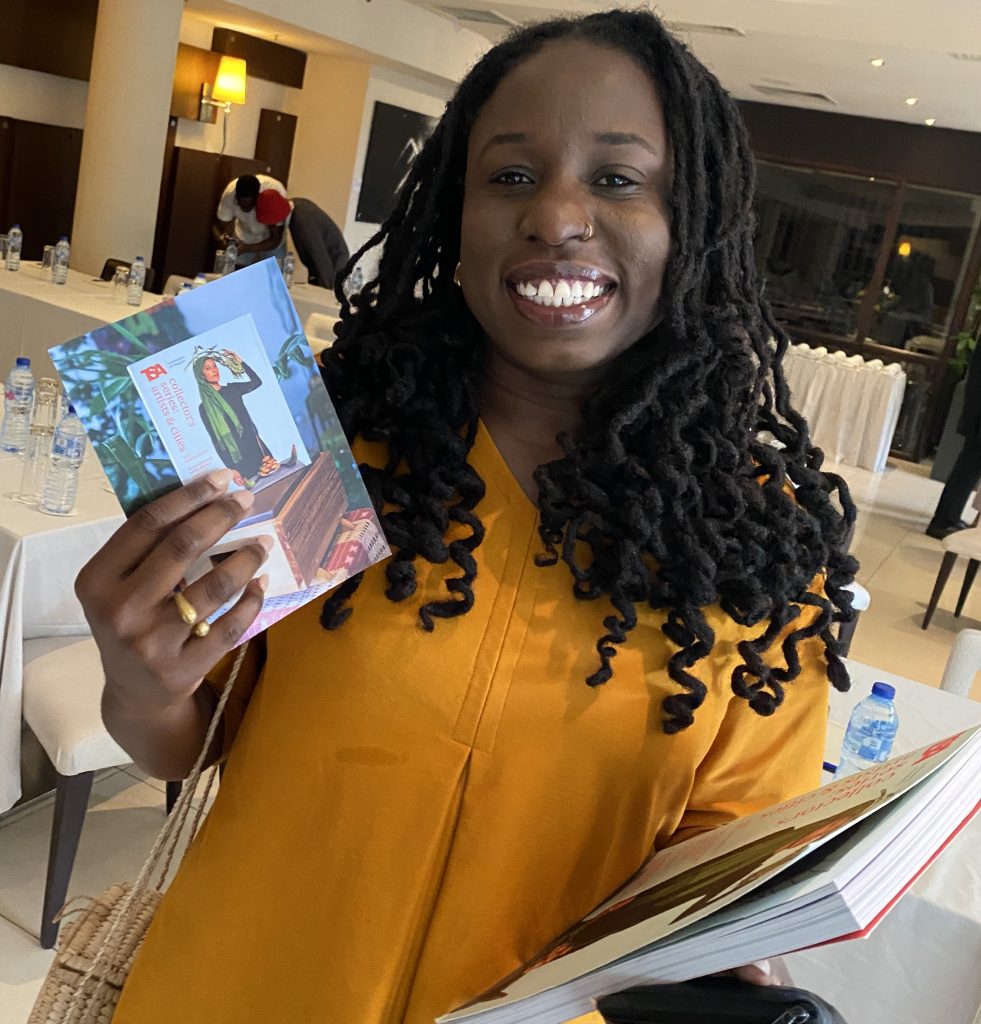 The event's program included live reviews of the publication by Oliver Enwonwu (visual artist, director of Omenka Gallery and publisher of Omenka Magazine) and Tracian Meikle (artist, curator, and researcher / curator-in-residence at Treehouse Lagos).
There was also a discussion on The Significance of Art Book and Magazine Publishing in Africa with Dr Jess Castelotte (architect, writer, curator and director, Yemisi Shyllon Museum of Contemporary Art), Jumoke Sanwo (artist, filmmaker curator, and founder of Revolving Art Incubator), Dr Nadine Siegert (director of Goethe Institut Nigeria and editor at iwalewabooks), and Papa Omotayo (architect and founder of AW-CA Art Space, Lagos). It was moderated by Bukola Oyebode, TSA's lead editor.
Below is the transcript of Tracian Meikle's review. You can read Oliver Enwonwu's review here.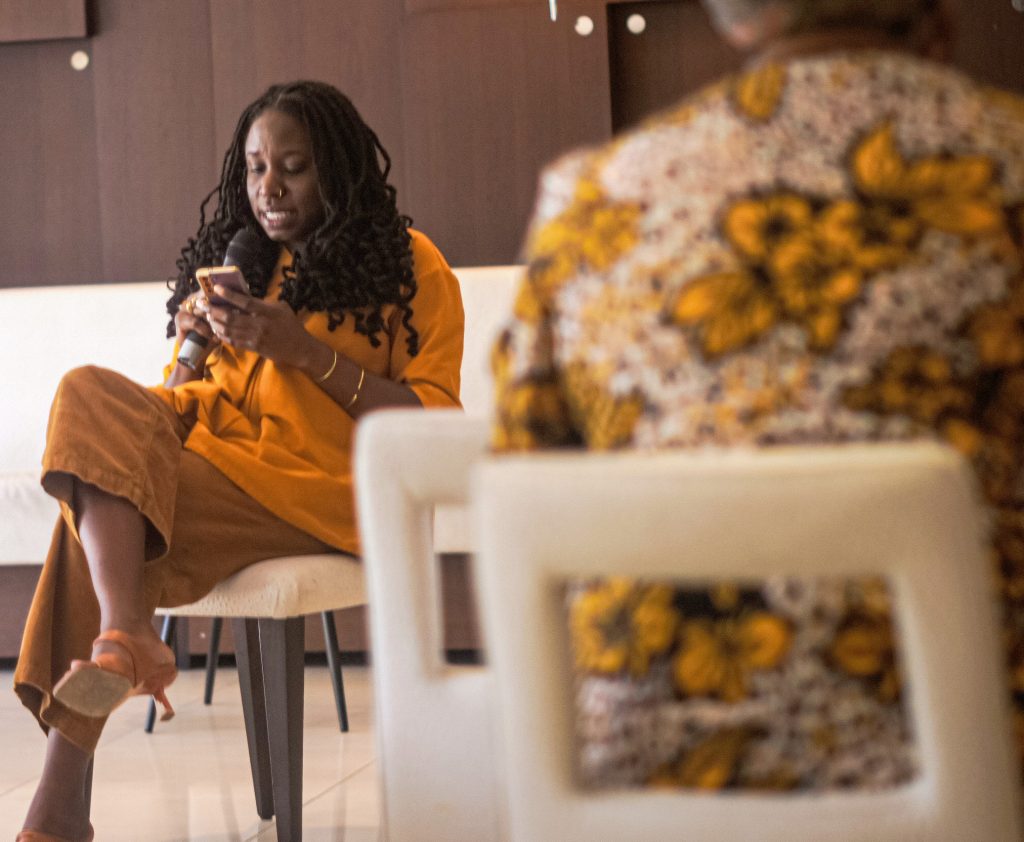 As someone who has had to come to Nigeria, to Africa (even though, in every way, it has been an ancestral return), I am constantly searching for ways to know and experience more. And so, I have opened many a book that seeks to give some overview of African art. I have longed for publications that provide the possibility for real engagement and knowledge of the art scenes in African cities. I say cities because, despite the root of African art practice being spread across the land, it is the cities that are at the centre of contemporary art practice in the world today. 
This choice to centre the city in the Collector's Series: Artists and Cities reflects a deep understanding of the need to understand the urban spaces that inspire, house and celebrate art practice at present. It also reflects an understanding of the importance of African cities globally when it comes to arts and culture, and the new ways in which the image of the continent is being reconstituted as a result of the spread of music and fashion worldwide. 
…this publication taps into how artworlds are experienced, and splinters the label of African art… But after splintering and revealing the particularities of place, this edition then reconstructs the continent through the choice of cities across the different geographical zones…
In choosing to centre the city, this publication taps into how artworlds are experienced, and splinters the label of African art as it's still the preferred categorization in many circles. But after splintering and revealing the particularities of place, this edition then reconstructs the continent through the choice of cities across the different geographical zones; Accra, Kumasi and Lagos in the West, Addis Ababa in the East, Cape Town in the South, Marrakesh in the North and Kinshasa representing those at the centre of the continent.
Due to challenges with financial resources and tiring travel routes within the continent, the artworlds in different regions are more separated than we desire. This Collector's Series on artists and cities begins to fill this knowledge and understanding gap, forming new connections and showing what a Pan-African (rather than just an African) overview can look like. A network of thriving art centres that are explored and allowed space to show their character, which gives the possibility of drawing lines of similarity based on true connections rather than a neo-colonial understanding of the continent as a monolith. 
The task of capturing the wide breadth of art on the continent is a mammoth one. The temptation is to capture as much as possible, maybe with the desire to show to the West, even at this point, that yes, we have art too. I am particularly happy that TSA's Collector's Series: Artists and Cities did not go down this encyclopedia route. Instead, they chose to follow on with the excellent work being done on the website with deep, nuanced and contextualized writings on the artists. And still managing to cover sixty! It is quite a feat and such a treat for a worker and lover of art. To open this book and realize that you are not being fed just a morsel, but an in-depth profile that leaves you full with a proper understanding of an artist's practice and perspective. 
The range of artists that are chosen is also remarkable, from painters to installation artists, performers and those engaging with the NFT space, a particular choice that in years to come will be a reference point for those who will look back to art at this time in the digital space. Or at least look at it as a moment when there was optimism and possibilities for NFTs. There is a noted emphasis on artists who are research-driven and who are not afraid to experiment in their work. Those who are engaged in artistic practice and not just art making, as Jude Anogwih so aptly stated in his introductory text on the Lagos art scene.
While the commercial gallery space continues to be an important vehicle in the creation and maintenance of a thriving art scene in African cities and the exposure of various African artists to the world, it is great to have a publication that highlights more conceptual practices that may not as easily fit within the gallery landscape, as these are the artists that may be more difficult to find. I must confess that I have already handed this book to my curatorial assistant as a shortcut to explaining the kinds of experimental artists I am interested in engaging. I am grateful to have this as a continued research reference for the future because despite how it seems, Instagram is not the answer. (laughs)
In addition to this wonderful selection of artists, the special section on the five women leaders in the African art world is a much-needed one and a joy to see as a woman who thinks of myself foremost as an art worker, someone dedicated to facilitating the channels through which the power of art can be felt. Our classical canons, whether African or European, have always celebrated the work of male artists, but in the contemporary art scene across the world, and certainly here on the continent, women are rising to the fore as the force behind the thriving art scenes we are experiencing today. TSA choosing to document this is to be applauded, as oftentimes, the knowledge of these contributions becomes lost as the years go by. These women are building the structures that expand artistic work on the continent in diverse ways that all have at their core a desire to create spaces and experiences that connect the public with African artists and support these artists in building sustainable artistic practices. I am happy to see this kind of work acknowledged and celebrated here.
Thank you TSA Art Magazine, Bukola (Oyebode), Billie (McTernan), Neo (Maditla) and all the contributors, for gifting us this gem. I hope that it will not only serve as a resource for curators, collectors, and other art workers but also as an inspiration to upcoming artists of what is possible all across this continent that many of us call home. 
–
Tracian Meikle is a Jamaican curator based between Lagos and Amsterdam. Her work focuses on blackness, place-making and community-building. She has worked in the field of art and culture as a researcher, moderator and educator in a number of institutions including the Rietveld Academie in Amsterdam. In Lagos, she served as the lead facilitator of the first artist accelerator programme by 1952 Africa dedicated to the support and development of young African artists, and she is currently Curator in Residence at the experimental arts space, The Treehouse.