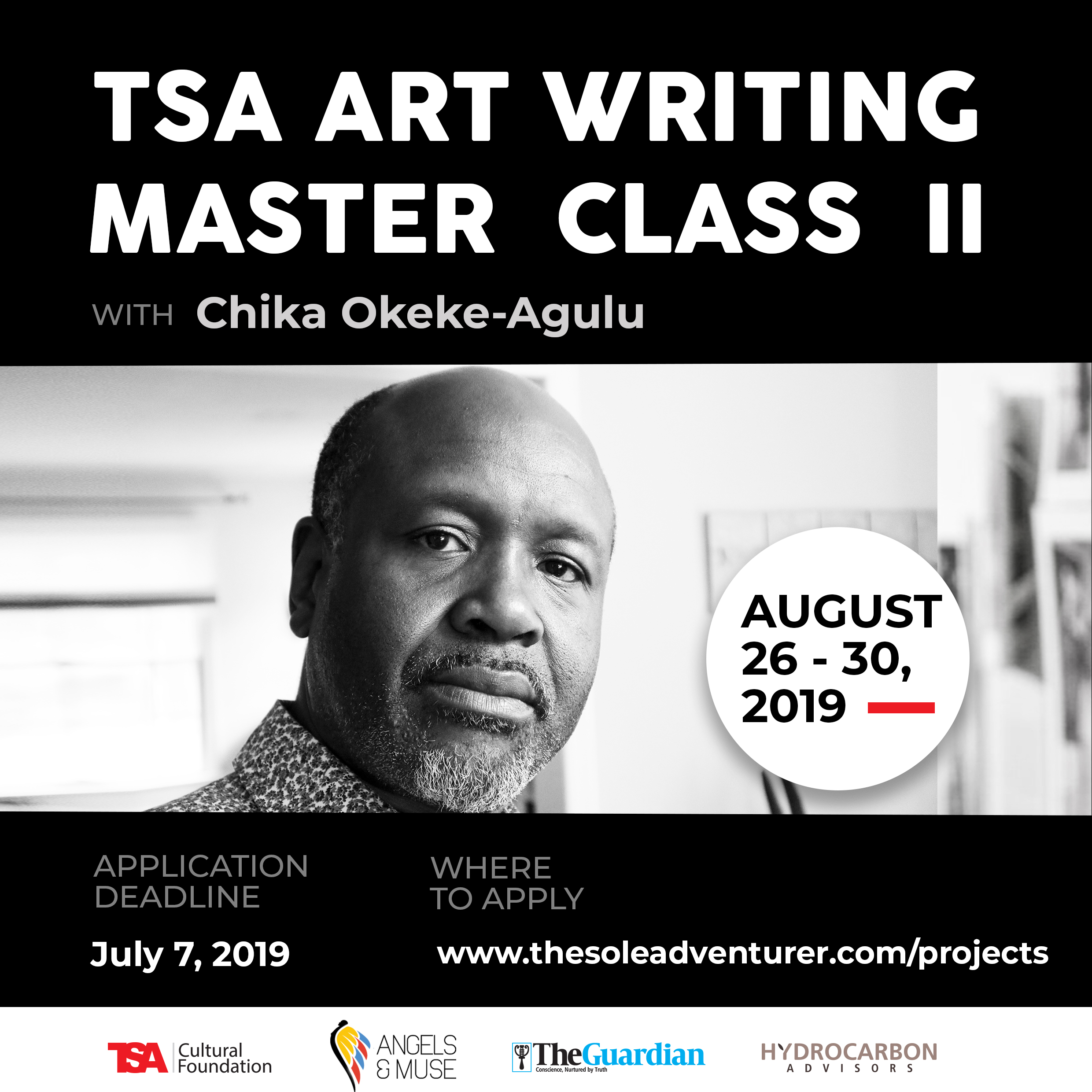 TSA African Culture Foundation is calling for applications for its second edition of the TSA Art Writing Master Class, taking place from August 26 – 30, 2019. Following the success of the premiere edition in 2018, the program will again, be led by Chika Okeke-Agulu, an award-winning art critic and professor of art history at Princeton University.
"I very much look forward to returning for the second Art Writing Master Class. I firmly believe that this unique and intensive program will help produce a new generation of confident, compelling, and conscientious art writers for Nigeria, West Africa, and beyond."
The TSA Art Writing Master Class is an intensive one-week program for art writers, culture journalists, curators and other art professionals from African countries who wish to improve their analytical skills and writing on modern and contemporary art. 
Aimed at early to mid-career art professionals, participants will be exposed to the different approaches of art criticism, art history and complexities, and how to write coherent analytical essays through interactive lectures, hands-on exercises, and visits to art exhibitions in the Lagos metropolis. This art writing program will also offer networking opportunities and access to critical resources that will enhance the participants' careers. 
Who can apply?
Art writers, culture journalists, practising curators and curatorial scholars, interested final year undergraduates as well as fresh graduates and art & culture bloggers. Previous participants are encouraged to apply.
Application requirements:
–    A portfolio of published writings in print and/or online publications is compulsory for art writers and journalists.
–    Final year undergraduates, fresh graduates and curatorial scholars are required to submit sample writings only.
–    All applicants must fit into the categories of "who can apply" and be able to prove this.
–    All applicants must be resident in Africa.
–    All applicants must have a post-secondary school qualification.
–    All applicants must be proficient in both written and spoken English as classes will be taught in English language only.
Application Deadline: July 7, 2019
Please note that participation fee applies. However, through the friends of TSA African Culture Foundation, a limited number of outstanding applicants will be awarded grants to cover the Master Class tuition. 
To learn more about this opportunity and how to apply for the Master Class, please visit https://thesoleadventurer.com/projects/tsa-art-writing-master-class-ii/