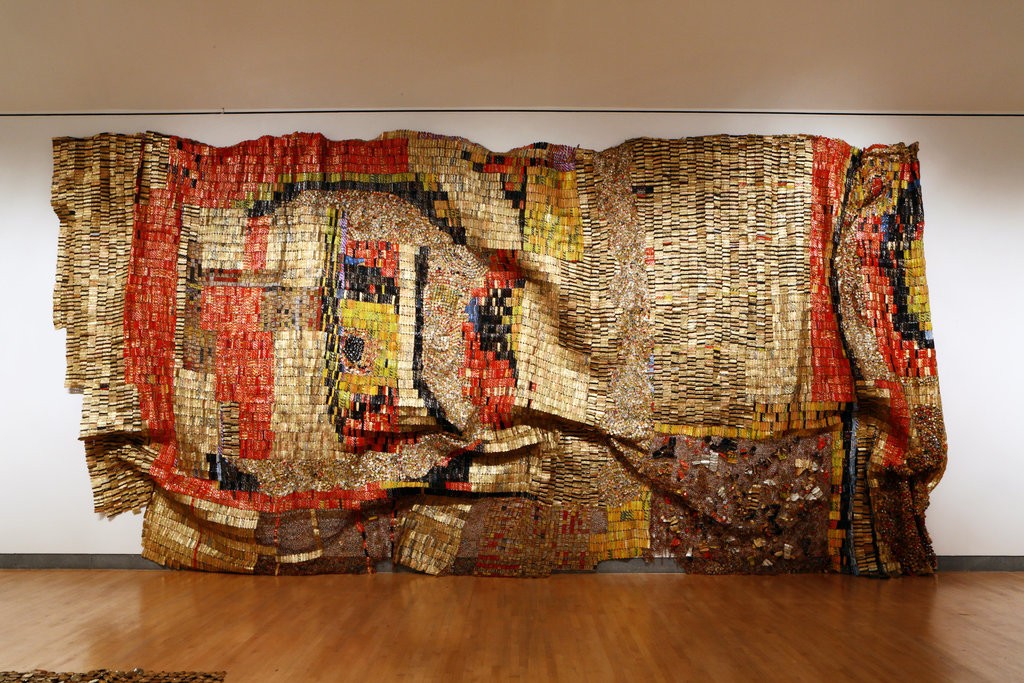 From March 8 – July 28, 2019, the largest survey of one of Africa's most prominent artists, El Anatsui, will be exhibited at Haus der Kunst in Munich, Germany. Aptly titled "El Anatsui: Triumphant Scale", this exhibition curated by Okwui Enwezor and Chika Okeke-Agulu with the assistance of Damian Lentini, is the largest and most complex ever mounted on the artist. His works will occupy the museum's entire East Wing.
As expected of a retrospective, the exhibition will cover every phase of Anatsui's artistic journey spanning five decades of work across different media and in varying scale, including, ceramic sculptures, paintings, drawings, monumental wall reliefs, and large-scale installations. Anatsui's signature bottle-cap series developed over the last 20 years will be positioned as the essence of the exhibition. In addition to loans from museums and private collections, the artist will create new sculptures responding to the sweeping scale of the museum's galleries, including a grand outdoor work on the building's monumental front.
Born 1944 in Anyako Ghana, El Anatsui moved to Nigeria in 1975 as a lecturer at the Department of Fine and Applied Arts at the University of Nigeria, Nsukka. His ideas were known for artistic experimentation and aesthetic research, which has over the years influenced and raised a new generation of artists who have taken to his approach yet reflect their own identity in their works. Enwezor, in 2015, described the artist as, "…perhaps the most significant living African artist working on the continent today".
There will be public guided tours of the exhibition organized in English and German. For more details please visit www.hausderkunst.de