On June 18, 2020 Sakhile&Me opens an exhibition of thirteen works by Tega Akpokona, Adelaide Damoah, Mbali Dhlamini, Tagne William Njepe and Tim Okamura in a group show titled Figures. These works, spanning oil paintings, acrylic paintings, body imprint works, and photography, highlight the focus on the human form using interdisciplinary artistic approaches.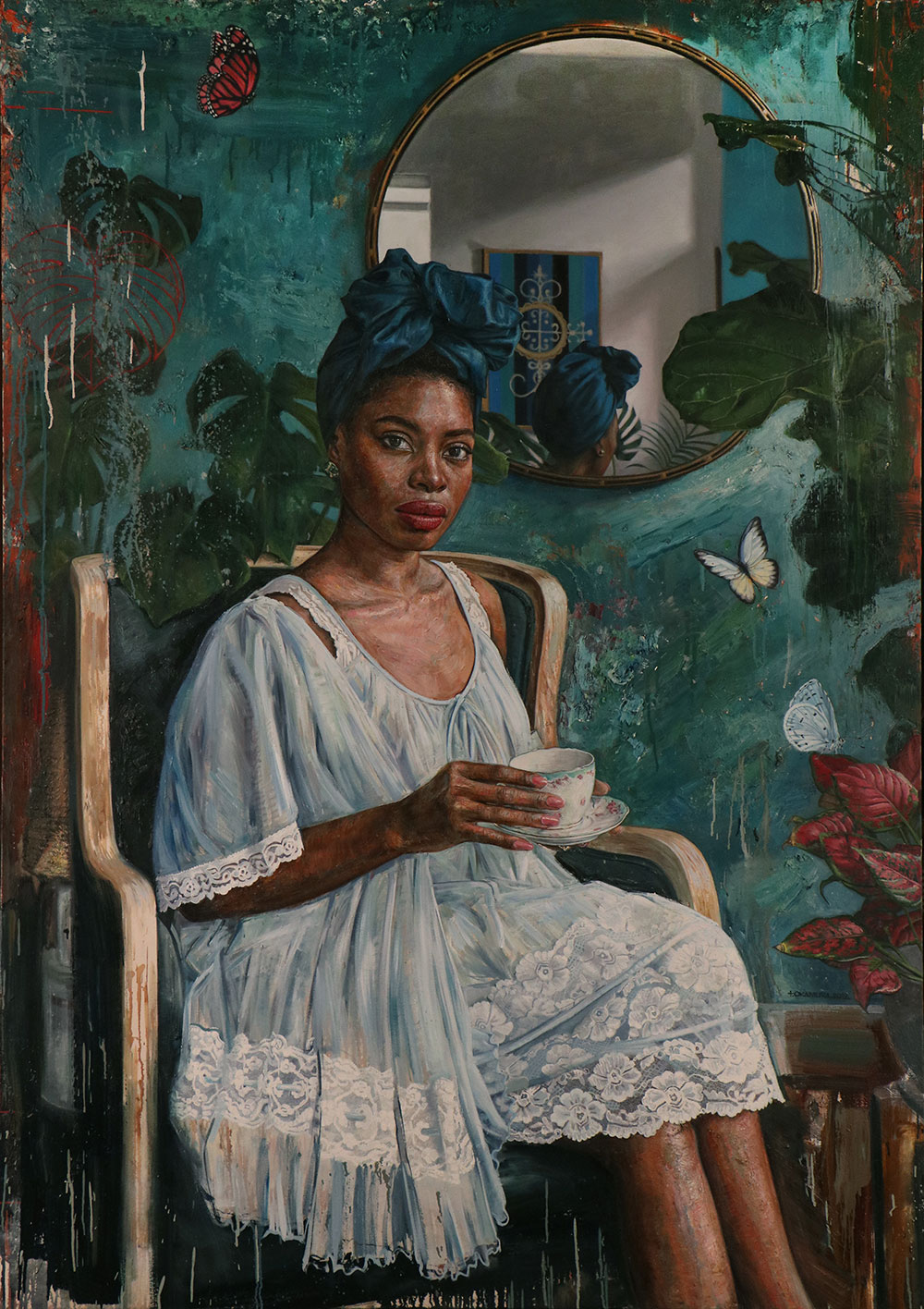 Tega Akpokona from Nigeria, is showing two works of oil paintings depicting the human experience forged by cultural identity. His paintings are characterised by his striking use of light and colour contrast, reminiscent of Dutch Baroque art. He counts Van Dyk, Rembrandt, Caravaggio, Reubens and Vermeer among his influences, stating that he is fascinated by the way they told their stories with their use of light, dramatic movements and evocative emotions.
British-Ghanaian artist Adelaide Damoah works at the intersection of painting and performance within the context of colonialism, identity, sexuality and spirituality.  In her recent practice, Damoah uses her body to paint or print onto various surfaces. This was initially inspired by a desire to subvert Yves Klein's Anthropometries, in which he directed a group of women to cover their nude bodies in his signature blue paint and then imprint themselves on white paper. For her own rendition, she prints her body onto white surfaces, thereby interpreting Klein's original performance through her own identity and encouraging discussion about female representation, feminism, sexual stereotypes and art history, as seen in the works Olga and Marie-Therese.
Mbali Dhlamini, a multidisciplinary South African artist and visual researcher presents digitally manipulated portraits of West Africans, wearing traditional clothing – an idea developed from a research fellowship at the RAW Material Company in Dakar, Senegal. She performs visual, tactile and discursive investigations into current cultural practices that are indigenous to the region. Her work is in constant conversation with her past and present visual landscapes. Working to maintain a state of unlearning and relearning, her process recognises language as a medium of understanding and as a repository of knowledge.
Tagne William Njepe, born in Douala, Cameroon, grew up in a household with his sick mother who was a single parent. As a result, he was forced to work at an early age and eventually had to leave school early to provide for his family for several years before studying fine arts and printmaking at the Atelier Viking in Douala. The loss of childhood plays a key role in his work, particularly in the series, Enfance volée (Stolen childhood), from which two works will be shown in the exhibition. In a bid to purge his own experiences of forced labour, Njepe depicts children doing odd jobs, their everyday reality juxtaposed with the bright colours of the background that visualises a world of dreams filled with cartoon characters and cheerful peers, thereby denouncing child labour and championing the right to education.
Tim Okamura is a Canadian artist who examines identity, the urban environment, metaphor and cultural iconography through painting. By combining an essentially "realist" approach to the figure with collage, spray paint and mixed media, he juxtaposes the rawness and urgency of street art with academic ideals to create a visual language that acknowledges a traditional form of story-telling through portraiture, while infusing the work with resonant contemporary motifs. The Parlor is a portrait of artist and fashion designer Paola Mathé, founder of the Fanm Djanm headwrap collection, whereas the painting Racism is Social Terrorism is from a recent series of large-scale works denouncing racism, misogyny and social injustice.
Figures will be on view until August 8, 2020 at Sakhile&Me, Frankfurt, Germany.