Currently showing at a new art space opened by AFIKARIS Gallery in Paris is a solo exhibition by Cameroonian artist Jean David Nkot titled Human@Condition. This is his first solo exhibition in France. The works in Human@Condition address the realities of workers in Africa's mining industry, which has been an ongoing exploration of the artist for some time.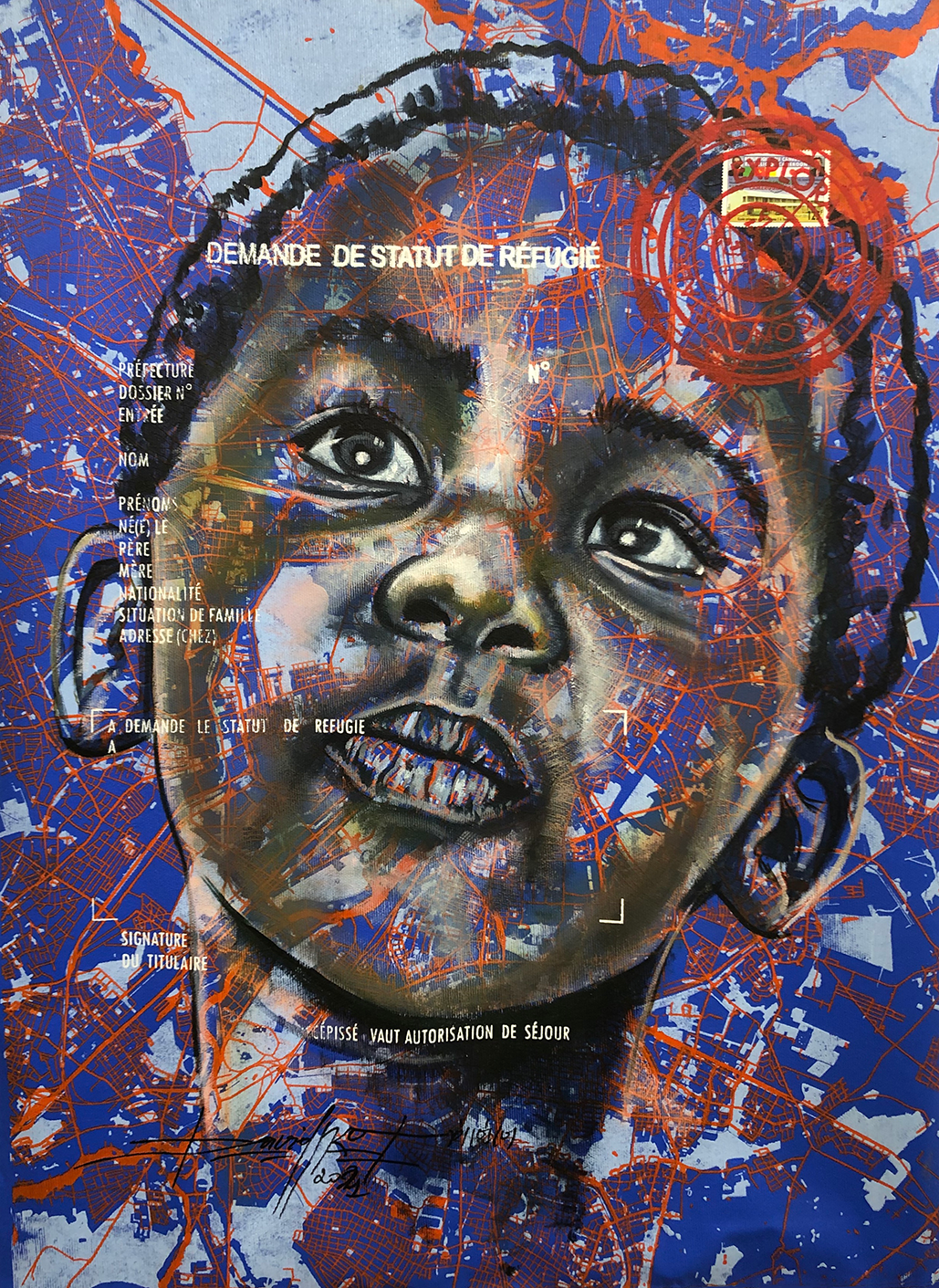 Nkot's interest in mining conditions extends to the physical landscape and sites of mining in Africa. He sheds light on global systemic issues by tracing the exploitation in the extraction of raw materials in countries like the Democratic Republic of Congo and Rwanda and the workers at the fore in the various mining fields.
He presents these realities by superimposing his portraits onto a complex layering of maps, economic data and geopolitical norms, thereby focusing on the individuals at its roots. He takes cues from the daily life around him and he portrays his subjects from a vantage point of strength, hope and resilience. He considers this a better approach to show how they confront their adversity instead of the lens of hardship and destitution they are usually associated with.
"I looked to the young people in my neighbourhood as models for both my art and broader existence. As a witness each day of their vitality and joy, I wanted to push away common depictions of sorrow and suffering, instead shedding light on their strength and sense of hope, showing smiles and firm postures to expose a resilient body, undeterred by difficulty," said Nkot about his works.
The exhibition summary has described the technique associated with the works in Human@Condition as "at once pure and complex, the aesthetics and composition of his works reflect the extensive research that feeds into them, bringing to light Nkot's highly analytical practice. Creating what he calls "maps molécules," or "molecule maps", he superimposes three informational planes – a broad cartography; a network of data; and, in sharp contrast with their surroundings, his human subjects."
Jean David Nkot was born in 1985 in Douala, Cameroon, where he lives and works. In 2010, he completed an A-level in painting at the Institute of Artistic Training of Mbalmayo (IFA) before joining the Institute of Fine Arts Foumban, where he obtained a degree in drawing and painting. In 2017 he joined the Post Master Moving Frontiers organized by the National School of Arts of Paris-Cergy (France) on the theme of borders. Throughout his training at the fine arts school in Foumban, he received several artistic distinctions such as best sculptor, installer and painter. Conscious of what he can learn from his elders, he is frequently at the workshops of Hervé Youmbi, Salifou Lindou, Jean Jacques Kanté, Pascal Kenfack, and Ruth Belinga.
Human@Condition is on view at AFIKARIS Gallery until July 7, 2021.