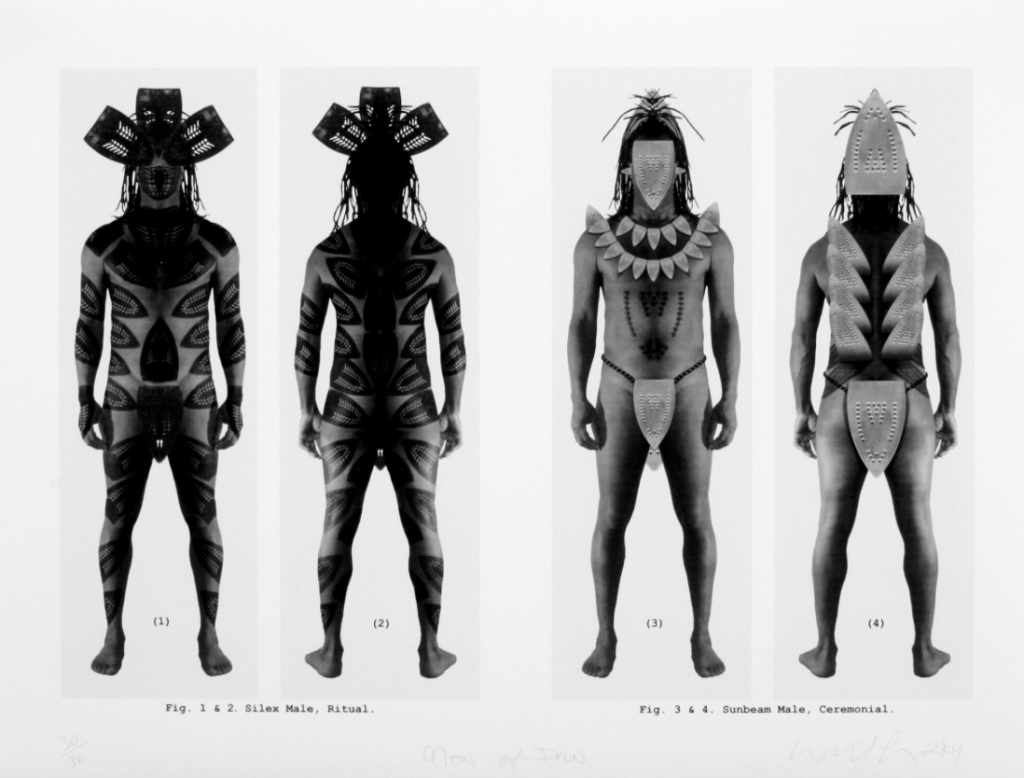 50 Golborne gallery London presents a group exhibition titled Out of the Whirlwind's Radiance featuring artists: Willie Cole, Emo de Medeiros, Fatoumata Diabate, Jakob Dwight, Phyllis Galembo, and Leah Gordon, who with their work explore the history of masquerade and carnivals, in Africa and its diaspora.
Coinciding with the surrounding Notting Hill Carnival, the exhibition opened on Slavery Remembrance Day. Out of Whirlwind's Radiance attempts to celebrate and contextualize the Notting Hill carnival within its broad historical and global scope. It also highlights carnival masquerades as a symbolic expression in ancient and contemporary African and diasporic cultures.
The exhibition title is inspired by a poem by Derek Walcott – 'Mass Man', in which the poet expresses the possibility of a disconnection between festive moods and the conscious reflection on the early times of slavery.
Emo de Medeiros' Guardian, a commanding and richly adorned masked figure inspired by the Beninese carnival practice of Kaleta, dramatically introduces the body as the site of multiple discourses for "sculpting history, memory, identity and culture." (Irobi, 2007) Through his choice of materials, Guardian demonstrates the artist's confidence in African culture continuing in this syncretic and sophisticated vein while navigating an increasingly globalised world: second-hand European trousers, a costume made from recycled plastic packaging, and a mass-produced Chinese mask.
Phyllis Galembo has over the last three decades, been investigating the transformative power of full-body masquerade in Africa and its diaspora through her portrait photography. She systematically, places her richly costumed sitters in front of neutral backgrounds such as painted walls and trees, yielding photographs are both revelatory and celebratory.
Leah Gordon who lives between the UK and Haiti explores "spaces between documentation, public memory and the phantasmic theatre of the historic imagination." (Beasley 2013).  This exhibition features two of her signature black and white pieces in which the masqueraded subjects look back at the viewer in a direct, almost confrontational manner.
Men of Iron by New York-based artist Willie Cole bridges the potential for disjuncture between contemporary carnival celebrations and the memorialisation of its own historical context through his innovative usage of imagery. Here again the body is considered as a site of resistance: In this work Cole redefines what Malcolm X called 'the house negro' as a warrior rather than a domesticated and docile slave, and uses household irons as a visual metaphor for the well-known diagrams of slave ships, presenting them in masquerade formation on the human body. The piece simultaneously references the painful branding inflicted upon slaves as well as the many human lives that were exchanged for consumer goods and raw materials.
Fatoumata Diabate's work in this exhibition are from her photographic series, Man as Object and Man as Animal, inspired by fables heard in her childhood and which appear in her dreams. Rather than depicting the body as a site of resistance, Diabate uses masquerade to present her sitters as a prompt for a personal and reflective introspection, while simultaneously referencing Mali's oral culture and storytelling traditions. She considers her work to symbolise the connection between the past and the future.
The last artist, Jakob Dwight, uses algorithms to generate unique patterns which reference mask imagery. The video in this exhibition is part of the larger Autonomous Prism collection which recently showed at the Brooklyn Museum in the group show, Disguise: Masks and Global African Art. Through his placement of digital images within silhouettes of African masks originally found in Seattle Art Museum, the works examine the concept and form of the mask and the decontextualization of African artefacts when shown in museum settings, highlighting the necessarily live performative nature of masquerade.
"Out of the Whirlwind's Radiance" is on view from August 23rd – September 29th, 2018 at 50 Golborne Road, London W10 5PR. Tuesdays/Fridays/Saturdays 11am – 6pm; Wednesdays & Thursdays 2pm – 6pm.
Private View: 13th September | 6pm – 8.30pm.