"The Banana Republic", a dual satirical exhibition by Muyiwa Akinwolere and Agemo Francis, opens on November 30, 2019 at AWCA in Lagos.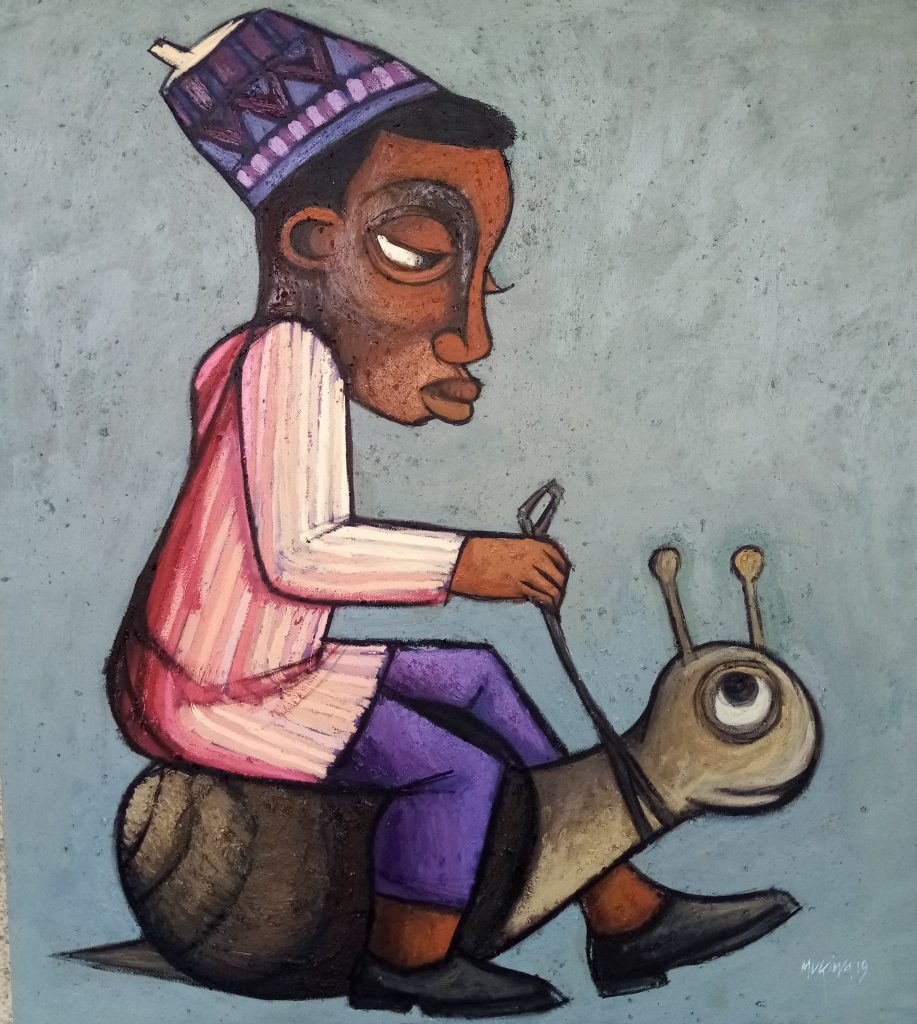 "The Banana Republic" is a dual exhibition by Muyiwa Akinworele and Agemo Francis, exploring a satirical approach on happenings in the political, social and economic sphere of Nigeria. The artists capture the voice of citizens ridiculed in their daily and national life, sitting squarely with the big elephant in the room – CORRUPTION!
The works presented pose a provocation to the viewer on serious issues that fail to garner attention, whilst finding hope in humour. Though Akinwolere and Francis are both residents in Badagry, a suburb of Lagos, they work from very different perspectives on the theme.
"The Banana Republic" exhibition is be organised by and will be presented at A Whitespace Creative Agency on November 30, 2019.
Muyiwa Akinwolere (born 1976) is a contemporary Nigerian artist. His formal education in art was at the Obafemi Awolowo University but his artistic journey began in the ancient town of Oshogbo, where he had his primary education. There, he became fascinated with the works of Sussane Wenger and a number of artists of the Osogbo art school. Muyiwa's early practice was centred around Yoruba mythology and the workings of the supernatural.
Recently, he has been concerned with migration, social inequality and the politics of resource control. Muyiwa incorporates a combination of dyes and recycled materials in his mixed- media process. In 2016, he had a 6-month residency program with Ventures Africa, where he experimented with inks and metals to create a body of work about homegrown terror in Nigeria and its immediate migratory effect. Akinwolere has exhibited both locally and internationally.
Agemo Sewanu Francis is a Nigerian born artist. He studied Fine Art at Delta State University, Abraka, in 2008 where he majored in Sculpture. Agemo grew under the influence of the art and cultural sources of his village. His grandfather was one of the dignitary traditional worshippers of his village. Hence, he grew up surrounded by these objects: statuettes, totems, mask e.t.c used by grandfather in his traditional practice. These sources of inspirations have been inserted thoroughly in his work and he also poses a look at the duality between tradition and the contemporaneity.
"The Banana Republic" will be on view until December 15, 2019.
Feature image: Work by Agemo Francis.