Njideka Akunyili Crosby's work is presented for the first time in a museum setting in Germany, as part of "Interiorities" exhibition at Haus der Kunst.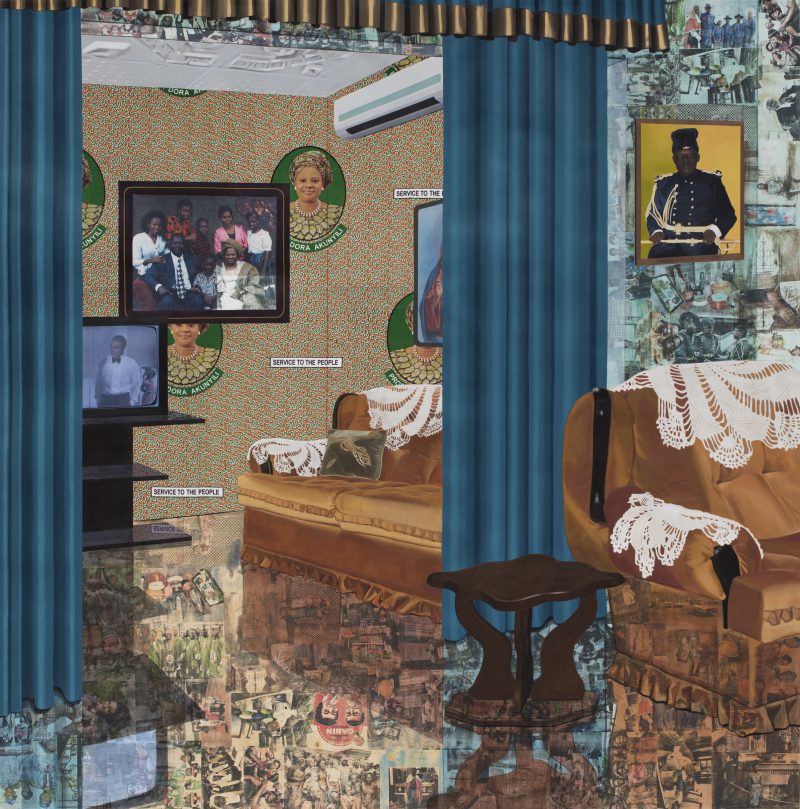 "Interiorities" unites four artists – Njideka Akunyili Crosby, Leonor Antunes, Henrike Naumann and Adriana Varejão – who explore the relationship between interior and exterior space, based on the art historical genre of interior painting. The exhibition, opening November 29, focuses on interior of the imagination, as well as interior as a real setting, as a private retreat or shelter, or as a space with the potential to reflect and change the social and political zeitgeist.
Inspired by the classical painterly representation of interiors, (living) rooms, as well as domestic and representative spaces, the interior serves as a starting point for all four artists, which they employ like a seismograph to record nuances of the outer world and to juxtapose the interior with a complex political, economic and cultural exterior.
The exhibiting artists are internationally established and their works highly topical. Njideka Akunyili Crosby and Adriana Varejão, are to be presented for the first time in a museum setting in Germany. In the context of the 30th anniversary of the fall of the Berlin Wall this year, Henrike Naumann's work is drawing extra media attention and exhibited in numerous presentations. Crosby and Leonor Antunes are both represented in international biennials and honored with solo exhibitions at renowned institutions. Varejão is already regarded as one of the most important contemporary artists in Brazil.
This exhibition comes on the heels of Akunyili Crosby being named in the first-ever TIME 100 Next, a new expansion of the TIME 100 list of the most influential people in the world. The list highlights 100 rising stars who are shaping the future of business, art, entertainment, sports, politics, health, science and activism, and more. 
Interiorities at Haus der Kunst runs from November 29, 2019 to March