Victor Ekpuk's large-scale sculpture, The Face, is unveiled in Bahrain.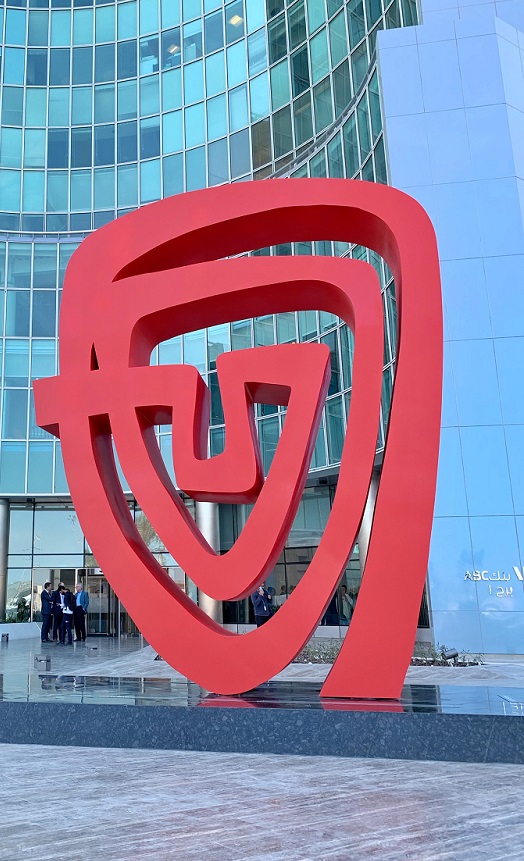 On November 24, Victor Ekpuk's The Face, a 17-feet high painted stainless steel sculpture, was unveiled at the The Arab Bank Corporation world corporate headquarters in the Diplomatic Area of Manama, Bahrain. The work which was commissioned by the bank is currently the largest outdoor sculpture in Bahrain, a country known for its cosmopolitanism and ethnically diverse culture.
According to the artist, the sculpture was "inspired by portraits of Bahrainis in traditional attire, wrapping themselves with their identity and pride". Ekpuk, renowned for his large-scale, glyph-like paintings and installations that explore memory and identity, re-imagines graphic symbols from diverse cultures to form a personal style of mark making that results in the interplay of art and writing. As he has done over the years with the exploration of nsibidi and uli graphics indigenous to south-eastern Nigeria, he taps into the unabashed display of Bahrahani culture to create a large-scale representation. 
The sculpture was unveiled as part of a ceremony to launch The Arab Bank Corporation's digital mobile-only bank, and is the first time Ekpuk's work is shown in the Gulf region.
No stranger to large-scale sculptures, the internationally recognised Nigerian-American artist has been awarded several commissions across the United States, including "Hope and Dream under Glory", a 20-feet metal sculpture commissioned by Washington DC city government. He has works in collections of Smithsonian National museum of African Art, Smithsonian National museum of African American Culture & History, Brooks Museum, The World Bank, Newark Museum, Hood Museum, Krannert Art Museum, United States Art in Embassies Art Collection.