Godson Ukaegbu, fashion journalist and stylist, presents an exhibition of drawings and poems at One Draw Gallery in Lagos.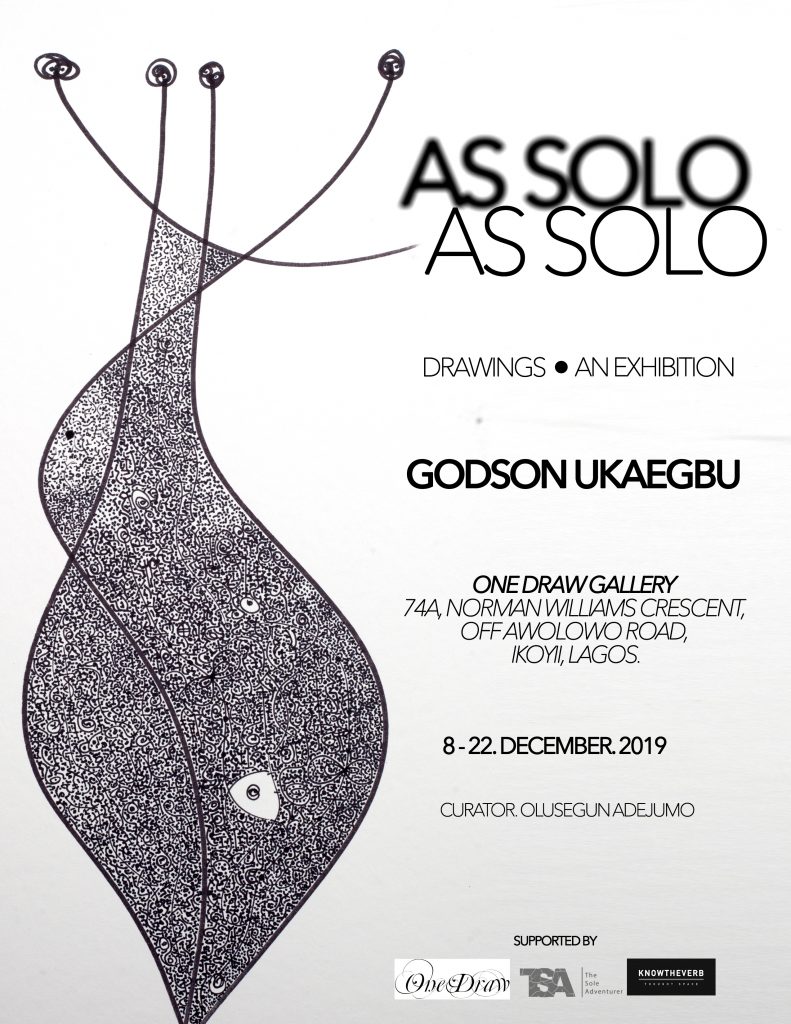 As Solo As Solo, an exhibtion of drawings by Godson Ukaegbu, opens December 8, 2019, at One Draw Gallery in Lagos. Curated by Olusegun Adejumo, visual artist and director of One Draw Gallery, As Solo As Solo presents secular and godly wisdom at play in abstract portrait drawings and six poems in the form of sonnets. In the works are themes such as identity, nature advocacy, emotional intelligence, sexuality and its extremes, a philosophical approach on the world and many more. 
The exhibition is Ukaegbu's first presentation as an artist in the visual art scene. Although his academic background is in Economics, he has worked in fashion and journalism for about a decade, and pursues a career in photography. His interest in visual art is guided by a desire to pursue truth, vulnerability and philosophy in non-figurative expressions. 

According to Ukaegbu, "Styling was my way of speaking eloquently with clothes, telling political and culturally relevant narratives with fashion. Poetry has also been an alibi for
many years, serving as an elixir of sorts. Photography brings me in contact with people, being a part of their lives and helping tell stories not mine but with my vision. Now, to have poetry become images in the form of drawings is a good sign of improved eloquence in my expression." 
As Solo As Solo | One Draw Gallery | December 8-22, 2019.
Feature image: Godson Ukaegbu, "At The Center Of It All", 2019.