"Radical Revisionists" is an exhibition of works from ten renowned artists of African descent who are challenging existing narratives and rewriting history. The works presented by each artist is a unique response, sometimes a documentation of personal experiences connected to colonial past and postcolonial present by providing counter historical representations or by elevating the accomplishments of disregarded diasporic figures.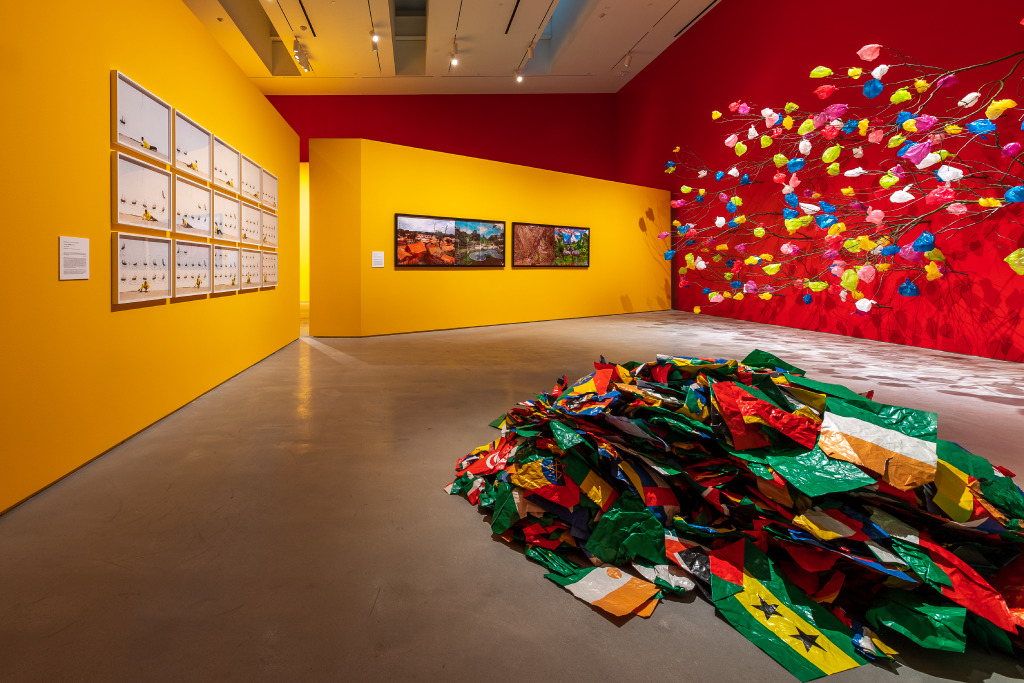 Two salient issues addressed in the exhibition are the ongoing effects of colonialism on the people of Africa and on their land and resources. Through diverse interventions, ranging from traditional portrait photography to sculpture to multimedia installation, the participating artists raise questions about how the past has impacted the present, and what the future might hold.
Together the selected works highlights the gaps in art historical discourse in a bid to correct omissions and misconceptions in postcolonial context. This exhibition has been scheduled to be on view during the Houston's FotoFest Biennial 2020 themed "African Cosmologies: Photography, Time, and the Other" which also shines a spotlight on artists and photographers from the African continent.
Serge Attukwei Clottey (Accra, Ghana), presents at the exhibition, a work titled "Softening Borders". Here, the artist explores the manipulation of mixed media materials and found objects, including broken chairs, second-hand clothing and shoes collected in Houston, as well as canvas, international newspapers, and postage stamps. Using these tools, he confronts present-day issues through a historical lens, an action made especially engaging because of its site specificity and participatory nature.
Through Virtual Reality animation, Mary Sibande (Barberton, South Africa), explores the life of a domestic worker named Sophie, the artist's alter ego. Historically, Sibande has portrayed Sophie through life-size sculptural interpretations that critique stereotypical depictions of women, address inequitable power dynamics, and navigate theintersection of race, class, and gender. 
The other artists featured in the "Radical Revisionists" exhibition are Sammy Baloji (Lubumbashi, Democratic Republic of Congo), Njideka Akunyili Crosby (Enugu, Nigeria), Omar Victor Diop (Dakar, Senegal), Adama Delphine Fawundu (Brooklyn, New York), Zanele Muholi (Umlazi, South Africa), Robin Rhode (Cape Town, South Africa), Yinka Shonibare (London, United Kingdom), and Pascale Marthine Tayou (Nkongsamba, Cameroon).
About the Moody Center for the Arts
The Moody Center for the Arts at Rice University, Houston, is a non-collecting institution dedicated to transdisciplinary collaboration among the arts, sciences, and humanities. It serves as an experimental platform for creating and presenting works in all disciplines, a flexible teaching space to encourage experimental and creative partnership between visiting national and international artists.
NOTE: "Radical Revisionists" is on view until May 16, 2020 at the Moody Center for the Arts at Rice University, Houston Texas. However, due to the spread of the Coronavirus (COVID-19) in the United States, the exhibition space is closed until further notice.