Jude Anogwih's solo exhibition When A Door Opens, Windows Do Too. No. 2 (2021) is abundant with marks, lines, colours, and tapes. The elements are arranged in an abstract montage. What kind of looking does this style of composition invite? What experience does it make visible?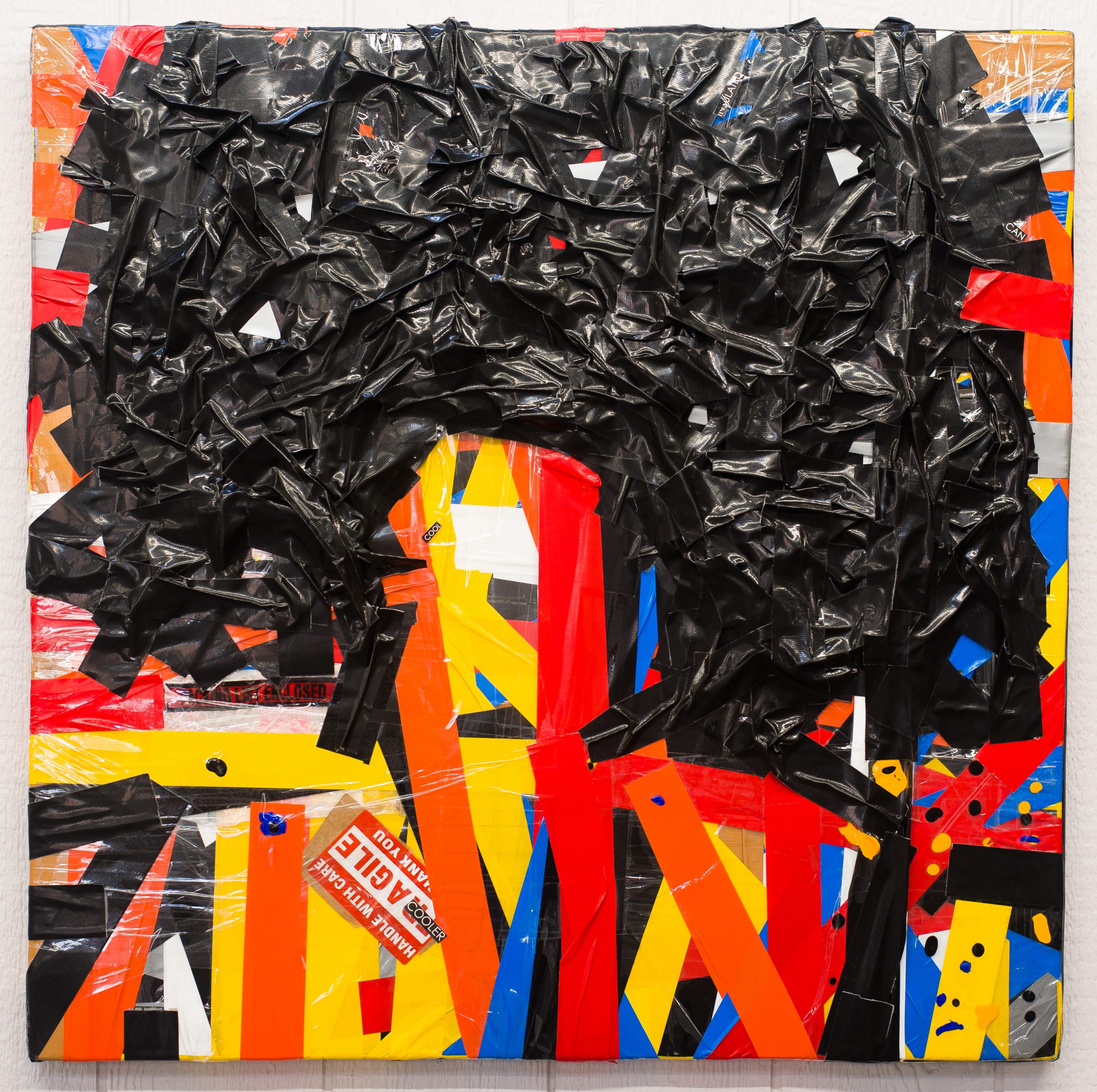 Anogwih is preoccupied with a view of the world that is encompassing, stretching from issues of community to migration to construction to shelter to mobility. Looking intently at the world, at all its varied manifestations and interactions, one might almost feel overcome by its bizarreness and chaos. Perhaps this is what accounts for the style and air of his paintings and installations.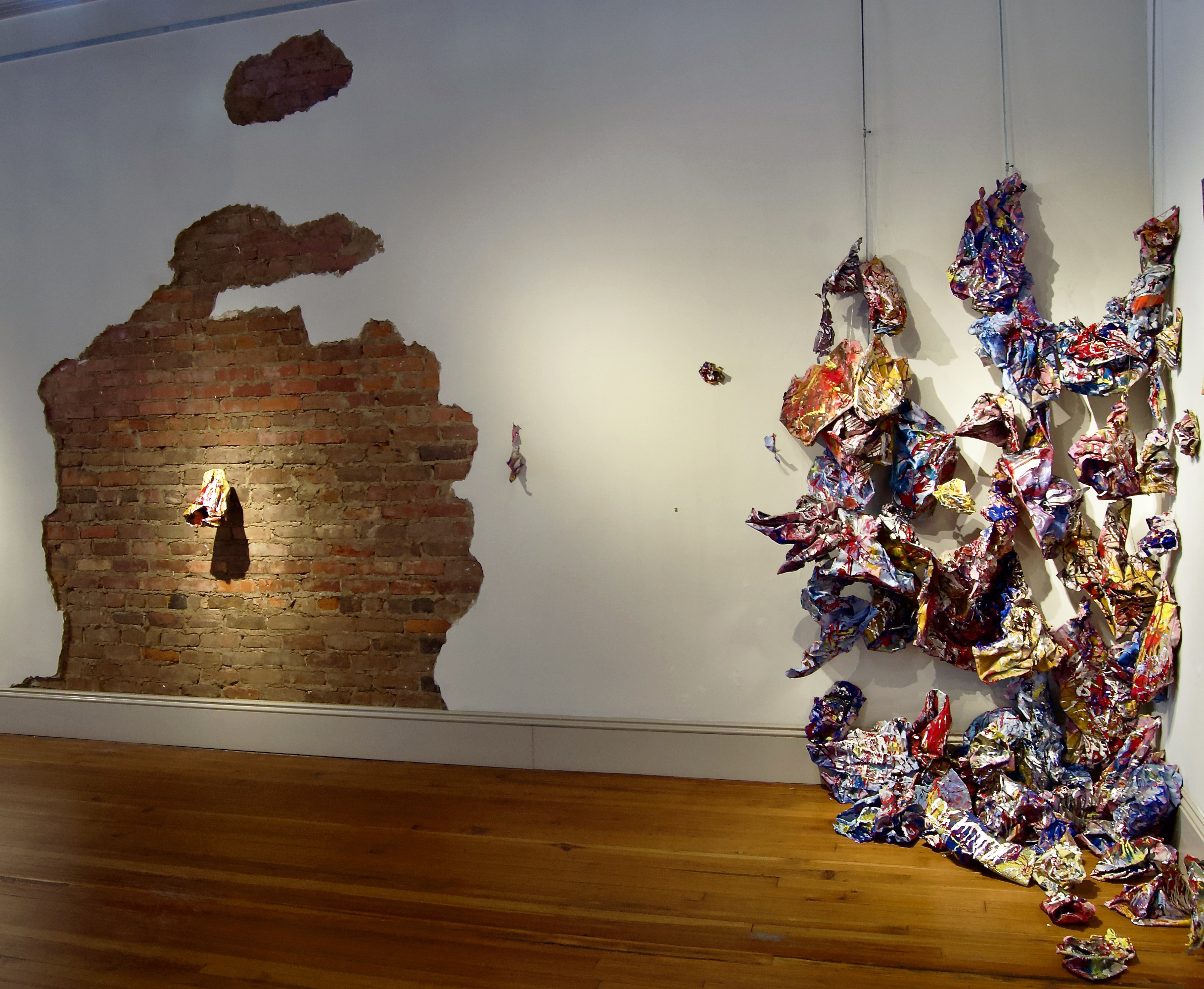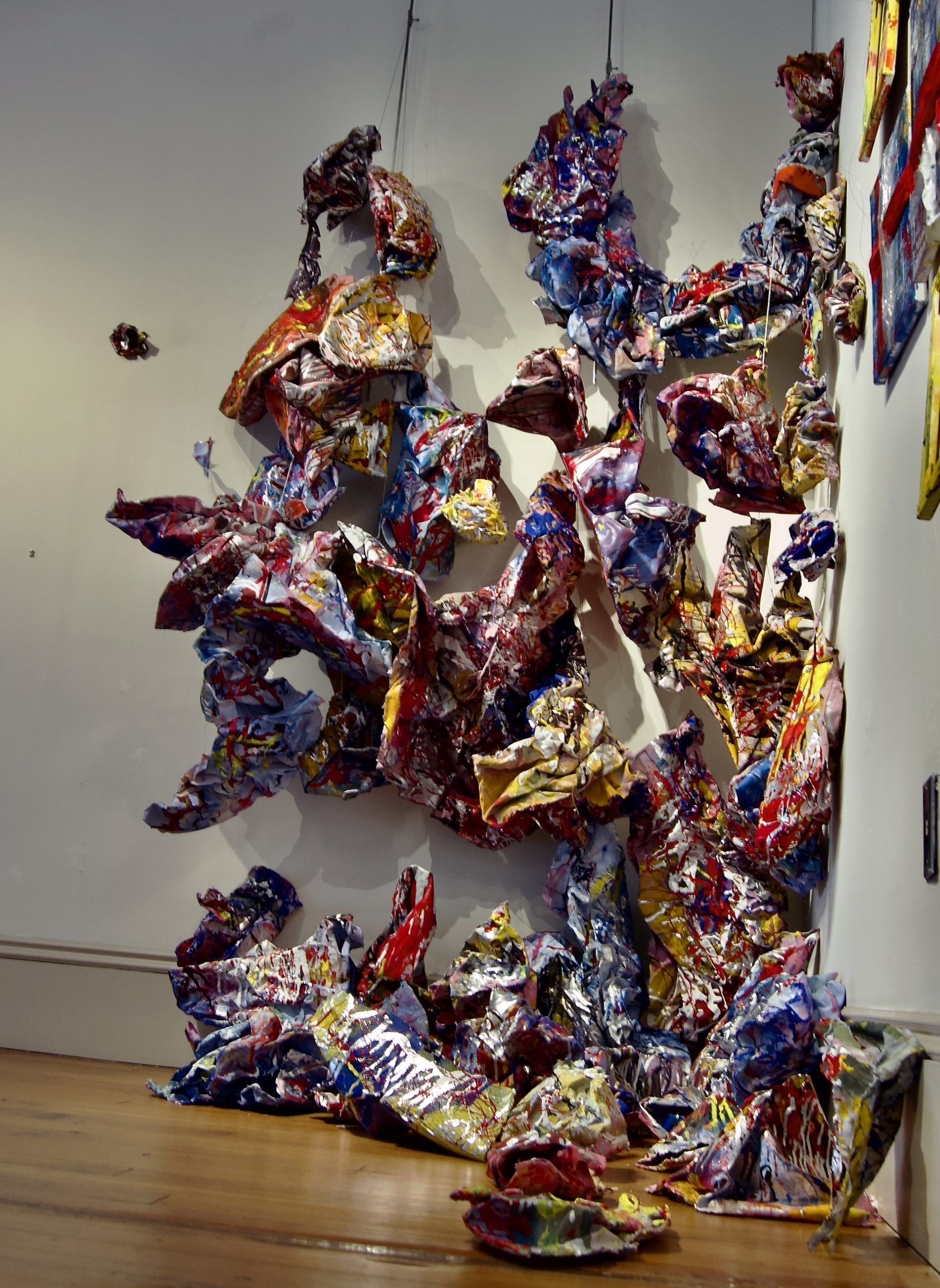 The primary thrust of the works, though, especially in the mixed media installation series "Sanctuary II," derive from a negotiation of the personal. In his artist statement, Anogwih reveals: "My work … retraces my presences—physical (virtual), mental, imagined. They embody memories, notions, and history. These, I retrace, tape, draw, paint and assemble into dense, abundant layers of excess marks that build up with time." The individual is the most veritable door to the universal, and the complexity of the world outside is a broader reflection of individual inner states. The works are singular, hanging out of walls, or hanging down them. Even when they are strung together, a principle of distinctness remains, which adds further layers of intriguing complexity.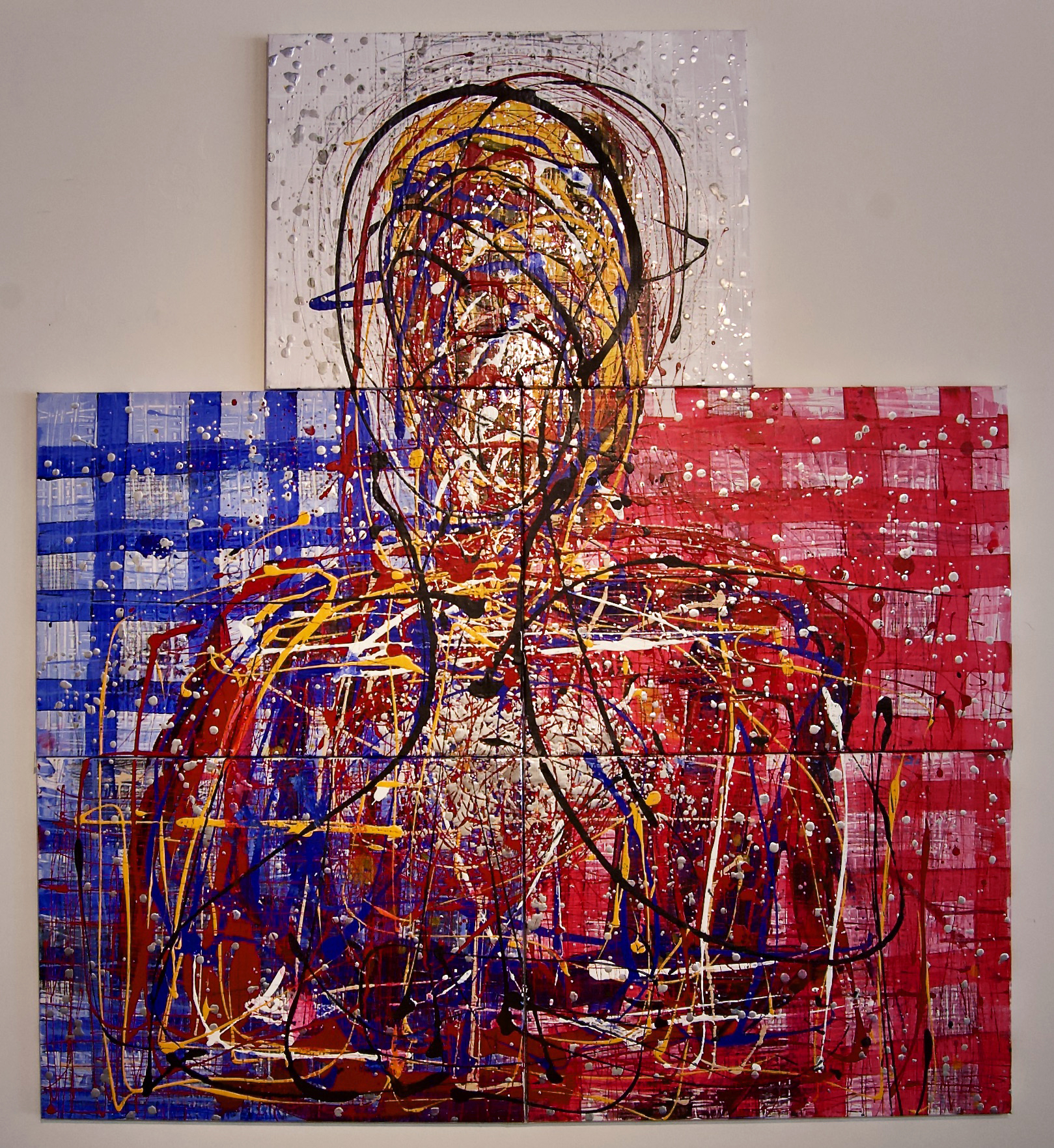 The paintings in the exhibition resist any quick interpretation, or any interpretation at all. Still, though, chaos isn't what the artist is after or expressing. In "Come with Your Head and Shoulders Correct" (2020), the bust of a person is visible. Swirls of yellow, white, blue and black paint are spread over the figure, but there are no distinct features or noticeable expressions. However, from the bearing, there seems to be a comportment that resembles serenity or focus. There are also the duct tapes in a reticulated pattern on the background. A restraint is visible.
Anogwih is working the tough zones of "connectivity and continuity that link interchanges of  (dis)location, intents, dreams, and aspirations". The deliberate buildup of complexity found in the artist's works can be understood, as we've already examined, in light of his themes and preoccupations. But what more do the works tell us? They surely reflect on time—at least on the artist's relationship with it. As Anogwih himself states, a person's experience of time is asymmetrical. It moves forwards, loops back, stands still, circles around. And as the individual moves through the world, their experience accretes along time's intricate warps so that they become not only complex but irreducible.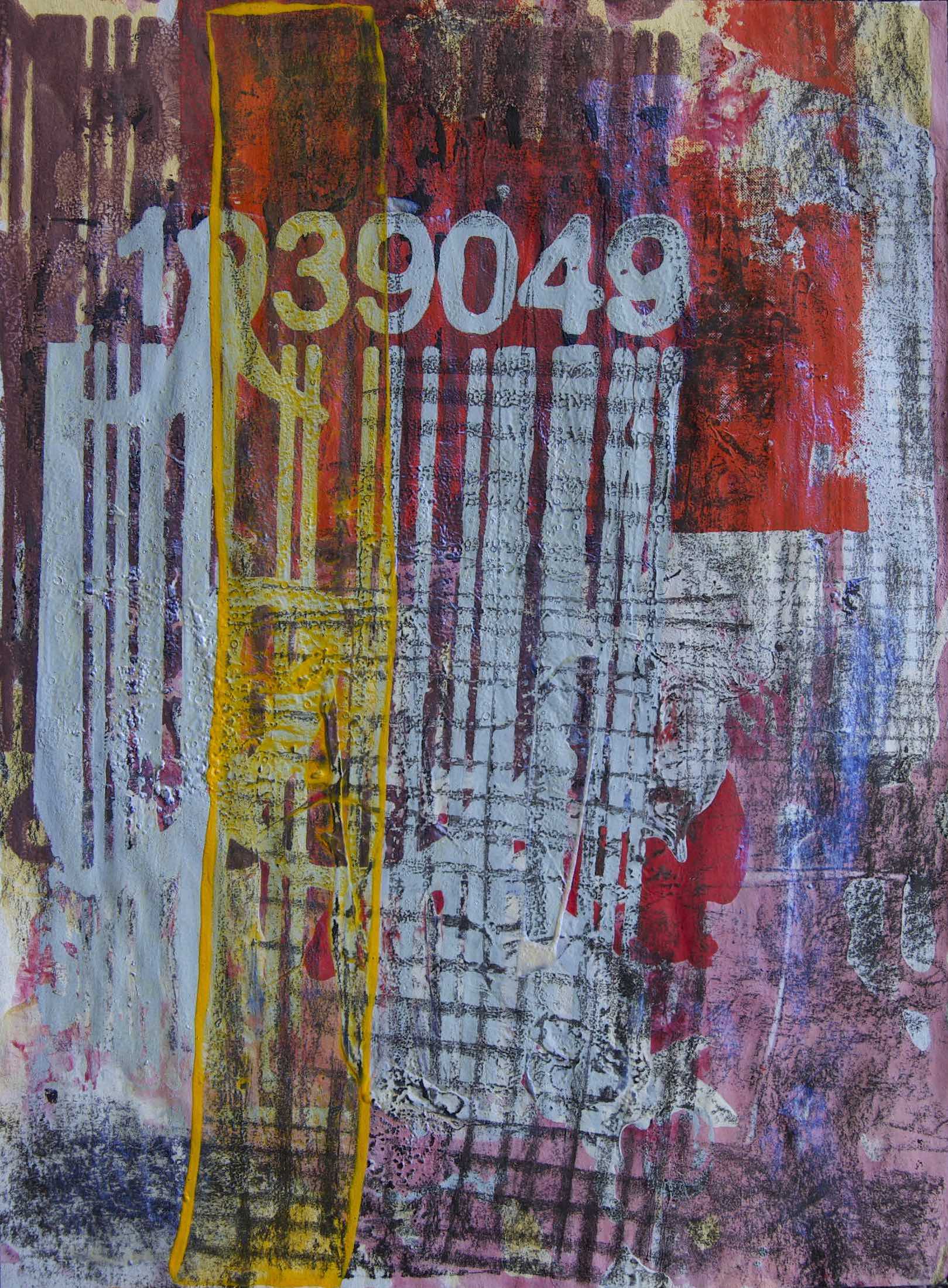 When A Door Opens, Windows Do Too No.1 (2020) was realized in the exhibition TAUT at the McEachern Art Center, Macon, Georgia. When A Door Opens, Windows Do Too. No. 2 (2021), continues a visual conversation from a selection of several series of drawings and paintings from 2009 to date. It is on show at Gallery 905, Arts Revive, Selma, Alabama till 22 August 2021.