For the 13th Biennale of Contemporary African Art, Dak'Art, TSA Art Magazine presents a special journal, "The Past in the Present", weaving different stories of Nigerian artists at Dak'Art with broader narratives of art on the continent.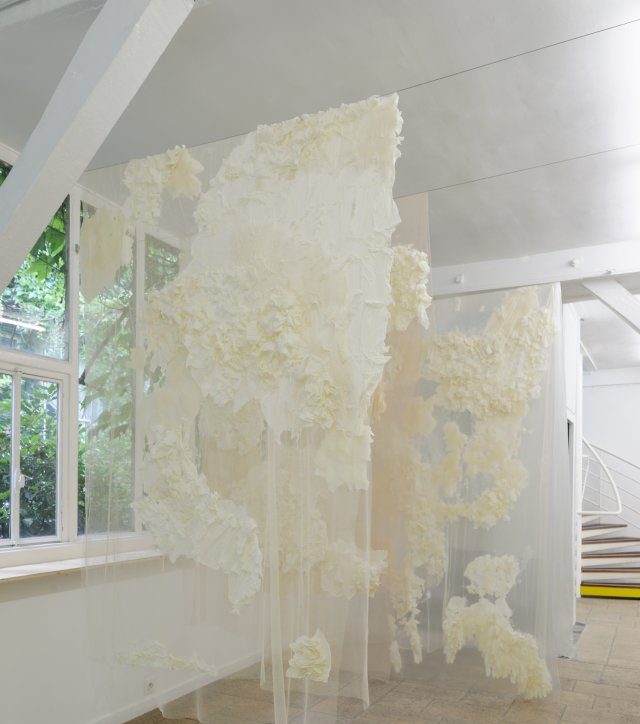 In the first pages of the journal, you will encounter rare profiles of the artists Ndidi Dike, Emeka Udemba and Olanrewaju Tejuoso from Nigeria, showing at the 2018 Dak'Art international exhibition. Art historian, Professor Frank Ugiomoh, writes a profile and critical appraisal of Dike's work, an artist who has been active in the contemporary art scene for thirty-two years but "has received very little critical attention regarding her style". Udemba, a returning artist to Dak'Art is branded a "World Citizen" in the profile written by Tony Nsofor for his easy mobility and access to different international circles. TSA's editor, Bukola Oyebode, writes a profile on Tejuoso, "the messiah of all things deemed waste and discarded". The piece is adapted from an earlier conversation with him at his studio in Abeokuta, close to Lagos.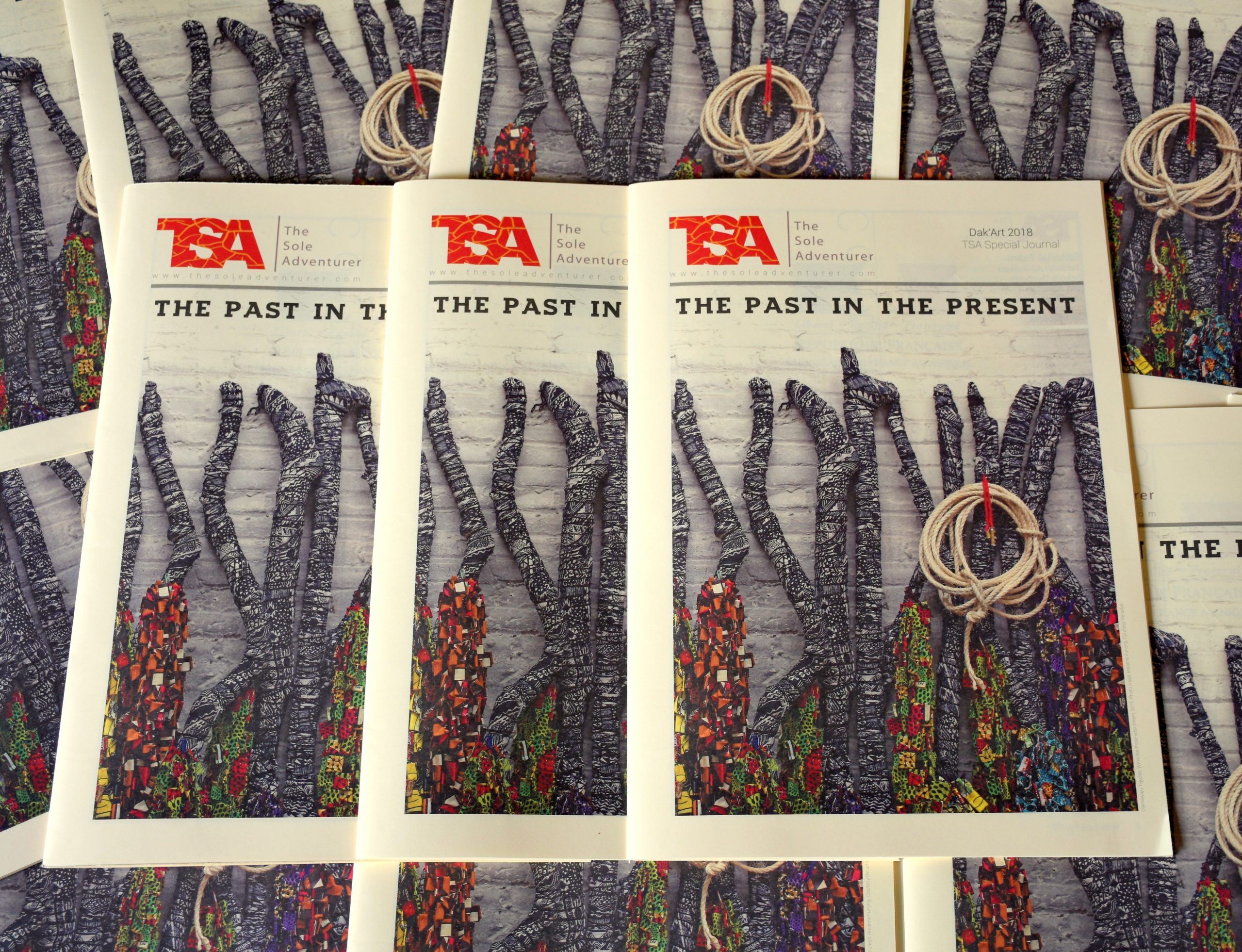 In the next section, we trace back the long history of Nigerian artists' presence at Dak'Art and its impact on their work. "Energies and Influences" present an enlightening conversation between the artist Marcia Kure and artist-curator Jude Anogwih, in which Kure acknowledges Dak'Art offered her a platform to show an important work The Three Graces, for the first time. After the biennial, the work travelled to three more venues and is now in the permanent collection of Centre Georges Pompidou in Paris. Roli Afinotan brings a new dimension to the playful and fascinating Nsibidi symbols in Victor Ekpuk's work. Her writing suggests the artist probably wants us to feel the energies in his work rather than read them literally. Ekpuk presented State of Beings –Totems at Dak'Art in 2014. Nigeria's recurring success at the Dak'Art Biennale seemingly has no straight set characteristics of the art and artists, but one thing is constant – the resilience of the artists. Odun Orimolade, a practising artist and academic, writes about the work of Olu Amoda and Modupeola Fadugba who won different prizes at the biennial in 2014 and 2016 respectively.
It is important to mention here that the participation of Nigerian artists at Dak'Art goes deeper. Between 2002 and 2014 artists such as Bruce Onobrakpeya, Otobong Nkanga, Evaristus Obodo, Nnenna Okore, Toyosi Odunsi, Toyin Loye, Bright Ugochukwu Eke, Nduwhite Ndubuisi Ahahonu, Chika Modum, Andrew Esiebo, and Chike Obeagu have presented at the Biennale. Some of these names have become important artists on the international scene.
Then, there are more articles to read. Dr Kunle Filani, an art historian and critic, gives context to the symbols and cultural elements present in the works of many African contemporary artists. He argues that there are elements of cultural affinities that are common and peculiar to the continent thus the phrase "contemporary African art" or "visual arts from Africa" are acceptable. Aderemi Adegbite, an artist and curator, remembers a unique story from the 2012 Dak'Art in which an entire installation was stolen and then replaced by friends of the artist and visitors! The "Spotlight" section features an interview with Missla Libsekal, curator of Talks and Curated Project at ART X, on shaping the narratives of African art.
In the final pages, we republished an interview with Simon Njami on the 2016 Dak'Art Biennale "A City in the Blue Daylight" and the international exhibition "Re-enchantments", as a backdrop to the 2018 Dak'Art Biennale's theme of "The Red Hour" which is focused on emancipation, freedom and responsibility.
Spread across different sections of the journal, you will find the announcement of ART X Lagos 3rd edition coming up in November, dates of the solo exhibition of Olumide Onadipe's works by SMO Contemporary Art in Lagos, and many other events you can follow in the course of the year.
From May 3rd, TSA Special Journals will be available at the following locations in Dakar. The Aéroport International Blaise Diagne (AIBD) private lounge, the venue of the international exhibition – Ancien Palais de Justice, Institut Francais, Raw Material Company, Céramiques Almadies, Agit'Art, Fondation Friedrich Naumann, Goethe Institut, Kër Thiossane, British Council, Musée IFAN (Museum of African Arts, Dakar), Galerie Manége, Université Cheikh Anta Diop, Casa Mara, Novotel, Savanna Hotel, Djolloff Hôtel, and a number of OFF Dak'Art venues. A separate announcement will be made for its availability in Lagos.
We appreciate the support of the French cultural network; The French Embassy in Nigeria, Alliance Francais and Institut Français, Mrs Kavita Chellarams, Director, Arthouse Contemporary Ltd, all the contributors and other individuals who have made the publication possible.
This journal is free, but there is only a limited amount available. You can request a copy to support our publications with a donation here.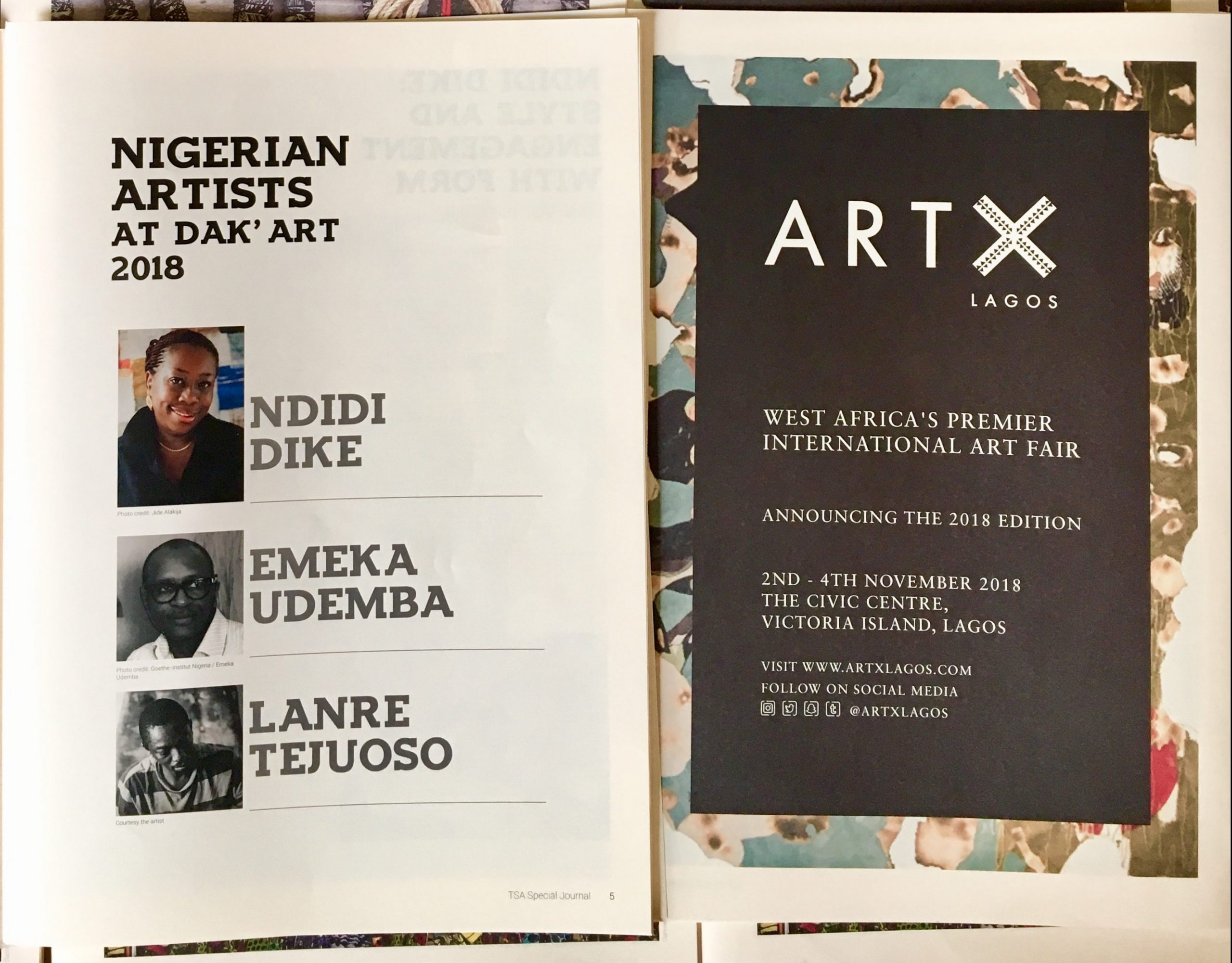 Enjoy the Editor's Note translated by and in partnership with Alliance Français Lagos.
"Dans ce premier journal imprimé intitulé "Le Passé dans le Présent", spécialement publié pour la 13ème édition de la Dak'Art – la biennale de Dakar, nous nous remémorons des événements passés car, comme le dit Simon Njami: "seules les personnes qui ont une mémoire peuvent se réinventer".
Il y a trois mois, quand nous avons commencé à planifier ce journal, Jahman Anikulapo, l'ancien rédacteur en chef du Guardian Nigeria, m'a raconté différentes histoires sur ses visites à Dak'Art. Il se souvient notamment comment Bruce Onobrakpeya «vola la vedette» en 2012, proposant l'une des expositions les plus visitées de cette année-là. Baba Bruce, comme il est affectueusement appelé au Nigeria, exposait dans le Dak'Art OFF, avec un certain nombre d'artistes de l'Harmattan Workshop, une école d'art informelle située à Agbarha-Otor, Etat du Delta, Nigeria. Il présentait une impressionnante installation de divers matériaux intitulée "Egbe Ijubili". Selon le récit, ce n'est pas seulement l'art de Baba Bruce qui a eu un franc succès mais ce sont également les activités de cuisine et autres réjouissances sur le lieu de son exposition qui ont attiré les foules à la gare de Kadjinol.
Dans les premières pages de "The Past in the Present", vous retrouverez les profils des trois artistes nigérians de "A New Humanity", l'exposition principale de Dak'Art 2018. L'historien d'art, le professeur Frank Ugiomoh, propose un portrait et une évaluation critique du travail de Ndidi Dike. Dike est active dans le milieu de l'art contemporain depuis trente-deux ans avec un record de soixante-quinze expositions collectives et individuelles. Vous découvrirez également le portait d'Emeka Udemba par Tony Nsofor. Ce dernier surnomme l'artiste «Le Citoyen du Monde». En effet Udemba est toujours en mouvement et bénéficie d'un accès à différents cercles internationaux. Quant à moi, je vous présente l'artiste Olanrewaju Tejuoso, le messie de tout ce qui est considéré comme gaspillage et mis au rebut. L'article est basé sur un entretien qu'il m'a accordé dans son atelier à Abeokuta, près de Lagos. Les trois artistes ont un passé commun: ils ont exposé ensemble lors de l'exposition Hacking Conflict de la Biennale Jogja en Indonésie en 2015.
Il y a plusieurs autres articles qui ne manqueront pas d'attirer votre attention. On notera la participation de Dr Kunle Filani qui contextualise les symboles et éléments culturels présents dans les œuvres de nombreux artistes contemporains africains. Aderemi Adegbite quant à lui se souvient d'une histoire unique du Dak'Art 2012 dans laquelle une installation entière a été volée puis remplacée par des amis de l'artiste et des visiteurs! La section «Spotlight» présente notre interview de Missla Libsekal, commissaire des "Talks and Curated Project" à ART X, sur la mise en forme des récits de l'art africain.
Dans les dernières pages, nous republions une interview de Simon Njami dans laquelle il évoque la Biennale Dak'Art 2016 "La Cité dans le jour bleu" et l'exposition internationale «Ré-enchantements», en toile de fond la Biennale Dak'Art 2018: "L'heure rouge" dont les thèmes sont l'émancipation, la liberté et la responsabilité.
Nous espérons que vous apprécierez, et vos commentaires sont les bienvenus."
. . .
TSA Journal Cover Image: Olanrewaju Tejuoso, We're like those who dream, 2016. Photo credit: Breanne Furlong. Courtesy of the artist. 
Featured top image: Ndidi Dike, In The Guise of Resource Control: Mano Labour, Media: Latex and tulle. Dimensions variable. Photo credit: Aurélien Mole. Courtesy of the artist. 
This journal is free, but there is only a limited amount available. You can request a copy to support our publications with a donation here.