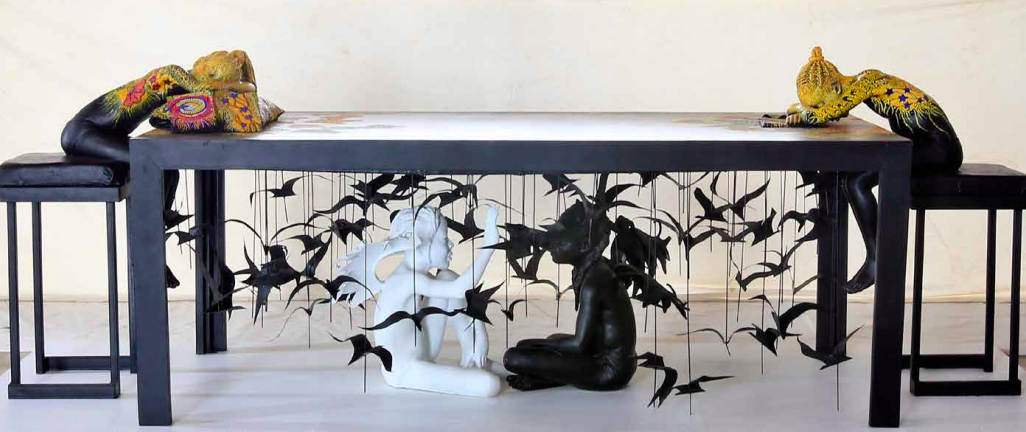 The year in art had its inspiring moments but did not altogether gather any momentum strong enough to call it an unforgettable year. There was no strong set of exhibitions until April. This year did not necessarily produce a noteworthy new talent. Works shown, bar a few, unsurprisingly shied away from the urgent political commentary we need at this moment, as a country. Photography, however, seemed to flourish more. There was more installation art, something Nigerian galleries had not explored with much enthusiasm or at all. Ben Enwonwu's Tutu sold for over a million pounds, a record for a work of art by an African artist, inspiring shocked press reports and adulation across the globe, confirming what Nigerians knew all along – our artists are competitively world class and worth their salt in the world's most powerful currencies. There are still rumours surrounding the sudden discovery of the artwork previously thought to be lost. It has been whispered by Nigerian curators, artists, press that its reappearance was a carefully orchestrated theatre by the auction house.  
In all, 2018 had moments worth noting and recognising, either for their power or poison.
10. Corporates Continued to Support the Arts. Sort of.
If you look at organizations like UBS Global, Absolut Vodka, and BMW, their investment in and support of the arts through diverse programs are thorough, strategic and committed. Artists are commissioned to pursue gargantuan, impactful projects. Exhibitions and fairs are sponsored with serious money and marketed as such. Competitions are endowed with prize monies and press that can make an artist's career. Nigerian corporate heavyweights have simply not caught on. They sponsor one-off competitions in which there is a little more than a handshake, smiles for the camera and 'One Million Naira' cash prizes (pre-tax?) for participating artists. One bank, in particular, provides a platform for the online display of emerging artists, not only profiting from the sales, but also in direct competition with small-scale galleries. When they are not disappointing in these ways, corporates, when sponsoring other kinds of entertainment, concerts mostly, will stage an exhibition as an accompaniment but never as a standalone event. They need to do better in 2019.
9. Viral Hyperrealism Makes a Brief Comeback (or did it ever leave?)…
…With assistance from Emmanuel Macron. In July 2018, the President of France helped make a global star of 11 year old hyperrealist artist, Kareem Olamilekan, who drew Macron under two hours of his arrival to New Afrika Shrine on a culture power play visit to Nigeria. Olamilekan had gained modest online fame some days before meeting and drawing Macron but the encounter drew further attention with the likes of BBC and CNN writing him into stardom. His seemingly overnight success reminds one of Oresegun Olumide, circa 2016, whose drawings got so popular that respected auction house, Arthouse Contemporary, seeing the naira in the stars quickly organized a special online auction sale around his work. The momentum did not quite sustain for Olumide. I wish Olamilekan better luck.
8. 16/16 is Quietly Becoming a Force… 
For experimental, not necessarily commercial work and artists that traditional galleries cannot afford the time and patience to help come into their own. The artists on 16/16's roster in 2018 were young, exciting and quite frankly hardly ever get exhibited anywhere else. The space which its founder, Tushar Hathiramani, calls a "creative hub" and not a gallery is building up to provide support beyond gallery walls and a network of enthusiasts. This year it rolled out residencies and exchanges with South Africa. Participating artist, Yadichinma Ukoha-Kalu, made a project out of soft sculptures – paper and thread – much to some critics' confusion but compelling enough to look out for what she does next with 16/16.
7. Dennis Osadebe's Year to Remember 
Osadebe can congratulate himself on a barnstorming year. An unmistakably ambitious artist, the 27 year old took on the world this year and the world made room. Self-funded, he showed at the Other Art Fair Brooklyn, a showcase for emerging artists across the world. Christopher Moller Gallery of Cape Town exhibited his work at the Johannesburg Art Fair. He also exhibited in a group show in Zurich, Switzerland. All of which is no small feat for an artist with no gallery representation.
6. Exhibiting "Publishing Against the Grain" at the Centre for Contemporary Art
CCA Lagos' best exhibition this year, and the most impressive across the country, was not of art but of books. Although it largely flew under the radar. The exhibition, Publishing Against the Grain, showed independent publications from over five continents, including some from times past in Nigeria – New Culture among them. It was a rich, one-of-a-kind showcase of often anti-establishment texts about queer feminists or artists rising up against the global capitalist bubble in which they exist. The exhibition, which has been travelling across the world, is collective knowledge worth spreading. A knowledge that the Nigerian art space so urgently needs to absorb. There are no prizes for guessing if this exhibition was well attended by stakeholders in the industry.
5. Marcellina Akpojotor's Sold-Out Show 
In 2017, Akpojotor who creates warm, endearing family portraits with Ankara cut-outs and castaways from sewing machines was formally introduced to the art world via the annual Young Contemporaries exhibition: a showcase by Rele Gallery that exhibits 5 promising artists to watch. Cue one short year after, Akpojotor, who was signed by the gallery, puts on an exhibition that recalled a personal family history of strong women. No one – presumably, not even the gallery – envisaged a sold-out show, a rare occurrence as exhibitions go in Lagos, Nigeria's art capital. Akpojotor is firmly on her way.
4. Peju Alatise and the Retrospective That Wasn't
In April, when Alatise showed her exhibition, Paradox, Paradigms and Parasites, at the Kia Showroom with Arthouse Contemporary, a lifetime of practice was on display. Curiously, the exhibition catalogue did not mention it. The exhibition showed Alatise's paintings – her early medium of expression which has since evolved to more ambitious sculptures and mixed media, using resin, concrete, and any other material she can bend to her will. It was a stunning showcase of an artist at the very height of her artistic powers, and a testament to her accomplishment – she was once told to stick to her paintings and not venture further. I wonder what her naysayers have to say now.
3. Ben Enwonwu's Discovered and Sold Tutu
If the auction success of Ben Enwonwu' Tutu is anything to go by, then there are millions of pounds worth of works by deceased artists hanging on yet to be identified apartments walls in London or Lagos. Not to diminish the singular achievement of Enwonwu's work commanding such a heady sum, a close observer will agree that the discovery, spun narrative, and eventual sale of the Tutu piece was a public relations master class. But if the knock-on effect is a higher value for works by Nigerian artists, I have zero complaints.
2. Benin Bronzes
The conversation for restitution has been ongoing for the last 30 odd years, but in 2018, talks became a shout – a clarion call. An ambitious effort led by the sitting Governor of Edo State, Godwin Obaseki, buoyed by the call of the His Royal Majesty, the Oba of Benin, from whose ancestors the Bronzes were stolen, it seems the prized artefacts are closer to returning to their ancestral homeland. The jury is still out on what route they should arrive: as a loan from the European and American museums who currently hold and display them, or by permanent restitution. Obaseki, a graduate of the Classics from the University of Ibadan, with a Masters in Finance and International Business from Columbia University, understands the touristic, cultural and historical import the Bronzes will bring to his state and the country at large. He has proposed to build a Museum that will house them in three years, a world-class edifice that can also play host to other masterworks from all over the world.
1. Abraham Oghobase 
2018's best artist by some measure is the photographer, Abraham Oghobase. His achievement this year is all the more remarkable because his work is deliberately, cleverly understated. It unfolds with close observation. In April, Oghobase showed No Matter Who You Are at Angels & Muse. Using the mundane – sky, water, land, and himself – as canvas, he tells a story about the human condition, about the gravely consequential, about death and destruction in the Niger Delta. His method of painstaking subtlety followed in his second exhibition, Layers of Time and Place: What Lies Beneath, at Art Twenty One. This time, the subject matter is Jos, a mineral-rich city poisoned by neglect and its own blessings in the post-colonial era. Manipulating archival photos to include himself, using found objects such as indeterminably precious stones and photographs, Oghobase slowly and carefully guides us into the beauty, emptiness and, arguably, rape of Jos. The drama you read is of my own making. Oghobase, instead, employs beautiful, endless, quietly powerful landscape images to drive his point home. It is truly a wonder to me how he might top his work in 2019. But I would hazard the odds are in his favour. 
Special Mention 
Lagos is Africa's Art Capital, Period 
Unlike any other year before it, 2018 saw the influx of global art powerhouses touching down in Lagos to engage with the art community. The year also recorded successes of Lagos-based art professionals further afield in the world. 
In the now unofficial Lagos art season of October to November, Kehinde Wiley, painter of Barack Obama's presidential portrait and pop culture favourite came home on the invitation of The Art Summit to give a talk about how artists can be a catalyst for change. The Art Summit, an inaugural event, will be an annual conference on how Nigeria can reposition itself in the global art landscape. Wiley was in conversation with Azu Nwagbogu who this year was appointed the Curator of the increasingly prominent Zeitz Museum of Contemporary Art in Cape Town. Yinka Shonibare was also in Lagos to show his work for the second time in as many years at Art X Lagos. Talks continue on a residency in construction for Lagos' fledging art community by the artist. Wiley is reportedly building a similar institution in Dakar. Visual artist and curator, Chika Okeke-Agulu, who teaches art history at Princeton University visited as the lead facilitator of the inaugural TSA Art Writing Master Class, a workshop for moulding critical voices in the current art scene. 
May be trite to say but there's a lot to look forward to in 2019.