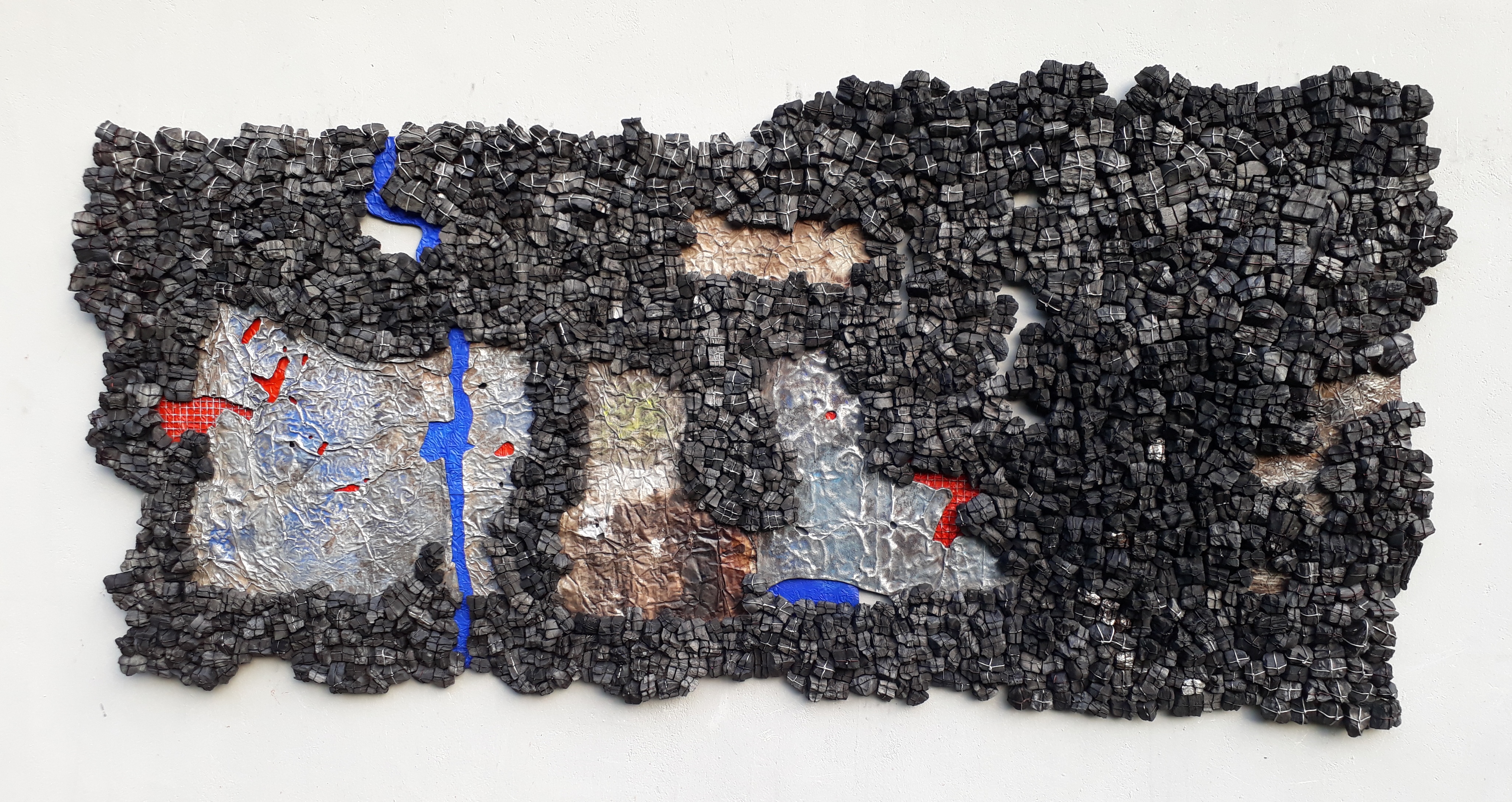 Presented by Arthouse – The Space, Eva Obodo's solo exhibition titled "Ngwugwu (Packages)" will open on May 11, 2019, at the Kia Showroom, 43B Akin Adesola, Victoria Island, Lagos.
Similar to his last solo show in Lagos four years ago, this exhibition featuring recent works is made from discarded and found materials. These works address the complex socio-political and economic connections between individuals and their environment, as perceived in a contemporary consumerist culture. Tying, sewing, and stitching are some of the ways with which Obodo reinvents these materials to evoke a visual narrative.
Ngwugwu is an Igbo word for packages, which this exhibition tends to portray as a metaphor for life. In the artist's words, "every aspect of life, after all, is arguably about packaging". Obodo's charcoal works reference issues of natural resources and development in Nigeria, while his fibre works utilize nylon threads that are tied, rolled and wrapped to create colourful visual art pieces.

Eva Obodo is a multi-media visual artist working across painting, sculpture, and mixed media. Obodo has participated in several solo and group exhibitions, including the Osaka Trinnale, Japan (2001) and the Dakar Biennale, Senegal (2002). He also participated in the first African Regional Summit and Exhibition of Visual Arts (ARESUVA) in Abuja, Nigeria (2008), and was appointed as a juror for the Life in My City Art Festival in Enugu, Nigeria in 2012. In 2013, Obodo received the Smithsonian Artist Research Fellowship Award.
Obodo holds a B.A. (1992), M.F.A (1999), and PhD (2011) from the Department of Fine and Applied Arts, University of Nigeria, Nsukka, where he currently teaches sculpture and art education. He writings have been published in over 20 publications including scholarly journals and exhibition catalogues.
"Ngwugwu (Packages)" will be on view until May 25, 2019.