Imiso Ceramics is a South-African based gallery specialized in ceramic art. They translate African tradition in ceramic art design.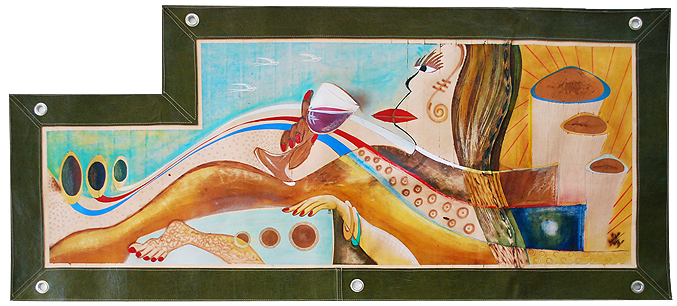 The use of clay, which is the basis of ceramic art, can be traced back to as early as 7000 BC. It is a practice that was fundamental to many African societies, serving mainly functional purposes like storage, documentation and cultural interchange. Simultaneously art and craft, ceramic art represents both conceptual ideas and practical utility. They are at once durable, yet fragile. Ceramic art has endured for centuries but with the advent of technology and evolved cultural practices, it has become a quickly dying art in many African communities. Despite this, some artists have taken on the medium as a means of creative expression. The artists at Imiso Ceramics are among the few who have not only explored the medium but owned it by infusing their distinct style and identity with the age-old processes.
Imiso Ceramics is an art gallery located in South Africa, specialized in creating distinct ceramic pieces that tell visual stories. The pieces are conceptualized by studying and researching African artefacts and practices, which are then interpreted in clay to produce contemporary ceramic designs.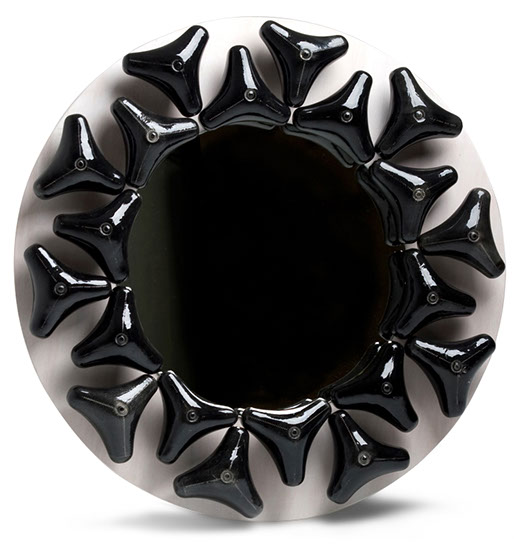 'Imiso' is a Xhosa word meaning 'tomorrow'. It was founded in 2006 by friends who share similar cultural and educational backgrounds, Andile Dyalvane and Zizipho Poswa. Both artists grew up in the Eastern Cape and studied at Port Elizabeth Technikon, now named Nelson Mandela Metropolitan University, and have well over two decades of experience. They have, over the years, steadily built a reputation for creating ceramic pieces that are unapologetically modern but incorporate indigenous designs inspired by their environment and their history, as well as African traditions of scarification and surrealism. Some vessels, bowls, and vases are adorned with designs of abstracted human features, traced out in incised lines that emphasise the eyes and lips. Some ceramic objects carry views and tales of a city while others, much simpler in design and form, stand out due to a moulding technique that exhibits bursts of colour through hand-painted lines.
The creations at Imiso Ceramics carry a dual essence as functional objects and works of art. There is an unmistakable intentionality in the designs that accompany the pieces. It is much like going against the grain of traditionally creating works on canvas to work with clay in the same manner. They paint, they draw, they experiment with and infuse other materials like net or fabric where it works.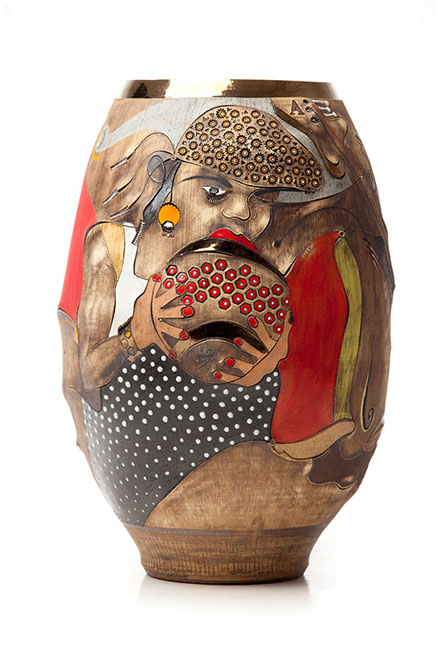 Andile Dyalvane is the head designer at Imiso Ceramics and works more with larger pieces like the vessel sculptures. He started making figures as a little boy from river clay found near his parent's farm and pursued this interest right into his college days. In 1996, he enrolled to study art in Sivuyile Technical College in Gugulethu, Cape Town, where he graduated top in his class. He would later in 1999, gain employment with The Potter's Workshop in Kalk Bay and work there for two years. In 2001, he was invited along with eight other local artists, to participate in a five-week exchange programme in Denmark. Due to his exceptional work, he earned a scholarship to further his studies at the Nelson Mandela Metropolitan University, where he graduated cum laude in Ceramic Design in 2003. A few years later, Dyalvane had gained notable recognition for his remarkable stride in designing ceramic art, which he derives from his Xhosa heritage. He was invited to show six of his works as part of the 2006 Picasso and Africa exhibition in Johannesburg and Cape Town, which he considers to be one of the highlights of his career. His first piece is a heavy terracotta pot "with big ugly yellow flowers" he said, in a 2010 interview with Better Life Magazine. He created that while in college and still has it till date, to remind him of how far he has come.
Dyalvane views ceramic art to be a creative miracle, describing clay as an embodiment of possibilities that enables him to create something significant with the four natural elements: earth, water, air and fire. He is known to work with different types of clay, and interprets aspects of his Xhosa tradition into the form and surface treatment of his pieces. The oval shape is reminiscent of Xhosa beer pots, milk pails and Zulu meat servers, hand-carved from wood but now reimagined and rendered in ceramic designs. Depending on the theme of the collection, some of them are finished in vibrant colours while others maintain their earthy tone. Some of his vessels seem to have a brutish quality creating room to appreciate the grit in texture while also retaining a cultural semblance. Dyalvane has evolved beyond surface decoration to capturing the three-dimensional design elements and angular contours in his own sculptural pieces. He is inspired by a number of ceramic artists and painters – Hennie Meyer, Katherine Glenday, Pablo Picasso and Joan Miro.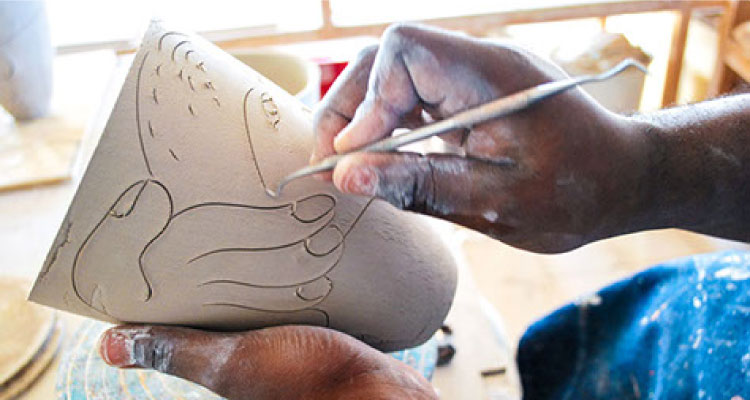 Zizipho Poswa is co-founder and ceramic designer at Imiso for smaller pieces. She grew up in Eastern Cape of South Africa where she began her studies at Nelson Mandela Metropolitan University, before moving to Cape Town, where she completed her studies in Surface Design and Textiles at Cape Peninsula University of Technology and graduated in 2010. Poswa would afterwards, work at Carole Nevin Designs hand-painting fabrics. Her background in textile design, pattern making and colour mixing have come together in a fine blend, serving her well in her ceramic design practice as she hand-paints all her creations as opposed to using heat transfers. She is drawn to beautiful things, and mostly finds them in flora and fauna, which inspires the design concepts for her ceramics. Over the years, Poswa's works have become bolder and grander. Focusing on form, texture and colour, she now produces large-scale contemporary ceramic sculptures.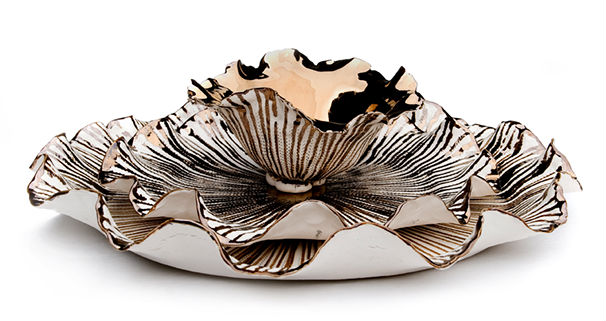 Imiso ceramics have their pieces categorized into collections based on design concepts. Some of the popular collections include:
The Hand-pinched collection which is inspired by South African flora. The pieces exude intense delicateness, because of the thin breadth of the mould. The wavy uneven edges that go around its circumference look like a flower or a floating river plant, balanced out with vibrant, striking colours, finished with hand-painting.
The Africasso collection employs imagery from folklore passed down to Dyalvane by his grandmother. This explains the surrealism and human abstractions that cover the bodies of these pieces. The use of colour and incised illustrations in these works are impressive. The collection comes in vessels, vases and platters.
The idea for the Scarified collection is drawn from traditional Xhosa practice of scarification (ukuqatshulwa). Approaching clay like skin, incisions are made on the surface of the vessels with lines, patterns and symbols. Most of the pieces in this collection are quite minimalist, such that the concept of scarification stands out to anyone who encounters these pieces.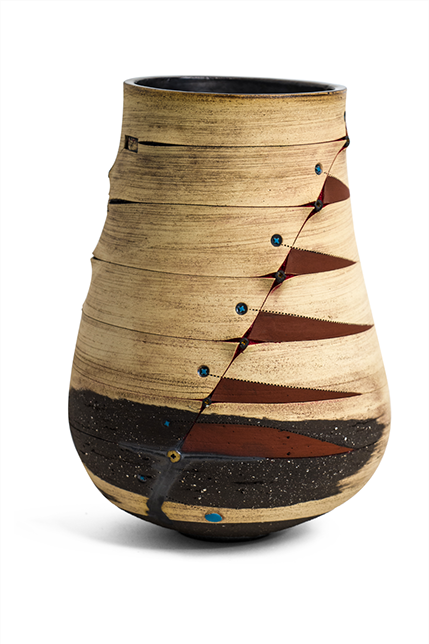 The Views Collection has rather charming designs. It is inspired by the views of their studio situated at Old Biscuit Mill, overlooking the city. The vessels, covered in calm hues, have drawn around it, cityscapes bearing tales of urban life and industrialization.
The process of production takes about six weeks to create, and then, a month for Dyalvane's designs. Production entails throwing, coiling, casting or press moulding. Decorating, often done by incising motifs using a sharp blade or pointed object, occurs after the works have been air-dried. These inscriptive designs are made right before the pieces are placed in a kiln to harden. The artists at Imiso liken kiln unpacking "to an excitement where words fail to express awe".
Also experimental in their approach at Imiso, they have expanded the possibilities of ceramic art through incorporating various materials such as glass, wood, leather and textile. This idea has been translated to furniture pieces and leather installations. However, these pieces are not without their challenges, being that they require highly a bespoke approach to be realised.  Still, Imiso has enjoyed success in creating unconventional coffee tables, mirrors, leather installations and more.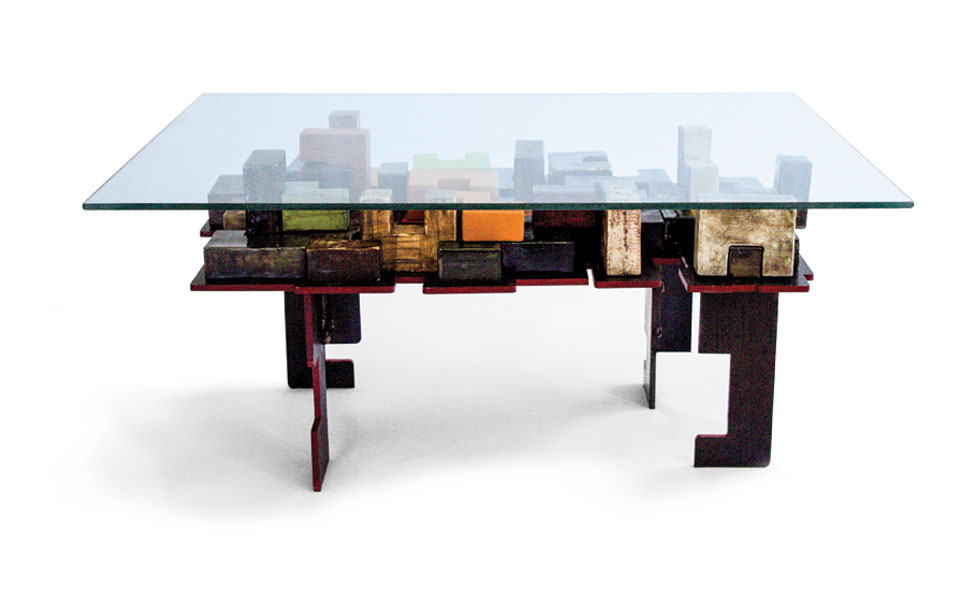 One of their most successful projects is at Cape Town Convention Centre, produced in collaboration with Clementine van der Walt, another South African ceramic artist. It is a wall installation made up of Africasso wall tiles, situated at the site permanently.  Creating visual stories, actualizing dreams and expressing their life experiences through their works served as the foundation for founding Imiso, which is clearly evident and has been consistent in the works produced over the years. Just as their name Imiso, suggests, they continue to experiment towards a futuristic approach in their craft.