A look at the thriving art scene and present-day artistic expressions in Benin-City, beyond art repatriation.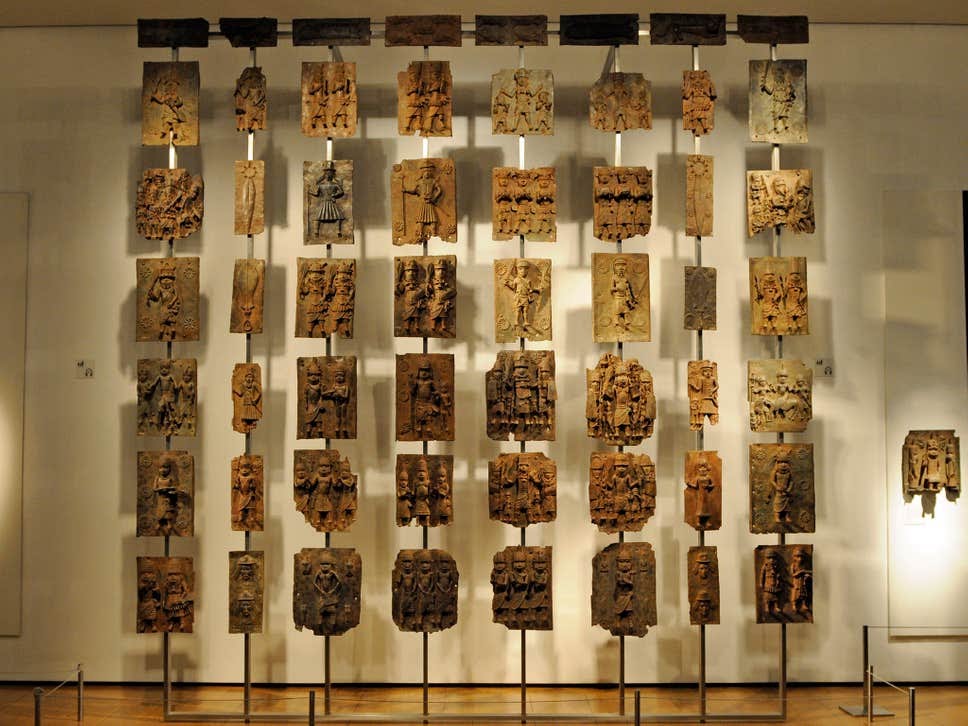 The historical city of Benin located in Edo state, Nigeria, is widely known for its Bronze plaques and sculptures. The Bronzes, which were looted during the British punitive expedition of 1897, can now be seen in museum collections in Britain, Europe and America. Despite this historical tragedy, the Benin Bronzes have played a significant role in developing a greater appreciation for African art and culture across the world.
In the ancient Benin Empire, the Oba's Palace was decorated with bronze plaques that primarily glorified the king and the queen mother. These plaques also illustrated aspects of Benin court life, revealing how the people of Benin perceived the Portuguese merchants and soldiers that they traded with. Art in ancient and present-day Benin is a way of life, an instrument used in articulating its peoples' values, vision and voice. Highly conscious of their heritage, the locals in Benin never miss an opportunity to promote and talk about their culture, either through informal conversations over beer and pepper soup or through visual interpretations in the form of art.
Weaving history, tradition and spirituality, renowned contemporary visual artist Victor Ehikhamenor draws on Benin tradition and memories of his childhood in his native, Udomi-Uwessan. Ehikhamenor's signature motifs and symbols embrace the ancient art from his village shrines, and the wall paintings and iconography he consumed while growing up. In 2017, Ehikhamenor introduced rosary beads sewn on giant canvases and lace materials to his artistic practice. These works depict portraits of mythical and royal figures from the pre-colonial Kingdom of Benin.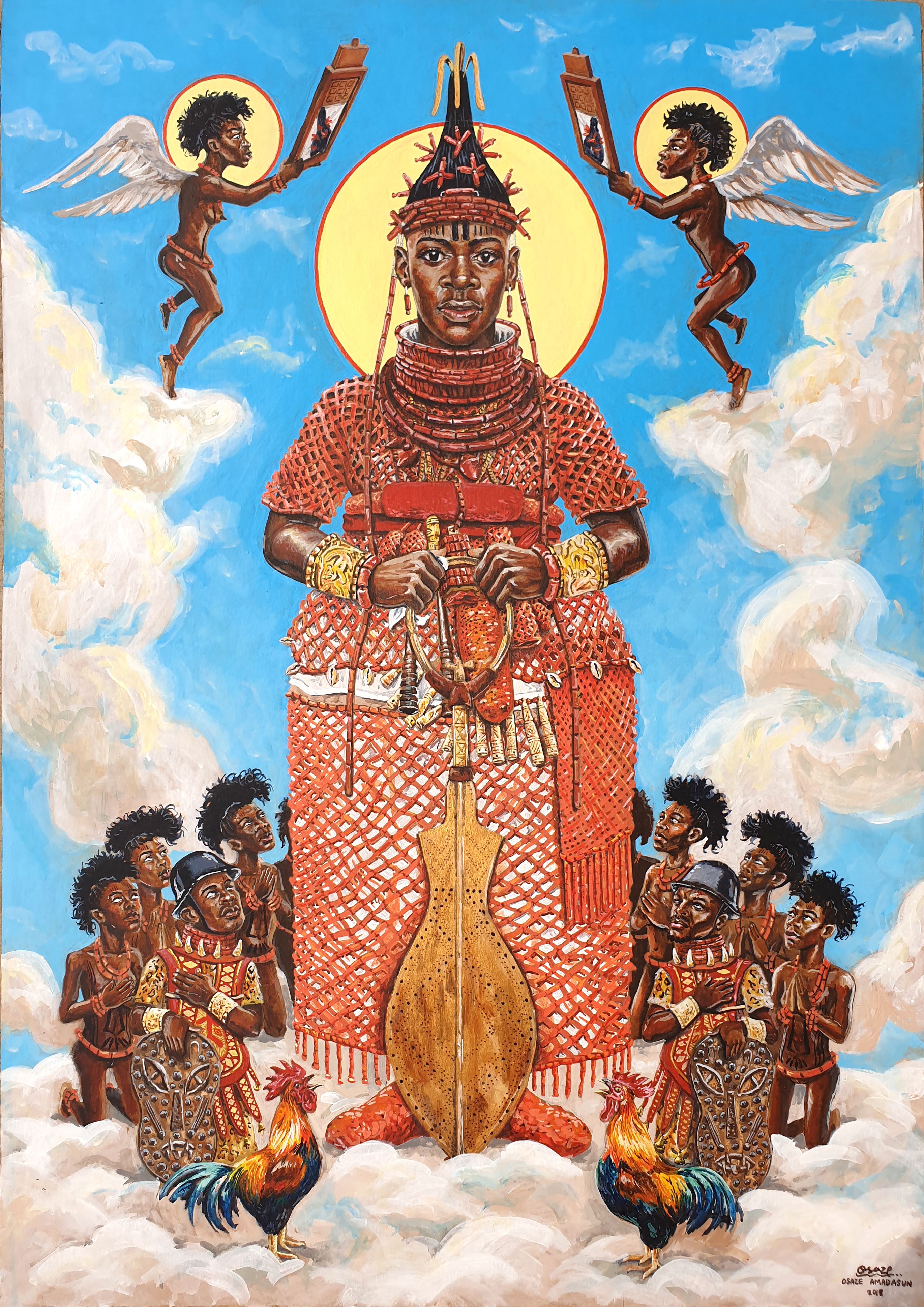 Also drawing on Benin history is contemporary artist, Osaze Amadasun, who debuted his series "Once Upon A Kingdom" at a group exhibition in 2019. His works narrate significant events that occurred during the reign of Oba Esigie, who at one point ruled the ancient Benin Kingdom (c. 1504 – c. 1550). "The 16th century was regarded as one of the Golden ages of the Benin kingdom, however, there were certain important events which I felt the Benin brass casters didn't record in their work in that period. People remember visuals better than texts or oral stories so I thought to retell these events visually in my paintings."
My recent visit to Benin revealed the patriotic sentiments reflected in the work of the above artists. It was interesting to encounter people of various ages who were aware and proud of their rich culture. Moving around the city, I was struck by the city's widely known sculptures, many of which were placed on major roads, in beautifully-designed gates, and in homes and hotels. The integration of these art-objects into the city's visual-scape reaffirmed the strong sense of Benin identity expressed by its people.
An integral part of the historical city is Igun street, the hub of Bronze casting and headquarters for the guild of bronze and brass casters. Listed as a World Heritage Site, all bronze casting is done here by families and generations of artists dedicated to the practice. During the ancient Benin Empire, the bronzes served as historical records, even portraying the role of other documentative mediums such as photography and writing.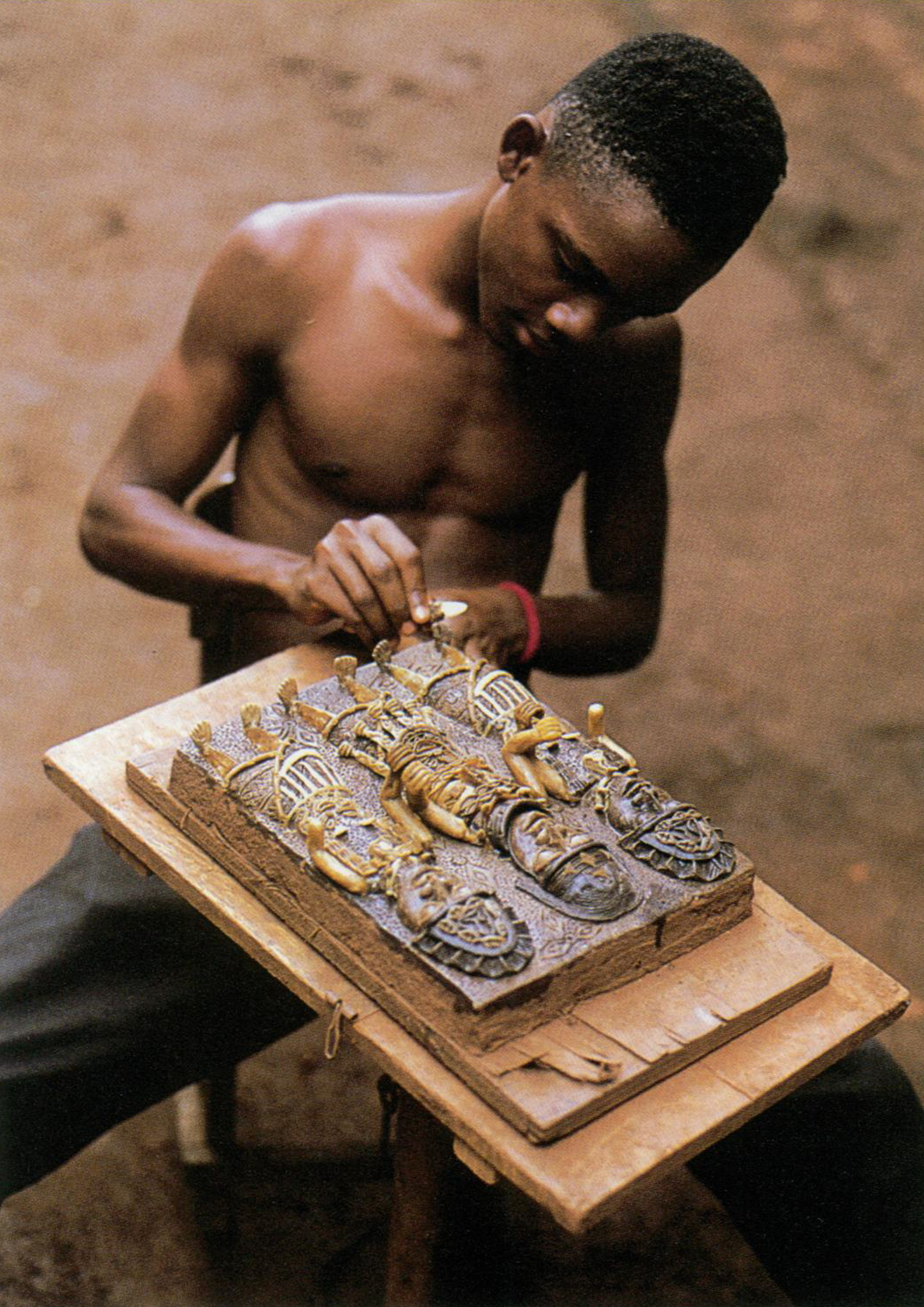 Located close to the Benin National Museum is Nosona Studios founded by Enotie Ogbebor, a visual artist living and working in Benin. Contributing to the Benin art ecosystem, Nosona Studios operates as a multidisciplinary art studio and experimental space for budding artists. Hosting art exhibitions, film screenings and interactive sessions with leading artists like Ehikhamenor, Nosona Studios connects the dots for art students, self-taught and emerging artists committed to expanding their artistic career.
This year, the innovative art space presented a group exhibition titled "[Re:]Entanglements", featuring 15 emerging Edo-based artists. The exhibiting artists first participated in workshops where they were introduced to the colonial archives of Northcote Thomas, an anthropologist that documented Edo-speaking communities in Southern Nigeria between 1909 and 1910. Each of the artists then developed postcolonial responses that reinterpreted Thomas' ideologically-laden visual documents. The artworks on display, which included painting, sculpture, digital and mixed media pieces, were exhibited alongside the archival materials that the artists had engaged with.
Amongst the exhibiting artists is the fast-rising, Benin-based Osaru Obaseki, known for her alternative technique of combining sand and acrylic. The introduction of sand in her paintings draws a formal connection to the practice of Bronze casting. "Living in Benin and surrounded by the rich culture has greatly influenced my art and empowered my creativity. Globally, Benin is admired for its unique art and craftsmanship. We pride ourselves on our incredible bronze casters, terracotta, coral beading, goldsmiths and much more. With this solid foundation, I have been able to take traces from my ancestors and heritage, which is the medium of sand, and infuse it with modern-age acrylic to make contemporary works."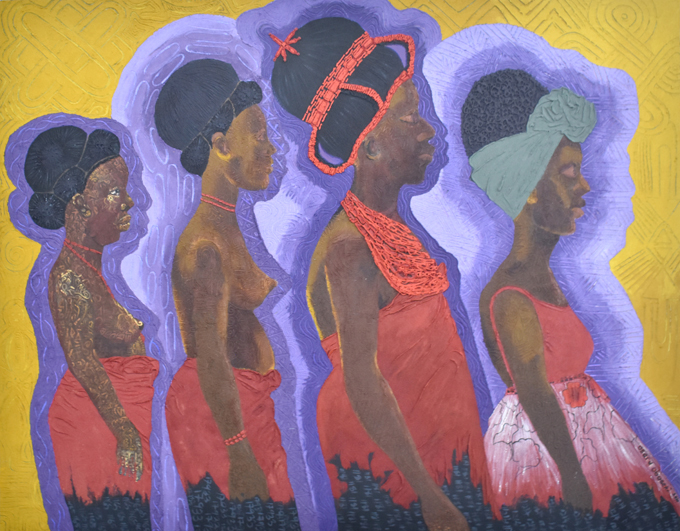 In "The Journey amidst Time (2019)", Osaru reproduces one of Thomas's archival images to show the historic transitions of women's attire in Benin. She depicts what seems to be a multi-generational portrait of four female figures. Consisting of two bare-chested women, another woman tying wrapper – decorated with coral beads like a traditional Benin bride – and a much younger woman, the work represents how Bini-speaking people of Edo state have evolved and the style of its female inhabitants, from the colonial to post-colonial era. "We are still on the path of finding ourselves. Looking back to who we were, who we are now and what we can be."
Shifting away from the conventional art exhibition is Space Benin founded by S.I Ohumu and Adeyinka Yusuf. It is an initiative that champions artistic freedom and aims to build a community of multifaceted creatives working in Benin. Thriving on the watchword of "freedom to be, safely, whoever you are," Space Benin holds seasoned art-related events with specific themes, intertwining visual arts with musical and spoken word performances, as well as raising the awareness of mental health. The initiative also presents itself as a form of art therapy, encouraging self-expression through its unorthodox projects. It hosted a "Plot and Plant edition" at the Ogba Zoo and Nature Park in Benin city where members of Space Benin reused discarded buckets of paint as their canvases and transplanted house plants into them, which they took home. "Being 'other' in Benin is hard and can feel isolating. Space Benin basically brings all of these people together in one place and reinforces their value," says the co-founder S.I Ohumu.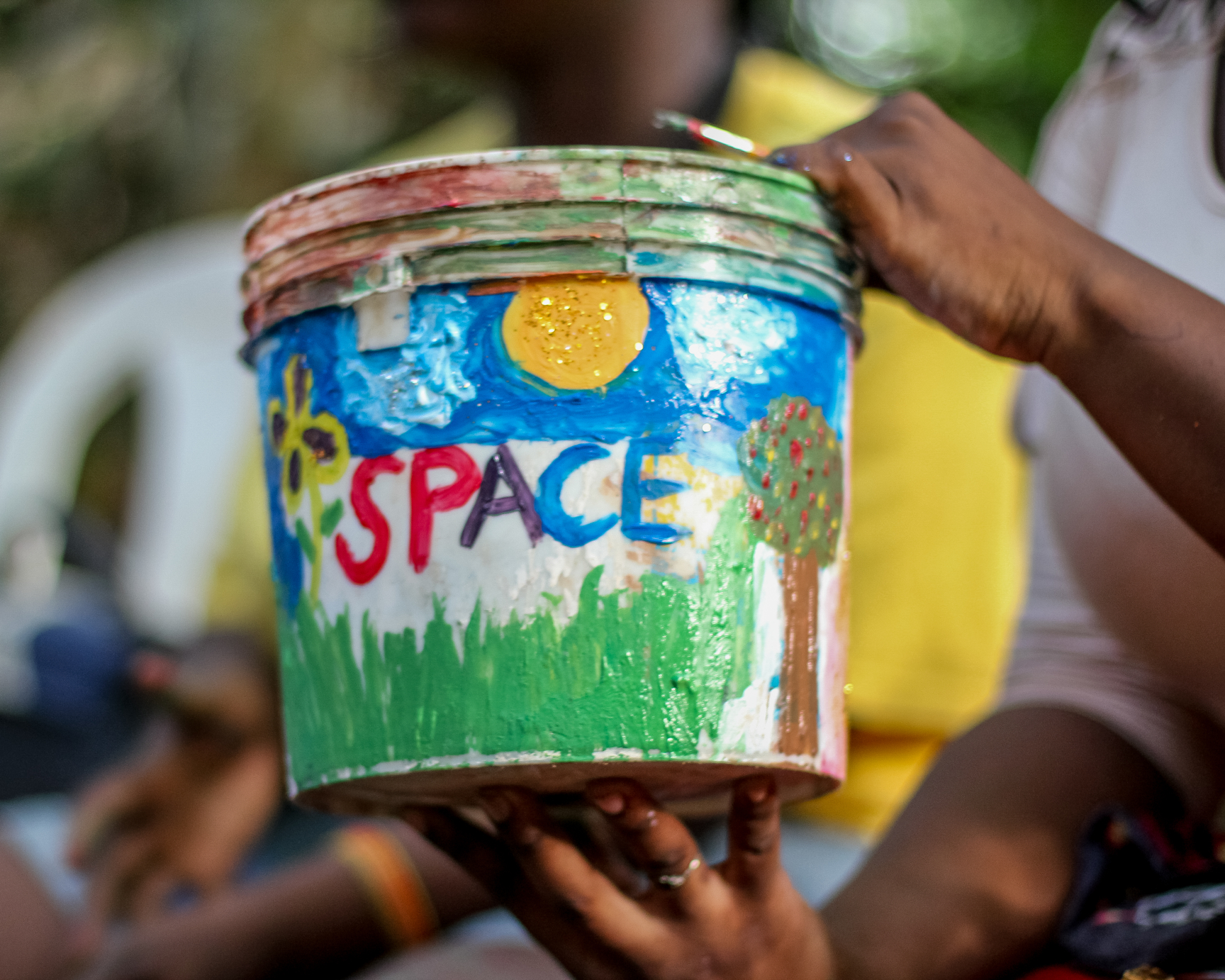 The ultimate renaissance of the Benin art ecosystem will be the new Benin Royal Museum, commissioned by the Edo state government and designed by Sir David Adjaye. The Benin Dialogue Group – a collective of museum representatives from the United Kingdom and several European museums, in collaboration with the Royal Court of Benin, the Edo State Government, and the National Commission for Museums and Monuments in Nigeria – has been working to establish a museum in Benin city for the permanent display of the looted artefacts.
Now, after years of negotiation, it appears that a selection of the Benin bronzes may once again be reunited with its original home. Given the present lack of funding for preservation of historic Nigerian monuments and objects, art institutions like the new Benin Royal Museum, will attempt to answer the difficult question posed by Western museums in possession of these cultural artefacts, that is, "If the object goes back to its country of origin, will it be cared for?"