More than four years in the making, the Yemisi Shyllon Museum of Art at Pan-Atlantic University in Lagos opens in October. What will visitors encounter?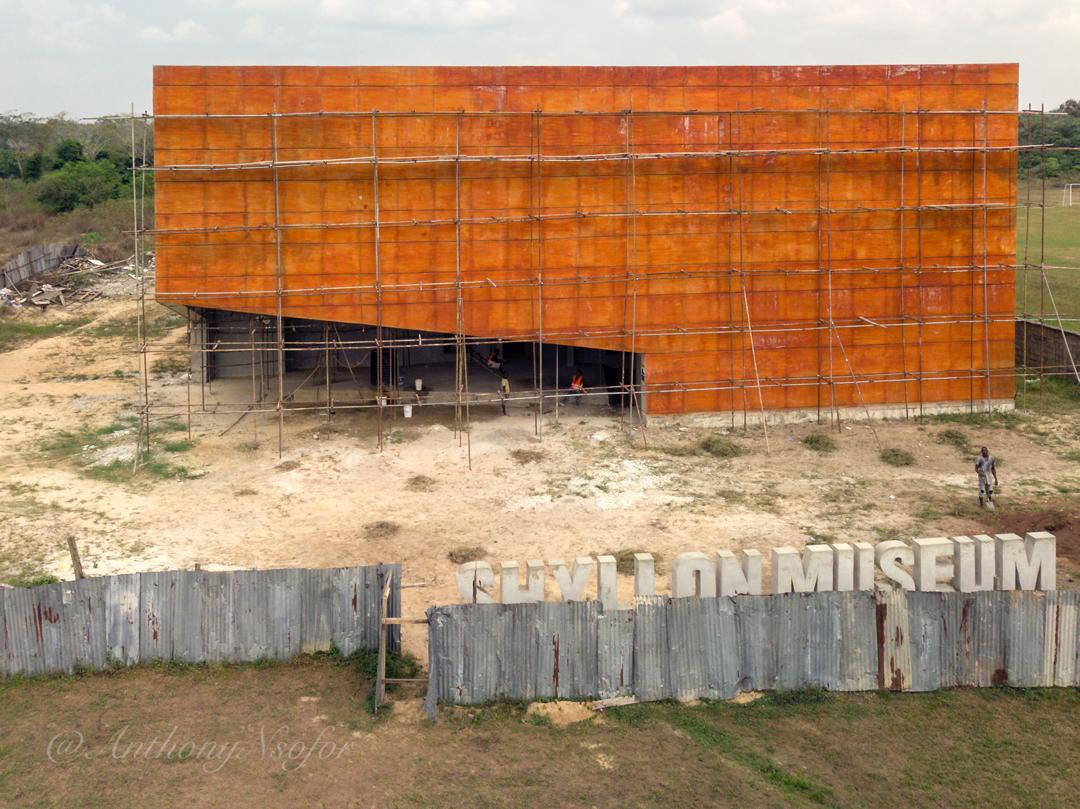 In a 2007 novella, Every Day is for the Thief, by art historian, photographer and writer, Teju Cole, the lead character talks about his disappointing visit to the Nigerian National Museum in Lagos.
"My recent experience of Nigerian art at the Metropolitan Museum in New York was excellent. The same had been true at the British Museum, as well as the Museum für Völkerkunde in Berlin. A clean environment, careful lighting and above all, outstanding documentation that set the works in proper context. What each of those places had done was create a desire in me, to see this astonishing art at its best, to see it in its own home. London, New York and Berlin had made me long for Lagos. The West had sharpened my appetite for ancient African art. And Lagos is proving a crushing disappointment."
Not much has changed since Cole's novella except for the talks and deliberations over the repatriation of artefacts taken by the colonialists. The on-going clamour for the return of the works carted away by colonial administrators during the exploration and exploitation of their conquered territories have, however, been met with concerns over where to house these works, and how to protect and preserve them, owing in part to the perceived lack of proper infrastructure. Could one then flirt with the thought of a new museum to fulfil the yearning of a possible home to preserve these national art treasures and heritage?
For, arguably, the most thriving art scene in Africa, with a nearly defunct National Museum mostly run like an event centre where gallerists and curators pay to use the exhibition space, news of a new museum in Lagos excites. There is hope that the metropolitan city will finally have more than just gallery exhibitions and an annual art fair to show for its claim to glory.
In June 2015, Shyllon made a substantial donation towards the construction and long-term sustainability of the museum, as well as over 1,000 artworks – a collection which includes traditional art, modern paintings and sculptures.
At the serene campus of the Pan-Atlantic University (PAU) on the outskirts of Lagos, the Yemisi Shyllon Museum of Art (YSMA) stands. It is a new space that will through exhibitions and educational programs establish itself as an intellectual hub that drives artistic conversations; teach its diverse audience about the richness of the Nigerian and African cultural space, and eventually become a leading university art museum in Africa, of which there are currently only a handful. "The Pan-Atlantic University which does not yet have a Faculty of Art, will be pioneering this kind of museum in Nigeria," says Jess Castellote, the director and designing architect of the museum. "There are art galleries in other Nigerian universities but not an independent museum."
The plan for a museum at the PAU can be traced back to 2011 when it was housed on the university's website and called, 'The Virtual Museum of Modern and Contemporary Nigerian Art'. The proposal for a physical space was, however, presented in 2014 by Prince Yemisi Shyllon, who allegedly owns one of the most important collections of modern African Art, with over 7,000 works in his private collection. In June 2015, Shyllon made a substantial donation towards the construction and long-term sustainability of the museum, as well as over 1,000 artworks – a collection which includes traditional art, modern paintings and sculptures, as well as photographs of Nigeria's fast disappearing cultural festivals. The modern paintings include works by notable artists such as Aina Onabolu, Ben Enwonwu, Yusuf Grillo, El Anatsui, Simon Okeke, Uche Okeke, Akinola Lasekan, and Bruce Onobrakpeya. Also, in the collection are paintings by contemporary artists Diseye Tantua, Segun Aiyesan, Kelani Abass, and several others, as well as sculptural pieces by Adeola Balogun, Ben Enwonwu, Oladapo Afolayan, Isiaka Osunde, Okpu Eze, and photographs of Nigeria's cultural festivals predominantly produced by Ariyo Oguntimehin.
The structure of the Yemisi Shyllon Museum is not as imposing as one might expect. Nonetheless, it is a big box of 30x30x10 meters with no windows, and its rich textured finish of stained concrete walls in bold orange colour makes it stand out in the lush green on the expansive lawn of the campus. The building, which mirrors the concept of a fridge, has good thermal insulation with which a cool temperature can easily be maintained using minimal energy consumption. While it may appear "boxed in" from the outside, the inside is spacious and the internal architecture reinforces this. On a tour around the nearly-finished building with Mr. Castellote, he explained that the space has been designed to optimize visitors experience. The space is fluid and flows over in a way that from any corner, one can literally see everywhere. Some spaces are funnelled in while others open out but they are all linked to one flowing direction. "This will also enhance security, while allowing visitors appreciate the artworks from multiple views and various angles," he said. Deliberately constructed to avoid natural light, spotlights will be strategically positioned to focus on the displayed works. In front of the building is a sculpture garden with letters made of concrete spelling out the museum's name, visitors will be able to utilise this for photographs and other aesthetic desires.
The success of the project will not be measured by the number of visitors, but by the lasting impact the museum leaves in them.
Curating the first show at the YSMA is Iheanyi Onwuegbucha, who will present two simultaneous, long-term, thematic exhibitions: "Materiality in Nigerian Art" and "Art and Society".  The former, presented on the ground floor, will explore the materiality and physical qualities of different art media and the way Nigerian artists have used them since precolonial times: wood, metals, clay, fibre, textiles, stone, paper, discarded and repurposed materials. The exhibition will show how Nigerian artists have explored different materials available within their environment, mirroring the various social and cultural conditions of their times. At the upper level of the museum, "Art and Society" will explore the ways in which artists engage with social ideals and historical realities. Onwuegbucha hopes to shed light on the Nigerian reality before colonisation, and the role of art in Nigerian traditional societies. Whether through traditional media or moving images, abstraction or figuration, militancy or detached observation, the artworks in this exhibition will highlight aspects of the social reality in which they were made and convey a more or less explicit message to the viewers. These exhibitions will be displayed for two years from October 2019. 
Targeted mainly at young people, beginning with students of the university, visitors will learn about Nigerian art and cultural history through significant artworks with rich heritage and stories they might have read about in textbooks and those that have been passed on through oral tradition, like Benin bronze, Nok terracotta, Igbo-Ukwu art, Ife art, amongst others. Castellote has shared about the museum's emphasis on educational programmes, stating that there will be an agenda for secondary schools tagged "10,000 Youths" which will bring together an average of 25 students from public secondary schools for 200 days a year, over a two-year period. The students will not only tour the museum but will be taught and engaged through practical workshops. This will differ from the existing teaching model of art in the Nigerian educational system. 
As with many initiatives and new institutions, the structure and plans seem solid and well laid out. However, the issues of continuity and sustainability are of concern. To ensure this, Mr. Castellote says he is putting together a team of young people who will be trained to manage the daily operations of the museum efficiently and ensure the objectives and long-term goals are accomplished. Also, going by the long-standing reputation of the PAU for high standards, it is not surprising that the museum has its governance, management, and advisory structures integrated into the PAU's system, thus guaranteeing its future.
While the Yemisi Shyllon Museum of Art may be pioneering the idea of a university museum for public education and enlightenment, other museums and initiatives have sprung up in recent years with similar objectives. About 43km away from the Pan-Atlantic University, towards Ajah (also in Lagos), resides the Alter Native Artist Initiative (A.N.A.I). It was founded two years ago by renowned contemporary artist, Peju Alatise, to provide residencies and cultural exchange programs that will engage and train emerging artists, as well as revive the dying art practice of ceramic art. Since its opening, ANAI has engaged key people in the Nigerian art scene such as artists, curators, writers and university students in several discourse and workshops, especially on ceramic art.
The Museum of Contemporary Art (MOCA Lagos) is another similar initiative, located in Ajao Estate in Maryland. Founded in 2018 by an artist collective led by Uchay Joel Chima, its core objectives include inciting dialogues on the evolution of contemporary African art through exhibitions and public programs. Several exhibitions and public programs have taken place since their opening. 
In a country where the government is non-committal about developing the art and culture fields, despite the potential revenue and boost to the economy it stands to gain, the realisation of institutions such as the Yemisi Shyllon Museum of Art demonstrates the desire of the people for progress. These interventions are bound to improve their immediate locale, establish stronger interest in the arts and create plausible career options. The results may even vary for the coming generations who, unlike the character in Cole's book, will find a place in their homeland to balance knowledge of African art. Or, for the local ones, who will dare to explore the world through art, becoming more imaginative and inventive. For the founders of YSMA, this would be their measure of success. In Castelotte's words, "The success of the project will not be measured by the number of visitors, but by the lasting impact the museum leaves in them."
The Yemisi Shyllon Museum of Art will open officially on Saturday, October 17, 2019.