A glimpse into the world of prolific curator Koyo Kouoh, the new executive director of the Zeitz Museum of Contemporary Art Africa (Zeitz MOCAA) whose appointment begins this May. Will she transform the museum's controversial reputation?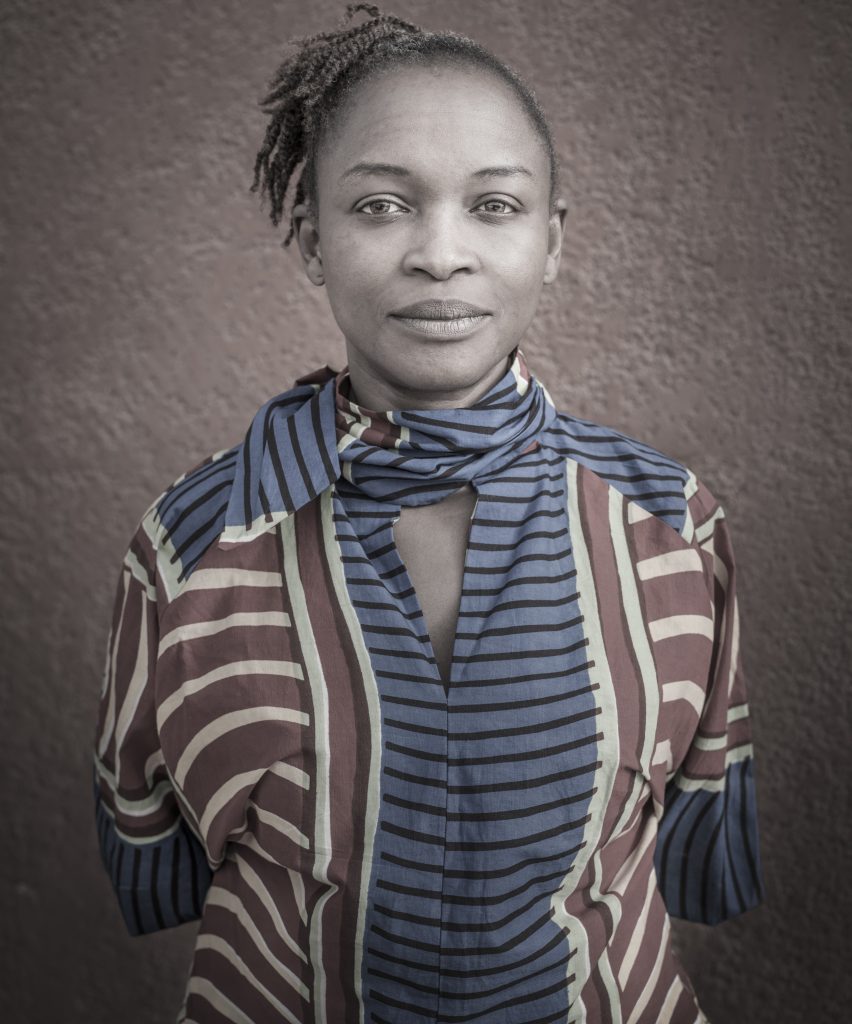 One will find, in the composition of any public figure's reputation, an amalgamation of actual deeds and the mist of gossips that success never fails to breed. Koyo Kouoh, one of the most high-profile African figures in contemporary art, is no exception. Some stories make her almighty, like the slightly incoherent one I was told by a journalist in which she made a call that stopped a flight from taking off, having hundreds of travellers wait so that she could retrieve the very cell phone she made the call with, in the first place. Others, the really pernicious ones that are more whispered than frankly told, attribute her success to everything but herself; at times to some wealthy white man operating in the shadows. There is that hilarious expression that says, "God is great but the white man ain't small either." When I hear these stories about Kouoh, I can't help but think, "God is great but Koyo ain't small either."
These stories though, however false and ridiculous they are, lead us, despite themselves, to some truths. They draw a map of what people deem plausible and of what they find hard to fathom. They are attempts at interpretation gone wild, some of which are trying to make sense of an African woman that rose the ranks of her industry, built the RAW Material Company in Dakar, a functional and respected institution, all the while continuing to speak her opinionated mind. While Kouoh has been labelled ambitious, I don't think the adjective fits. Ambitious people do not leave banking to get into the arts as curators. Driven, passionate and restless people do.
A few weeks ago, I was sitting at the same RAW Material Company's courtyard, on their comfy benches with pillows. Marie Helene Pereira, who has worked with Kouoh since the beginning of the institution in the late 2000s, was sitting there too. Spanish curator Chus Martinez was giving a talk, punctuated by jokes on art historians and German philosopher Theodor W. Adorno. Kouoh, at some point, came and sat next to us. I told her about my petty preoccupation with the benches and the fact that unlike the chairs upfront they remain comfortable even after one has sat on them for an hour. Both Kouoh and Pereira suggested that maybe the problem had more to do with my lack of body fat than the chairs. Later on, after Martinez had rounded up her talk, answered questions and snacks were served, I told Kouoh about those stories that are whispered. She responded by referring to one of the things that she learned from her mentor, the late Okwui Enwezor, which is to ignore gossips and focus on excellence because "the best is never enough". 
One of the reasons Koyo Kouoh could manage this project requiring the participation of such diverse actors was because she always had people. In fact, few in the city's cultural world are as connected as she is. 
It was sometime in 2012 that I first encountered Kouoh's agency. I was reporting extensively on all things related to the arts in Dakar and was struck by the lack of critical thought I encountered in that space. The RAW Material Company had recently opened its doors in the area that for decades had hosted one of the most iconic spaces in Dakar, Youssou Ndour's Thiossane nightclub. The entity had existed since 2008, as an itinerary platform investing in different venues in the city. But soon, Kouoh realised that the visited spaces absorbed all the laurels of RAW's interventions and she decided that it needed an address of its own. A few months had passed since the tumultuous presidential elections and the beautiful youth uprisings that guaranteed a regime change. Kouoh and her staff contributed to that movement by making sure the energy did not flow away or disappear into traditional party politics, as so often is the case. They gathered activists, political leaders, photographers, scholars and writers. All of them had been immersed in the events; some who weighed in and were affected; others who captured snippets of bravery, faces of resolve and expanded the archives of African emancipatory politics.  The book, Chronicle of a revolt, a collective editorial effort, stands as a subversive reminder that politics is what happens beyond institutional routine and through mass mobilization. One of the reasons Kouoh could manage this project requiring the participation of such diverse actors was because she always had people. In fact, few in the city's cultural world are as connected as she is. Everyone, from the bohemian artist of the Medina to the recently appointed government official, seems to be just a phone call away from her.
Born in Cameroun and raised in Switzerland, Kouoh settled in Dakar after a series of events that in retrospect looks providential. In the early 90s, recently divorced, she, "in a very shy way", had "started writing some texts in cultural magazines". 1992 was a pivotal moment: her son Djibril was born and Margaret Busby published Daughters of Africa. That anthology, she recalls, "was essential to my understanding of the power of the imaginary. And above all, to the contribution of women and the importance of their voices. Living in a German-speaking space where African voices are even less heard, I made the decision to undertake an editorial project that would aim at doing, in the German-speaking world, what Busby had done in the English speaking one." The book, which she calls her first curatorial project, Töchter Afrikas, was published in 1994 in Germany and opens with a preface by her. The project provided her first connection with Senegal, through the novelist Ken Bugul who remains a friend, and led her to widen her geography of blackness, to include, via its female, writers, the immense Afro-Brazilian world. But, it wasn't until 1995 that her first visit to Senegal took place. A Zürich based festival Cinema Afrika had commissioned her to write a piece on Ousmane Sembene. "It was in the afternoon" she recounts, "Zulu Mbaye, an artist I had met months earlier in Switzerland came to pick me up at the Leopold Sedar Senghor airport. He drove me to Ñeti Guy (Wolof for three baobabs), the home of an art collective he was a member of. As soon as I dropped my bag, he said that we had to go, a friend of his was performing. We got in a cab, headed to Dakar Plateau and ended inside Issa Samb's courtyard. Issa was performing one of his Plekhanov⁠1. Youssoupha Dione, one of the great members of Agit'Art, had just passed and the performance was celebrating his life."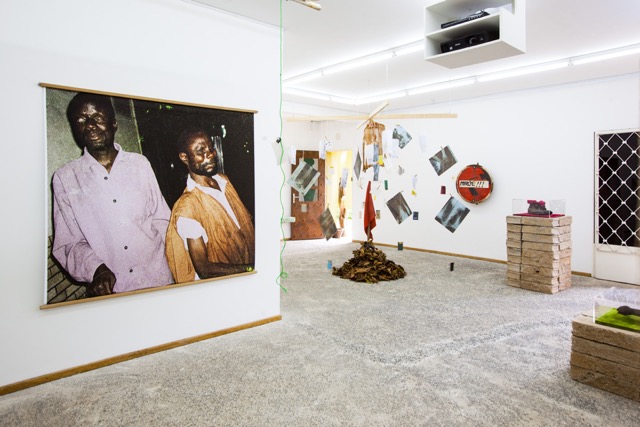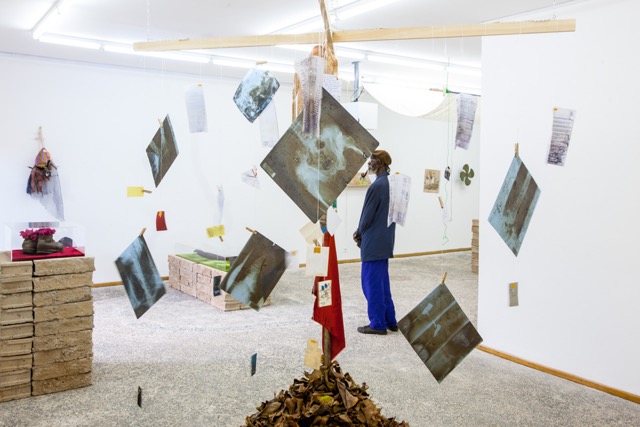 Days would pass and Sembene would not give much consideration nor time to the young reporter. Luckily, a few blocks away from the filmmaker's office was Issa Samb's "enchanting" courtyard and proverbial "kindness". Kouoh would spend most of her one-week stay there. She returned to Switzerland with her article, despite Sembene's elusiveness, and a burgeoning comradeship with Issa Samb. Over the years and up until his passing in 2017, Samb was a close friend and a key artist in Koyo Kouoh's curatorial practice. She saw in him something that, as a teenager discovering the impressionists she had admired in Van Gogh, was "an obsession to create, almost an addiction that never let go and that sticks to you, informing whatever you do, however you do it." Years later, in 2014, she introduced Samb to the international art world with his solo exhibition Words?Words!Words? at the Office for Contemporary Art Norway and with a publication. In doing this, she presented an important counter movement, something more political, less object bound than the negritude influenced and state-sponsored fine art school of Dakar the country had been mostly associated with. 
Cultural scenes, institutions and actors operate within economies and geopolitics. In the 1990s, the supposedly socialist regime that had retained power in Senegal since independence was on the verge of collapse. The Dakar in which Kouoh settled was, and largely remains, one in which public funding was anecdotal and local patrons of the arts almost non-existent. In this context, western embassies and foreign cultural institutions, through their programs and funding budgets, hold a dominant position, which results in exchanges being mostly North-South. The RAW Material Company, on the other hand, and because of its leadership, functions as an interface between Dakar and the world at large, a world from which Asia, the Americas and the rest of the African continent, whether it speaks French or not, is not excluded. If it wasn't for the center, there would be no public event in Dakar hosting people like Binyavanga Wainaina, Yemisi Aribisala or Neo Muyanga, to name a few of the distinguished minds of Africa that the space has welcomed. 
It is reasonable to assume that her priority would be to redeem the institution's already controversial history and fulfil its missions.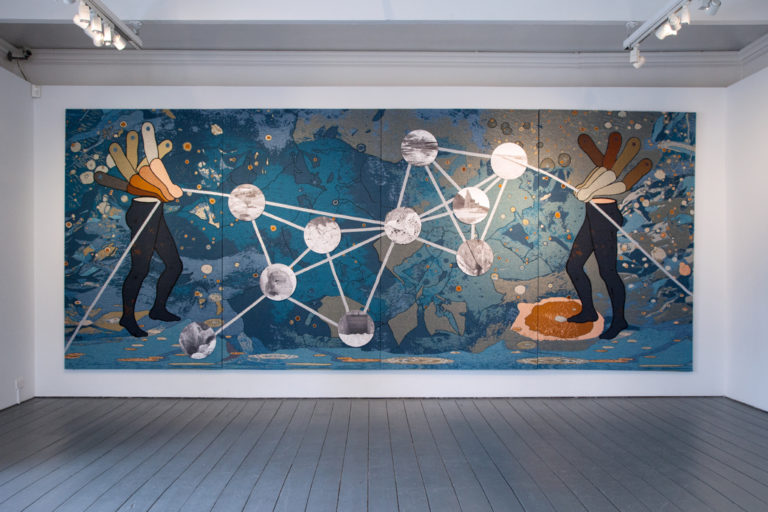 Recently, Kouoh was appointed as the executive director and chief curator of the Zeitz Museum of Contemporary Art Africa (Zeitz MOCAA) in Cape Town. It is reasonable to assume that her priority would be to redeem the institution's already controversial history and fulfil its missions. An ambitious art museum project, in terms of its scale and means, the Zeitz MOCAA has since its inception been surrounded by a maelstrom of polemics. Critics like Sean O'Toole have labelled its collection "a greatest hits compilation of artists represented by a handful of South African dealers." Mark Coetzee, its first executive director, resigned in May 2018 during investigations of alleged cases of misconduct towards his young curatorial assistants. Prior to her appointment as the director, Kouoh was already a part of the museum's curatorial advisory group with fellow professionals like Gabi Ngcobo, Isaac Julien and Gavin Jantjes. However, what critics have been pointing out about the institution goes well beyond the curatorial team. Some have pointed the institution's reluctance, although South African regulation requires it from non-profits, to communicate complete and accurate financial statements. Its board composition, dominated by art merchants rather than interpreters, have led some to wonder whether the museum's acquisitions are based on artistic value or specific gallery interests.
South African writer Matthew Blackman calls for an a priori, if not defiance, at least some caution towards art institutions supported by big money. "We in South Africa," he wrote, "considering our history, should be deeply mistrustful of big money and the institutions it creates ­– no matter what image it tries to offer us. This is something that the culture industry (with a few exceptions) has not been doing." But such a caution needs not translate into a lack of engagement with those private museums because, as Blackman elaborates, "these private museums, need not, as a necessary condition, be harmful. They can promote equity, they can be accountable, they can engage with the community, they can aid transformation. So far, however, they have seemingly got off to an indifferent start in this regard."
Will Kouoh's mandate translate into such a deviation from an all too familiar path to more progressive avenues? 
Although her mission statement as the new director will not be disclosed until May 6, when she assumes full responsibilities of her office, Kouoh already gave hints of what her goals will be. She intends to pursue, with artists and thinkers, her long exploration of what she calls the digestion of colonialism, a process which in South Africa is still in its infancy. Also, her plan is not to be the head of a South African museum, but instead the head of a museum that nurtures a relationship and engages in significant dialogue with the South African society. When asked about the future of the institution she spent a decade building in Dakar, she replied that she "always thought of RAW as a transmission tool" which she considered to be "fundamental". She had benefitted from forerunners like Enwezor and Simon Njami who took her by the hand and showed the way. "So, it is my duty to do the same."
–
Mamadou Diallo is a journalist and writer from Dakar. He was an editor at the publishing house Vives-Voix and wrote extensively on the local art scene specializing in young and emerging creatives. A graduate of history and fellow of the Raw Academy in Dakar, he won the Ake Arts and Book Festival Prize for prose in Nigeria in 2015. He is a contributing editor at Chimurenga and a PhD candidate at Columbia University. 
1 Harney, Elizabeth. "Postcolonial Agitations: Avant-Gardism in Dakar and London." New Literary History 41, no. 4 (2010): 731-51. http://www.jstor.org/stable/23012704.
Read more articles by Mamadou Diallo: Is the Museum of Black Civilisations a Place for Today or the 1960s?