Digital artistic creation has followed the development and the evolution of artificial intelligence (AI), from the algorithm to creative intelligence to deep learning. Artificial intelligence materialises in art, mainly by what is called machine learning1, or more precisely, self-learning models, which feed on data sets. Among these models, we find deep learning methods where, by imitating human neural networks but guided by rules, the machine can learn by itself. However, machines are not as intelligent as they seem, and the field of contemporary art is a fertile space for exploring the many issues implicit in their ubiquity. Moreover, as these technological advances expand globally, it becomes vital to explore how artists and cultural actors in the Global South are influenced, responding, and perhaps pushing back.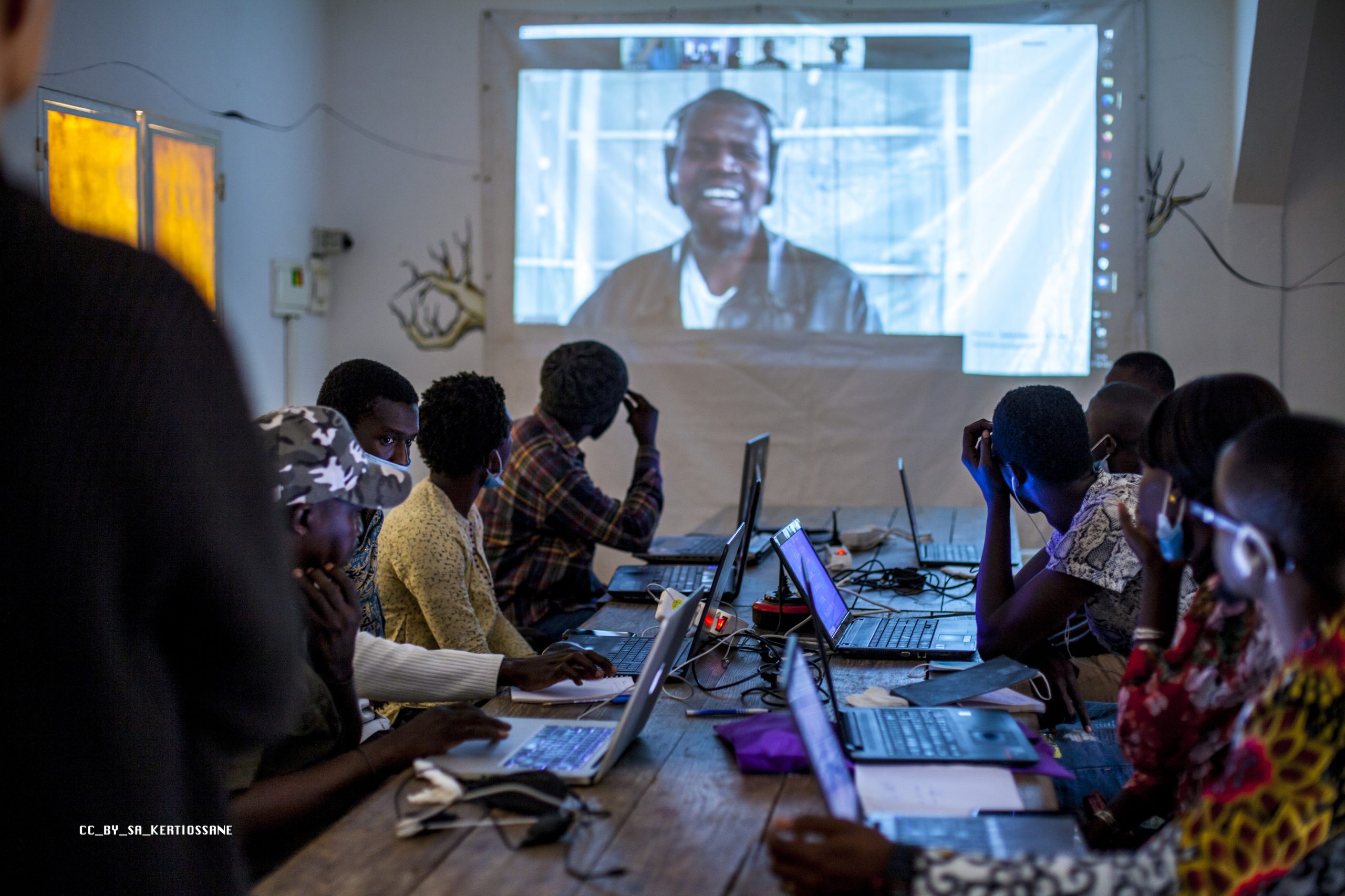 In March 2021, the Senegalese multimedia centre Kër Thiossane organised one of the first major cultural events on the theme of AI on the African continent. The eighth edition of its Afropixel festival, combining arts, technology and societal questions, featured three conferences called agoras, a virtual exhibition, workshops for adults and children and two residencies. The virtual exhibition was conceived from the following observation: the artists who explore the potential of AI are few and far between, and many of the continent's artists are yet to have the opportunity to become familiar with these technologies. The geographical origin of AI development has thus favoured a more active use by Western artists. 
During the third agora, on the links between AI and art, the curator Marie du Chastel responded to the above observation by raising the issue of the dominance of American tech giants and the problem of cultural sovereignty, which is currently a battle between the US and China. Culture, and therefore education and training, have indeed become issues that are already visible in the deployment of training centres on the African continent by IBM (in Kenya and South Africa), the Massachusetts Institute of Technology (in South Africa and Morocco), or even Google (in Ghana). Nevertheless, Africans have addressed the urgency of appropriating these technologies by deploying local research groups. In 2013, Data Science Africa was created by a group of practitioners and researchers in Kenya, and in 2017, the Deep Learning Indaba organisation, which has now spread to 27 African countries, was set up. University courses, workshops and educational programs have emerged in response to a real demand and will make it possible to develop pragmatic answers to endemic questions.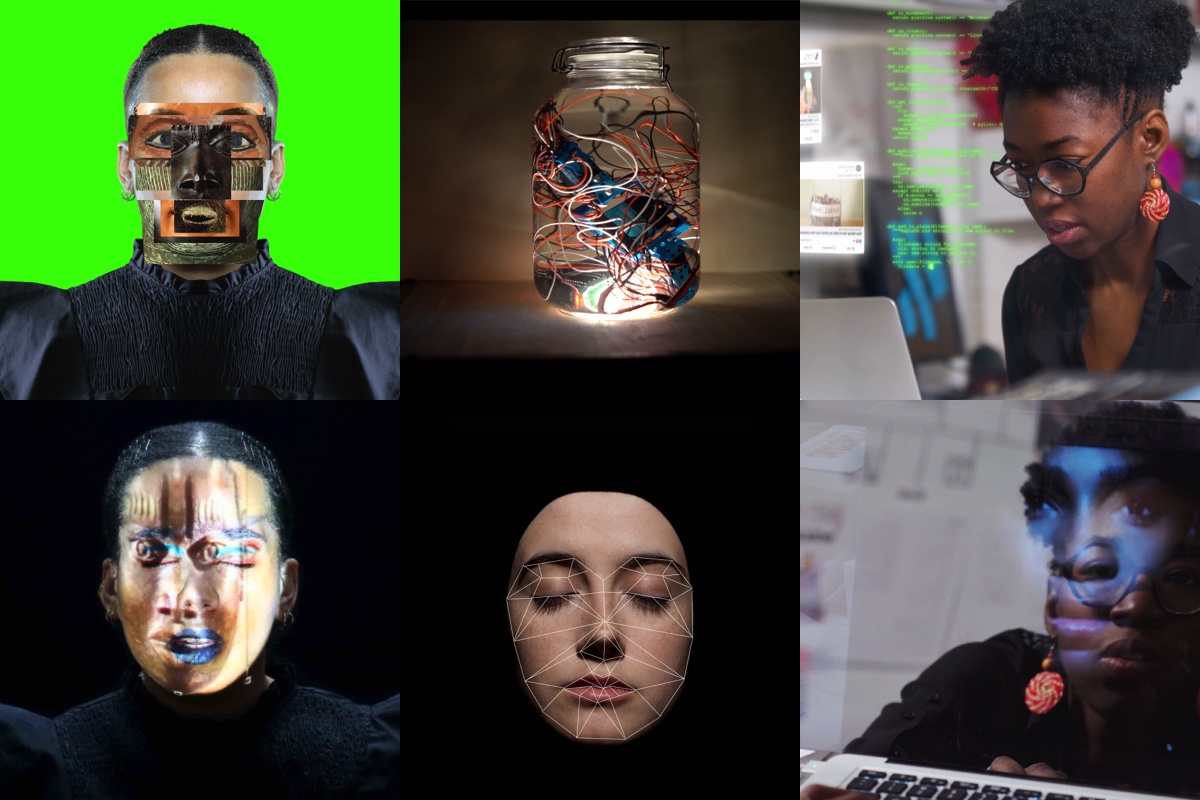 Afropixel is one of the first digital festivals in Africa (there is also the Fak'ugesi African Digital Innovation Festival in South Africa). It collaborates with many structures around the world. For this edition, no less than 100 contributors and 33 artists participated. As an extension of the third conference, which posed certain observations, the exhibition, still available online, registered as an open and informed exchange from Senegal. Contributors presented artists who question gender, race or class representations in certain artificial intelligence programs and thus challenge the automatic learning capacity of these programs or who use them to create links, test new formats or generate singular narratives. As a result, one of the first workshops of its kind was organised to allow Senegalese artists to familiarise themselves with some specific artificial intelligence techniques.
The first problem of AI lies at the source of the machine itself: the cognitive biases that can be unconsciously introduced by its designer, themself the product of a culture and a way of thinking. The person at the source of an AI piece conceives and expresses themselves from a specific context and time. Joy Buolamwini's research, presented in the film "Coded Bias", directed by Shalini Katanyya, sheds light on the discriminatory and racist biases2 that she experienced while working on the theme of facial recognition. Her black face was not recognised by the system, which never fails to identify her if she wore a white mask. 
A similar problem occurs in work carried out in so-called "click farms" by underpaid and unprotected workers in the Global South. They are asked to carry out ultra-repetitive micro-actions produced in very short times and which are so mechanical that they favour the perpetuation of fallible worldviews, potentially including errors or biases. These biases, ranging from stereotyping to discrimination, will send out data that will be re-used and will, in turn, generate further discrimination by endlessly repeating the flaws that existed in the human source for the models.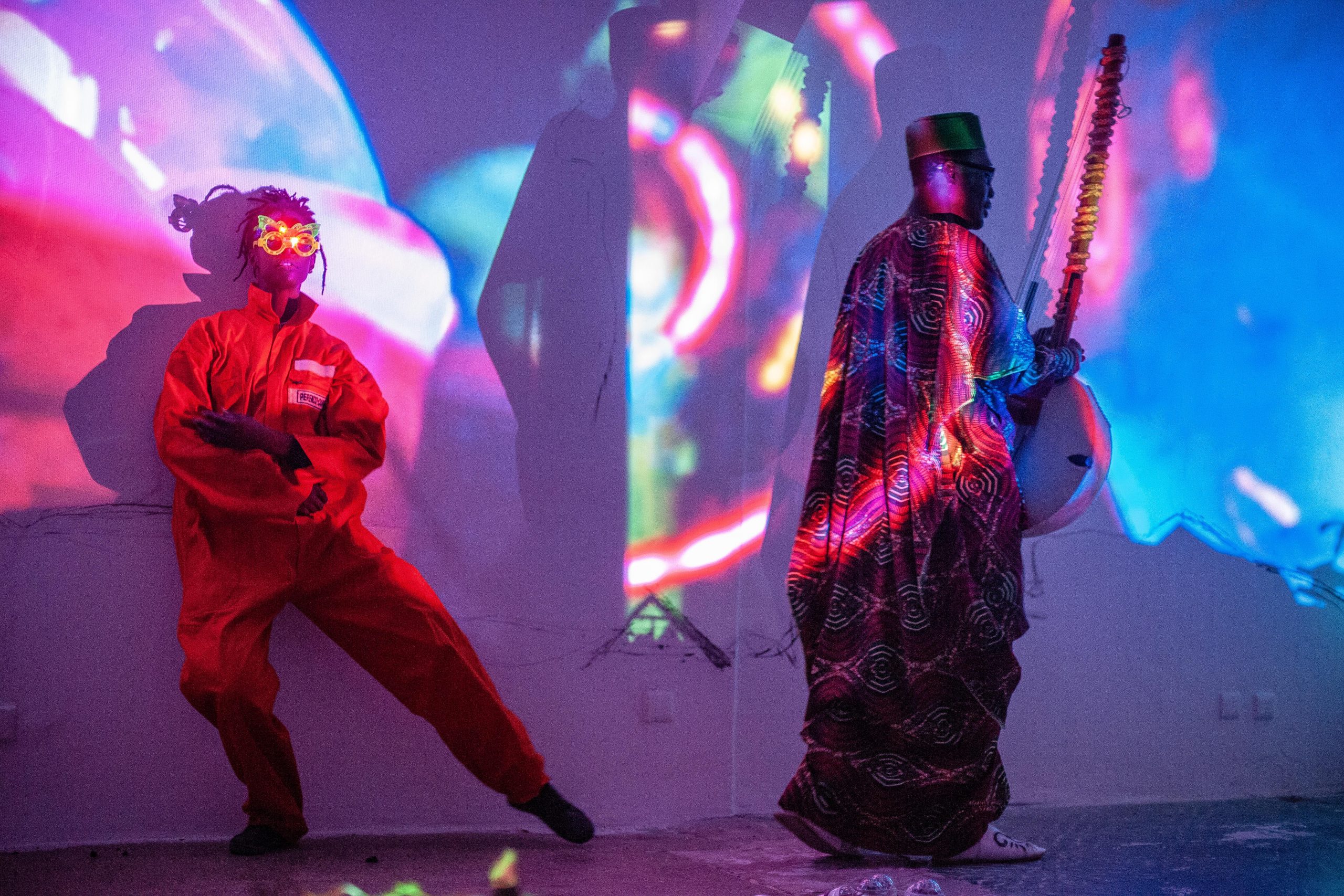 Other artists have highlighted the ethical problems associated with facial recognition systems. For example, Maxime Matthys draws a parallel between George Orwell's novel 1984 and a technology used as a test by the Chinese government to monitor the inhabitants of Xinjiang, where the predominantly Uighur population is oppressed. Matthys has worked on the way citizens are stalked daily through mass surveillance, on the street or the internet, and are then given scores. In a similar vein, Marta Revuelta's "AI, Facial Profiling. Levels of Paranoia" questions the biometric-based surveillance systems that are becoming "the basis for a wide range of identification and profiling solutions in the fields of security and defence" proposed by governments and companies around the world. These are starting points for profiling systems that use AI to classify humans and resurrect or reinforce forms of social and racial segregation.
In 2020, the French collective Obvious produced "Facets of AGI", a work composed of a series of African masks made through deep learning. One part of the algorithm generates a data set based on images of old African masks, while the other part of the algorithm compares these masks to judge their authenticity to design visuals of masks that are new but very close to the originals. Obvious then selected the Ghanaian sculptor Abdul Aziz to produce them. The series, created by an algorithm, was praised by two press articles and a radio program but did not raise questions about the making process or the circulation of the work. In this instance, ancestral knowledge from Africa was appropriated and used for new models, which will be returned to their territory of origin to be produced. 
What's more, the creators make no secret of the fact that "We have invented a universe where an artificial intelligence would take the place of traditional deities and would be the object of a cult". In addition to the comments bordering on demiurgic fantasy, the question of cultural appropriation has yet to be raised. Let us remember Eric Fassin's definition: "cultural appropriation is when a borrowing between cultures is inscribed in a context of domination". It is appropriate, in this case, to recall that this is the same collective that sold a work made by AI for $432,500 at Christie's New York in 2018. It is a fact that the collective's members are products of a culture that has, to this day, a relationship of exploitation with the African continent and that they are therefore participants in a hierarchy of power.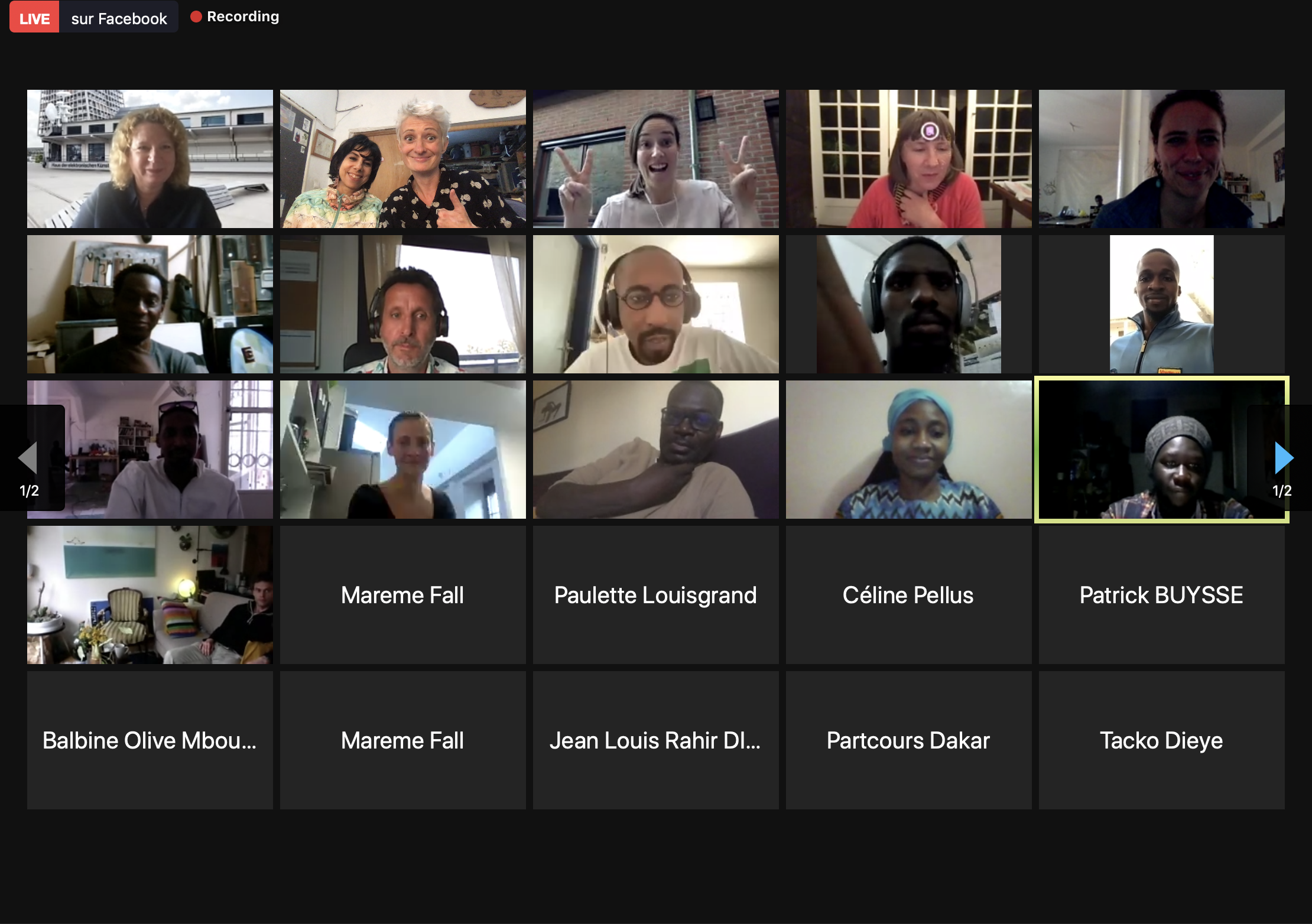 Researcher and curator Dr Tegan Bristow also spoke about the importance and challenges of data sharing through the Masakhane project, whose mission is to strengthen and stimulate Neuro Linguistic Programming research in African languages, for Africans, by Africans. Despite the fact that 2000 of the world's languages are African, these languages are poorly represented in technology. The result is a technological space that does not understand African words, languages and thus cultures and their histories. In the same vein, Bristow's research on vernacular knowledge raises awareness around the importance of preservation, particularly by emphasising the need for financial interests in intangible heritage. Data sharing, therefore, becomes an important issue, and beyond technology, the machine could become a true partner for the cultural actor or artist to encourage awareness of these issues.
From facial recognition to data processing, from questions of intellectual property, work automation, extractivism, cognitive biases to cultural appropriation or instances of domination, AI raises important topics that artists can question. By denouncing the societal transgressions and dangers related to its use, art can open our eyes to the ethical problems induced by its development and helps bring us back to these simple but essential questions: who is talking and to whom, what is being said and from where?
–
Originally from Belgium, Delphine Buysse is an independent curator living on the African continent since 2006 and based in Dakar since 2018. She studied Contemporary Art and Museum Communication and also holds an MBA degree in Art Market. She is currently studying philosophy and starting a PhD in sociology of art at UCAD, Dakar. 
French to English translation edited by Dulcie Abrahams, final translation by TSA Art Magazine
– 
1Based on data sets, Machine Learning is the artificial intelligence technology that allows computers to learn without being explicitly programmed to do so. 
2Acts and perceptions based on the characterisation of "a human whole by natural attributes, which are themselves associated with intellectual and moral characteristics that apply to each individual within that whole" (Wieviorka, 1998: 7)