On July 14, DADA Gallery, London will welcome visitors to the first solo exhibition of Nigerian artist, Bunmi Agusto titled 'Escape To Within'. In this exhibition, the artist creates a fictional cultural pilgrimage for viewers to explore the depiction of hybrid figures whose human forms are interwoven with elements of self and cultural consciousness in a surreal wonderland called 'Within'.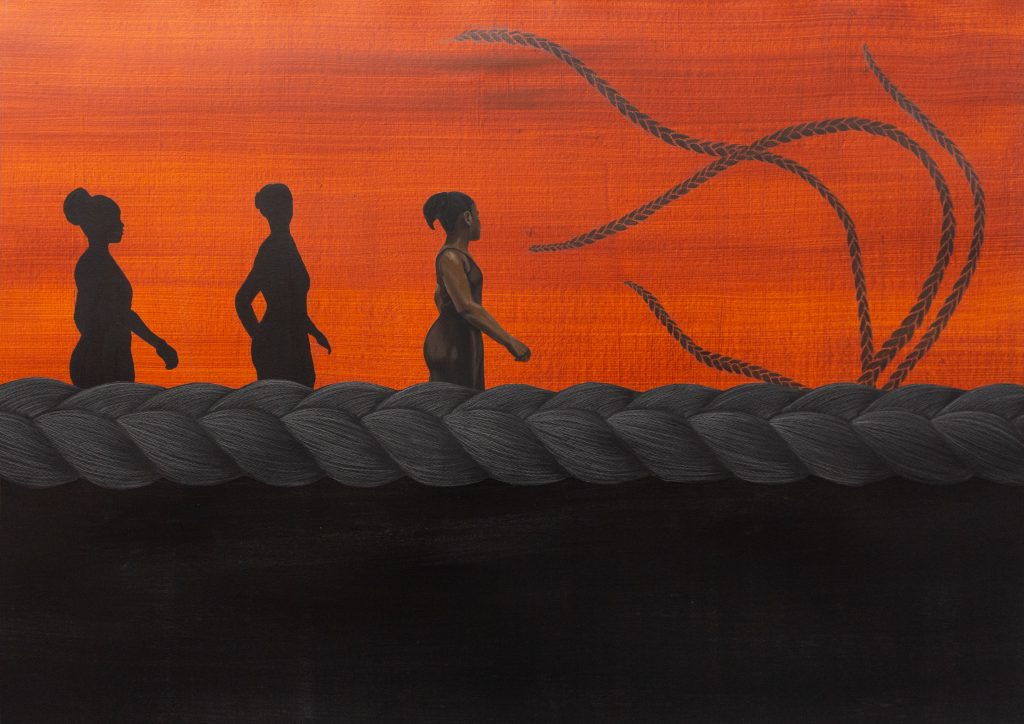 These hybrid figures representing key people from Agusto's life such as family members, friends, and random acquaintances have been included in the artist's imaginary world to explore the idea of self, identity and the intersection of the cultural and biological connotations of the term 'alien' and 'hybrid'.
Presenting nineteen works created with pastel pencils, ink, acrylic, sandpaper and paper, viewers are encouraged to engage with the figures in Agusto's surrealist wonderland which distorts logic and space. This wonderland is inspired by her lifestyle of constantly moving between Lagos and London and not always feeling tied to a particular space. Her subjects rarely naturally cast shadows which she uses to emphasise the fluidity of her subjects' presence through manipulation of light. 
The artist cites stories such as Amos Tutuola's 'The Palm Wine Drinkard', Lewis Carroll's 'Alice In Wonderland' and the Marvel Cinematic Universe as major influences in her work. She challenges learned relationships with objects and language to create a complex fantasy world that explores the cultural theory and the evolution of selfhood. For her solo exhibition 'Escape to Within,' Agusto honed in on these artistic choices to focus on a wave of humans migrating into her mindscape.
Bunmi Agusto was born in 1999 in Lagos, Nigeria. She received her BA in Fine Art from Central Saint Martins in London, where she graduated with first class honours and was awarded the Class Art Prize twice. She predominantly works with pastel pencils on sandpaper along with a range of mixed media.
Agusto has exhibited work both nationally and internationally including at the 1-54 Contemporary African Art Fair in Paris. Select group exhibitions include 'Now, Now', TAFETA (2021); London Grads Now, Saatchi Gallery, London (2020); 'Blacklisted: An Indefinite Revolution', Christie's Education, London (2020); 'Wheels To Water', Petrie Museum of Egyptian Archaeology, London (2019); 'Xhibit', The Koppel Project Central Gallery, London (2019)
'Escape to Within' will be on view at the Cromwell Place, London until August 8, 2021.