Ayọ̀ Akínwándé's solo exhibition "Mumu LP Vol.3: The Listening Room" opens October 27, 2019 at The Jazzhole, Ikoyi.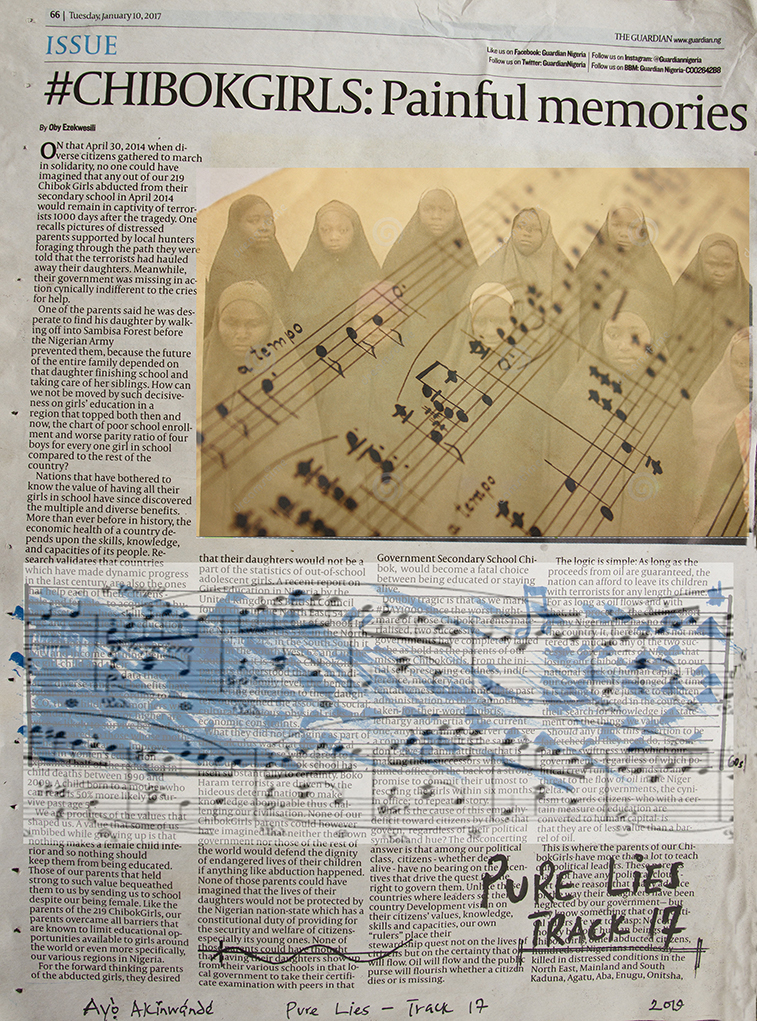 Ayọ̀ Akínwándé's "Mumu LP Vol.3: The Listening Room", an exhibition encompassing audio-visual archival panorama of 19 sculptural sound pieces and 19 drawings will open at The Jazzhole, Ikoyi, on October 27, 2019.
Part of a long-term project titled "Archiving the Future" which began in 2016, this body of work foregrounds the 'voice of the people' in an ongoing artistic interrogation of political engagements in public spaces. These collected conversations have always happened at significant political times, and this archive organically responds to the people in the city rather than being prescriptive to a pre-conceived timeline.
The Listening Room is the third iteration of the Mumu LP series, bringing together a hybrid of sound collages from Mumu LP Vol.1 (2018) and Mumu LP Vol.2: The Orchestra (2019). The first volume is an estimated one hour of audio recordings segmented in a 19-track album from recordings of voices that reflect on Nigeria's political landscape at newspaper stands in Lagos. This album was first presented to the public as part of the artist's solo exhibition at the Revolving Art Incubator (RAI), on Nigeria's Independence Day in 2018. The second volume, is a performance piece developed during an international residency at the Fonderie Darling in Montréal, transforming the original recordings from the first volume into graphic scores on newspapers, which were subsequently scored into 19 new tracks in collaboration with five local musicians playing trumpet, bass clarinet, saxophone, guitar, and tuba.
"Mumu LP Vol.3: The Listening Room" uses The Jazzhole to look collectively into the archive, to listen to these contemporary voices, and the commentaries shaping our political reality. The pieces will be installed in existing objects within the space. This way, the sound sculptures, and the graphic drawings, will be in dialogue with The Jazzhole's own archives – collections of books and records – that have come to define this venue as the house of the "Nigerian sound."
Ayọ̀ Akínwándé is an artist, curator, and writer based in Lagos, Nigeria. He has an academic background in Architecture. His practice is multi-disciplinary, working across lens-based media, installation, sound, and performance. He explores power dynamics, the relationship between the "powerful" and the "powerless," as it manifests in the multi-faceted layers of the human reality. Akínwándé was awarded the Fonderie Darling's 2019 Place Publique Residency Prize. He is both a 2018 Art X and ABSA L'Atelier prize finalist. He has exhibited in solo, and group exhibitions across Africa, and beyond.
"Mumu LP Vol.3: The Listening Room" will be on view and accessible until November 10, 2019.