Athi-Patra Ruga's solo exhibition Interior/Exterior / Dramatis Personae is currently showing at WHATIFTHEWORLD gallery in Cape Town.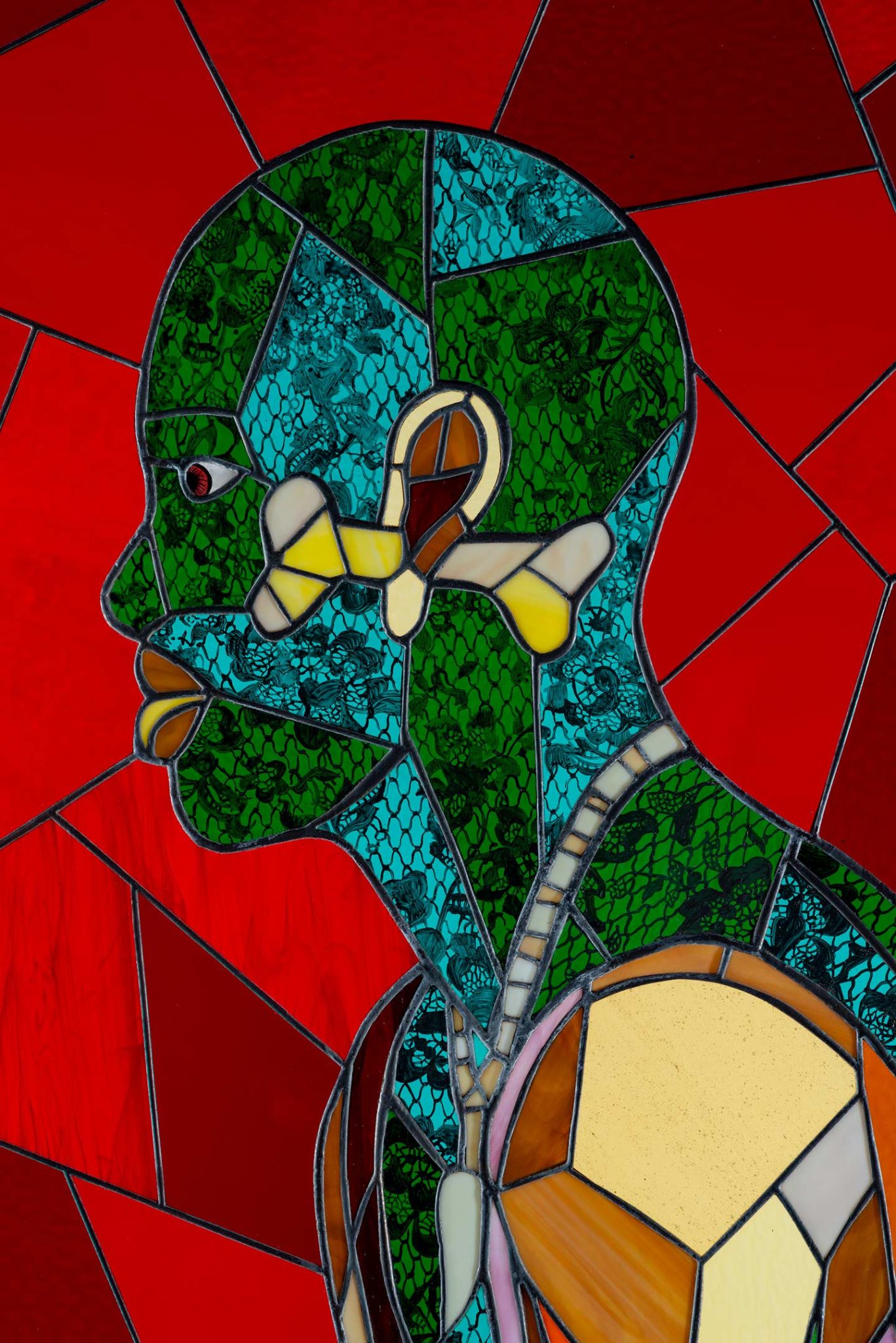 In two parts 'Interior/Exterior', the first part, is a stained-glass series in which Ruga uses colour as a seduction technique to draw the viewer into his works. With colours like ambers, crimson, emerald green and cobalt blue, he references the stained glass windows of churches. Textured and swirled cathedral glass rupture across space, a marker of the violence inflicted onto bodies and personhood as a result of Christianity and colonialism. The poetry in this gesture, of light travelling through space and settling on skin, is Ruga's offering of healing to his community. He undertakes an ongoing expansion of his metaverse, highlighting his own black, queer, femme imaginaries often unrecorded, misrepresented, and forgotten.
In 'Dramatis/Personae', a tapestry series, Ruga introduces the audience to a new cast of characters from 'The Lunar Songbook Cycle', a trans-media body of work informed by Southern African astronomy, said to be a more ecological way of recounting time. For Ruga, this way of interacting with geography and seasonal change is through Iinyanga Zonyaka, a vernacular alternative to the Gregorian calendar. In The Lunar Songbook Cycle, Ruga represents the beauty and integrity of the rural Eastern Cape, and considers how he navigates between this landscape and urban Cape Town. Nomalizo Khwezi and Nestra Brink are the two protagonists in Ruga's tale. Both femmes are informed by literary characters presented in the Lovedale Press collection, a printing press in Alice in the Eastern Cape, that was established in 1823 to promote African literature.
In 'Dramatis Personae', Ruga delights the viewer not only with the introduction to two complex characters, he also takes the viewer on an educational journey of the many literary references that motivate his practice and the importance these hold to him as an artist.
Ruga is one of the few South African artists whose works adopts the trope of myth as a contemporary response to the post-apartheid era. He creates alternative identities and uses these avatars as a way to parody and critique the existing political and social status quo. His artistic approach of creating myths and alternate realities is in some way an attempt to view the traumas of the last 200 years of colonial history from a place of detachment – at a farsighted distance where wounds can be contemplated outside of personalised grief and subjective defensiveness.
The philosophical allure and allegorical value of utopia have been central to Ruga's practice. His construction of a mythical metaverse populated by characters which he has created and depicted in his work has allowed Ruga to create an interesting space of self-reflexivity in which political, cultural and social systems can be critiqued and parodied. Ruga has used his utopia as a lens to process the fraught history of a colonial past to critique the present and propose a possible humanist vision for the future.
Interior/Exterior / Dramatis Personae is on view until September 5, 2020.