Sam Nhlengethewa's solo exhibition, Interiors Continued, is showing at Goodman Gallery, London. The exhibition is a new series of painting-collages that are a continuation of the artist's earlier works created in the 1990s. He reflects on the emptiness one encounters as an artist working alone, away from family and friends. Nhlengethewa's created these new works, consisting of seven pieces, in his home-studio in Benoni, near Johannesburg, during the nationwide lockdown with his family.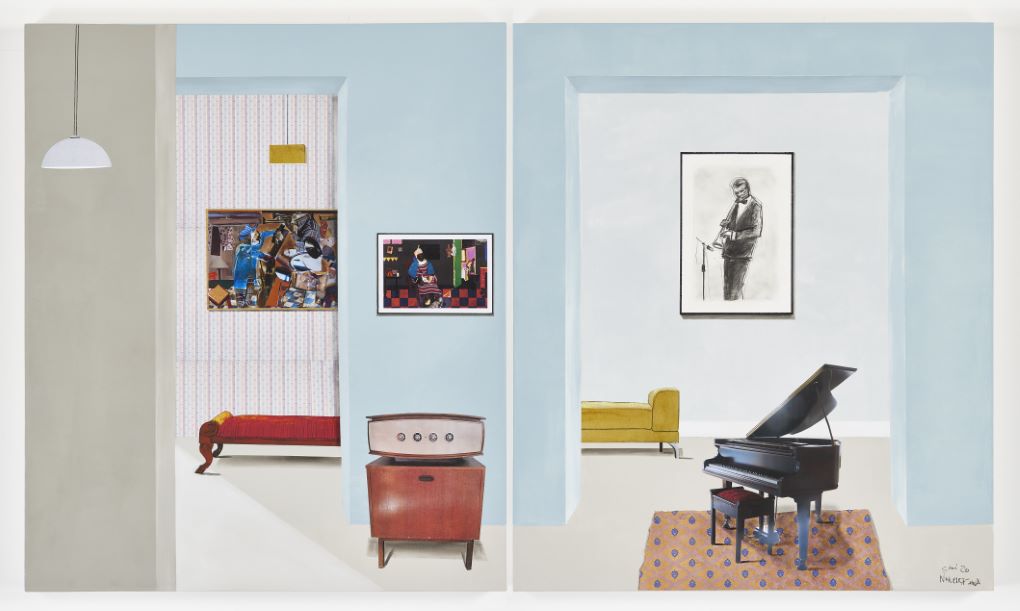 Considered one of the country's most celebrated artists, over the course of his career Nhlengethwa has developed a distinctive collage and painting practice exploring themes of interiors and paying tributes. These bodies of work have become a primary space for the artist to tap into his deep passion for jazz and pay tribute to cultural icons, such as Miriam Makeba and Ron Carter – figures writ large in South Africa's cultural consciousness who recur throughout his work.
For the artist, these tributes and the interiors take him to a time when he was a set designer and dealt with vacated spaces. The tribute works imitate those empty space, but with the displayed paintings of these specific individuals and injected with a sense of vibrancy.
Sam Nhlengethwa (b. 1955) grew up in Ratanda, Heidelberg, east of Johannesburg. He completed a two-year Fine Art Diploma at the Rorkes Drift Art Centre in the late 1970s and has exhibited extensively both locally and abroad during the 1980s and 90s. His travelling solo show titled South Africa, Yesterday, Today and Tomorrow in 1993 brought him to critical acclaim in South Africa. He would later win the prize for Standard Bank Young Artist Award in 1994.
In recent times, his works have been featured in key exhibitions such as Seven Stories About Modern Art in Africa at the Whitechapel Gallery in London and major publications like The 20th Century Art Book by Phaidon Press. His works were also exhibited at the 12th International Cairo Biennale (2010) and in Constructions: Contemporary Art from South Africa at Museu de Arte Contemporanea de Niteroi (2011) in Brazil. In 2018 Nhlengethwa was included in the group exhibition Beyond Borders: Global Africa at the University of Michigan Museum of Art.
Interiors Continued is on view until September 11, 2020, at Goodman Gallery, London.