In October, Addis Fine Art relocated to South Kensington's Cromwell Place in London. To mark the opening of their new space, they presented an exhibition by Ethiopian modernist Tadesse Mesfin, which marked the artist's first solo show in Europe.
Tadesse Mesfin is a respected figure in the Ethiopia art scene with an artistic career spanning five decades. He holds a unique position as both a representative of the Ethiopian modernist movement and a long-time educator as a professor at the influential Alle School of Fine Art and Design in Addis Ababa. Some of the painters who have studied under his tutorship are Addis Gezehagn, Ermias Kifleyesus, Merikokeb Berhanu and Tesfaye Urgessa.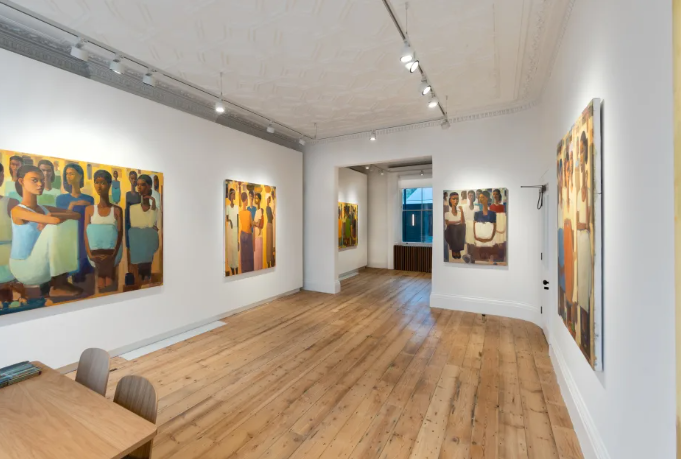 The solo exhibition by Mesfin, entitled "Pillars of Life", featured new works from an ongoing series celebrating small-holder women vendors in markets in Ethiopian cities. These women are typically found crouched by their wares, waiting for customers. In his paintings, he celebrates the women and positions them in ways that defy the limitations of perspective. The figures appear to float in their crouched positions, their forms often abstracted through loosely defined brush strokes. He also represents them in regal, statuesque poses with discernible facial expression.
Mesfin's style and themes are influenced by his environment. He spent seven years in the USSR, where he studied architecture and sculpture in St. Petersburg, and he was an artist in residence in the United States as the winner of the 1998 prestigious Mid-American Arts Alliance (MAAA) fellowship.
In this interview with TSA Art Magazine, Tadesse Mesfin talks about the impressionable experiences behind his popular series the "Pillars of Life" as well as aspects of his long-running career. 
You have dedicated a significant part of your oeuvre to women vendors on the streets and markets in Ethiopia, and mostly present them without their wares in dignified postures. What led you to this subject and continuing representation?
When I returned from my studies in Russia in 1984, I decided to travel around Southern Ethiopia, and this experience had a great impact on me. I was exposed to a different way of life and cultures. Ethiopia is a large and diverse country, and once you step outside of Addis Ababa, you will enter a whole new world. I was confronted by communities that were very market and trade orientated. In the small towns, I saw dozens of women dressed in bright colours selling and trading their agricultural produce. But these were not just places for trade. The markets I encountered were very sociable places; they were places where these women could come to laugh and rekindle old friendships. People from across every cultural and religious group could be found shopping and mingling at these weekly bazaars. Each time I visited, I was overwhelmed by the colours, the smells, the heat, the beautiful fruits on sale. I felt it to be a very inspiring place and I felt creatively compelled to present it in my work.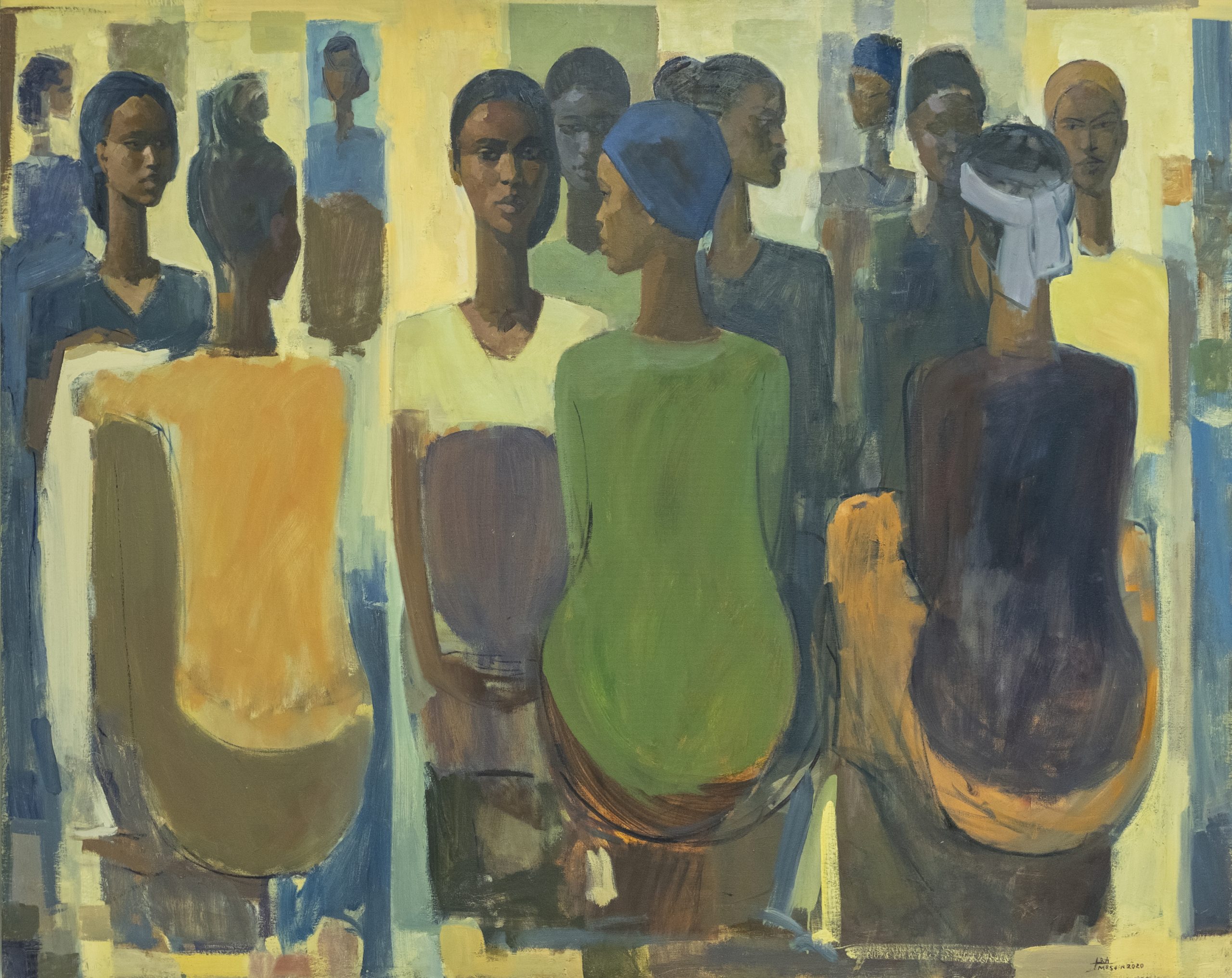 Considering the women in the "Pillars of Life" and how you position them, can one say that they are pillars of a nation, as they are not only labouring to sustain their family but actively contributing to the informal economy of Ethiopia?
The open markets and the women who work in them are the backbones of the Ethiopian economy. I created paintings that uplifted the lives of the women and their stories. They take pride in what they do, and I felt their beauty and spirit radiating onto me. I did not want to create works that focused on the hardship in which they lived. I wanted to celebrate them.
The general belief is that Ethiopians and people from the region have unique ancestral genetics that makes them lean and different from the rest of the continent. But you have associated the lean figures in your paintings to the socio-economic realities in Ethiopia (in a video for Art Dubai). Can you share more about this?
My people on the canvas are thin and long because they're like that. This is what you will find in Ethiopia because there are a lot of poor people who do not have the ability to get fat, so most of the people here are very lean. The figures are the most important aspect of my work because of this- they are distinctly Ethiopian in every way. They are my alphabet and my language, and I will continue to master them in my paintings.
Let's talk about the technical aspect of your paintings. It seems that the composition, lines and colours are more important than the subjects and associated themes. Is this correct? 
When you go to these open markets, it is like music, an orchestra symphony, where different music harmonises. This experience is Ethiopia to me, it arouses the senses, and I want to tell the story in my painting. I teach composition and drawing at the Alle School of Fine Art and Design as I believe it is the most important skill to master as an artist. 
I have been through periods where I was occupied with the formal features and likewise with the subject matter, but now I strive for harmony between the two. Although I am making compositions, I am still painting what I encounter.
In the exhibition statement, there was a reference to your fascination with the West African tradition of mask-making, how do you interpret or represent this in your work?
When I arrived back in Ethiopia from Russia, I wanted to reject the Western-style art I was taught, and instead search for a more 'African' way of painting. I studied Ethiopian paintings throughout history, especially Ethiopian Coptic Church frescos and iconography. This period was when I became especially fascinated by the West African tradition of mask-making –which, ironically, I developed a passion for through Picasso's appropriation of it. It drew my attention as the iconography was a key element in his work. I returned to the original African source, rather than gazing at it through the lens of Picasso. My principal goal when trying to incorporate the mask-like features into my work was to create an 'Ethiopian mask', in the style of the West African tradition. If you look at the faces in my work, you will see some of those physical traits associated with West African masks: pointed chins, symmetrical faces, oval eyes, and so on. In African art, the face is where the spirit lives.
The face has always been a focus in my work; it is the window to the soul, and this is why my characters often have clear expressions and slightly enlarged heads. I have been working for many years on these faces; they are part realistic, part exaggerated and distorted.
Beyond the women subject and the well-known "Pillar of Life" series, which other subjects have you explored and represented in your paintings?
I have always been interested in my everyday surroundings. I did not want to paint things that had no relationship to my own experiences. I have explored several subjects throughout my life. My initial desire was to do realistic works. During my time in Russia, I painted in sombre tones, with equally sombre subject matter such as war scenes. My biggest source of inspiration at that time was the paintings of the nineteenth-century artist Ilya Repin. I studied his work intensely and created artworks which were reminiscent of his own raw Russian realist style. When I returned from my studies, I wanted to find myself creatively. I studied Ethiopian paintings throughout history, especially Ethiopian Coptic Church frescos and iconography. I also went through a period of several years exploring abstraction, which had no clear figuration at all. I find myself working between the two now. Abstraction allowed me to explore a new aesthetic approach. Because in the end, there is always a need for change, and I hope my work will continue to evolve as I experience, and as I am inspired by more.
With over five decades of professional practice, and being one of the leading artists in the Ethiopian contemporary art scene and a teacher, how would you describe the new practices evolving out of Addis and the current interest in the art scene? Also, what are the special highlights in your career?
The emerging talents coming out of the art school, and Addis Ababa in general, are vibrant and diverse. I see lots of artists passionate about their history, and it's exciting to see many uses this as a point of departure in their work as some challenge its aesthetic, whilst others integrate that heritage into their work. I personally liked to teach in a way which allowed the students to find their own creativity, rather than forcing them into a certain style. I believe that the more students are free to paint as they please, the more they learn. 
The art scene is finding its voice, and I am grateful I taught many of the artists at the university. 
I consider all my experiences to be highlights in some way, as they have all shaped me in meaningful ways. I dreamt about going to Petersburg to study and then when a scholarship finally came, it was a great honour and a dream come true. "Pillars of Life" with Addis Fine Art, in Addis Ababa and London, have been significant achievements in my career. Every day I come into my studio and paint. It's like life for me to make paintings, so being able to do this daily will always be my greatest highlight.