kó, a new art gallery in Lagos, an initiative of Kavita Chellaram, debuts at this year's edition of Frieze Masters taking place online from October 7-16, 2020, with works by one of Africa's pioneer artists Ben Enwonwu (1917-1994).
Enwonwu was one of Africa's foremost artist to gain global recognition. Working as a painter and sculptor through the colonial period, independence and post-independence decades, he formed a unique modernist language that speaks to Nigeria's history, cultural traditions and national identity.
The presentation at the fair features twelve of his works in oil and gouache, as well as wood and bronze sculptures created between 1940 and 1980 focusing on several recurring themes such as dance, performance and masquerades. The themes allude to Enwonwu's reflections and philosophies on Negritude and Pan-Africanism. These works are showing in the section of the fair called Spotlight, which presents solo exhibitions by ground-breaking artists of the twentieth century.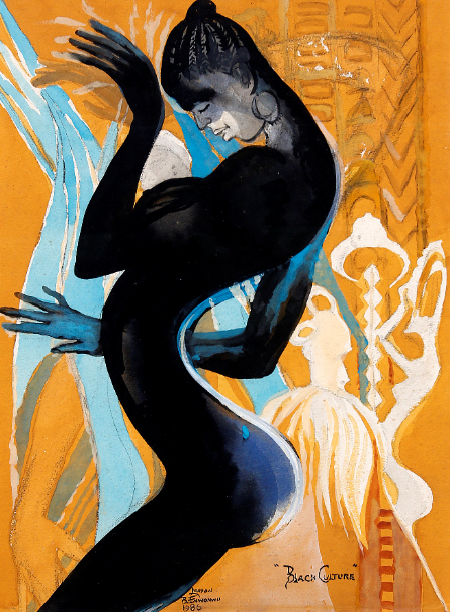 Chellaram, an art collector and founder of Arthouse Contemporary, has been a major force in developing the modern and contemporary art market in Nigeria. Her exhibitions, auctions and projects over the years have contributed to the global recognition of numerous modern African masters. Commenting on Enwonwu's practice, Chellaram says, "His artworks were in conversation with modern art movements throughout Africa and around the world. It is no surprise that his artwork has gained such renewed international attention, cementing his legacy as one of the twentieth century's most important artists."
Born in 1917 in Onitsha, Nigeria, Enwonwu was trained in the first accredited formal art education program in colonial Nigeria. He received a scholarship to study at the Slade School in London, becoming its first African graduate. He quickly established a major international reputation. Ebony Magazine coined him "Africa's greatest artist" in 1949. By 1950, he had exhibited in four continents – Africa, Europe, Asia and the USA.
He described himself primarily as a sculptor. He was the first African to be commissioned by the Queen in 1956 to produce a bronze sculpture of Queen Elizabeth II. One of his early wooden sculptural works is "The Boxer" (1942), which uses minimalist planes and fluid forms to generate an image of an athlete in motion. "Torso of a Girl" (1967), an ebony wood sculpture, depicts a woman of the Fulani people. Enwonwu's famous bronze sculpture, "Anyanwu", the Igbo sun god (c. 1975), whose body has been compared to the attenuated figures of European modernist artist Alberto Giacometti, is based on a 16th-century Edo-Benin bronze head of a queen. Several versions of Anyanwu are located at the National Museum in Lagos, the United Nations Headquarters in New York and the National Museum of Zimbabwe.
Enwonwu explained the importance of Anyanwu for envisioning Nigeria's national consciousness at the dawn of independence: "My aim was to symbolise our rising nation. I have tried to combine material, crafts, and tradition, to express a conception that is based on womanhood—woman, the mother and nourisher of man. In our rising nation, I see the forces embodied in womanhood; the beginning, and then, the development and flowering into the fullest stature of a nation—a people! This sculpture is spiritual in conception, rhythmic in movement, and three dimensional in its architectural setting—these qualities are characteristic of the sculptures of my ancestors."
In Black Culture (1986), Enwonwu references the Negritude ideology, suggesting his affinity with the artists of the Harlem Renaissance, of whom he encountered during his exhibition and tour in the United States in 1950.
In recent years, a number of Enwonwu's works have made international headlines with record-breaking figures at auctions, including his iconic painting of princess Tutu which sold for over a million pounds after it was found in a London apartment in 2018. Soon after, his painting "Christine", a portrait of an African-American woman living in Lagos in the 1970s, also achieved record sales.
Ben Enwonwu's various artworks, critical writings, and commentary on the art of his time are among the most substantial records of any modern artist globally. 
A catalogue accompanying this presentation includes a text by Dr. Sylvester Okwunodu Ogbechie, Professor at University of California, Santa Barbara, and the author of the seminal publication about the artist, "Ben Enwonwu: The Making of An African Modernist".