Nana Asumah Sonoiki, the founder of Art Pantheon, who prefers to be addressed simply as Nana, wears many hats. She is a curator, an art manager and an entrepreneur. In a career that spans two decades, she has played key roles in reviving interest in the Zaria Arts Society, bringing the works of veteran artist Yusuf Grillo to a new generation of viewers and patrons, and situating African art within a larger context. Her achievements are impressive. But they have demanded courage, intellect, and tenacity, all of which she embodies with quiet dignity.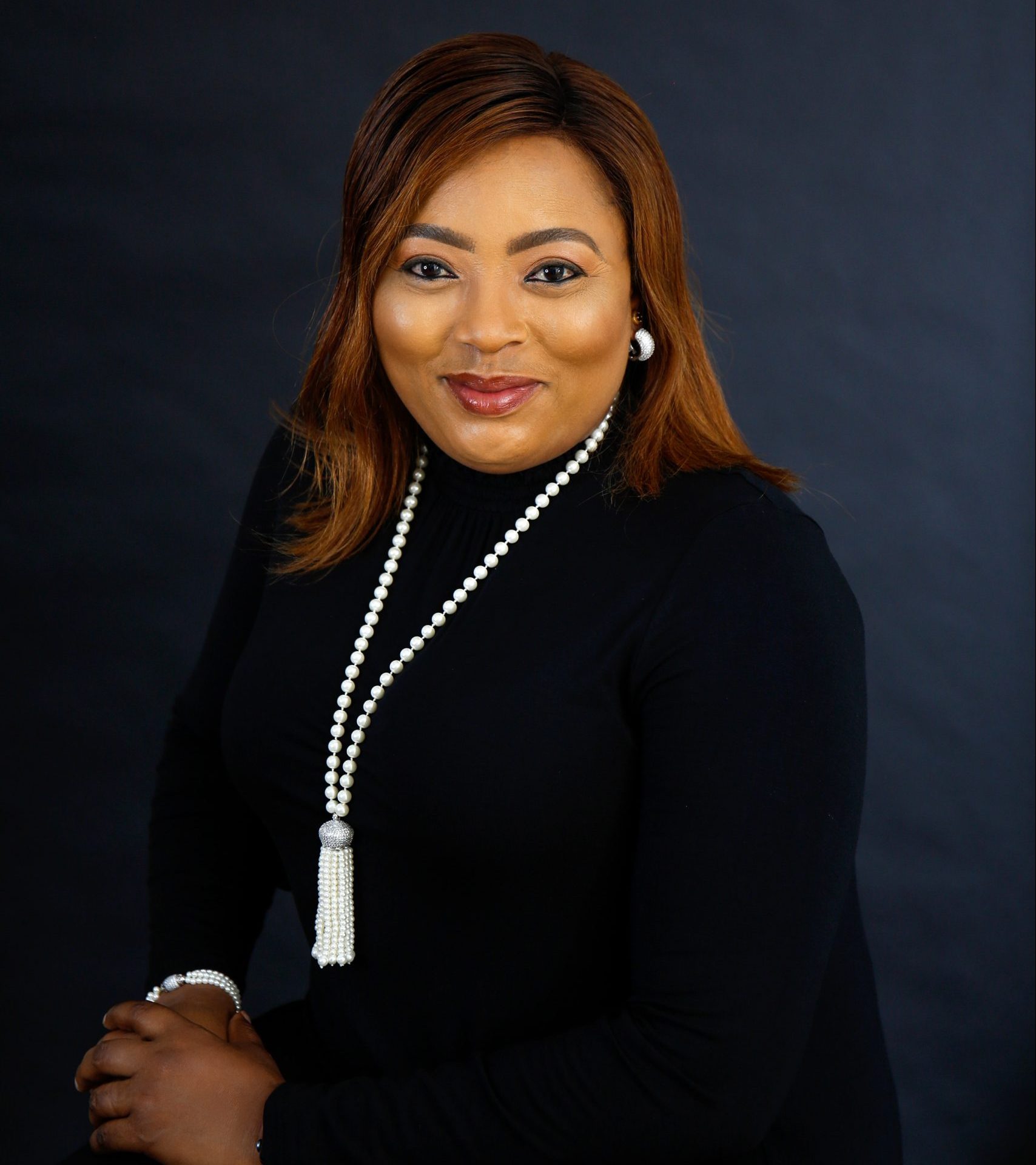 Born in Abeokuta and educated in Ibadan (where she went to primary and secondary schools) and in Kwara (where she graduated from the Kwara State Polytechnic), she began her forays in the Lagos art scene in 2007. That year, she began working with Arthouse Contemporary, a Lagos-based auction house specialising in contemporary art from West Africa. As an art curator and manager for the auction house, she worked with notable Nigerian artists like Peju Alatise, Ndidi Emefiele, Victor Ekpuk, and others. Her work involved managing and handling these artists' works and providing curatorial direction for shows and exhibitions. 
In 2002, in Ibadan, she met Prince Olasehinde Odimayo, founder and director of TreasureHouse Fine Arts, Lagos. Because she was more outgoing and outspoken, her mother had asked her to accompany her sister to present her sister's tapestries to Prince Odimayo. When they met Mr Odimayo, Nana spoke passionately about her sister's works. Seeing her passion and wit, Mr Odimayo asked her to come work for him. It was an exciting opportunity, and although she was not sure what to expect, her desire to take on new challenges moved her to accept the job. "She possesses the perfect mix of resourcefulness, industry, intellect and passion," Mr Odimayo said. 
At the time, Mr Odimayo was associated with artists like Ben Enwonwu, Ben Osawe, Muraina Oyelami, Jimoh Buraimoh, Ben Osaghae, Oyerinde Olotu, and other artists of that generation. Through her work with Mr Odimayo, Nana was exposed to that world of artists instrumental in the development of contemporary Nigerian art. That influence would go a long way in forming her taste and broadening her conception of African art.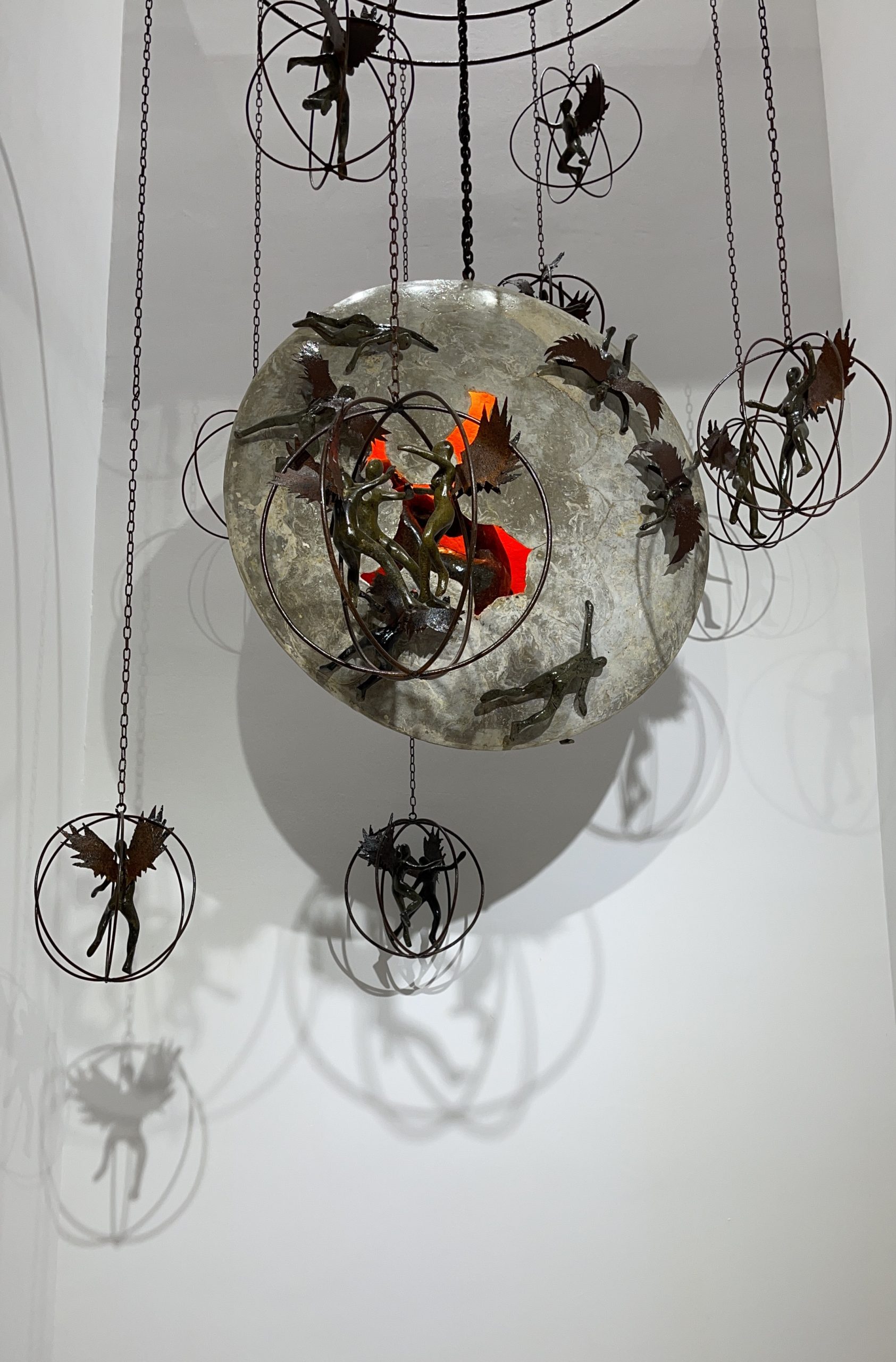 In June 2007, she began working at Arthouse Contemporary, a few months after she stopped working at TreasureHouse Fine Arts. During her time there, she saw surprising gaps in the ways artists and exhibitions are managed, especially in matters pertaining to art logistics. In the early 2000s, Lagos was brimming with talented artists, as has always been the case, but there weren't many institutions managing and promoting these artists. Besides, what few institutions there were were stifled by the typical challenges: lack of funding, chronic apathy from the government, a lack of receptivity to African art in the global market, as well as an unwillingness of patrons to invest in the works of (in their opinion) second rate artists—no small problems, by any estimation.
To continue the work of meeting some of these challenges, which she had begun at Arthouse Contemporary, Nana founded Art Pantheon in 2019. Its purpose was to bridge the gap in art handling, documenting, logistics, and exhibition organising. For her, it was important that artists not only make work but have their work properly documented and managed. She channeled her past experiences and observations into establishing an enterprise that would cater to the economic and professional interests of artists.
The Art Pantheon gallery, located in Victoria Island, Lagos, opened in June 2021. It is an elegant structure, one storey, with a gentle, almost self-effacing, grandeur. On the inside, the white walls, the cool air, the ceiling lights, and rooms that lead seamlessly onto rooms lend the space a warm, tasteful feel. There is an alcove in the middle of the gallery with tiny metal angels—a signature work by Peju Alatise—floating high in a pool of sparkly lights. It feels almost sacred to stand in it. The building is designed and set up to usher one into this feeling of being in a sacred and special place. Both inside and outside, you have small square windows, few arches, barely noticeable doors, generous passageways, and ceilings of subtly varying heights that lend to the rooms a heady acoustic quality; a gallery of quiet, lofty aspirations.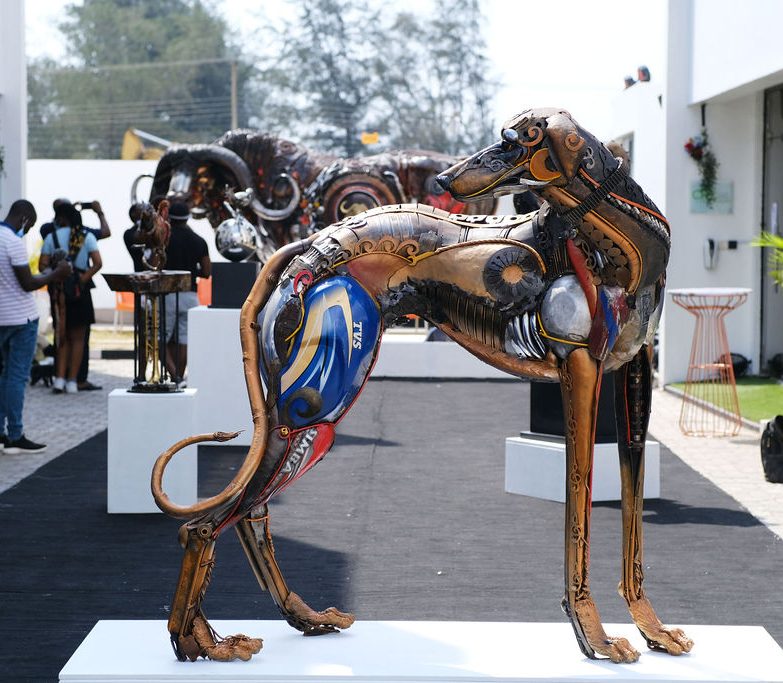 So far, Art Pantheon has organised two exhibitions. The first, Mẹ́tàlá by Nigerian sculptor Dotun Popoola showed from November to December in 2020. The exposition featured thirteen metal sculptures, hence the name Mẹ́tàlá (13 in Yoruba). In the exhibition, Popoola creates a synergy of multiple ideas. He blends his family heritage, their relationship with metal, and the ancestral and religious figures of his background into a grand narrative on identity. Art Pantheon provided the space and the auspices for this ambitious project, seeing it to a successful and impactful completion. 
In a conversation with Nana, she spoke about how Art Pantheon worked with Popoola to ensure that the exhibition was never parochial or cliché. "I didn't want the works—or any works that Art Pantheon is involved with—to be seen as the regular Well, it's just Yoruba tradition and that's it. The works have to be able to speak to people everywhere and stand its own with works of the highest quality from anywhere in the world." While it was important that the works be grounded in Yoruba culture and mythology, it was also important that they are not constricted by tired idioms or symbols. The works had to be rigorous in their engagement of culture and become, through that fertile interaction, universal in their reach and significance.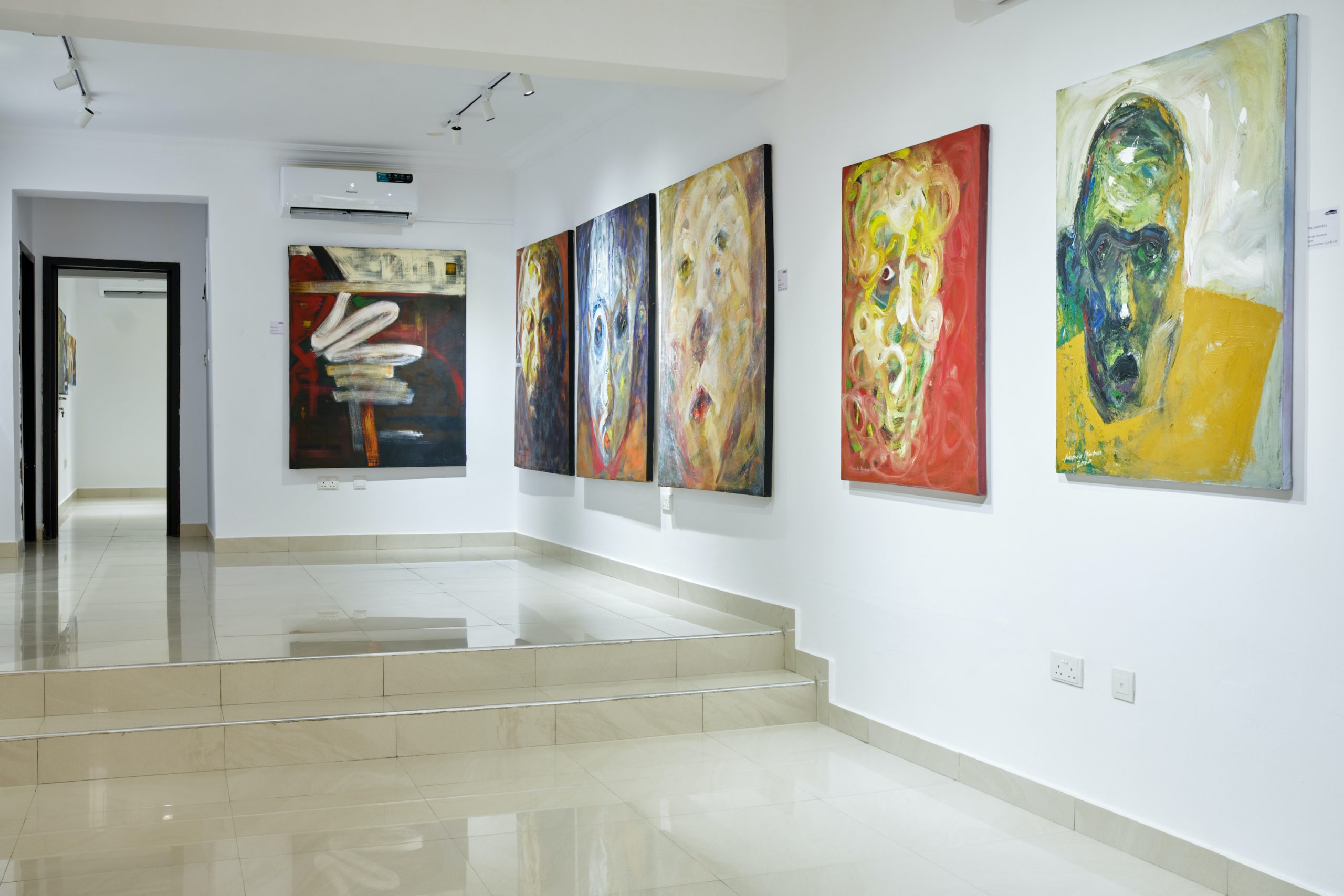 The second exhibition, State of Mind, by visual artist and graphic designer Adeyinka Akingbade is currently on view till July 24. The show features nearly 70 unique pieces made in different media: acrylic on canvas, acrylic on paper, monoprint on paper, and mixed media. This variety of work and media is in itself an address and a testimony to us on the multiplicity of our states of mind and a proof of the mind's restless striving to create. This reading of the works, though, is somewhat too easy. Like abstract expressionist paintings, the paintings are not content to merely render emotions and states of mind. Instead, they seek to immerse the viewer into those emotions and create those emotions in them.
Here, the ambition of the organisation's leadership is visible. The focus: works that push boundaries, that refuse to stop short. To source for works of this kind requires prodigious skill and taste. But it is skill and taste that demand capacity that is just as large, large enough to persuade the makers of these works to entrust them to the care of another. The handling and presentation of art pieces exhibited at Art Pantheon are in themselves art. Though not an artist herself, Nana understands how important it is to preserve and enhance the quality of the works in their handling and presentation.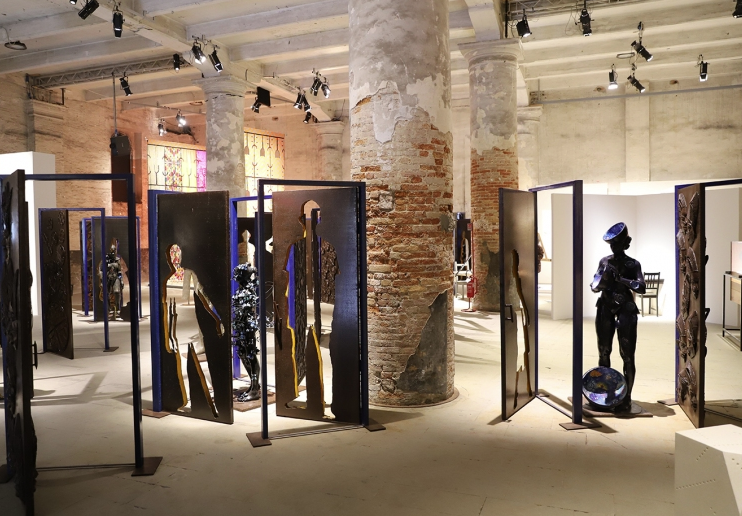 As she explained, it is essential to open doors of dialogue across differences in presenting and exhibiting artworks. These doors, in her conception, allow for inclusivity and sharing; they lead into and create spaces of commonality. This idea was present in the Alasiri: Doors of Concealment or Revelation installation presented by Alatise at the Venice Biennale 2021 (Biennale Architettura). It was captured in the Yoruba proverb: "Ènìyàn ni ilẹ̀kùn; tí ó ba gba ẹ l'áyè kí o wọlé, ó di àláṣirí" (A person is like a door; whoever is granted access becomes its secret keeper). For the event, Alatise enlisted the wisdom and expertise of Nana, Adeyinka Akingbade, and other artists, art practitioners, and experts in Yoruba culture. Together, they built the idea into a tangible reality that furnished points for reflection on the question of our living together and transcending our fear of difference.
In its two years of existence, Art Pantheon has benefitted from the support of patrons and friends. As the saying goes, "A palm tree that will turn out well shows this in its sapling." Quite early, a few people have recognised and have invested money, time, energy, and a steadfast stream of good wishes in the promise of Art Pantheon. The faith and support are not misplaced. With two wonderful shows and more to come, Nana is relentlessly pressing forward and focused on delivering excellence—as that is the essence of the Art Pantheon.