Just before the year-end holidays began, Grandeur Hotel in Lagos hosted Dotun Popoola's figurative metal sculptures on its grounds. Curated and presented by Nana Sonoiki (Asumah) of Art Pantheon, it was the artist's sixth solo exhibition. 
Popoola has impressed on the memory of almost everyone who has encountered his work, his ability to manipulate and repurpose metals and scraps into new compelling forms. These forms are often everyday objects and animals – domestic and wild. At this exhibition, titled "Metala", it was not entirely different. The first work that visitors encountered at the show, 'Ile Oluji Buffalo', was a life-size bull sculpture positioned as if in motion. As one walks towards it, the details unfold–steel rods, a bull crest, auto parts, Mercedes Benz logo and steel flowers which he finished with brown spray, all glistening when light shines on the sculpture.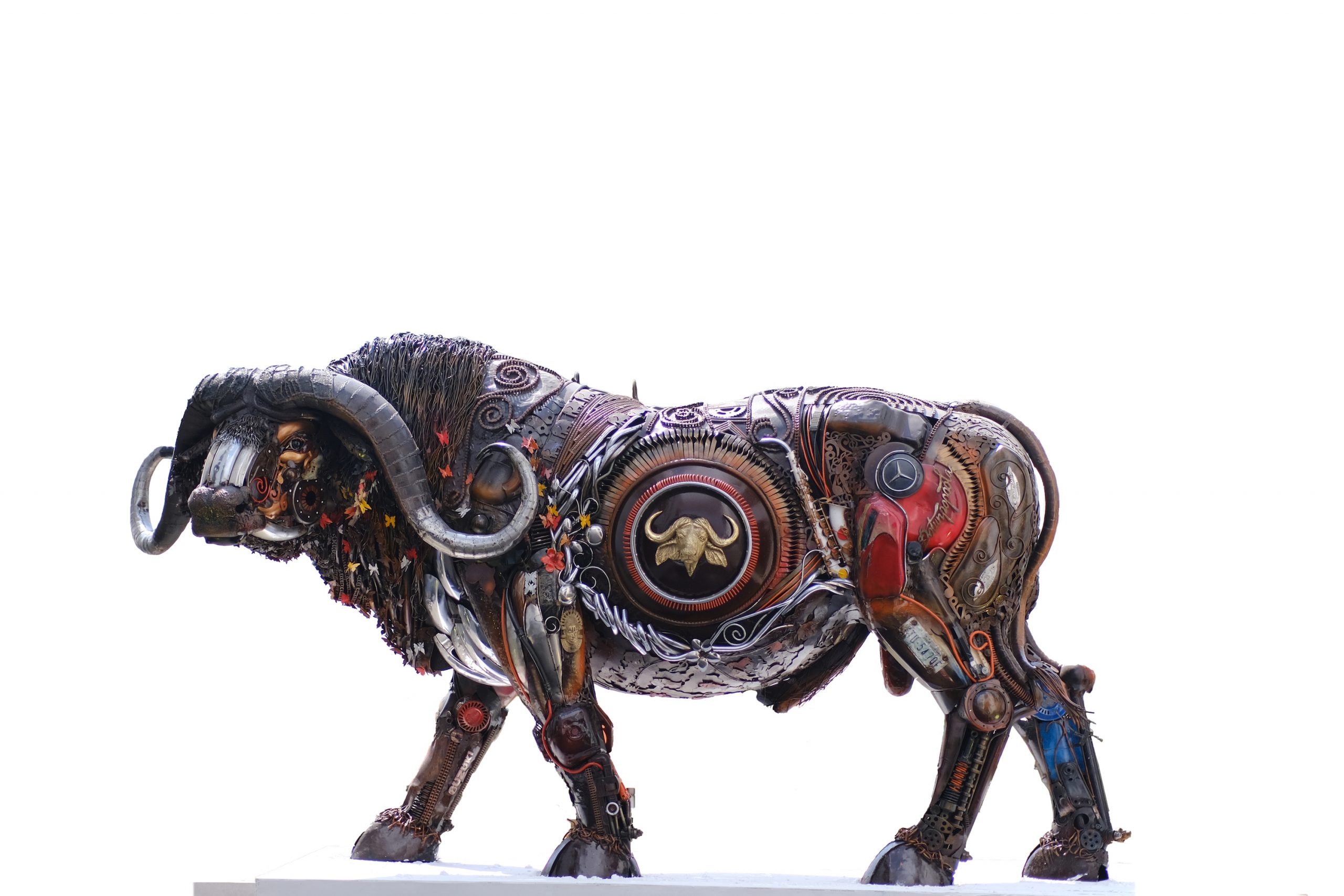 Metala is number thirteen in Yoruba, one of Nigeria's main languages and some countries in West Africa, and the figure accounts for the number of works created for the exhibition. Most of these works, an exciting iconographic display, have their titles in Yoruba too. As a sort of play on words, the exhibition title derives from the word metal, Popoola's primary material and medium. His affinity with metal can be traced back to his heritage, as far back as his great-grandfather. His father, grandfather and great-grandfather worked as blacksmith, farmer, hunter and automobile engineer respectively. 
Popoola's creative process is mesmerising, even for those familiar with his work. Sometimes, he starts with a sketch on paper and then proceeds to clay modelling a miniature that he subsequently transforms into the final material's intended size. But other times, his process is spontaneous. "Sometimes, when I feel like making a piece, I don't wait to finish the thought process. I start, and in trying to give the work my best, I research further on the subject." 
Inherent to his work is advocacy for social change. He desires to tell his stories his way with what is available. He relies on junks such as motorcycle tanks, brake pads, car struts, nuts, electric generator parts, etc. He picks and selects these scraps based on colours, and often, he paints the items to achieve a desired finished look. These items are not only visible components of infrastructural decay but articles contributing to environmental pollution.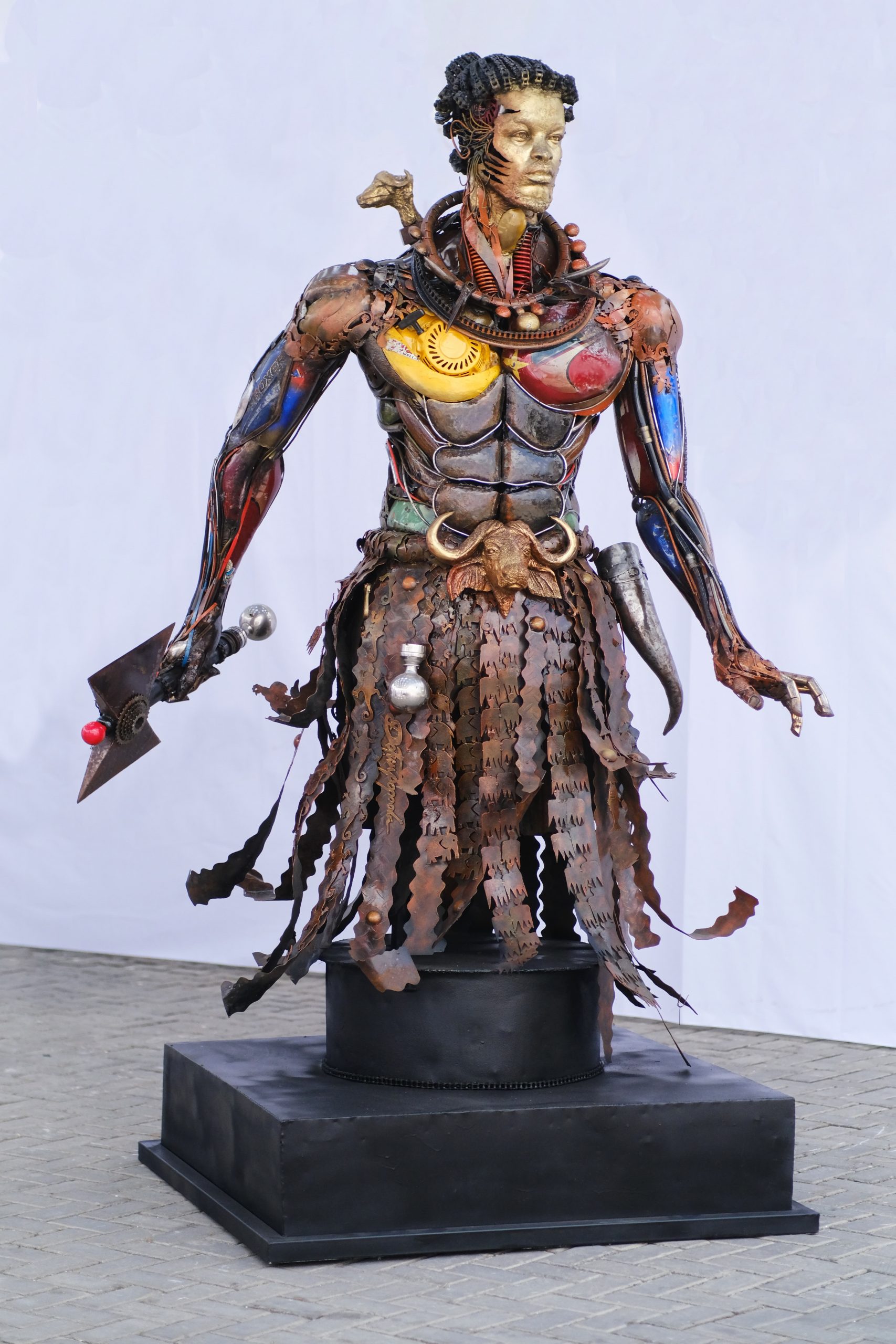 While Popoola's use of scrap materials may have originated from the desire to repurpose and control waste, he has developed an obsessive compulsion to make beautiful and aesthetically distinct metal works. He also does not find creating in large scale daunting. And perhaps this is the reason his sculptures are popular. At "Metala", visitors encountered some of his most impressive works like 'Sango', 'Okere gori'roko', 'Oju ode da (Hunter and his Dog)', 'Sewing Machine', 'Eyo' and 'Arewa'.
'Sango' was the star of the show. Towering over the space with the height and gait of a giant warrior, this is the artist's interpretation of Yoruba people god of thunder. Finished in gold spray, this figure is adorned from the waist down in drapes made of small metal combs linked together to form a skirt. On his back is a sword and in one hand he holds a hammer firmly. He is as compelling and riveting as the artist intended. There are tribal marks on his face to signify his identity.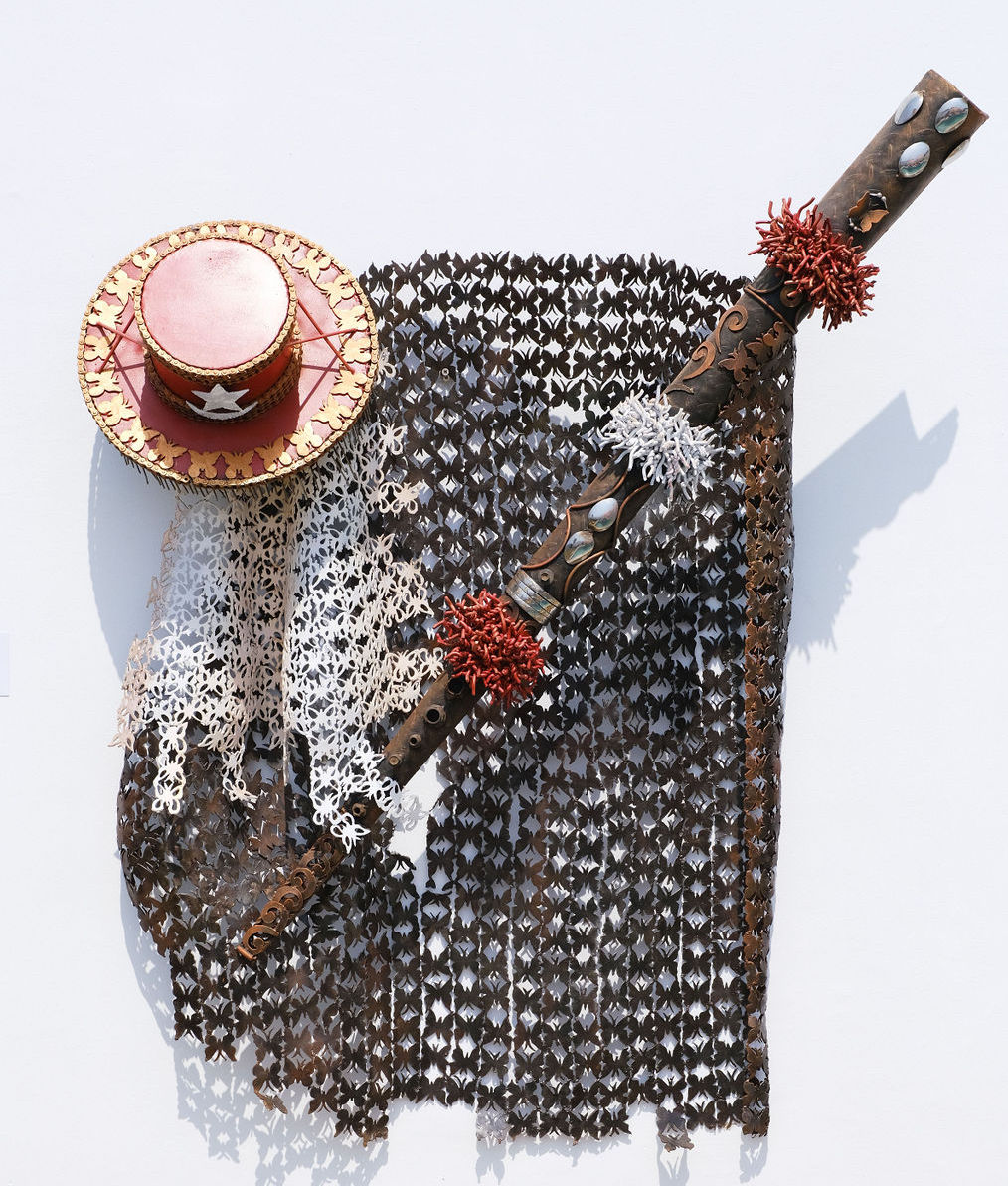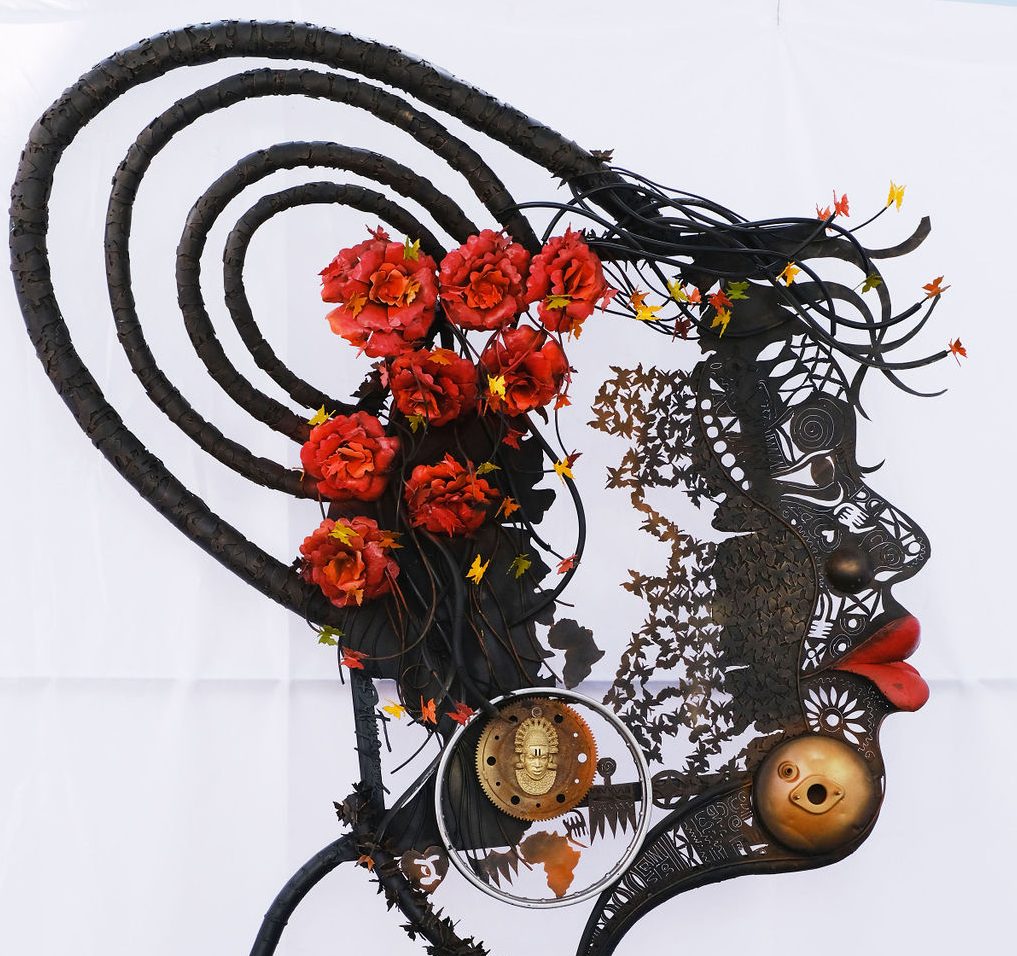 In 'Eyo', another commendable work, Popoola presents the regalia of the masquerade in the symbolic cultural event known as the Eyo Festival that is unique to the indigenous people of Lagos Island in Nigeria. It appears as the least complicated piece in the show, but it isn't. Popoola has done something genius to make metal pieces flow like textile. He joins small butterfly motifs to create the drape and form of the masquerade's costume, completing it with the distinct Opambata staff and colourful hat worn during the Eyo performance. In this work, as with the one titled 'Sewing Machine', one appreciates the laborious cutting, setting, and welding that went into making the butterfly motifs recurring in most of the works. 
There is also 'Ooya', a standing comb in a discernible female form. Popoola created this figure using engine plugs, discs, chains, and miniature facial cut-outs. Also present in the show were works that did not quite impress in scale, material or aesthetic as some of the works mentioned above but give something to wonder about in the technique. 
Regardless of ethnic backgrounds, visitors at the show must have found something familiar in the works, from the charisma of Sango to the gaze of the hunter, the ornaments and the consistently present folklores. The details are as impressive as the final form, as seen with the miniature butterflies that make up a face, the spoons that form a bird, the engine chains that form a crown and musical instruments that serve as a stand for some of the figures. Popoola's knack for beauty can also be seen in the intentional way he inscribes his name on each piece, such that this adds to the existing aesthetics.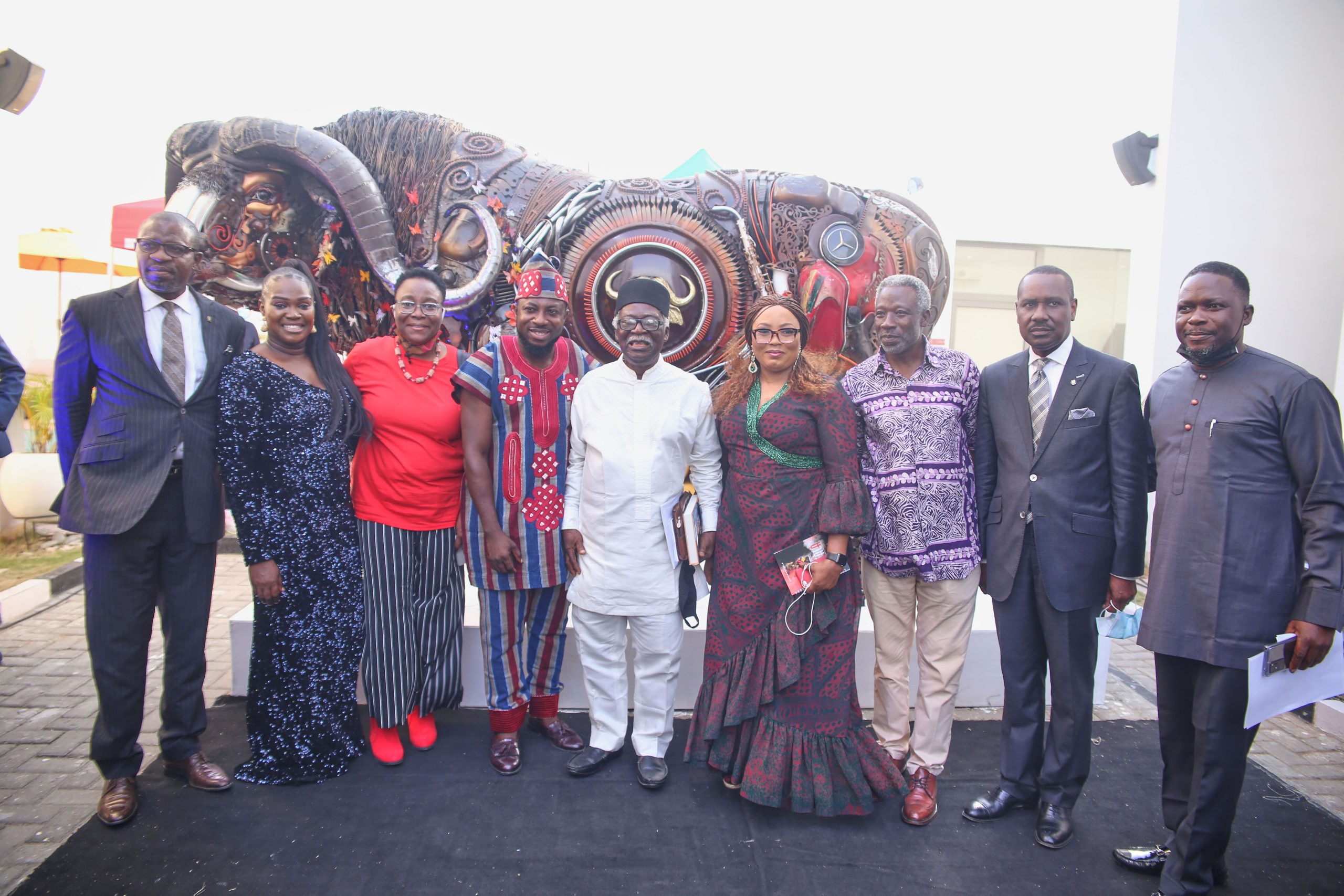 In "Metala", Popoola's goal was to present and reconnect the public with Yoruba culture and mythology that are disappearing due to modernisation and globalisation, irresistibly. To a significant extent, this was successful. But, that success is in part the effort put into staging a laudable and impressive debut show by Art Pantheon. The display was spectacular from the use of the open space to positioning the works. There was room to experience each piece, big and small, individually. 
These are arguably some of Popoola's best works yet. One cannot help but wonder what next: Will the artist explore abstract forms and more iconographic subjects? Regardless of what he pursues and the outcome, one can be sure that his mastery of metal will always astound.