Amid discussions of lockdown and curfew in central Europe, 1-54 Contemporary African Art Fair heads to Paris to present a physical art fair in the home of Christie's for the first time. This collaboration follows a successful attempt in London under similar circumstances last year.  From January 20-23 at Christie's Avenue Matignon headquarters, the show will take place, adhering to all Covid-19 protocols.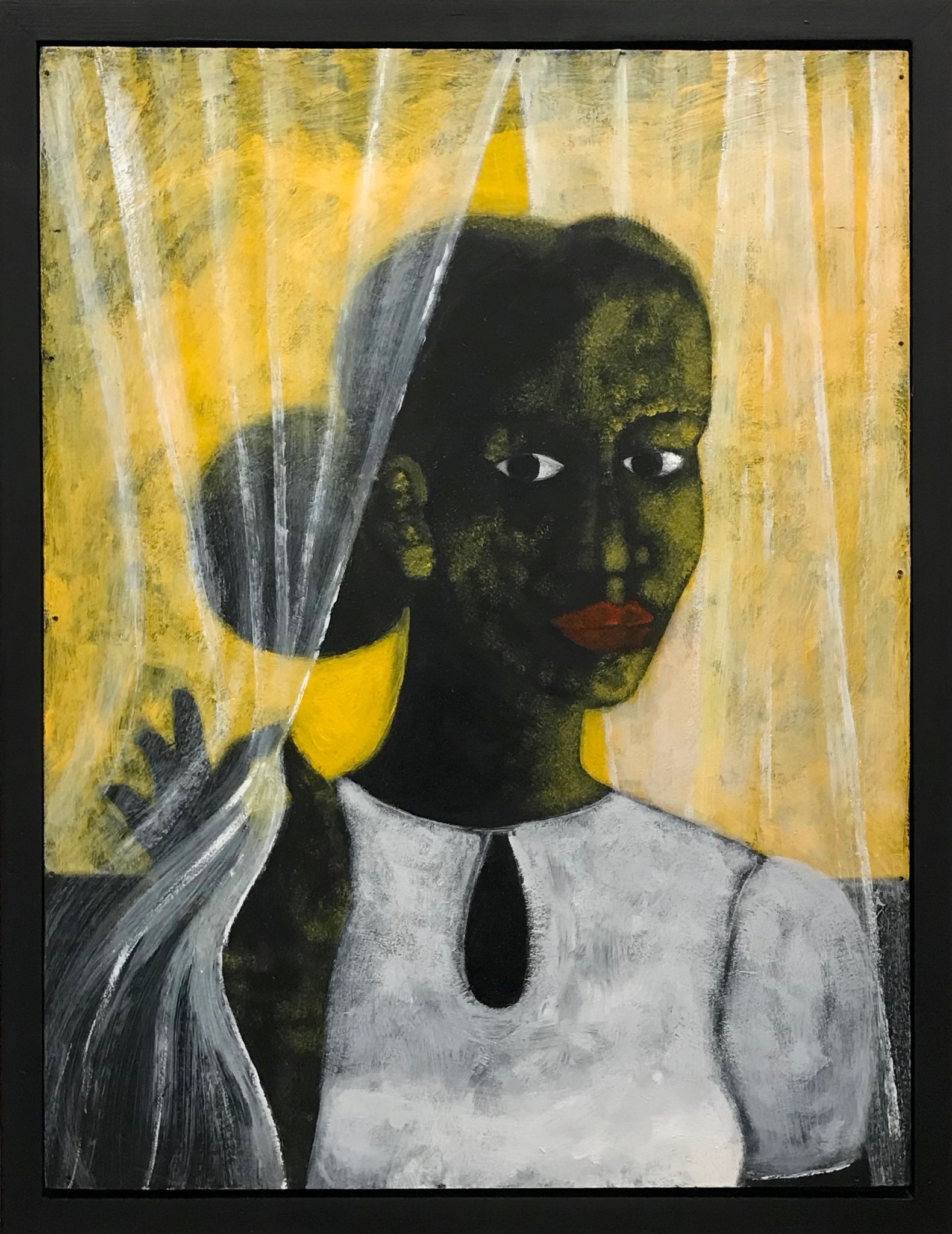 Early in the year, the expected destination for 1-54 Art Fair is in Morocco. Unfortunately, the Marrakech edition for 2021 was postponed due to Covid-19 constraints preventing travels and diaspora celebrations associated with the fair. "Though we are sad not to be able to go ahead with the fourth edition of 1-54 Marrakech in February as hoped, we are incredibly excited to have the opportunity to be in Paris this January with our first-ever fair on French soil thanks to our dedicated partner Christie's. 1-54's vision has always been to promote vibrant and dynamic contemporary art from a diverse set of African perspectives and bring it to new audiences, and what better way of doing so than to launch an edition somewhere completely new," comments Touria El Glaoui, Founding Director of 1-54 Art Fair. 
For this inaugural edition in Paris, the fair is also leveraging on Christie's online platform, which has over 300,000 subscribers and collectors who Julien Pradels, Christie's director in France, describes as "enthusiastic to see the works presented".
1-54 Paris features twenty-one international exhibitors presenting works from nearly seventy artists from Africa and its diaspora. We present some of the participating artists below.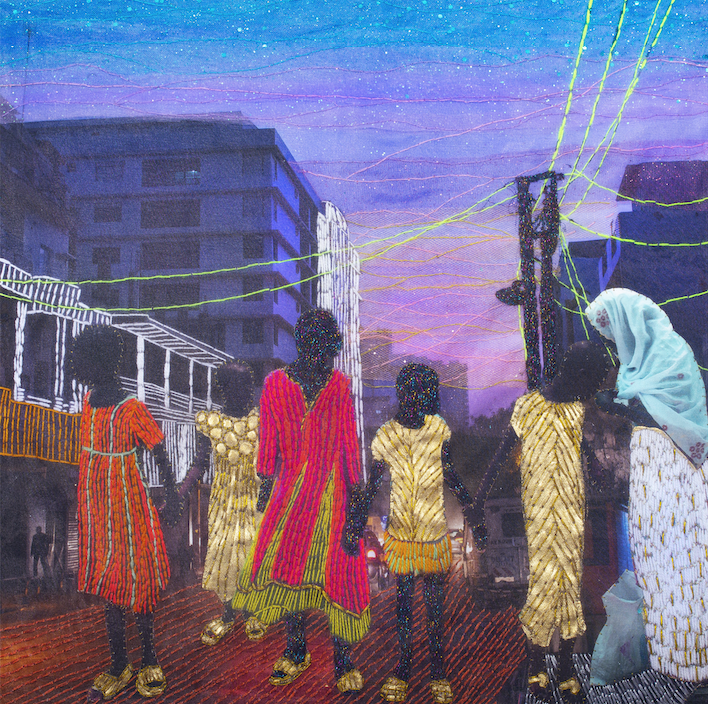 Joana Choumali
Joana Choumali is a research artist whose work focuses on casting light on culture, geography or a moment in time. She creates images as testimonies, interrogating an era, custom or event. In the wake of her series titled Ça va aller, which followed the terrorist attack at Grand Bassam in 2016, Choumali's work has evolved into a more dream-like world, as if to avoid the violence in this world. The artist won the 8th Prix Pictet in November 2019 based on the theme Hope.
Recently, Choumali has presented her work in the following exhibitions: Welcome Home at Musée d'Art Contemporain Africain Al Maaden (MACAAL) in Marrakech; Afrotopia at Biennale Internationale de la Photographie Africaine de Bamako; Africa Forecast at Spelman College Museum of Fine Art in Atlanta; Persona, the social mask at Les Rencontres d'Arles and We the People at Biennale Internationale d'Art Contemporain de Casablanca. 
Abe Odedina
Abe Odedina's paintings are bold and mythical but always easy to discern. He describes himself as a folk artist. His practice is inspired by the rich figurative and oral traditions of African art, imbued with magic realism. His practice seeks to revive and deconstruct quintessential classical themes from ancient Greek to Yoruba mythologies, to create a charged dialogue between epochs, cultures and peoples.
Odedina had a successful career in architecture before he became a painter in 2007. In 2013, he was shortlisted for the National Portrait Gallery BP Awards. Together with The Underground Museum, Los Angeles, he was awarded the 2017 Ellsworth Kelly Award from the Foundation of Contemporary Arts, New York. Odedina's work is in major international collections including the UK Government Art Collection and the Tiroche DeLeon Collection, Tel Aviv. His recent solo and group exhibitions include Birds of Paradise at Copeland Gallery and the Royal Academy Summer Exhibition, in London. He lives in London and Salvador Bahia. 
M'hammed Kilito
An independent Moroccan photographer based in Rabat, Morocco, M'hammed Kilito is co-founder and KOZ collective photographer. His work addresses cultural identity and the human condition in Morocco. He is on the African Photojournalism Database of World Press Photo (APJD). He contributes to Everyday Middle East and North Africa, a collection of images that provide a more accurate view of daily life in the MENA region beyond the mainstream media. He has presented his work in festivals and institutions such as the Sharjah Art Foundation, the Tate Modern, Rabat's National Museum of Photography, the Beirut Image Festival, Milan's Photo Vogue, Helsinki Photo Festival and the Breda Photo Festival. Likewise, he has featured in The Washington Post, The Wall Street Journal, The British Journal of Photography, Vogue Italia, L'Express and VICE Arabia.
In recent news, Kilito was selected by the British Journal of Photography as one of the 18 best emerging photographers to watch. He has received distinctions and awards from World Press Photo, Fondation des Treilles, CAP Award for Contemporary African Photography and National Geographic.
Serge Attukwei Clottey
Ghanaian artist Serge Attukwei Clottey is known for his works that examine the powerful agency of everyday objects. Combining multiple media such as installation, performance, photography and sculpture, Clottey explores personal and political narratives rooted in the histories of trade and migration. He refers to his work as "Afrogallonism", a concept that confronts material culture and synonymous with his use of yellow gallon containers. Cutting, drilling, stitching and melting found materials, Clottey's sculptural installations are bold assemblages that are an inquiry into form and abstraction languages.
In his notable work, My Mother's Wardrobe, presented at Gallery 1957, Clottey used performance to explore traditional gender roles along with notions of family, ancestry and spirituality.
Clottey was the firs artist presented at Gallery 1957, whenit open in Accra in 2016. He has also shown at Kampnagel in Hamburg, the 27th Festival Les Instants Vidéo in Marseille, at Dak'Art – Biennale de l'Art Africain Contemporain, Stedelijk Museum and at the Chale Wote Street Art Festival in Accra.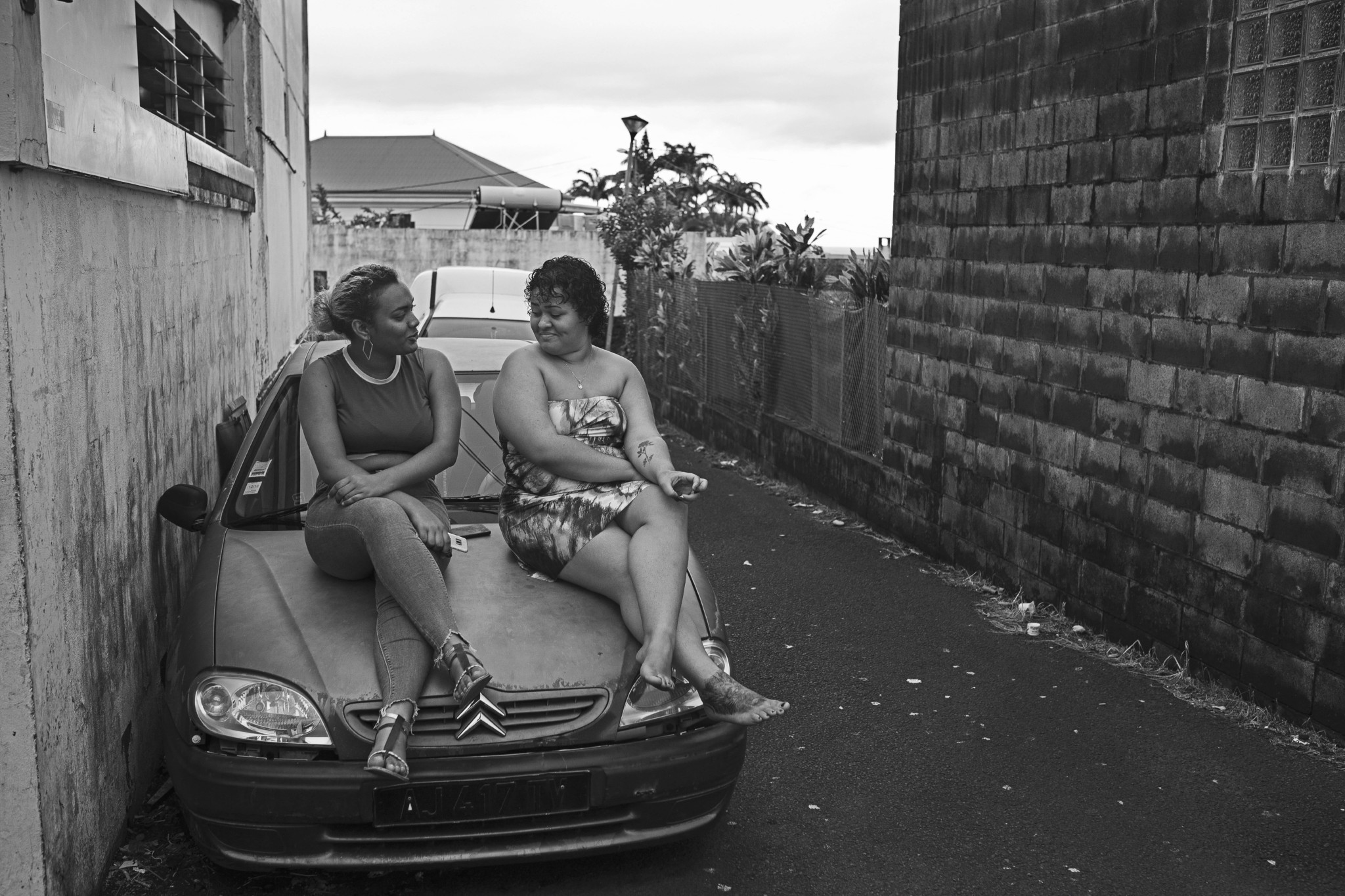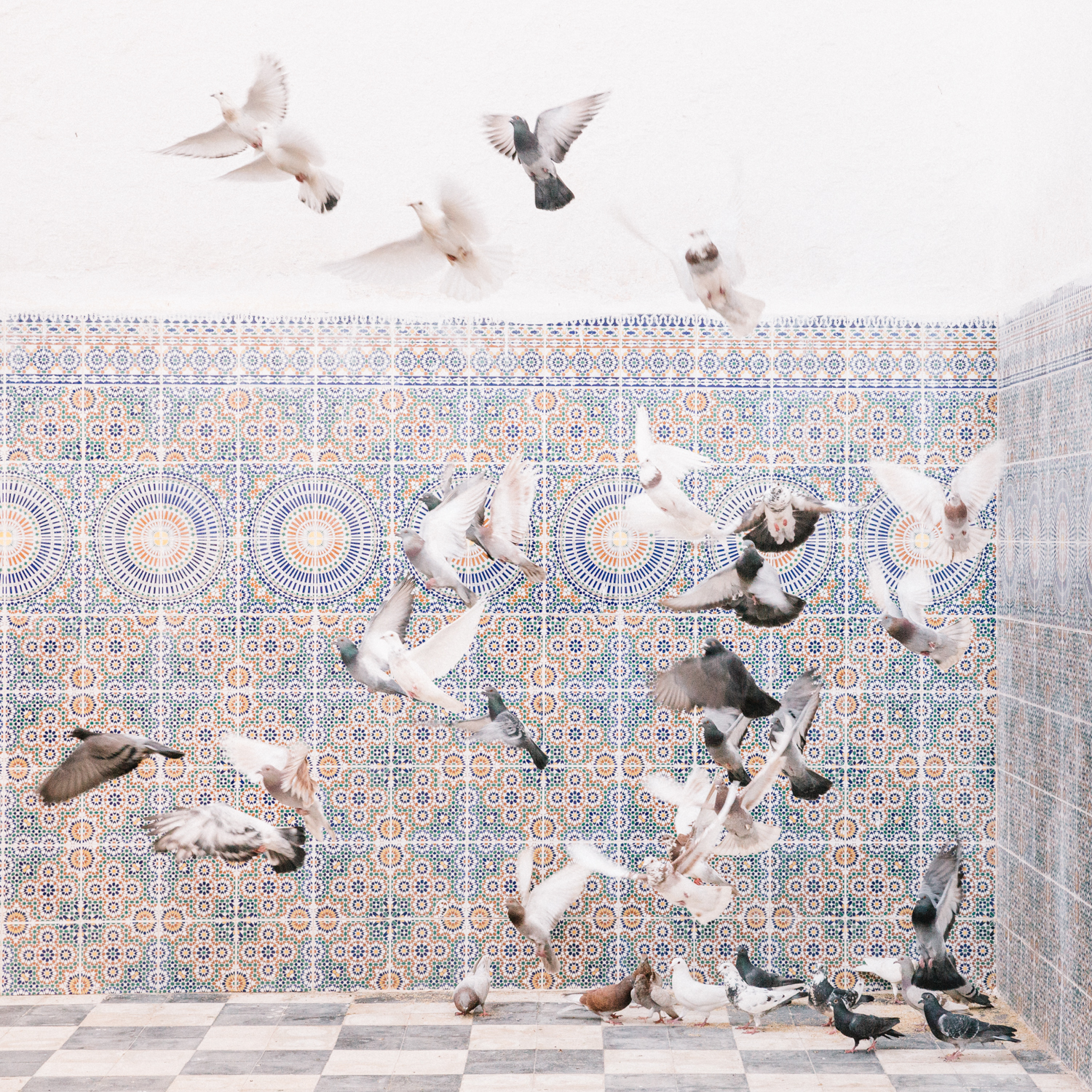 Andrew Tshabangu
Andrew Tshabangu has been creating black and white photography for over twenty years. During this time, he has been instrumental in shaping South Africa's visual landscape. He studied at the Institute of Advancement for Journalism and the Alexandra Community Art Center in Johannesburg. He made his mark as a journalist working with the New Nation, an alternative weekly published by the South African Catholic Bishops' Conference. 
Tshabangu has exhibited in South Africa and other parts of the world including at MAXXI in Rome and the Dakar Biennale. In 2017, a solo retrospective of Tshabangu's work was shown at the Iziko South African National Gallery and Footprints, the first major survey of the photographer's iconic work, was published. He has taught photography at the distinguished Market Photo Workshop. 
Emo de Medeiros
Emo de Medeiros' work revolves around a unique concept he calls 'contexture', a fusion of the digital and the material, the tangible and the intangible, exploring hybridizations, interconnections and circulations of forms, technologies, traditions, myths and commodities. It also draws on new perspectives and conversations in a new space: the current context of the postcolonial, globalized and digitized world of the early 21st century.
Medeiros studied at the École normale supérieure and École nationale supérieure des Beaux-Arts, both in Paris and at the Massachusetts College of Art and Design (MassArt) in Boston. He has shown his work at Centre Pompidou and Palais de Tokyo in France, at MARKK Hamburg in Germany and different exhibitions in Brazil, Nigeria, the United Kingdom, Japan, China, and the biennials of Marrakech, Dakar and Casablanca. He currently lives and works in Paris. 
Fouad Hamza Tibin
Fouad Hamza Tibin, from Sudan, is a poet and photographer. He started practising professionally in 1971, documenting the daily life and culture of Sudan in the 1970s. He opened his studio, 'Studio Mwahib' during this time. His portraits utilize glamorous poses, period-typical fashion and plain backgrounds. His work has been exhibited in France, Belgium and Mali.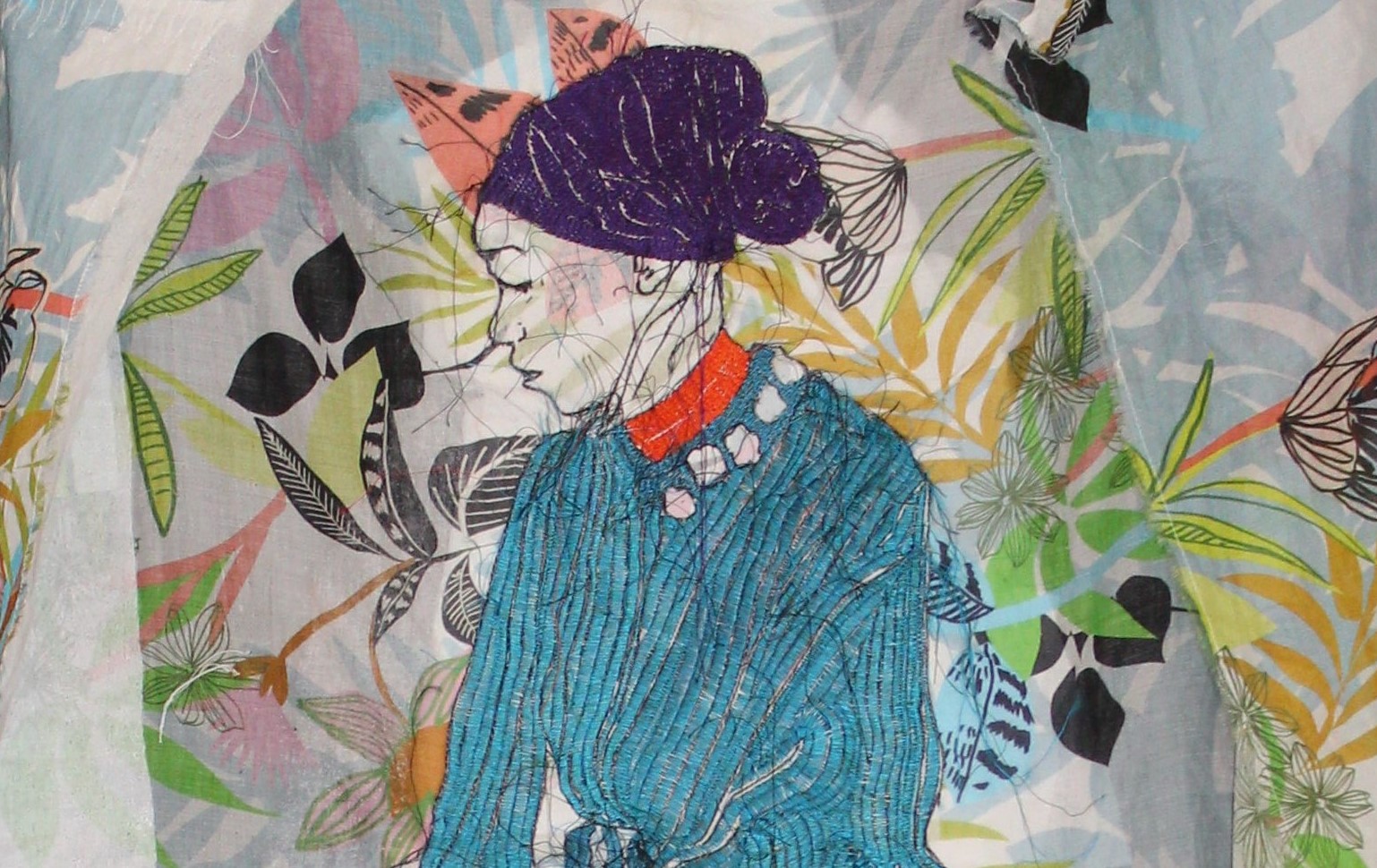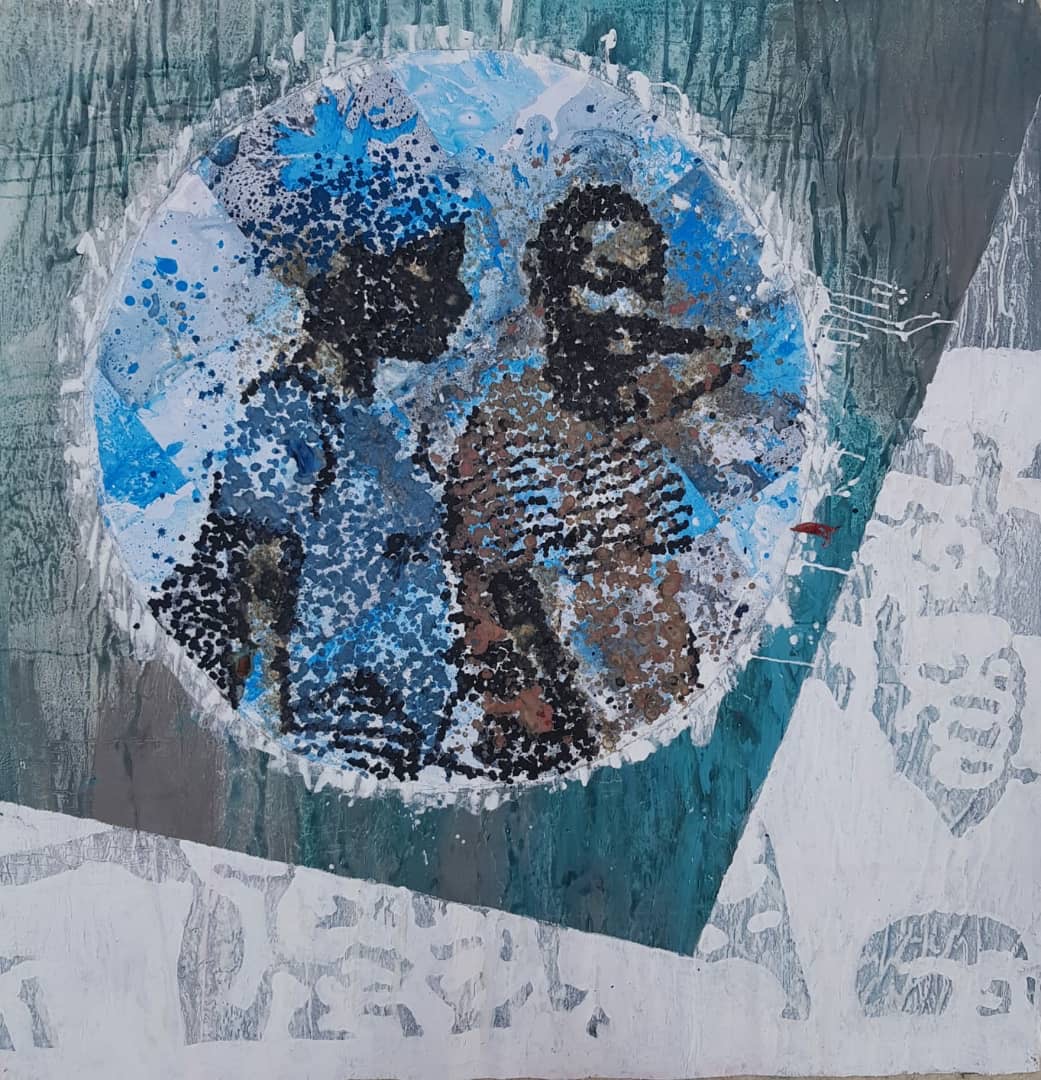 Saint-Etienne Yeanzi
Saint-Etienne Yeanzi redefined his relationship with portraiture after several years as a traditional portraitist. He explores unique techniques such as melting plastic waste materials collected from Abidjan's streets on canvas and paper. He reveals beauty through the ashes of waste and questions the vast amounts of garbage suffocating society.
Yeanzi was influenced by the Ivorian Civil War that started in 2011, a brutal tragedy that shook the country. Despite this, his art is relentlessly optimistic. His works aim to recount the trauma and violence of the past and show Ivorians' authentic spirit.
Yeanzi studied painting and photography at the Ecole des Beaux-Arts d'Abidjan and has exhibited his works globally. His work is in the collection of the Mohammed VI Museum of Modern and Contemporary Art, Rabat.
Ana Silva
Ana Silva, currently living and working in Portugal, creates personal, deep and delicate works. Her work focuses on the experience of making art in different mediums and techniques such as canvas, wood, metal, acrylic, fabric, painting, drawing, collage, sewing and metal oxidation. She states, "I cannot separate this fact from my experience in Angola (where she was born), at a time when the scarcity and access to art materials appeared. Colonial war, the civil war marked the pace. Creativity was practised by exploration around me, of what existed. That experience had a great impact on my work and in my life."
Ana Silva attended ArCo – Centro de Arte e Comunicação Visual in Lisbon. She worked in painting and sculpture and was directed by Hart Berg in Elinga Theatre in Luanda. Her work has been shown in Lisbon, Luanda, Milan. 
Mercedes Maduka
Young Nigerian artist Mercedes Maduka works and lives in Winnipeg, Canada. Her practice arises from curiosity on personal displacement—caught between the way of life in the western world and her home country, Nigeria's culture and rituals. She repurposes immediately recognisable icons of displacement and travel, such as the 'Ghana Must Go' bag, in a way that transforms her subjects into a state of flux, evoking from the viewer a strong feeling of nostalgia. Many of the bags she recycles were brought with her from Nigeria and hold sentimental value. 
Maduka graduated with a BFA Honours from the University of Manitoba in 2016. Her work has shown in exhibitions such as Powerful Nigerian Drums and the BFA Grad Show at the University of Manitoba.
Other programs to anticipate during this edition are 1-54 Forum, screenings, performances, workshops, and readings throughout February curated by Le 18, a multidisciplinary art space in Marrakech.