On view at Richard Beavers Gallery in Brooklyn, New York, is the group exhibition "Wealth Surrounds Me: God, Gold & Kinfolk". Featuring painting and mixed media works by nine artists from Africa and the diaspora, the exhibition addresses and depicts survival responses to economic inequalities, where people of African descent continue to redefine the concept of wealth. The artists exhibiting in the show are Alfred Conteh, Xavier Daniels, Victor Ehikhamenor, Kay Hickman, Marcus Jansen, Alexis McGrigg, Zwelethu Machepha, DaaPo Reo, Phyllis Stephens, Genesis Tramaine and Esteban Whitside.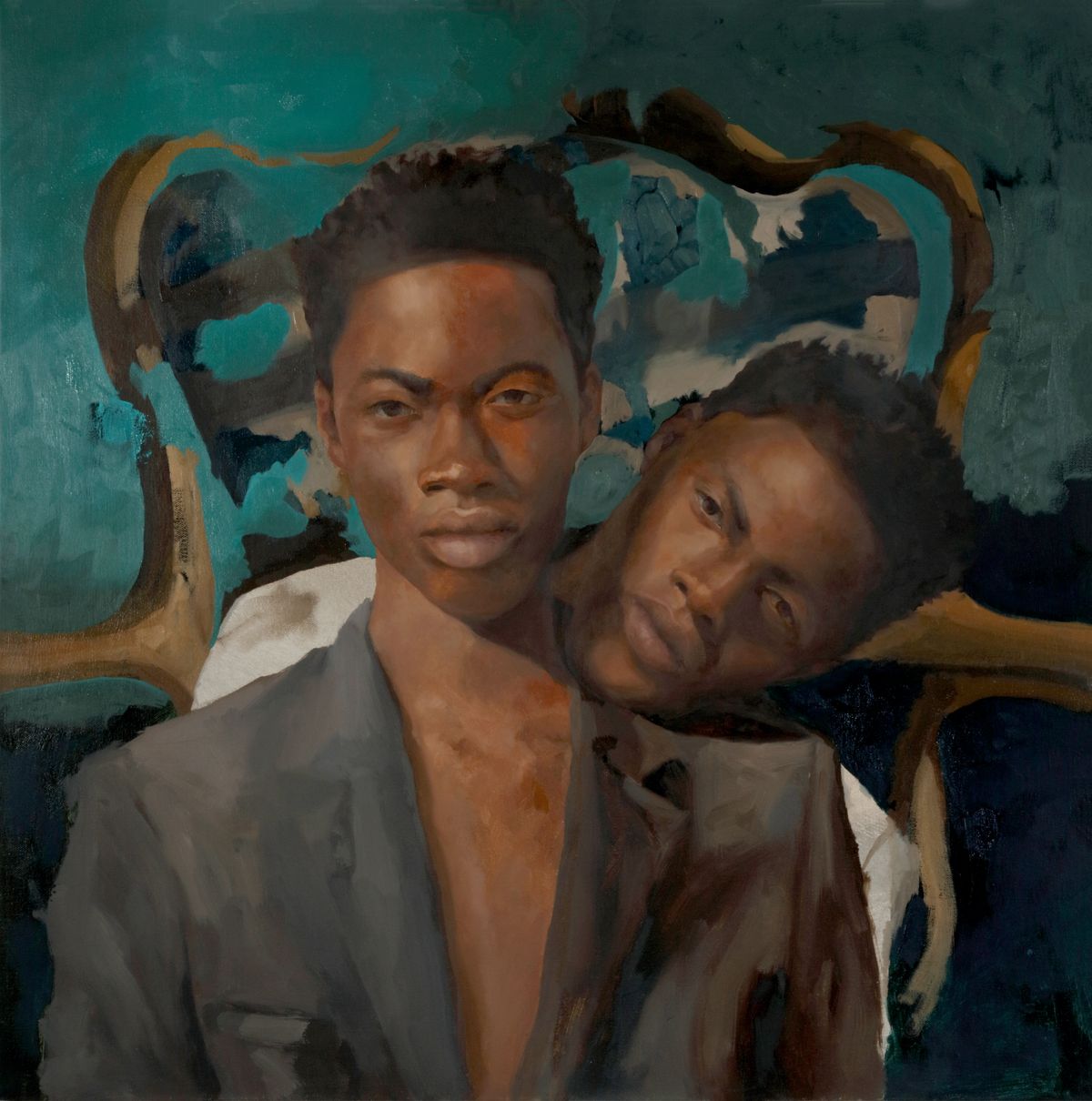 Organized and presented by Jeremiah Olayinka Òjó, founder and director of Ilékùn Wa, the exhibition title stems from Òjó's Yoruba (Nigerian) middle name Olayinka (Aw-ly-yeen-ka), with the literal meaning 'wealth surrounds me'. As hinted in the title, "Wealth Surrounds Me: God, Gold & Kinfolk" explores the complexities of how Black communities define and perform wealth through the material, familial, and spiritual means. Works in the exhibition redefine notions of value and leverage new perspectives of wealth as a tool, manifesting itself beyond literal connotations.
Other narratives occurring in the diverse body of works are identity and cultural assimilation, Black sociality, Black visual culture, commodification, and economic inequity. In examining these concepts, the artists assert and produce wealth for themselves and within their communities. The symbolism within the collection of featured works calls into question how Black people are internalizing and externalizing their ideas of wealth through the lens of Black sociality in three forms: Spirituality (God), Materiality (Gold) & Family (kinfolk).
"My vision was to organize a series of exhibitions that visually show how my people, Black people, around the world, display the duplicities of our daily existence, through the lens of wealth," Òjó said. "Despite what we have been told by others, we are wealthy; and the depth and breadth of these artists' ideas and work exemplify what Blackness is: diverse, innovative, expansive, and resilient."
"The importance of this exhibition is to visually articulate how the Black community has been historically resilient and resourceful. Though we're not monolithic people, there's an unspoken commonality through our experiences. The ideology surrounding 'God, Wealth, and Kinship' is uniquely connected to our Blackness." Richard Beavers commented.
"Wealth Surrounds Me: God, Gold & Kinfolk" is on view until February 5, 2021 with three virtual artists talks scheduled for January 17th, 24th & 31st  from 2 pm – 3:30 pm. Register to join the talk here.