Sharjah Art Foundation announces the late Okwui Enwezor as curator of Sharjah Biennial 15 with the support of SAF Director Hoor Al Qasimi as co-curator alongside Working Group members Tarek Abou El Fetouh, Ute Meta Bauer, Salah M. Hassan and Chika Okeke-Agulu.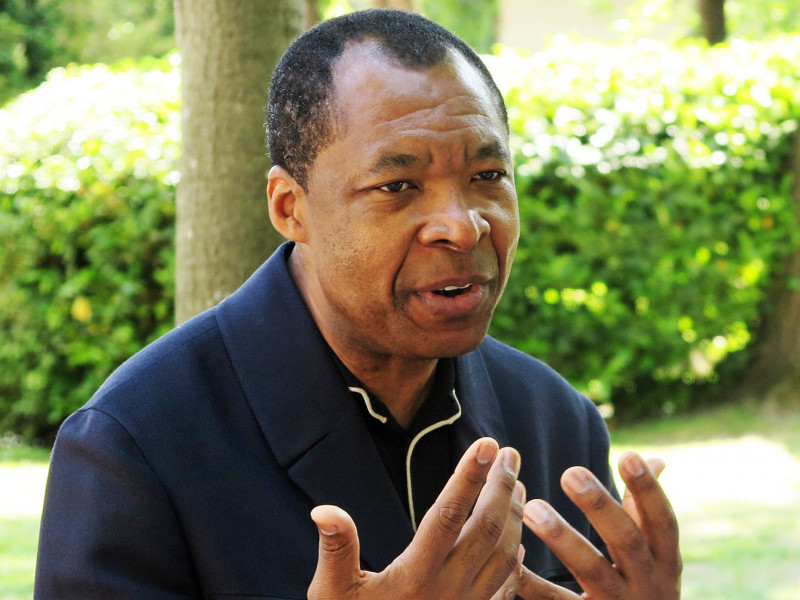 The Sharjah Art Foundation has announced the late Okwui Enwezor (1963-2019), as curator of the next Sharjah Biennial, taking place March 2021. Before he passed away, Enwezor had conceived the 15th edition of the Sharjah Biennial, titled 'Thinking Historically in the Present' as an avenue to reflect in the past fourteen editions of the biennial and to consider the future of the biennial model.
In accordance with Enwezor's wishes, SB15 will be realized with the support of Sharjah Art Foundation Director Hoor Al Qasimi as co-curator alongside a working group of Enwezor's longtime collaborators: curator Tarek Abou El Fetouh; professor and Founding Director of NTU CCA Singapore Ute Meta Bauer; art historian and Cornell University professor Salah M. Hassan; and art historian and Princeton University professor Chika Okeke-Agulu.  The curatorial concept will be implemented in collaboration with an advisory committee, which includes architect, Sir David Adjaye, artist John Akomfrah and Ashkal Alwan Director Christine Tohmé, who will provide additional consultation on the Biennial.
In his written plans for SB15, which he began developing in spring 2018, Enwezor envisioned the "Sharjah Biennial as a module with which to deal with the disruptive power of artistic monolingualism but also as horizon of the possible to conceive another theoretical space for 'Thinking Historically in the Present'.
Al Qasimi, commented on the tremendous impact Okwui Enwezor had on the contemporary art and its institution, saying his work "internationalized art world paradigms and laid out an ambitious intellectual project that has shaped the development of so many initiatives and institutions, including the Sharjah Biennial and Sharjah Art Foundation".
SB15 Working Group member Salah M. Hassan also commented, "Okwui always believed in the Sharjah Biennial as a model for displacing older, Western-based biennials by offering a cutting edge and globally relevant alternative." Hence, this upcoming edition of the SB15, according to Hassan, "represents Okwui's insistence on the art exhibition as a platform for engaging with history, politics and society and how these shape our global present."
The Sharjah Biennial will continue the support for artists from the MENASA region and beyond with an internationally recognized platform for exhibition and experimentation, SB15 will bring together a range of works by contemporary artists, including major commissions, large-scale public installations, performances and films. SB15 will also have works on view in the Sharjah Foundation buildings, and other spaces across the emirate.
The inauguration of Sharjah Biennial 15 will be at the 2020 edition of the foundation's annual March Meeting, a three-day convention of artists, curators and art practitioners from around the world, to discuss contemporary art issues. MM 2020 will focus on the 30th anniversary of the Sharjah Biennial, bringing together former Sharjah Biennial curators, artistic directors and artists as well art historians and critics to examine the role of the Biennial in the region and in the global contemporary art scene. Details about the MM 2020 program, running from 21 to 23 March 2020, will be available in late 2019. Further information about the SB15 concept, artists and projects will be announced in the coming months.
The 2020 edition of Sharjah Art Foundation's annual March Meeting, a three-day program convening artists, curators and arts practitioners from around the world to discuss vital issues in contemporary art, will inaugurate SB15. Organized around the title and theme of SB15, Thinking Historically in the Present
Sharjah Art Foundation's announcement of Sharjah Biennial 15 follows Okwui Enwezor's bequest of his papers and library to Sharjah's Africa Institute, of which Al Qasimi is also President and Salah M. Hassan is Director. SB15 Advisory Board member Sir David Adjaye has been commissioned to design the campus of this interdisciplinary academic research institute and think tank, slated for completion in 2023.
For more details, please visit sharjahart.org