They are everywhere. Clippers, scissors, shears, scalpels, cut-throat razors, knives, boning knives, meat cleavers and chainsaws are meticulously positioned across the two dozen paintings that make up Abe Odedina's show, Cutting Edge, at Ed Cross Fine Art in London.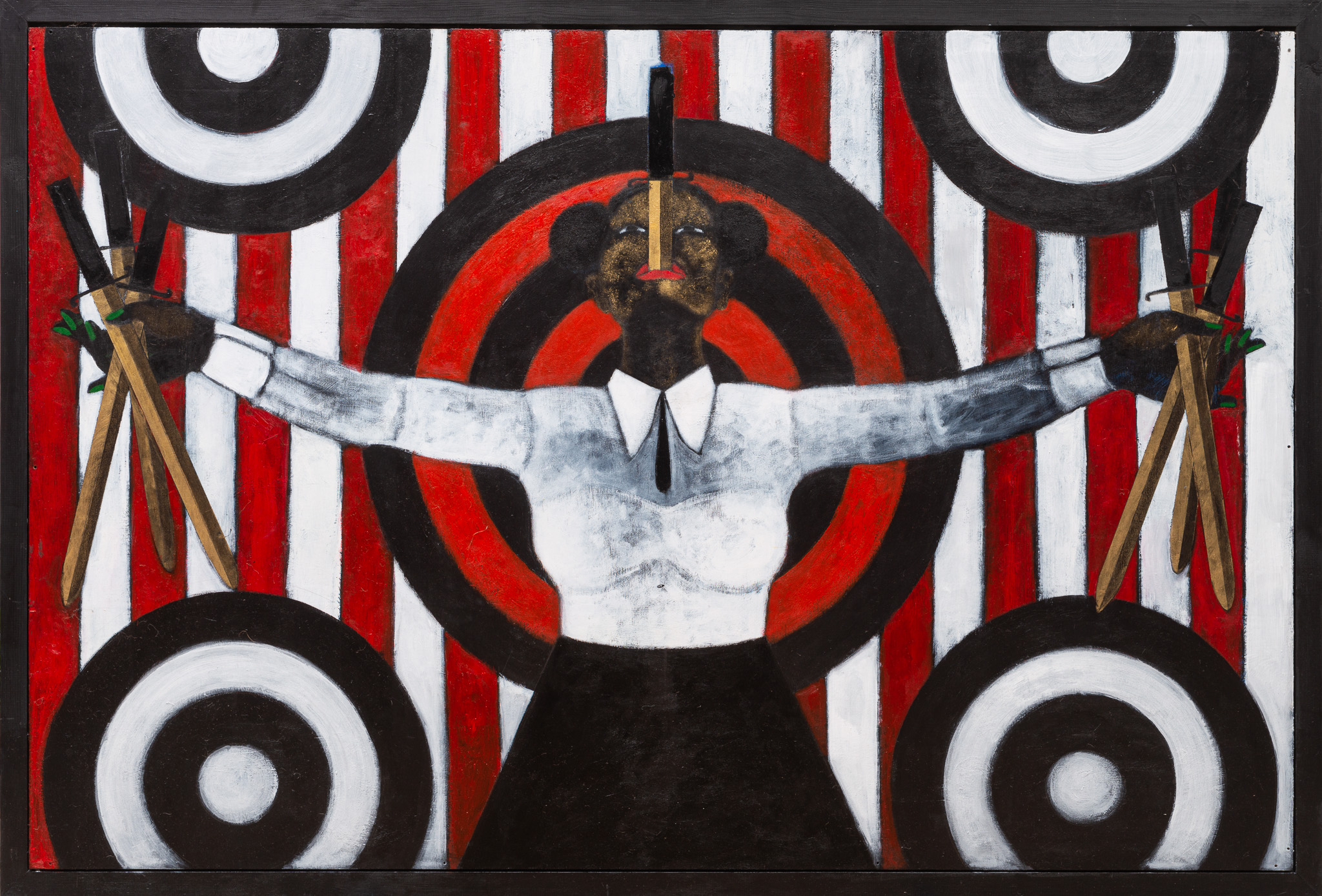 Tools, particularly sharp cutting tools, are recurring items in Odedina's work. Scissors, clippers and cut-throat razors are usually ancillary features in narratives centred on the social significance of barbershops. Deep Cut, a striking painting of a black girl standing in front of the Union Jack with a large pair of scissors, springs to mind. But, in Cutting Edge, these tools are the primary focus of all the works and the real star of the show. The humble hair comb in Monuments 2 &3 (2020), whose appearance is almost surreal and scaled up in a way that turns each tooth into a sharp nail, is deftly painted as a diptych and is a personal favourite. 
Cutting Edge's focus on tools tears apart the usual one show, one narrative template. It also cuts through a linear timeline, showing us cutting objects in contemporary scenes of everyday life and in historical and mythological narratives. As distinct as each painting is, each seamlessly blends with the others to transform the show into a carefully composed quilt that investigates the widespread possibilities, functions and meanings embedded in the simple act of cutting.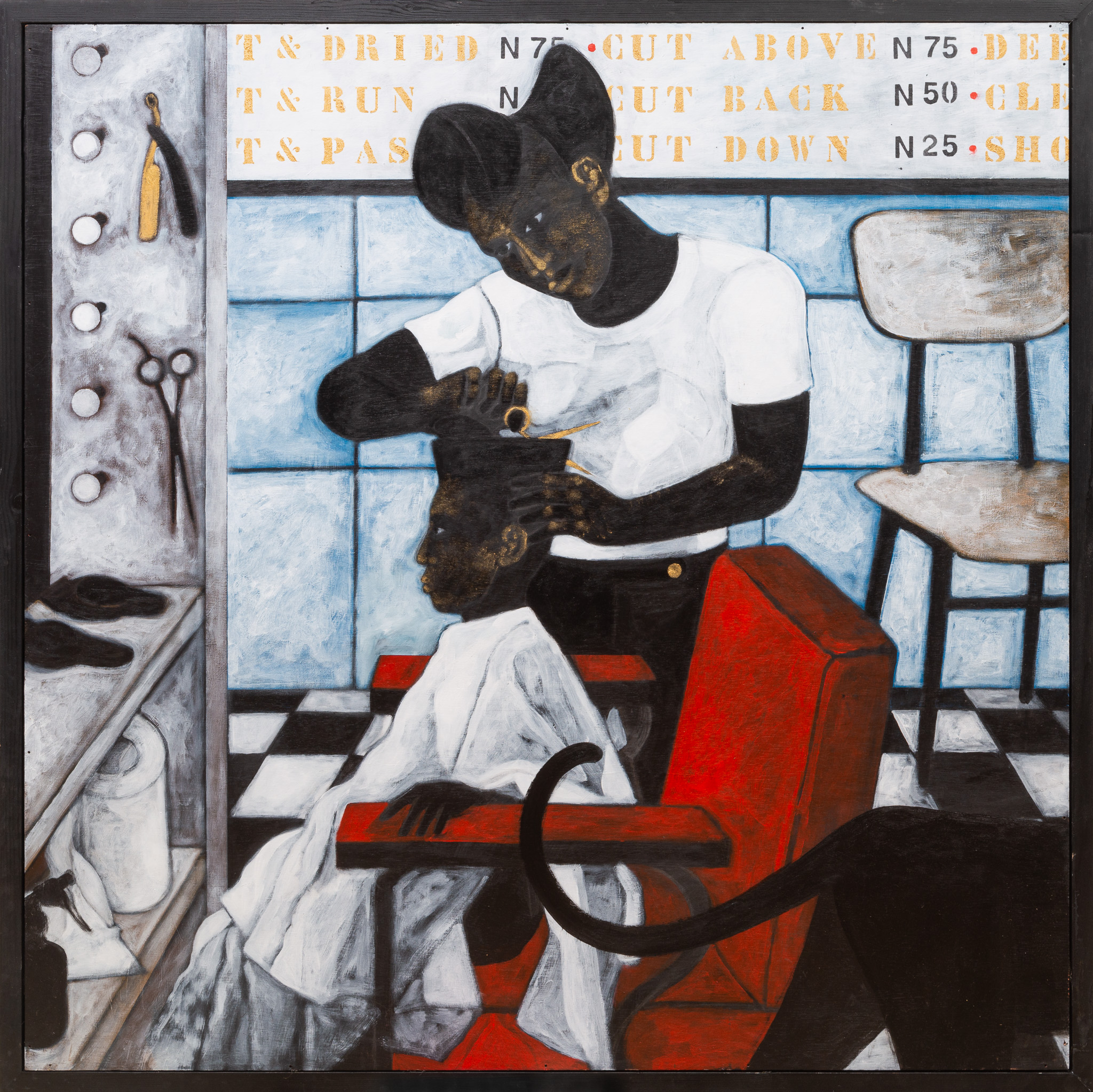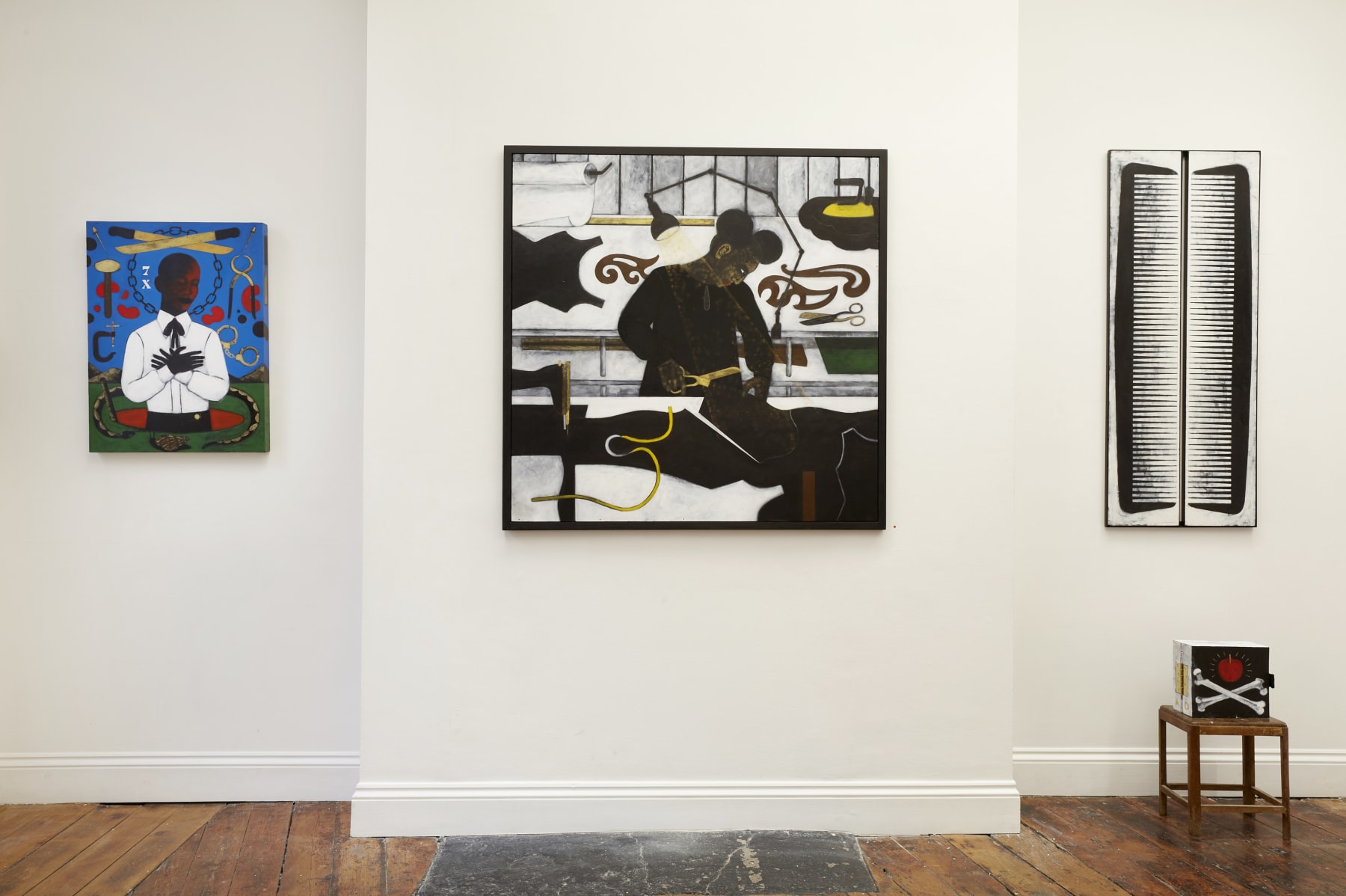 Whether it is cutting through flesh or cutting through things, scissors, scalpels and knives are depicted for their allegorical values. Odedina explained in a virtual walkthrough of the show that he wanted to investigate "the transformative power of cutting." Sometimes the metamorphosis brought on by these instruments is searing, indelible and violent. For instance, in the case of female genital mutilation addressed in the work Codex (2021). In a metaphorical language devoid of sensationalism, a wooden sculptural work shaped like a heavy one-page manual features on its cover the symbol of death: the crossbones and a red apple in lieu of the skull. It also features a padlock to symbolise the desire to control women's bodies and pleasures. When unlocked, it opens up to reveal an unmarred sexual organ resting in a lotus flower. And on the other side, a Latin sentence translates as follows: "how many injustices or wrongs are enacted in the name of tradition?"

Other times, though, the process and outcome of the alteration is not as harrowing but rather uplifting or seemingly innocuous. In Cut from a different cloth (2021), a seamstress cuts through a piece of fabric to make a dress. A butcher is busy at work surrounded by animal carcasses in Cuts both ways (2020-2021). Elsewhere, in Cut a fine figure (2021), a mother sporting the sculptural traditional Rwandan hairstyle, Amasunzu, is stylishly shaping the hair of a young boy while presumably passing on the values of self-care, self-love and cultural pride. Cutting could also mark a person's identity, as exemplified in the portrait Scar face (2021), showing a man with scarification on his face.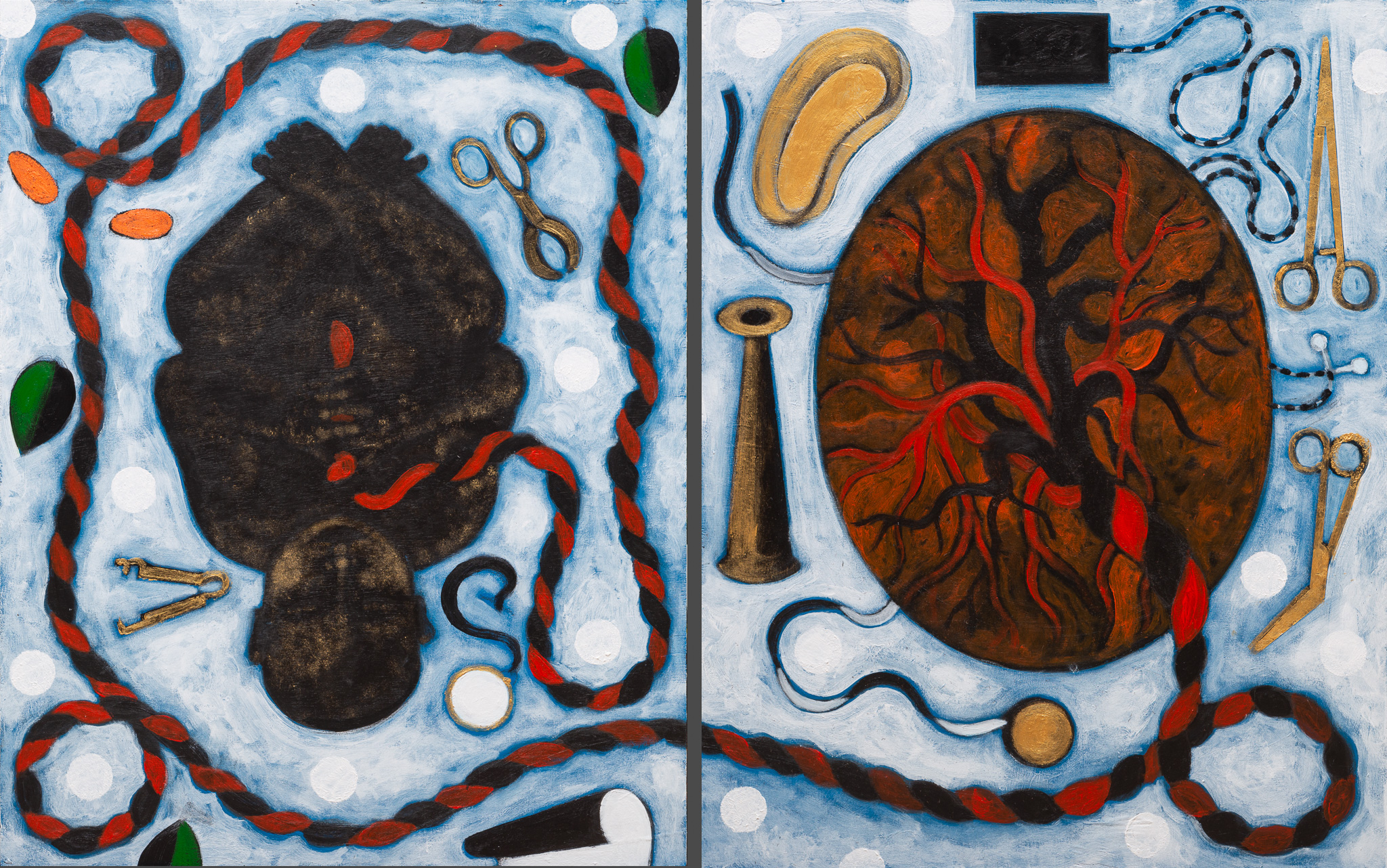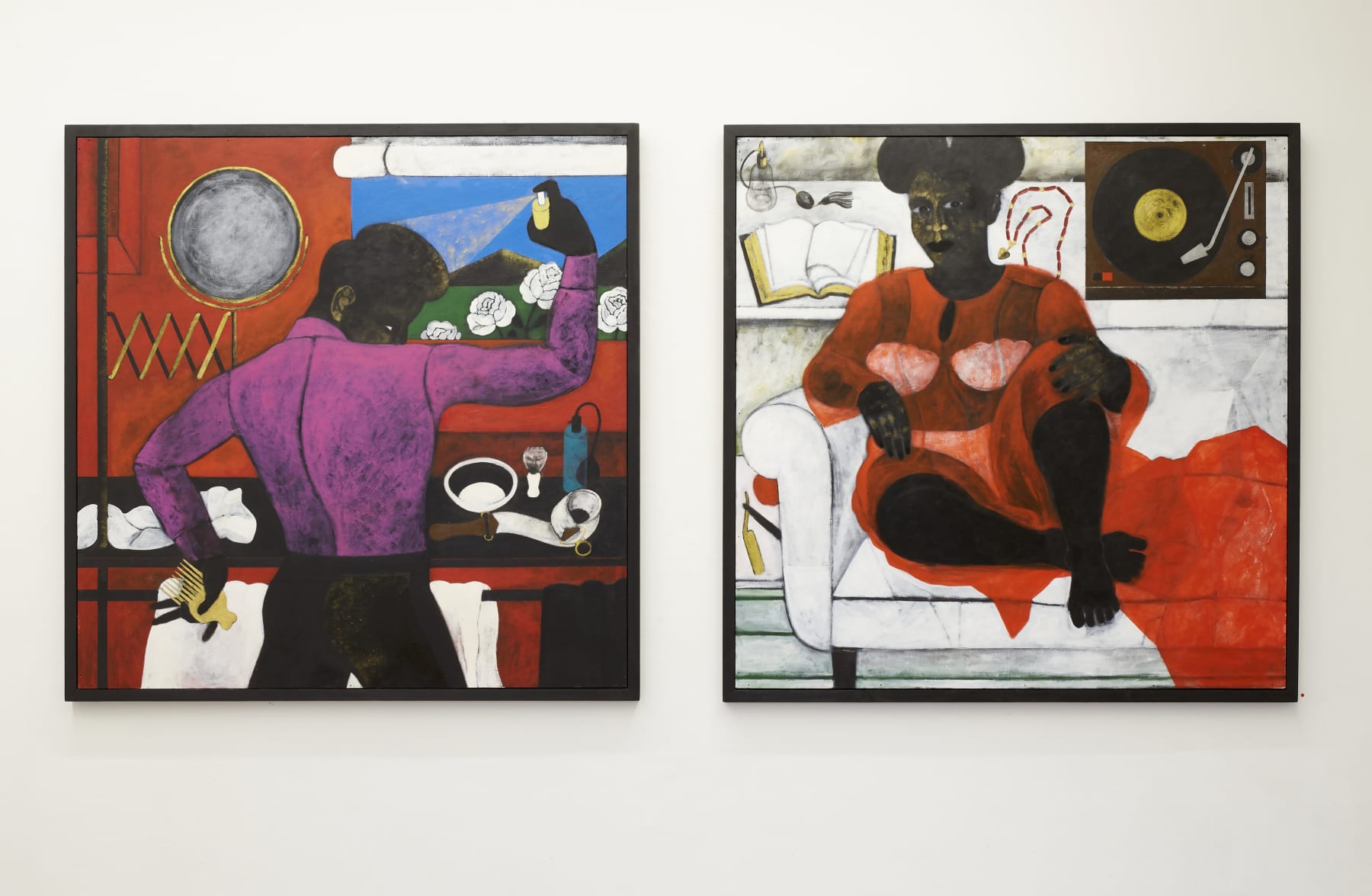 Under the guise of familiarity and simplicity, Odedina's work asks more profound questions about our relationship with time and our environment. The seamstress is not simply transforming a cloth into a dress. Instead, the image addresses craftsmanship and a slow and careful pace of creation and transformation that has been outstripped by fast fashion. Likewise, the scene with the butcher doesn't raise a simple binary focus on meat consumption versus veganism. It also hints at the quality issues throughout the food chain, the race to cut time and the environmental impact of that industry.

Cutting Edge does not simply document how cutting happened through history and across various cultures. Instead, Odedina is interrogating the relentless cutting of time and, by extension, the cutting at the essential parts that make up the fabric of society and life. Under the serene presence of Ogun, the Yoruba God of metalwork, who faces each visitor when they step into Ed Cross Fine Art gallery, everyone is invited to ponder these questions and reflect on their engagement with time.