The Afropolis.org platform, an initiative of the CREATIVE CULTURE SUPPORT FOUNDATION led by Qudus Onikeku, announces a two-day gathering to celebrate Chinua Achebe, one of the most distinguished voices in the history of African literature. Achebe would have turned ninety on November 16, 2020.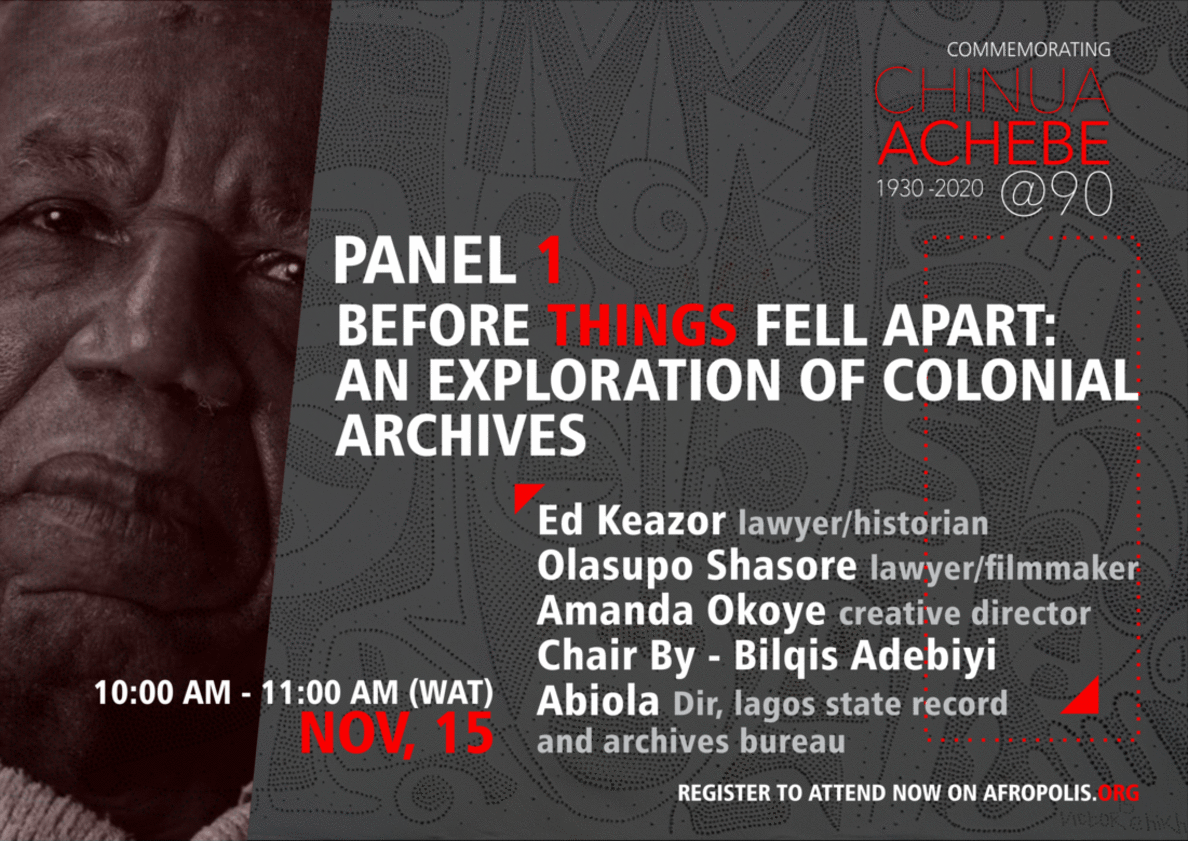 "Chinua Achebe @ 90" comes at a crucial time in Nigeria's history and in the wake of the #ENDSARS protests across the country and among the Nigeria diaspora. With ninety artists, historians, thinkers and creatives of Nigerian heritage from different parts of the world, the conference provides a long-overdue channel for multidisciplinary and intergenerational dialogues. The gathering will remember and give new energy to Achebe's life-long commitment to the questions of human dignity and the role of the creatives in nation-building. 
The event will take place online on November 15 & 16 with a welcome address by Achebe's son, Dr Chidi Achebe. There will be presentations such as visual and literary art exhibitions, monologues from Achebe's writings, panel discussions, performance poetry, films, dance, podcasts and music. Some of the speakers and participants are Ed Keazor, Olasupo Shasore, Moyo Okediji, Amanda Okoye, Okey Ndibe, Olu Oguibe, Uche Iroha, Rahima Gambo, Qudus Onikeku, Chris Abani, Bukola Oyebode, Victor Ehikhamenor, Obi Asika, Emmanuel Iduma, Otobong Nkanga, Emeka Okereke and Philip Effiong. 
A major part of the commemoration is a special online screening of the movie adaptation of Achebe's Things Fall Apart, the six hours long TV series produced in 1987 by David Orere, starring the young and agile Pete Edochie as Okonkwo.
You can join the screening and conference for free by registering on afropolis.org. The accompanying exhibitions are on view till December 31.