For his first solo exhibition with BEERS London, Adébayo Bolaji presents a series of new works that explore the strength and complications that arise from periods of lockdown.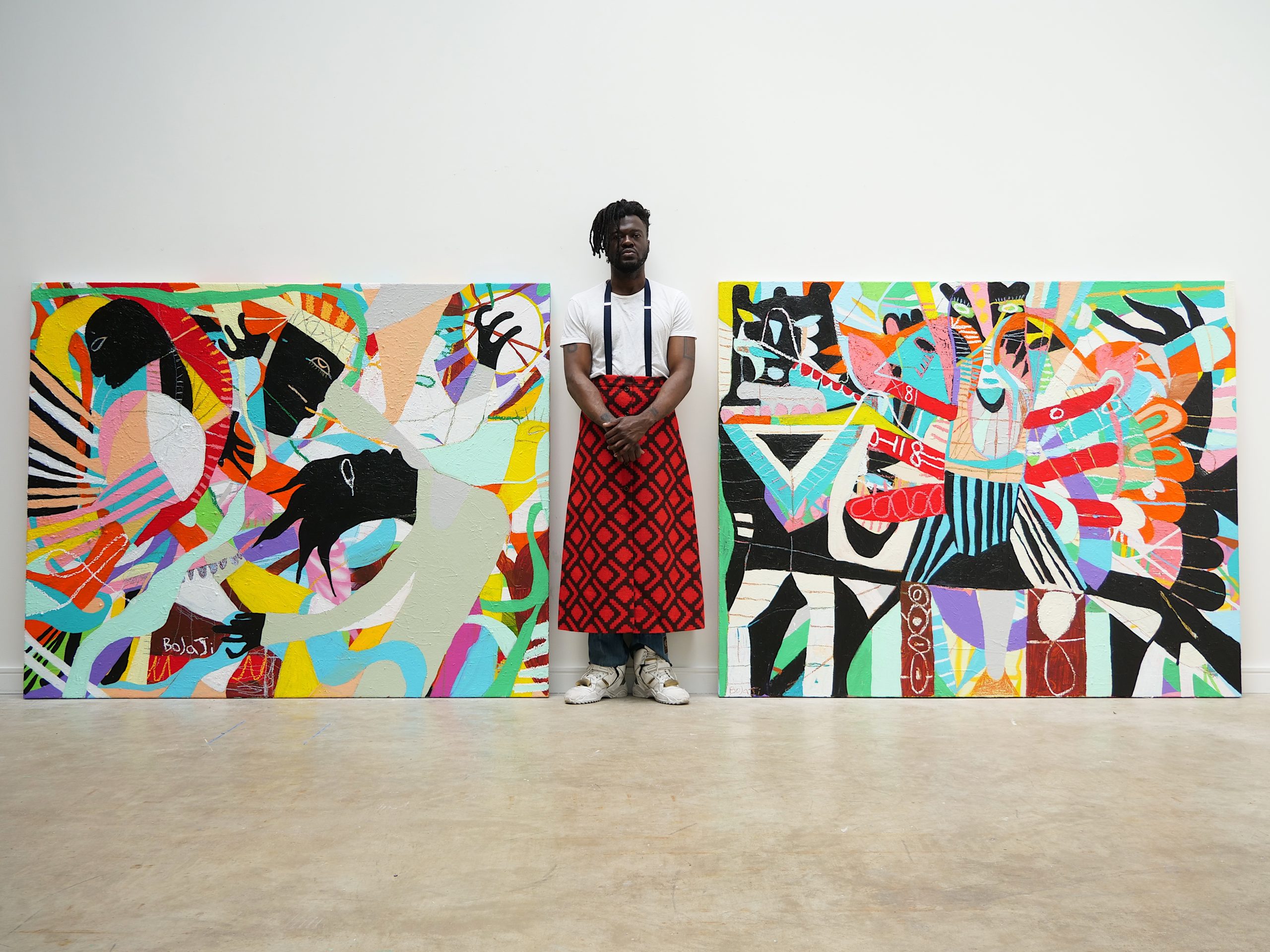 Currently on view at BEERS London art gallery, are new works of painting, mixed media, and sculpture by Adébayo Bolaji presented under the title 'THE POWER AND THE PAUSE'. These works were created in an attempt to examine the concept of 'power' and 'pause' as a result of happenings in 2020, in which the world experienced an interruption unprecedented in modern times and how this period of pause proved useful for creatives or otherwise. From a spiritual perspective, the breathing pause is a space of clarity, oneness, revitalization. Across many religions and cultural traditions, the concept of 'stepping out' of the real world is seen as beneficial, as a closeness to transcendence.
With the works in this exhibition, Bolaji translates this period with its myriad emotions, complex socio-political effects and consequences into something productive. In the process, he challenges the notion of control and power, strength and weakness, as well as the illusory and real occurrences resulting from a prolonged period of suspended animation – on intimate and global scales.
Adébayo Bolaji, a trained lawyer, actor and writer, is a multi-disciplinary artist living and working in London. Born 1983 in London, he graduated from the Central School of Speech and Drama. At the centre of his practice is the dialogue of change and the focus of the individual within a connecting society whether that be anthropological, religious, historical, or popular culture. The use of vibrant and metaphorical language, is a crucial element in his work, to convey a different story within each painting, allowing for the viewer to take an active role in the works. Bolaji has exhibited internationally in London and Zurich, with artist residencies in New York and Margate, including an Artist Residency with Yinka Shonibare MBE Guest Projects.
Solo exhibitions include: "Between Two Worlds" at Galerie Kremers, Berlin (2020); "Topia: A Reinvention of the Self'" at Serena Morton Gallery, London (2019); "Babel" at Galerie Proarta, Zurich (2019) and 'Rituals of Colour', Public Gallery, London (2018).
Group Exhibitions include: "Optimistic: The Power of Now" at Serena Morton Gallery, London (2018) and "New Contemporary V Old", at Galerie Proarta, Zurich (2017).  Fairs include Future Fairs Online, BEERS London (2020); art KARLSRUHE, Galerie Proarta (2020).
'THE POWER AND THE PAUSE' is on view at BEERS London until May 22, 2021.