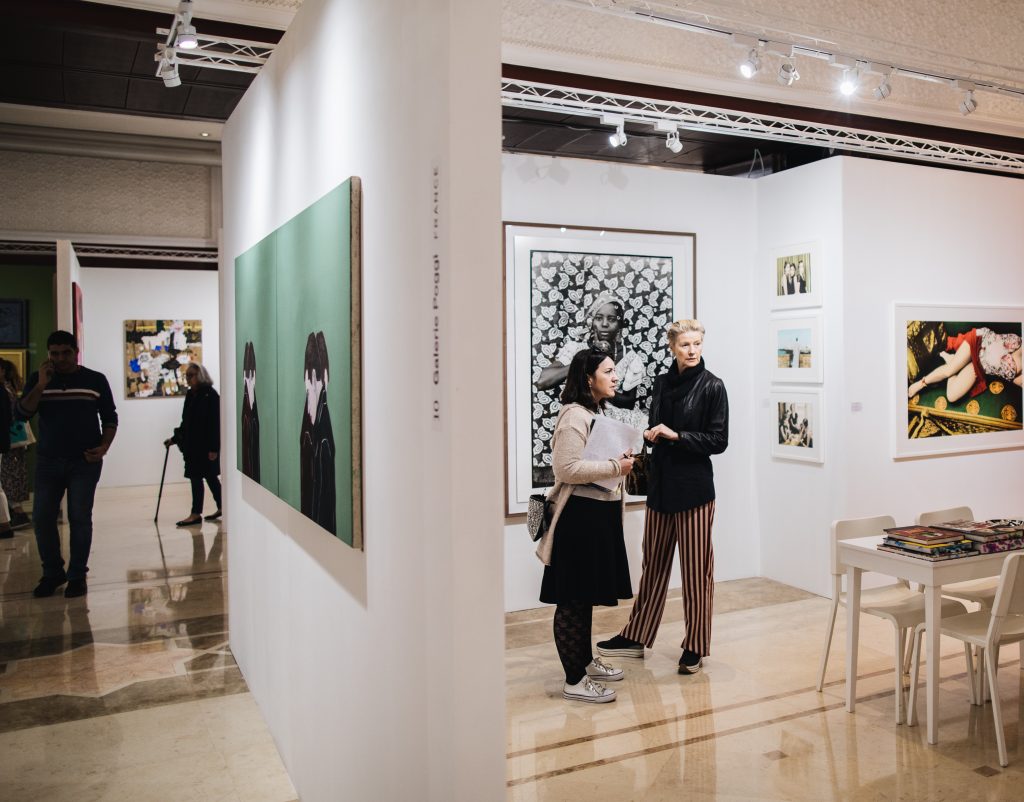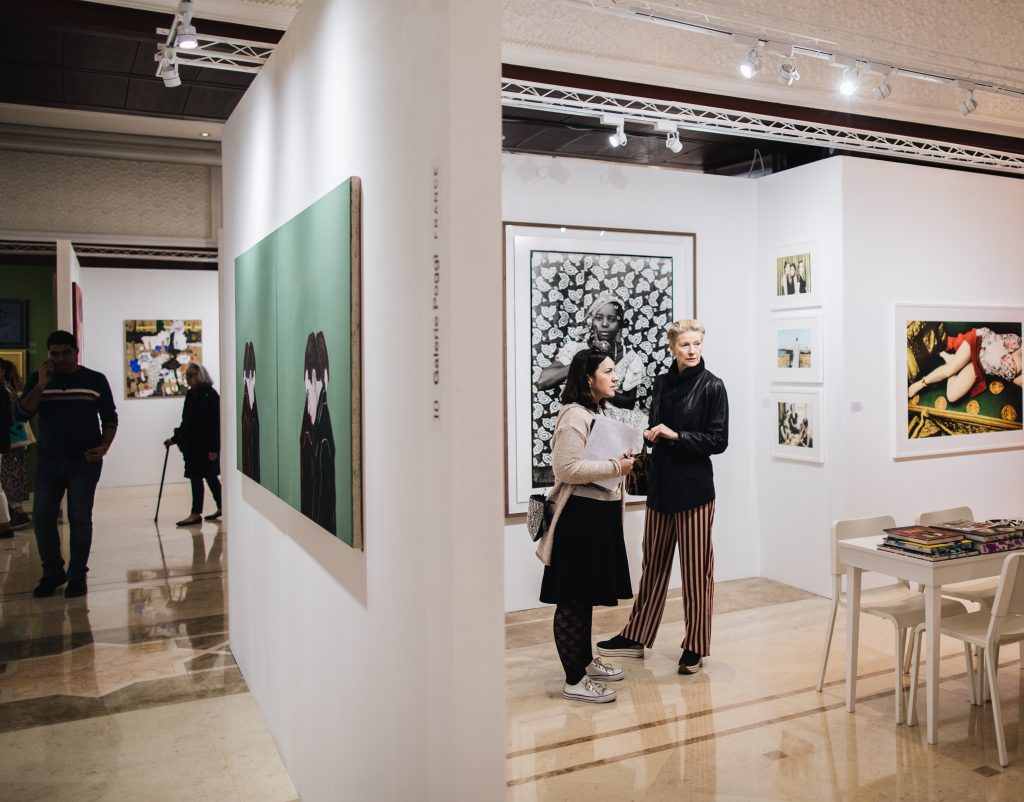 1-54 Contemporary African Art Fair in Marrakech succeeds in bringing the focus back to the continent. This year's edition, which held on February 23 and 24 with VIP previews on February 21 and 22, brought together 18 international galleries, presenting the works of over 65 artists, both established and emerging.
Along with the exhibitions at the fair, 1-54 also partnered with art spaces and galleries across the city to present special projects giving insight into Morocco's vibrant scene. Partner institutions opened up their best shows and programs for the fair's visiting collectors and enthusiasts. Musée d'Art Contemporain Africain Al Maaden (MACAAL) presented "Material Insanity", a collective show curated by Meriem Berrada & Janine Gaëlle Dieudji, gathering more than 30 artists from the continent and its diaspora. The presented installations and works include Clay Apenuvon's stretched black plastic film and Fatiha Zemmouri's installation entitled "La Pesanteur et la grâce — Gravity and Grace" in the courtyard of the museum. These artworks, made from everyday objects, explore the material and its symbolic significance in a plurality of dimensions and formal experiences. Continuing the conversation about consumerism and waste in Africa.
In the absence of Marrakech Biennale, 1-54 Contemporary African Art Fair is strongly stepping in and occupying the city.
Located at La Conserverie, an old canning factory in the industrial area of the city, "Voice Projects", a collective exhibition by Voice Gallery turned heads. Among the poignant pieces shown was "Cabinets of Curiosities" an installation by Soukaïna Aziz El Idrissi. Generally known for questioning the value of material and the way it is viewed, El Idrissi's work uses plastic waste and explores the life cycle of plastic. In the "Voice Projects", he used "Cabinet of Curiosities" — miniature museums also known as wonder-rooms, where popular royals and nobles kept collections from their travels and journeys— to present in a peculiar manner an accumulation of everyday objects made out of plastic as oddities. Thus pushing people to re-evaluate and reflect on their direct or even indirect links to these objects.
1-54 special projects were complemented by the opening of DaDa, a temporary newly opened creative space located in the historic heart of the Medina in Marrakech. Under the artistic direction of Sonia Perrin, DaDa invited the artists Mohamed El Baz, Mo Baala, and Emeka Ogboh to display in the space, although still under construction, site-specific installations. On the one hand, Nigerian artist, Ogboh presented sound compositions of recordings captured in the Medina and visuals from urban environments. On the other hand, Moroccan artist, El Baz, presented a permanent light installation spelling out the word "DaDa" —also the name of the space— in Arabic and French, and lighting up the colours of the Moroccan Flag over the sky of the Medina.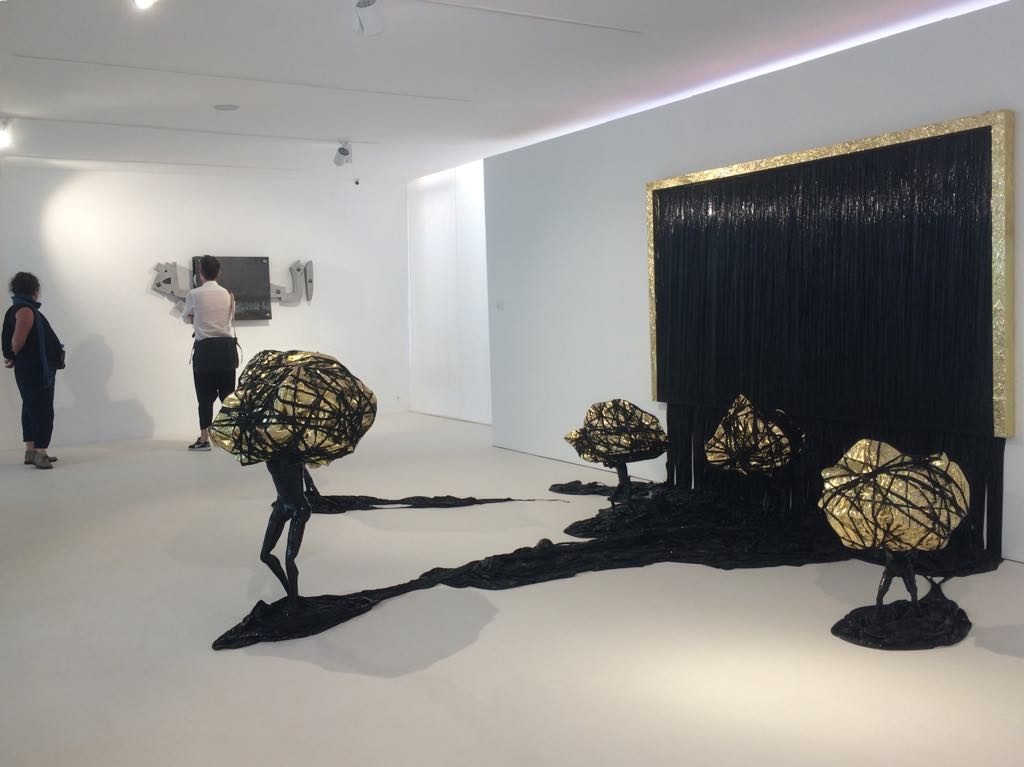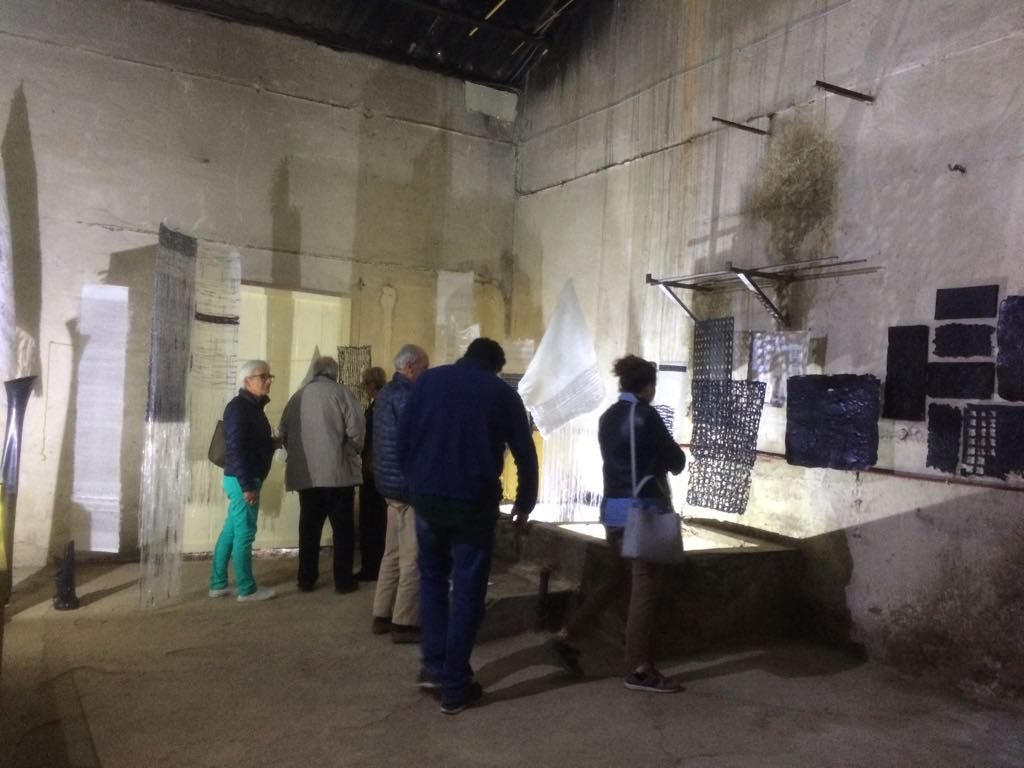 1-54 FORUM made an impact as well, this time curated by art historian and curator Karima Boudou. The extensive program of talks and meetings titled "Let's Play Something Let's Play Anything Let's Play" whistled poetry and surrealism all over Marrakech, exploring the life and work of Ted Joans, African American surrealist, painter, jazz musician and poet. 1-54 FORUM invited artists and thinkers of African descent to take part in discussions about the surrealist movement in Africa and its diaspora, with an emphasis on Morocco, and to examine their relationships with this international movement. The FORUM's program offered a vivifying space to address and reflect on questions about language, archive and art histories.
One of the highlights of the FORUM was a panel discussion titled "Keepin' Words Surreal", between Boniface Mongomboussa a writer and cultural critic who explores the life and work of Congolese poet Tchicaya U Tam'si and his links to surrealism, M'barek Bouhchichi a contemporary artist whose practice show a belief in matter and oral histories, and Noureddine Ezarraf a young multidisciplinary artist and poet from Aghmat, who plays with words and language. The panellists presented their works and discussed their current research while exchanging ideas and thoughts on orality, its roles and the different processes of transmitting poetry and material matters.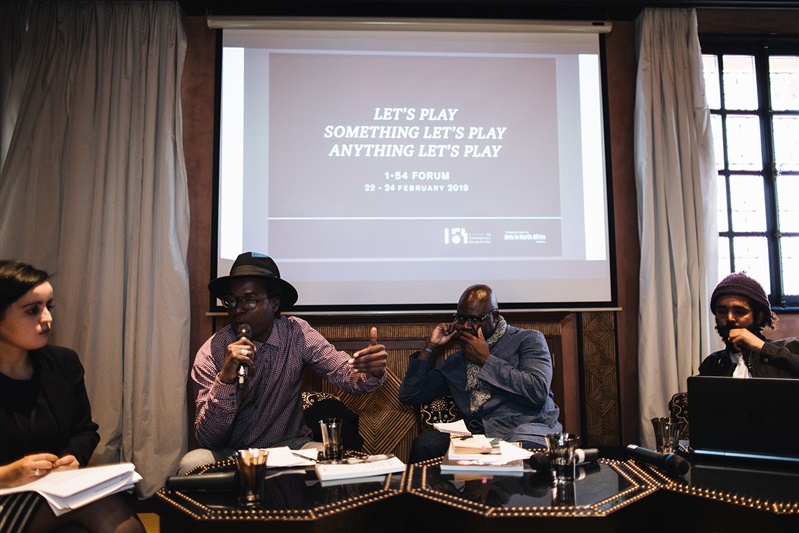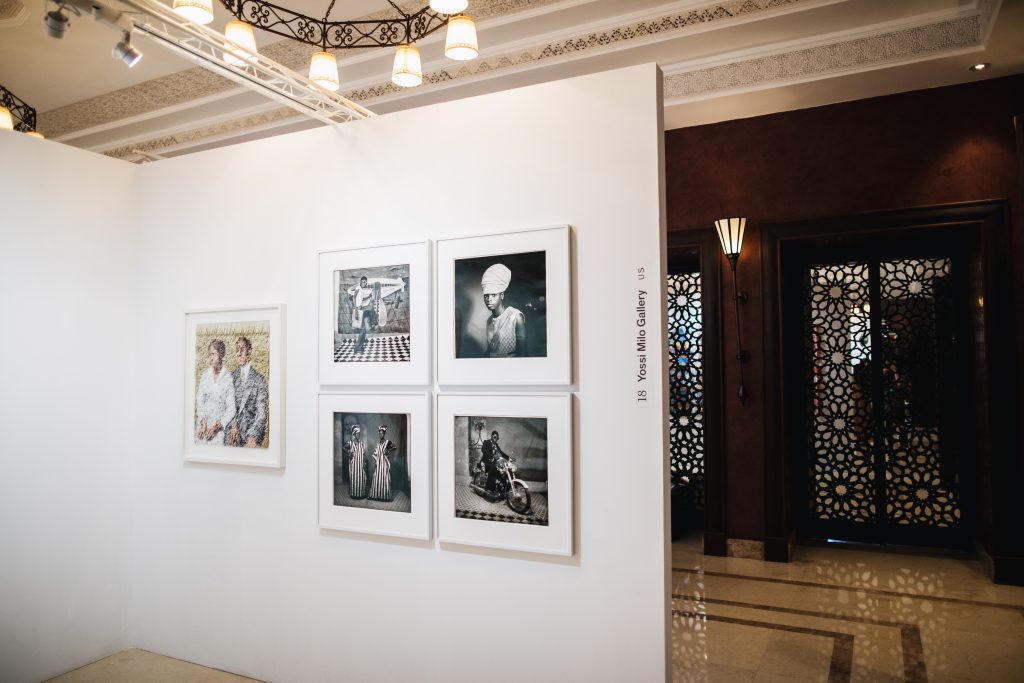 Another highlight was Vince Fraser's artist talk, in conversation with Yvon Langue, a graphic designer and curator based in Marrakech. The dialogue between Fraser and Langue revolved around the artist's relationship with surrealism, Afro Beat and animated photography. Fraser's work, mainly consisting of animated collages and photography, has transitioned from a commercial focus to a more intentional production, where he is exploring the possibilities technology has to offer experimentation. He presented his new approach to the audience, discussed the futuristic language of his practice, and how his work stands at the crossroads of reality, surrealism and fiction.
In the absence of Marrakech Biennale, which has been cancelled due to budgetary issues, 1-54 Contemporary African Art Fair is strongly stepping in and is occupying the city. The art fair is establishing a solid platform for exchange and discussions from a diverse set of African perspectives and is bringing more attention to Marrakech. In fact, the second edition spanned the entire city, from museum and gallery openings to events at artists' ateliers. Locals are starting to raise questions about whether 1-54 Contemporary African Art Fair can and will replace the Marrakech Biennale. The rich program, offsite events, screenings and discussions at the 1-54 FORUM might indeed give a 'biennale feel' to the fair, but as they say, one should call a spade a spade. We must not forget the commercial character of art fairs and other distinctions between fairs and biennales. 
The presence of a fair does not cancel the necessity for a biennale, both are equally important. They evoke dialogue and contrast one another. It is important that we address and question the issues around the cancellation of the Marrakech Biennale while watching 1-54 evolve and grow within the same local scene. Establishing a site for public engagement and in-depth reflection is a necessity to nurture and sustain the art and cultural initiatives in Morocco.