"Dis Lagos Life" photography exhibition presented by SMO Contemporary Art is currently showing at The Wheatbaker in Lagos. Curated by Nneoma Ilogu, it offers a fresh perspective and interrogation of daily life in Lagos through the lens of six young dynamic artists and photographers: Amanda Iheme, Ayanfe Olarinde, Nelly Ating, Oluwamuyiwa Logo (Logor), Omoregie Osakpolor, and Somi Nwandu. They display striking and evocative narratives about their experience and exposure to the city.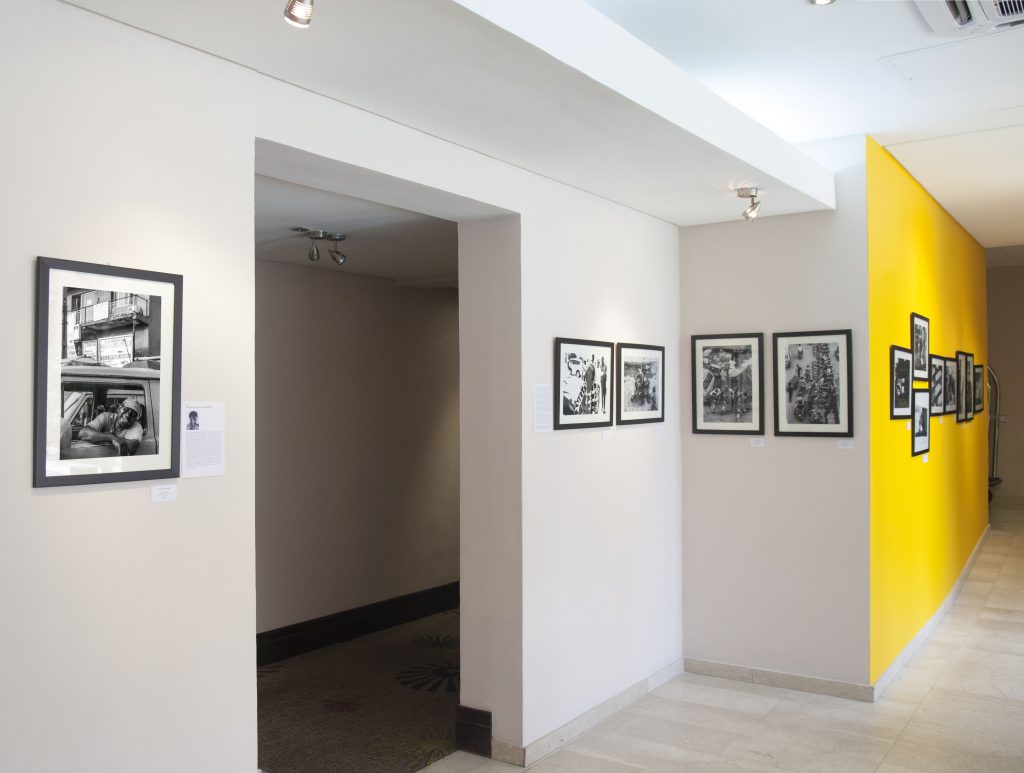 Amanda Iheme's work in this exhibition explores the humanity of built spaces, and historical buildings in the Brazilian quarters of Lagos. Her photographs focusing on a building known as 'Waterhouse' present the story and legacy of a repatriated slave called Papa Esan, who used the remuneration he received after slavery to build a water well for his household and the surrounding community. His 'Waterhouse' and legacy was preserved by the Lagos Water Corporation. 
Well-known for his series "Monochrome Lagos", Logor documents everyday themes, highlighting the nuances within such existence. His black and white images are pure poetry, as well as materials for historical reference.  An example are his photographs of commercial motorcycles known as 'okada' in Nigeria. They were a popular means of transportation for the masses in Lagos until some weeks prior to this exhibtion when the government banned their presence on major motorways and interior roads . You can read about Logor's recent works here.
Ayanfe Olarinde, the youngest artist in the exhibition, presents photo collages addressing the struggles of the city's youths hustling for a better life and financial security in a witty, tongue-in-cheek style. Her collage work titled "Waka Pass" comments on the current challenges Lagosians face trekking long distances due to insufficient transportation. 
Omoregie Osakpolor captures stories of displaced people from waterfront communities since 2014. Photograph of a woman with a bulging load on her head, walking through traffic into the hazy evening smog, communicates the soulful uncertainty and hopeless resolve of vulnerable citizens of this megacity
Nelly Ating, a documentary photographer used to covering conflict areas, explores an intimate exposé of unreported stories of those left behind by loved ones who have emigrated. She presents images of a lady in her wedding dress, providing us an unveiled glimpse of the emotional turmoil, mental unrest, and heartbreak associated with deferred love and loss.
A fashion designer turned documentary photographer, Somi Nwandu's work explores the different lives of waterfront communities. In one of her photographs, a house on stilts layered with images of shimmering waste creates the illusion of a ramshackle hut suddenly bejeweled. Her images beckon us to look beneath the surface to discover the hidden beauty existing  in everything.
"Dis Lagos Life" is on view at The Wheatbaker until May 17, 2020.  See more photos below.