Em'kal Eyongakpa, multi-disciplinary artist from Cameroon, has been awarded the first Henrike Grohs Art Award of €20,000 cash prize. Eyongakpa will receive the award in Abidjan on March 13, 2018.
Eyongakpa's work approaches the experienced, the unknown as well as collective histories using repetition and transformation. He increasingly uses ideas from indigenous systems and aesthetics from ethnobotany, applied mycology and technology in his exploration of the personal and the universal. He holds a degree in Plant Biology and Ecology from the University of Yaounde. He has been exhibited in several international art spaces and museums around the world.
The jury of the art prize unanimously decided on Eyongakpa for his poetic, subtle and subjective approach. According to the jury members Koyo Kouoh, Lawrence Bonvin, Raphael Chikukwa, and Simon Njami "His work expresses universal concerns of humanity. The multidisciplinary stance of his practice that includes knowledge derived from science, ethnobotany, magical realism, experimentation and utopia, aptly responds to core values of the Henrike Grohs Award."

Other nominated artists shortlisted for the award are Georgina Maxim from Zimbabwe and Makouvia Kokou Ferdinand from Togo.
The Henrike Grohs Art Award is a biennial prize for practising artists living in Africa. It recognises the lifetime achievements of Henrike Grohs, former Head of the Goethe-Institut Abidjan who was killed on March 13 in 2016, in a terrorist attack in Grand-Bassam, Cote d'Ivoire.
You can watch a short documentary on Em'kal Eyongakpa here.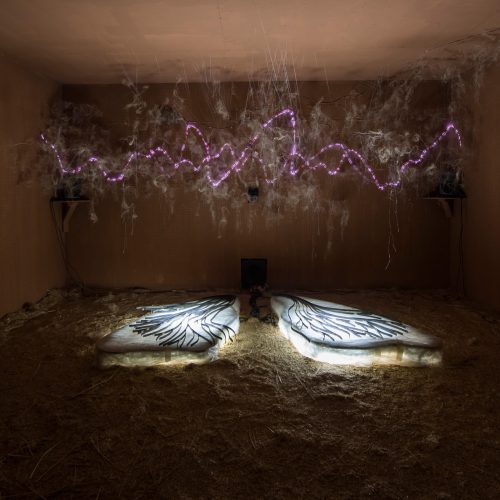 Em'kal Eyongakpa, Various works, 2016, mixed media, reproduced by Sharjah Art Foundation for Sharjah Biennale 13 – Tamawuj. Image via the Sharjah Art Foundation site. | Em'kal Eyongakpa's portrait courtesy the Goethe Institute.